Diana Fitzpatrick Blazes Trails
Heading out the door? Read this article on the new Outside+ app available now on iOS devices for members! Download the app.
It's hard to separate the sport from the woman, or the woman from the sport. Running is deeply embedded in Diana Fitzpatrick's DNA and it has informed just about every area of life. The reverse is also true: Fitzpatrick has left an indelible, positive mark on the sport.
Today at 61, the California-based Fitzpatrick is serving in a role that perhaps represents the culmination of all her miles, experiences and accomplishments. In November, she became the first female president of the legendary Western States 100-Mile Endurance Run. It is a position perhaps tailor-made for this humble change-maker in the sport.
"Having a female president is a good thing for ultra-running because it has historically been a male-dominated sport," says Fitzpatrick. "Western States has always done a good job of thinking big regardless of its small size. The board understands that the world is changing and that the race needs to change with it."
In her time on the board, which she joined in 2012, Fitzpatrick has in fact helped develop several forward-thinking policies: a three-year pregnancy deferral allowance; an inclusive transgender athlete policy; and a drug-testing program.
In the midst of it all, Fitzpatrick has continued to blaze a trail with her own running. In 2018, she became the oldest woman in Western States history to break 24 hours. This after a bevy of stellar racing results over the years, including two wins at the famous Dipsea Race, and three qualifications at the Olympic marathon trials.
These days, while Fitzpatrick continues to dominate in her age group, she says it's giving back to the running community that means the most to her. "When you're active in racing in your 20s, 30s, or 40s, it's easy not to appreciate all that goes into events behind the scenes," she says. "Running has given me and my husband so much—giving back is a luxury."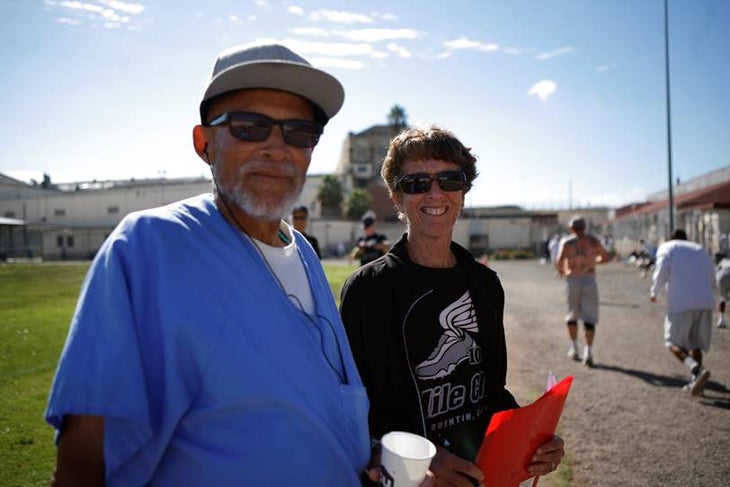 She and husband Tim have indeed returned much to the sport—they coach weekly workouts at San Quentin prison, and assist with training the Marin Catholic High School teams. They also serve as race directors for the Tamalpa Headlands 50k, and remain active in the Impalas (female) Racing Team, Diana as athlete and Tim as coach.
When she reflects on her years in the sport, Fitzpatrick points to the many females she has run alongside and credits them with a big part of her success: "When you are surrounded by strong women, you have great role models for becoming a better athlete and person."
This article originally appeared on the Sufferfest "Fair Play" blog that shines a light on female athletes and sports teams around the world who are showcasing excellence on and off the field.