How David Laney Is Fueling His Fire For UTMB 
American men have historically struggled on the UTMB podium. David Laney is the highest placing American, making his fourth trip to Chamonix. 
Heading out the door? Read this article on the new Outside+ app available now on iOS devices for members! Download the app.
If you're wondering how seriously David Laney, 33, takes his craft as an elite mountain runner, you might peek at his short gear review videos on Instagram. Here you'll find Laney submerged up to his mustache in ice water, Wim Hof-style, while discussing a favorite new shoe or nut butter indulgence. One frozen dispatch shows him in fluorescent shades quietly roasting a marshmallow on a chopstick over a rocket stove. These videos are humorous, to be sure, but don't be fooled: they come in wake of some heavy training blocks. 
As one of the world's most competitive ultra athletes, David Laney placed third at UTMB in 2015, two months after finishing eighth at Western States, which crowned him Ultrarunner of the Year. Notable ultra career victories include the 2019 Rocky Raccoon 100-Mile winner, 2021 Desert Solstice 100-Mile winner, and, most recently, the 2022 Gorge Waterfalls 100K winner. He's also a seasoned road runner, clocking a 2:17 marathon. 
Many know Laney as being both dead serious when it comes to race preparation and execution, while also remaining playful and light. "He has my favorite sense of humor, maybe of anyone in the world," said ultrarunning legend Jenn Shelton. "He's basically like the male Ellen [DeGeneres]." 
This ability to straddle both lighthearted play and lightning fast performances is unique and refreshing, maybe the secret sauce for being the top performing American male at UTMB. 
"David embodies a perfect balance of work and play," says Jacob Puzey, race director, coach, and Craft-sponsored athlete alongside Laney. "He's witty and funny and doesn't take himself too seriously. He's been training and racing seriously since high school and has applied what he's learned in preparations for trail and ultra races. I expect that he will go into this year's event well-prepared, ready to run with the very best in the world on one of the biggest stages in our sport." 
With three stellar finishes at UTMB, Laney will likely be a top American male contender this year, alongside Jim Walmsley, Tim Tollefson, Dylan Bowman, Sage Canaday, Jared Hazen, Jason Schlarb, and Seth Swanson.
RELATED: Lightning Round 50K: David Laney
Hills and Hype 
Kilian Jornet, three-time UTMB winner and arguably the world's best mountain runner, has asserted in numerous media appearances that if you can keep your head on straight in the buildup to UTMB – with its thousands of spectators and interviews and hype – then you'll do well. Laney adopts a similar approach.
"I mean, it's a total spectacle," says Laney. "There are helicopters filming. It's branded beyond belief. But the spirit of  the people and the mountains are so pure, that it's just magical." 
A snapshot of that magic might best be rendered for Laney in an encounter he had near the 100K mark, while climbing up Grand Col Ferret. "At 5 a.m., in the misty, cold mountain air, there was a couple camped on the side of the trail in their tent, sleepily cheering. This couple hiked up the mountain, camped out all night, woke up early to stick their heads out of their sleeping bags and send little words of love to everyone going past. It was just so beautiful." 
For trail runners unfamiliar with the Alps' steep and rugged trail networks, the unrelenting terrain can be a shock. "The trails are different in the Alps in a few ways," says Laney. "The huts are amazing. You can get a coffee and crepes at 7,000 feet, 10 miles from town. The trails are steep. In the U.S., a lot of trails were built with horse travel in mind, so they climb 200-300 feet per mile. In the Alps, plenty of trails are 1,000-1,500 feet-per-mile climbs, sometimes more."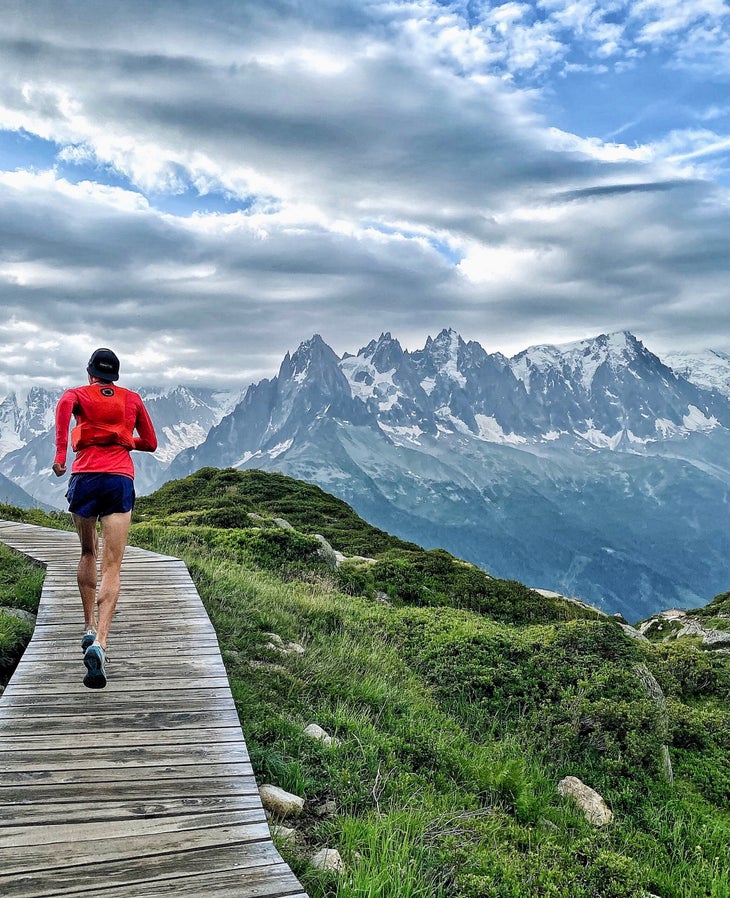 Perhaps it's Laney's trusted mantra, Hakuna Matata, (Swahili for "no problems" or "no worries") which he'll sometimes murmur under his breath when the going gets rough, that helps him navigate such challenging trails. Or maybe it's the dapper European aid station accouterments. 
"Lemons are one thing I found I really like at UTMB. The sourness really wakes you up," says Laney. "Lots of great chocolate at aid stations, too, as well as soups and coffee and strange cakes. Oh! And typically the aid stations have sparkling water, you have to ask for flat water. So Euro."
The Magic of UTMB's Lanterne Rouge 
In addition to the landscape and the competition, the lemons and summit crepes, one of the major highlights of UTMB is its spectrum of participants and volunteers. The event is based in Chamonix, France, and it includes seven events with a combined 10,000+ runners and 2,000 volunteers from over 15 countries. About 2,300 participants will start the flagship Ultra-Trail du Mont Blanc race this year, and yet it's not the starting line but the finish that evokes some of its most potent emotional experiences. 
"The awards ceremony commences with the finish of the final finisher," Laney explains. "The top men and women are on the podium when the final finisher (called the "lanterne rouge") crosses the line. They literally drag the person up on stage in front of thousands of spectators. The top finishers have all showered, are in fresh clothes, had a good night of sleep, and eaten a few meals. The Lanterne rouge, on the other hand, is dirty, sweaty, and usually very emotional. They finished just seconds before, spent two sleepless nights on the trail, so it's a total juxtaposition. It's always clear who is the true inspiration – the final finisher." 
Laney's UTMB training this year is following much of the same formula as in previous years. Three ultra wins this spring and summer (FOURmidable 50K, Gorge Waterfalls 100K, Siskiyou Out Back 50M), combined with big days in the North Cascades, have resulted in some confidence-building efforts in technical terrain. That said, Laney noted how increasing work demands have posed some obstacles to his usual buildup. 
"I'll just be happy to get on the trail and run hard," says Laney. 
Of the countless moments of inspiration that Laney will carry with him to UTMB – from sour lemons to sunrise spectators to the magic of the lanterne rouge – he'll never forget one image that literally burned into his mind late at night while moving through Les Chapienux, about 30 miles into the race: 
"It was dark, and thousands of people were lining the streets," says Laney. "They had built massive pallet fires and I remember the flames were lapping at the edges of the trail, like you could feel the heat of the fires and the passion of the crowd. It was midnight and there were young children just going nuts cheering. I remember thinking: Man, these kids are up cheering all night for a trail race. What a culture that values mountains and endurance!"