Building Better Communities
Rudy Espinoza, Executive Director of LA's Inclusive Action for the City, suggests a new model for building diverse and inclusive running communities. 
Heading out the door? Read this article on the new Outside+ app available now on iOS devices for members! Download the app.
When he was in elementary school, Rudy Espinoza had a recurring dream. He would get rich and buy an S-class Mercedes-Benz. He would open that sleek, black door; climb into those smooth, leather seats; and drive to the IHOP where his mother worked as a server. Then, he would make her a promise: she would never have to work a single day, for the rest of her life. 
Espinoza's earliest memories are blocked out, or fuzzy, at best. There is his father and there is alcohol and there is violence and all of it looks like the type of painting in which colors bleed together. The picture becomes clearer when Espinoza's mother leaves his father, and in every memory going forward, she is the brightest image of all. Espinoza's mother came to the U.S. undocumented at age 17; she held a third-grade education and a minimum-wage job. She could not help her two sons with their homework or buy the baseball equipment they wanted, but she could show them resilience, and she could teach them how to dream. So, Espinoza dreamed of getting rich.  
Espinoza did not get rich. Instead, halfway through college at the University of California Riverside, he enrolled in an elective: Ethnic Studies 101 with Professor Lowy. Some easy A on a transcript. Some hour-or-so to nod off between business courses. And yet, it changed the entire trajectory of his life.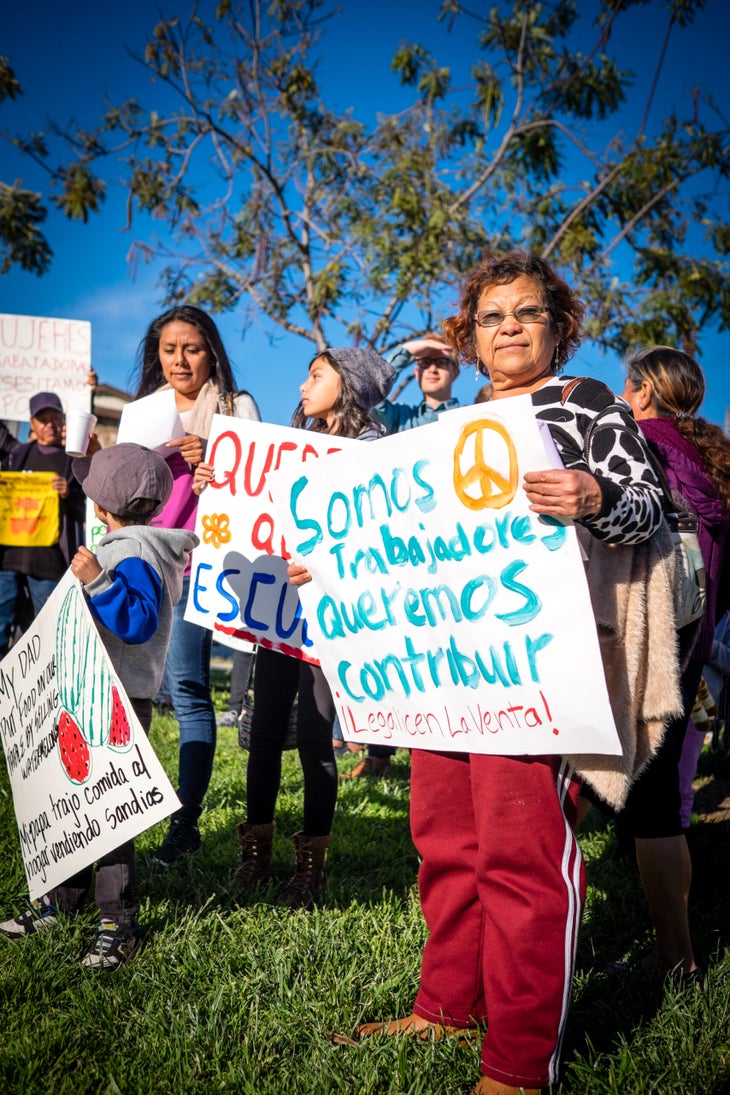 "I learned about all the major civil rights movements. I saw Black and Brown people advocating for families, farmworkers, and land that was stolen. I thought, 'dude, they look like me,'" Espinoza reflects. "I recognized the things that my family had experienced—the alcoholism, the poverty stress, and the immigration hurdles. I asked, 'why don't we have the resources that other people have?'" This question would lead Espinoza on a lifelong journey to combat inequality, ultimately landing him as the Executive Director of Inclusive Action for the City (IAC), a nonprofit organization committed to building sustainable communities in LA.
But let's not get ahead of ourselves. After all, before Espinoza learned to recognize and fight the systems of oppression that had tied his family down, he had to cope within them. In sixth grade PE class, he joined the 100-mile club, pledging to run 100 miles by the end of junior high. Week by week, running became his anchor; the one constant he could count on. So, he continued to count on running—through high school, college, and into his career in the nonprofit sector. 
Inclusive Action for the City
 IAC started as a book club. Or, at least that's what it felt like to Espinoza. One afternoon in 2008, he gathered with friends over lunch to discuss the increased struggles of low-income communities in LA. 
"We were just a bunch of nerds with day jobs," Espinoza reflects. "Our first research project stemmed from a question: the recession is hurting our community, so who really inspires us?" Street vendors did. So, Espinoza and his friends would spend their weekends surveying street vendors, learning about their families, their unique struggles, and how they continued to stand on the streets of LA and work. Lunches turned into fundraising parties, discussions turned into Ted talks, and within just a few months, the group of friends turned into an organization. In 2013, Espinoza quit his day job and became IAC's Executive Director, their sole employee at the time. In 2018, after ten years, the IAC team successfully pushed the city of LA to legalize street vending. 
One foot in front of the other
To the IAC team, advocating for marginalized communities requires a two-pronged approach. First, it involves policy—recognizing which laws have contributed to systems of inequity and advocating for better ones. It also involves money— providing low-interest loans, coaching, and technical assistance to small businesses (including street vendors).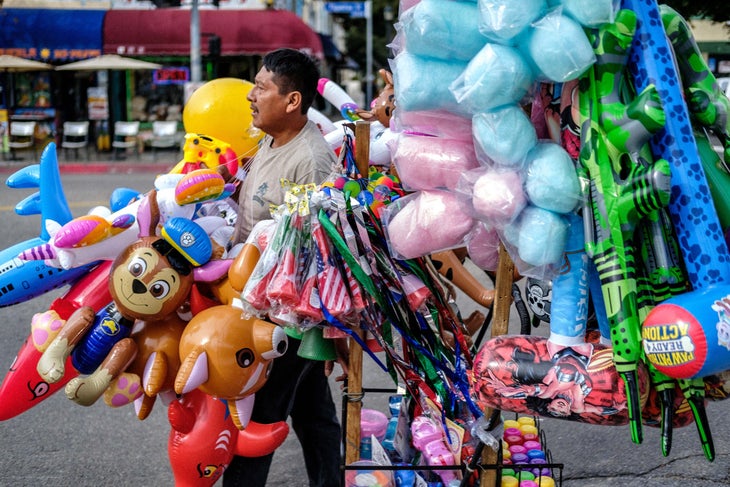 Yet, IAC's work is not easy. Sometimes, Espinoza grows overwhelmed—by the countless struggling families and unjust policies and long hours spent fighting immeasurable harm; sometimes, the colors bleed and blend together again. When they do, he returns to running. 
On weekend mornings, Espinoza escapes to the trails. He hugs the shore of the Arroyo Seco, following the worn dirt trail from horse stables to the Rose Bowl Stadium. Or he traverses more rugged terrain, bounding through the urban wilderness of LA's Griffith Park. Many days, Espinoza forgoes the trails entirely. He runs the streets of his favorite city, immersed in the sounds of traffic and the smells of Mexican food—street vendors cooking in open air. Soon, he hopes to complete an ultramarathon.
Where IAC and running converge
It is impossible to deny that people of color are underrepresented in U.S running, and especially in trail running: "Many don't have the privilege of buying 150-dollar shoes or dreaming of an ultramarathon," says Espinoza. While he acknowledges that there is no easy solution to fighting inequity in running, Espinoza suggests a two-pronged approach here, not unlike the approach of the IAC team. First, he wishes more companies would subsidize running gear for kids in low-income communities. Second, he dreams of more neighborhood-centered running clubs. A one-two punch: gear and community networks, just like loans and fair policy.
As Espinoza speaks of his dreams—for the running community, the city, and the country—his eyes widen, and his voice picks up speed. Suddenly, he pauses, as if remembering something. Then he waves his hand over his head, pointing to the corner of his Zoom background. There lies a photograph: a man, an LA street corner, and a bright, signage-clad cart. A street vendor. 
 "Look at this guy," Espinoza exclaims. "I want to ask him: What's up with you and your family? How long have you been out here working? What is your dream? I think that he, my mom, and other working-class people deserve to live with dignity."