Between A Hardrock And A Hard Place
How Heather Brooks learned to embrace her queer identity on the trail.
Heading out the door? Read this article on the new Outside+ app available now on iOS devices for members! Download the app.
Things were not going according to plan. 
As Heather Brooks drove into the San Juan Mountains of Colorado, she noticed thick smoke cloaking the panorama of 14,000-foot peaks she had been so excited to see. Part of the thrill of Hardrock 100 is running along blue sky on some of the tallest ridgelines in the U.S., not pushing past thick curtains of brown smoke. But—after waiting to run Hardrock for three years in the wake of two canceled races—here she was. So push she would, if push she must.
Over the next couple days, Brooks laid low in her condo in Ouray as thunder boomed and heavy rain pummeled the mountainsides. She had never been so close to a massive lightning show, certainly never close enough to see the end of a jagged bolt glow red as it struck the earth. 
Brooks worried about several things when it came to Hardrock 100: fatigue, nutrition, altitude, weather, wildlife, and physical injury. Of course she worried. Brooks was a sensible runner, a meticulous planner, and this was Hardrock, a race that covers 100 miles at an average elevation of 11,000 feet and takes place each year in a fickle pocket of time just after the winter snowmelt and before the summer "monsoon" season. Here, the general concerns of a 100-miler are amplified, and for good reason. 
The Hardrock course meanders through loose scree, sprints up steep mountainsides and winds along narrow paths (some lined by sheer drop-offs), all within Colorado's high country. Runners have been hypothermic, hospitalized and in 2014 one runner was even struck by dispersed lightning. 
Of all the precarious scenarios Brooks prepared for, lightning was what she feared most. As the race manual states: "You can hunker down in a valley for 2-4 hours and still finish. However, if you get fried by lightning, your running career may end on the spot." Brooks wasn't ready for that; her career was only just beginning.
Brooks's footprint in the running community is relatively small, especially for a Hardrock participant. Most Hardrockers have run multiple qualifiers and waited several years to finally get a spot on the starting line. Brooks got in with one ticket, which she earned after her first 100-miler.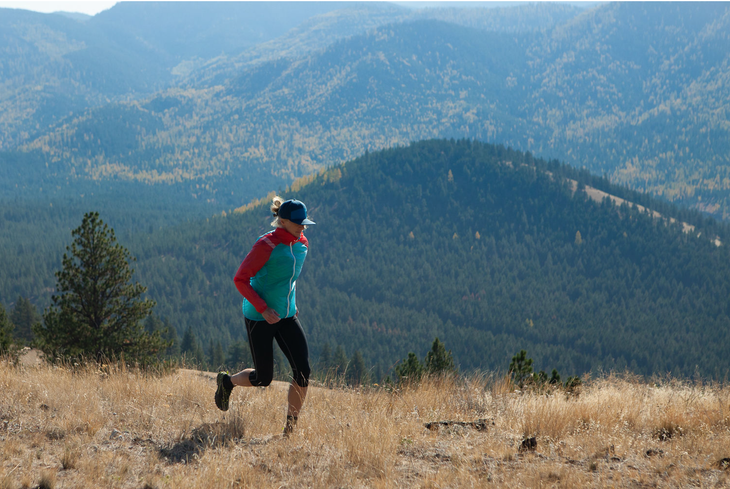 At 32, Heather Brooks is long and lean, with the calf muscles of a mountain athlete and a swagger carried over from her college basketball days. She has an innate competitive drive, which recently earned her first-place finishes at Le Grizz 50-miler (2020) and Palisades Ultra Trail Series 100-miler (2019), and helped her secure sponsorship from La Sportiva earlier this year.  
Part of Brooks's purpose as a sponsored athlete, as she's defined it, is to raise awareness for the LGBTQ+ community within trail running and beyond. It's a role that means a lot to her and is still fairly new. The first time Brooks addressed her queer identity publicly was in December 2020, when writing her athlete bio for La Sportiva.
For many, the journey to self-acceptance can span years of doubt, fear and feeling inadequate. It was no different for Brooks, only her journey also paralleled her road to Hardrock. 
Back at her cabin in Ouray, Brooks watched thunderbolts pulse through the night sky and tried not to imagine herself anywhere near their electrical charge. But when a small wildfire broke out in the mountains above Ouray a couple of nights before the race, she suddenly feared the worst: maybe the fire would grow, smoke would spread, and then—yet again—Hardrock would be canceled, and Brooks wouldn't be able to move through any of these fears at all.
For most people, Hardrock is one of the greatest endurance challenges they'll ever face. "For me," Brooks continued, "I needed this race."
Perfect on Paper
Before Brooks's name was drawn in the Hardrock lottery and before she'd ever run 100 miles, life was going perfectly according to plan. After spending the latter half of her childhood in Wisconsin, Brooks had moved back to her beloved Montana to play basketball for the University of Montana Western in the small town of Dillon. A couple of years in, she began dating the man she thought she would marry, and by the time she was 30, Brooks and her partner owned a home in Missoula and were engaged.
"I had a nice life. I was surrounded by a lot of great people. He was a good guy. There was nothing really wrong with my life," she says. So, when Brooks felt a sense of emptiness she couldn't rationalize or explain away, she ignored it.  
Instead, the most difficult challenge Brooks identified after college was finding an athletic outlet. When the built-in structure of team sports evaporated post-graduation, Brooks felt lost—until she found running.
In 2014, just four years out of college, she signed up for The Rut 50k in Missoula on a whim. She ran her first marathon the month before as a training run, which was an ambitious move, but Brooks was eager for a new challenge.
"I DNF-ed at mile 18," she says, laughing. "I rode the chairlift down, saying 'Ugh, ultras, this sport is fucking nuts, I'm never doing this again.' And you know how it goes, you fail at something, especially when you're competitive, and it just bothers you."
Brooks signed up again for The Rut in 2016, then again in 2017, finishing both times. She began running 50-milers, then 100ks, even winning a 12-hour race in 2018 one month before The Bighorn Mountain Wild and Scenic Trail Run 100-miler, which would end up being her ticket in to Hardrock. Though she avoided the unexplainable bouts of sadness she felt at home, Brooks had fallen in love with big feats in the mountains.
When her name was drawn in the Hardrock lottery in 2018, she knew it would be the greatest physical challenge of her life. She hired a coach, Gabe Joyes, an accomplished mountain runner himself (also sponsored by La Sportiva) who had finished Hardrock in 2017 in fourth. As someone with course knowledge and a perfectly executed race under his belt, Joyes would end up giving Brooks the guidance she would need to prepare for the race both physically and mentally. 
"There's always an element of competitiveness, but it's almost a matter of learning how to be in control of yourself when there's all sorts of influences around you," Joyes recalls telling Brooks. "You need to stick to your plan," he emphasized. "That's a really important skill." Neither of them realized it would be a skill Brooks would eventually apply to more than running.
RELATED: How One Runner's Journey Made Space For Mental Health In The Endurance Community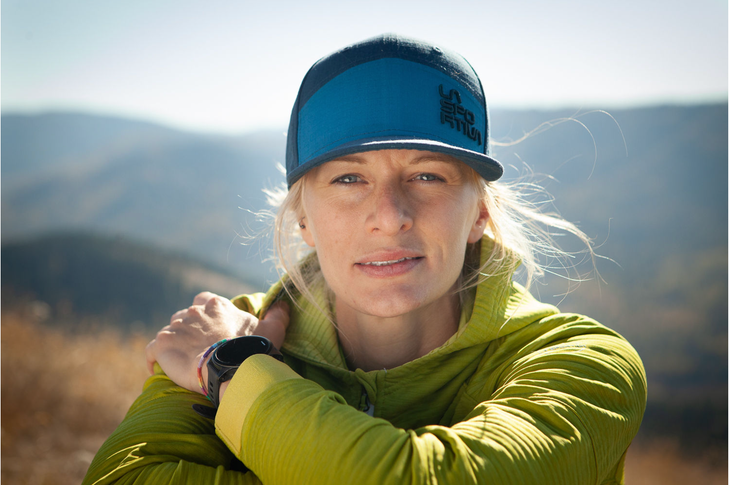 Milestones
There were problems with Brooks's relationship from the get-go. Over the course of their 10-year partnership, Brooks and her fiancé were often apart for long periods of time. 
"We were living with this false sense of happiness together," she says.
At an impasse, Brooks did what an athlete does best: she reached for milestones. In the case of her relationship, that meant home-ownership, marriage, and family. "I was like, there will be victory on the other side of getting to these 'monumental' steps in this partnership with a man, and I will be seen as successful and life will be good," she recalls. "I was so outcome-dependent in how the world saw me."
Brooks had felt attracted to women before, but it was nothing she dwelled on. She figured it was a phase. The feelings weren't real. They couldn't be. That identity didn't fit the definition of "success" she'd adopted for herself. 
Brooks didn't know many people who were openly gay, and she wouldn't dare do anything that would "disrupt the waters of the world," as she put it. It's a thought that makes her want to cry as she remembers it. "I was so terrified of being different. I wanted to be on the fast-track to normalcy and be something that people could be proud of." 
Meanwhile, she continued to run. Mountains provided sanctuary, a place Brooks could go to escape her pain and feel safe. The more miles, the better. "When you're mentally and physically exhausted," she says, "you don't have time to think about why you're unhappy." And anyway, for an athlete, the compulsion to reach for milestones isn't necessarily a bad thing. 
Brooks attacked each course she stepped foot on without knowing what the outcome would be, just that she'd give it her all. It was her natural tendency. But also, more and more, Brooks began to feel like she had nothing left to lose: "I remember toeing the line at some of these races and I thinking, if I die doing this, that is a-ok."
Knowing
Brooks had been living in denial about her sexuality for years. The course of her life was angled toward a finish line she thought she wanted, but the closer she got the more stifling it all felt. She couldn't figure out why getting so close to "perfect" made her feel so sad.
Running in the mountains, by contrast, was sweet relief. She often met up with her best friend, Amanda Taylor, who describes herself as "not a serious runner" though she's paced Brooks for at least 20 miles at two 100-milers. With Taylor, running wasn't competitive. It was good company.
"I was always talking her face off about everything going on in my life," Taylor says with her sardonic wit. "There were definitely days when I felt like she was sad, but I didn't know why, and she didn't really tell me why."
When Hardrock was canceled in 2019 due to an unseasonably heavy snowpack, Brooks quickly switched gears and signed up for Palisades 100 in Idaho. There, surrounded by her two pacers (including Taylor), her Dad and her fiancé, Brooks powered through a tough course to become the only female finisher. The surge of emotions that followed were to be expected. What was unexpected was how the race had become a litmus test for the relationships in her life.
In the wake of her win, Brooks felt closer to Taylor than she did to her fiancé. She had suppressed feelings for Taylor throughout their friendship. But now, they were hard to ignore. As it turned out, those feelings were mutual. "Once I felt that with Amanda," Brooks says, "I knew staying in a relationship with my fiancé would not fill me and that I needed to pursue a life full of love that genuinely resonated with me."
The separation from her fiancé wasn't easy. But, when Brooks finally told her friends and family—and admitted to herself—that she had been questioning her sexuality since she was a little girl, she felt nothing but support, even from her ex-fiancé. 
Brooks waited a little longer to tell her father because she was fearful of how he might react. "I didn't know what this difficult conversation was going to do to our relationship," she says. Ultimately, she was scared of rejection.
Prepared
As Brooks accepted truths about herself she had ignored for years, her relationship to running began to change. With help from her coach, Brooks learned what her body needed in terms of training, but also in terms of rest. She learned how to pace herself, and how to fuel her body to avoid bonking. Ultimately, she learned not to judge herself by anyone else's metric for success.  
Brooks ran two races in the lead-up to Hardrock, with mixed results. At the Antelope Island Buffalo Run 50-miler in March, Brooks had her eye on the prize and ran fast right out of the gate, but she got cooked in the second half and finished ninth. 
At Sinks Canyon Rough and Tumble 50k, just three months later, she relaxed into a steady pace early on, and watched as the front runners passed her by. Nearly six hours later, as she ran downhill to the finish, Brooks says she was shocked. "I could just hear Gabe saying 'Let the front of the race come back to you,'" she recalls—and it did. Brooks ended up finishing in second place, just six minutes shy of the course record.
The night before Hardrock, when Brooks was told by a race official she might have a difficult time getting to the start line from Ouray race morning, she quickly adapted her plan. Brooks borrowed a friend's tent and camped in a parking lot in Silverton. Taylor—whom Brooks dated for a few months before they ultimately decided to remain friends—was there to keep her company.
More of a worrier than Brooks, Taylor expressed her concerns about the race. But Brooks no longer had any to express back.
"I'm not scared of this race," she remembers telling Taylor. "I'm terrified of certain aspects of this race, but I am prepared. I did not come here to die."
RELATED: Identity, Self Worth, And The Art Of Holding It Lightly
The Peak
The rain from earlier that week had cleared the air of smoke and given way to a brilliant landscape composed of dramatic rock slopes and hillsides full of alpine grasses flecked with candy-colored wildflowers saturated in yellows, pinks, oranges, and creams. 
Brooks ran comfortably for the first few miles, even yo-yo-ing with Meghan Hicks and Mike Wardian, two elite runners whom she deeply admired. She checked in with herself to make sure she wasn't pushing her body too hard early on. But no, she felt strong and steady—at least until mile 33. 
Having not trained extensively at altitude, Brooks knew the ascent to Handies Peak—which, at 14,058 feet, was the highest point of the course—would be her greatest challenge. 
The air thinned until oxygen entered her lungs at a trickle. The trail grew steeper near the top and Brooks watched wind whip fog over the crest of the peak. She passed a few runners whose faces had turned white, including Mike Wardian. 
About a mile from the summit, as rain pummeled the path and dark clouds filled the sky, negative thoughts clouded Brooks's mind: I don't know if I'm cut out for this race. I don't know if I'm fit enough. I don't know if I can do this. But she knew how to be brave.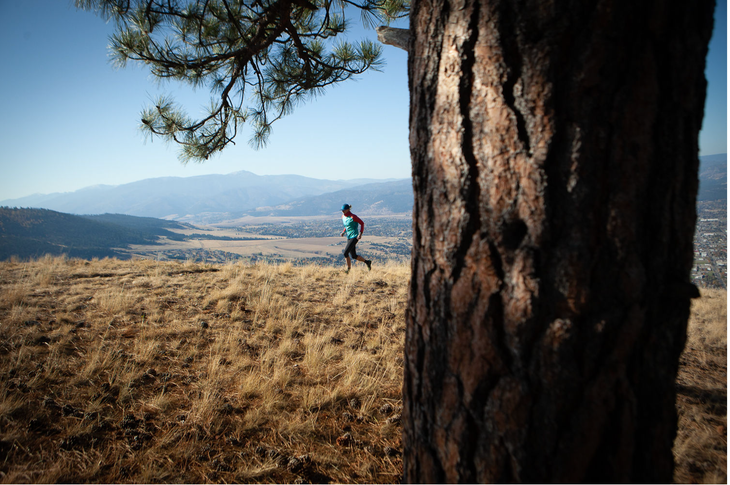 Calling Home
When Brooks finally called her father, she worried their conversation might end in tears—and it did. But his reaction took her by surprise
"What kind of father would I be if I shunned you?" her father, Karl, remembers saying. "The only thing I care about is that you're happy."
"I just sobbed," Brooks recalls. She had been so fearful of what lay on the other end of that conversation, she hadn't considered how loving and cathartic it might be. In a few words, "he just erased all these outcome-dependent insecurities in my life and gave me freedom."
Back on the mountain, Brooks watched Meghan Hicks hike away, then she stopped to take care of herself. She sat. She ate. She breathed. Then she continued up the mountain, one step at a time.
On the backside of the climb, Brooks heard voices cheering and cowbells ringing. Among Brooks's crew at the aid station was her father, taking pictures and videos while zooming in on the zig-zagging trail to get a better view his daughter as she ran toward him after one of the most difficult feats of her life.
When he finally saw her, he says, "it was like 100 lifetimes of Christmas."
RELATED: How One Man Found Health And Happiness At The Leadville 100
Heather's Hardrock
Hearing Heather Brooks talk about the rest of her race is like listening to the story of a hero in a mythical land in which magical things truly exist. 
Over the course of two hours, Brooks talked about spooking cow elk and watching the sun set from a mountain cliff on one of the highest roads in the San Juans. She mentioned running in the navy light of dusk along pine trees covered in frost, then stumbling through inky darkness across a sea of scree, in which each step sent the high-pitched clink of cracked china reverberating through the night, like wind chimes. She explained how she and her pacer dipped down into a massive bowl of rocks below a giant crown of 13,000-foot peaks, then looked up to see tiny lights twinkling, like fireflies, in a crook between spires. That morning, the sun rose as she did to meet a shanty of tarps and tents nestled snuggly between large rocks, a high-altitude hovel known as Kroger's Canteen.
"It was like, holy shit," Brooks exclaimed. "This is a moment."
More than two-thirds of the way into Hardrock, Brooks felt the miles on her legs and took it easy. But slowing didn't matter. Somehow, Brooks was hitting all of her splits. By the time she got to Telluride, at mile 72.8, she was 30 minutes ahead of schedule. 
"It was almost scary how on it she was," Bell says. "When she cruised into Telluride I was like, she's got this." What began as a crapshoot—creating splits based on an arbitrary goal of finishing in 40 hours—had somehow become a plan that looked absolutely perfect on paper.
After Brooks picked up her third and final pacer, Nate Bender, she shuffled across what she called "some of the most beautiful red scree I've ever seen in my entire life" before the thunder began to bellow. It was the moment Brooks had most feared. And yet, as thunder ricocheted off the walls, she curled-up beneath a tree, and took a catnap.  
"From there, the rain quit, the sun popped out, and the storm went away," she explains, as if it had all been part of the plan. 
At the top of Grant Swamp Pass, around mile 85, Brooks and Bender peered down into Island Lake, a turquoise pool surrounding a grey speck of volcanic rock. Bender turned to give her a hug, then asked how she was feeling. "I don't know why," Brooks remembers saying, "but I feel great."
"Heather has matured a lot as an ultrarunner over the last two years," Bender says. "She's gained confidence in herself."
Taylor agrees, adding: "It's got to take some weight off when you're not hiding anymore. Even on the hard days, she tells me that she gets to have a chance to live the life she wants."
Finally, at mile 94.7, Brooks knew she was going to finish. She crossed Mineral Creek and descended into town, suddenly surrounded by her idols, peers and loved ones, all cheering for her as she bent down to kiss the rock and close the final chapter in her Hardrock story.
"I knew she had the grit to do it," says Brooks's first pacer, Marilee Woyth. "But I didn't think she'd finish fifth, or in less than 40 hours—Heather was on pace for 40 hours."
In other words, for 40 hours, Brooks had stuck to her plan—her own plan. 
Reflections
As we finished up our conversations, I was surprised by how quickly Brooks was able to move past the candy-colored dreamscape of Hardrock. Though still quick to emotion while recounting all that had happened in her 38 hours on the course, she didn't seem intent on lingering there. In fact, she seemed eager to move on. 
"There is life outside of Hardrock. There is life outside of running. There are so many more emotions to experience," Brooks began. "Before, if I had to quit Hardrock, that would have been the end of me. But, I realize that Hardrock is just this beautiful thing that I got to experience, and there is so much more."
When Brooks was going through the most difficult time in her life, she saw herself reflected back to her in the mountains. And she saw herself there when she couldn't see herself anywhere else. In this way, Brooks needed Hardrock. She needed it to feel seen. But she doesn't need it anymore. 
"It's scary to be vulnerable and open up and let people see the human side of you, but ultimately that's what people want to see," she says. "Not everyone goes from Point A to Point B in a perfect, linear way; we're humans with feelings and lots of dips and dives, peaks and valleys, and that's the heart of the conversation. At least that's what the story is for me."
Back in Missoula, Brooks has been taking it easy. She's in a new relationship with a woman whose choice mountain activity involves paragliding from mountain summits. It makes Brooks excited to move through mountains in entirely new ways. To explore what else is possible.
Brooks is still dreaming big, and hopes her life continues to include long runs in the mountains—perhaps another go at Hardrock, or maybe even a run at Western States. And if neither of those races pan out next year, that's ok, too. Brooks has plenty of time for races, and lots of life to explore. As she says, utterly contentedly, "I'm just tapping into what I'm capable of."