Power Women of 2022: Stephanie Case
"When women are not seen, when they are invisible, it becomes much easier for those in power to forget that they exist."
Heading out the door? Read this article on the new Outside+ app available now on iOS devices for members! Download the app.
Stephanie Case is an advocate for women's rights on and off the trail. 
The month prior to her first attempt at the 450-kilometer, unmarked Tor De Glaciers race in Valle d'Aosta, Italy, Case wasn't focused on her training. Instead, she paused in the midst of runs, frantically emailing and taking trailside calls to coordinate chaotic evacuation efforts from Afghanistan for team members of her nonprofit, Free to Run.
Since 2014, Free to Run has been Case's passion project. When she's not running and training for ultras, or mired in her work as a human rights analyst for the United Nations, she pours her energy into the nonprofit, which develops female leaders in areas of conflict—specifically Afghanistan and Iraq—through outdoor sport and adventure. Though their mission remains, the Taliban takeover of the Afghanistan government in the summer of 2021 made it far more important to focus on safety and security.
Case is not one to balk from a challenge. She has lived and worked in war zones and refugee camps around the world, which makes her well-adapted to ultra running (she can survive long periods with very little water and poor sleeping conditions) and exceptionally empathetic to the circumstances that women in in conflict zones endure. She has sought out some of the world's hardest trail races over the past 15 years, including Racing the Planet stage events in Vietnam, Namibia, Australia, Nepal, and Mongolia; and the grueling maze of Tennessee's Barkley Marathons, arguably the toughest 100-mile race in the U.S. She's had top-10 finishes in long ultras, notably the 330-kilometer Tor de Géants in Italy, which she's repeated four times since 2015, and the 450-kilometer Tor de Glaciers as the first female and third finisher overall.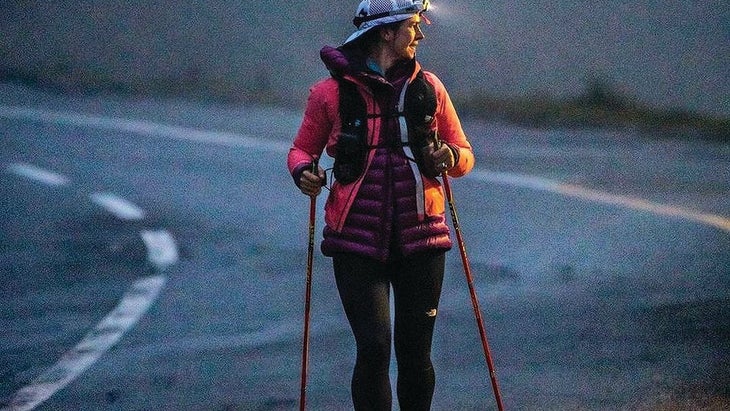 As the Taliban took control of Afghanistan and eventually its capital, Kabul, Case travelled to the country to help her team during the time she set aside to prep for Tor de Glaciers. She found herself burning and cementing documents in concrete to hide the identities of those who had been involved with the organization. Overnight the girls went from being able to run a marathon outside to being unable to get an education and being forced to stay indoors out of fear.
Case and her team evacuated the staff members of Free to Run, though many people connected to the organization still remain in Afghanistan. It's currently too complicated to continue sports programs and community outreach to help women and girls to reclaim public space there, but Free to Run is strengthening their programs in Iraq and is looking to expand to other geographic regions in 2022. Case still believes they can creatively engage with women in Afghanistan, and she knows it's critical.
"When women are not physically seen, when they are invisible, it becomes much easier for those in power to forget that they exist and have equal rights as the men in society," she says.
RELATED: Stephanie Case's Secret Weapon
Despite the emotionally stressful weeks leading up to Tor de Glaciers, Case still raced. "I wanted to toe the line out of respect for all of the women Free to Run had worked with over the years and what we had fought for: to ensure that women had a place in these male-dominated spaces."
With only three women registered, Case was determined to prove that women belong in extreme ultra races. She managed to finish in just over 155 hours with only 4 to 5 hours of sleep. Each step of the way she was spurred by thoughts of the women in Afghanistan whose rights to run, and to participate equally in society, had just been extinguished.
"Women need to be seen—and heard—both on and off the trail," she says. But she cautions that those who are excluded shouldn't be responsible for making themselves included. Instead, she says, it's the duty of event organizers, sports brands, and sports associations to address inequality and minimize barriers of entry for ultra running.
And she's taken those steps beyond her own participation in races to elevate the visibility of women in sports and society. In 2021 she served on the Hardrock 100's diversity committee to help increase women's participation in the race, and in 2022 she will be a member of The North Face's Explore Fund Council, where she'll help develop scalable solutions to improve access to outdoor adventure. Plus she's producing and starring in a film (out this spring) about herself and two women from Afghanistan who are pushing the boundaries of gender equality through running.
This story is part of the "Power Women of 2022" collection. You can find the full list of 15 women making a difference in running here.