Olympian Justine Fédronic Brings Cultural Heritage to Running Fashion
A former elite runner finds her creative stride by designing activewear that tells the story of her family history in the French West Indies
Heading out the door? Read this article on the new Outside+ app available now on iOS devices for members! Download the app.
When it comes to running apparel, companies are constantly being tasked with balancing function and form to ensure a level of performance with a certain aesthetic. 
Justine Fédronic, 31, is an Olympian with family roots in France and Martinique, currently living in Seattle, Washington, and she sees running fashion as capable of existing in rich dialogue with performance, culture, environmental responsibility, and style. 
This spring, Fédronic teamed up with Janji to create the French West Indies Collection, part of an initiative by the sportswear company to collaborate with artists for each seasonal launch. Fédronic's contribution is unique, though, as she's reached to the highest levels of the sport and is now expressing her love for the sport while empowering local artists to help tell the story of her family's heritage. 
Olympic Dreams
Fédronic was born in Germany, in 1991, before her family moved to France. Her father is from the island of Martinique, an overseas region of France located in the eastern Caribbean, while her mother is from Hungary. Along with her three brothers, the family would visit their grandfather's farm in Martinique, oscillating between Paris, Hungary, and Martinique before immigrating to the U.S. and settling in California's San Francisco Bay Area. 
By attending school in the U.S. and returning to Europe every summer, Fédronic's connection to home was in constant flux. "My brothers and I became cultural chameleons out of necessity," she said. "We didn't speak English, and we were a continent away from our cultures and communities. One of the consistent memories from my childhood was feeling otherness."
Some of Fédronic's earliest memories were running on the playground with American kids. "Running gave me a freedom of expression and connection, an emotional outlet." In middle school, she excelled in track and field, but it was high school she fell in love with cross-country. "I've always been hyper-competitive," she said. "My mama told me that it was hard to watch me race because of the pain I was willing to put myself through."
Fédronic would eventually run cross-country and track for Stanford University, becoming a five-time All-American, while competing internationally for France every summer. She finished third in the 800-meter at the 2013 NCAA Championships and, one year later, took the bronze medal at the European U-23 Championships. In 2016, she qualified for the Olympics in the 800, finishing second at the French Olympic Trials, but sustained another knee injury for the Olympics in Rio. 
"My Olympic experience was bittersweet," she said. "I was in the best shape of my life leading up to that injury, but didn't get to capitalize on it on the stage I had dreamed about for much of my career." 
In March 2020, Fédronic retired from elite running. She'd fallen out of love for the sport and needed to step back and take a full assessment of her intentions, to reconnect with the type of running she loved most, the "playful, liberating kind."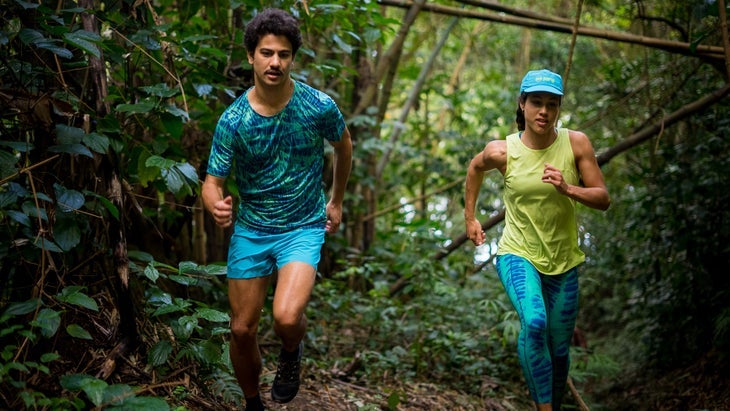 Where Culture Meets Creativity
Following Fédronic's experience at the Olympics, she embarked on a journey to remember the why of her running. "Running formed who I am in many ways, and I wanted to look forward to a lifetime of joyful movement," she said. "I'm lucky to have a compassionate, diverse, and strong community that encouraged me to be curious." 
That curiosity led her to cultivating an art practice and connecting with Janji, a company known for commitments to ethically and environmentally conscious running products. Founded on the mission to expand access to clean water around the world, 100 percent of their primary fabrics are now certified bluesign (the gold standard in meeting environmental and social criteria for manufacturing sustainable products) and OEKO-TEX (a certification for products that have been tested for harmful substances). By the end of 2023, Janji will be using 100 percent recycled synthetic polyester. 
Since 2021, the company collaborates with artists to direct seasonal designs, and Fédronic is their first Arts and Culture Coordinator. Together, she developed a series of cyanotypes—a printing process using ultraviolet light to take a "photograph" of an object and then make patterns with them. Fédronic traveled to Martinique to select her favorite floral expressions, inspired by memories of playing on her grandfather's farm. She used a laser cut wood approach to cut them out of wood, layer each with watercolor painted paper, and cyanotype them. Janji then translated the designs into performance wear. 
"Justine's an absolute gem to work with," said Janji cofounder Dave Spandorfer. "She brings the passion of Martinique and the French West Indies to this line, and we hope her work will inspire more people to travel there, and that her work will showcase other talented artists from the islands." 
Fédronic also wished to highlight local artists from the French Caribbean, to give them a voice. Using her networks, she hosted an open call for art and received overwhelming interest in the collaboration. Eventually, they chose six artists to contribute to the collection. 
Martinique is known as "Madinina," or Island of Flowers, because of the diversity and vibrancy of the flora. The island features 470 tree species and 77 different species of orchids. "We wanted to capture this resilient energy and create clothes that transport you on your daily run, a floral camouflage. The designs represent a fundamental yet delicate relationship between humans and nature, celebrating the vibrancy of the French West Indies," she said, while noting that this area also has a difficult history of colonialism and survival. 
Two percent of this collection's proceeds will go towards ecological restoration efforts on the islands of Martinique and Guadeloupe, including chlordecone remediation, an insecticide introduced by chemists in North America. Chlordecone had been used on the island's banana plantations up until 2005, classified by the World Health Organization as an endocrine disruptor. The carcinogen is still found in the soil and water, and 93 percent of Martinicans have traces of it in their blood. The incidence of prostate cancer is higher there than anywhere else in the world. 
"My family has suffered from the consequences of these political decisions, and I felt driven to use my privilege and platform to address the issue in some way," she said.
Jess Barnard is a photographer and friend of Fédronic, and she accompanied her in Martinique for the French West Indies Project. "It takes an immense amount of vulnerability and courage to share your story as you live and process it, to reconnect to one's roots, identity, and family," said Barnard. "All while contributing as an artist, assistant producer, overwhelmed with travel, modeling your art, elevating others, and taking on an opportunity to elevate a place so close to your heart, and do it justice." 
Indeed, Fédronic has done just that. After reaching to the highest levels of the sport, this Olympian has reached back into her family lineage, and the landscape that shaped her, to inspire a creative vision for a healthier and more honest future.