There's Nothing Quite Like Golden Hour at Western States
This year, 62 runners finished in the final hour before the cutoff.
Heading out the door? Read this article on the new Outside+ app available now on iOS devices for members! Download the app.
Like most runners in the 2023 Western States Endurance Run, Kevin Chow had a lot of ups and downs during his hard-fought journey along the historic 100.2-mile route from Olympic Valley to Auburn, California. 
An experienced trail runner with numerous races of 50 to 100 miles under his belt, he admits he wanted to drop out 16 hours into the race when he was at the Devil's Thumb aid station at the 47.8-mile mark on Saturday night. The 47-year-old microbiologist from the San Francisco area didn't want to quit, but he had been throwing up a lot, so he was having a hard time getting calories into his system and lacked energy. 
But Chow, like hundreds of other runners in the race, persisted with a combination of relentless individual drive and considerable help from his support crew. His crew chief and good friend Michael Li, rubbed a Chinese medicine oil on his sternum and nostrils, to keep him alert and helped stabilize his stomach by having him eat rice with raw ginger. That, along with the companionship and upbeat chatter of his pacers, kept him going through the night, and by the time he reached the finish line on the Placer High School track just after 10 A.M. local time amid a crowd of a few thousand cheering spectators, he was all smiles and looked surprisingly fresh and exuberant.
"The energy is incredible," said Chow, who finished in 29:05:10, less than an hour before the race's strict 30-hour cutoff time at 11 A.M. "I mean, I've been here just to spectate before, but to be a part of it and finish the race is like nothing else. It's like a life dream coming true." 
The Golden Hour
The final hour of the Western States 100 before the 30-hour cutoff time is known as "the golden hour," a 60-minute window that illuminates not only some of the best aspects of the ultrarunning, but also provides insights into the depths of the human spirit and how seemingly common people are able to push themselves to uncommon—or actually downright extraordinary—accomplishments. And, of course, it also highlights the fact that, as much as ultrarunning is an individual pursuit, it almost always takes a village of community support—pacers, crew, friends, family, coaches, etc.—to finish a 100-miler.
The last hour of Western States has provided a brilliant glimpse of that individual and collective grind for decades—probably since the start when Gordy Ainsleigh made his historic solo 100-mile run in under 24 hours during the Tevis Cup equestrian ride in 1974—but it's become even more magical as the sport has continued to grow and become more inclusive and welcomed more people from more walks of life.
Long after the winners of this year's race finished the evening before, a constant line of runners continued to arrive in Auburn and circle the south end of the Placer High School track. Like the elite runners and top-tier age-groupers who finished within 24 hours of the 5 A.M. start the day before at Palisades Tahoe ski resort, those who finished later on Sunday morning also trained hard, wore all the best trail running gear, refueled and rehydrated regularly, and did their best to maintain a positive outlook while chasing their goals.
RELATED: Courtney Dauwalter Runs to New Western States 100 Course Record
But, while they were relentlessly trying to finish ahead of the cutoff, they weren't stragglers at the back of the pack. They're committed, hard-working runners at the core of the sport doing whatever they can to fulfill the goal of earning a Western States 100 finisher's buckle. Most work full-time jobs and have families or other life commitments that force them to juggle everything so they prioritize enough time to train for such a rigorous event.
During the 2023 Western States 100, 67 runners crossed the finish line during the golden hour—20 percent of the race's record-tying 328 finishers. Although the race was faster and more competitive up front—led by astounding wins from Tom Evans (14:40:22) and Courtney Dauwalter (15:29:33)—the later finishers seemed to be especially impacted by the laborious trudging over long snowfields during the first 15 miles of the race.
"The snow made it hard. I set a maximum heart rate in the first six miles of the race, so I wasn't very happy about that," said Jonathon Amlung, a 53-year-old attorney from Louisville, Kentucky. After getting into the race when one of his 256 accumulated lottery tickets was selected, he persevered and finished in 29:09:35. "After that, I felt like a lot of us were fighting cutoff times all day, and that was very stressful so we were all making very poor decisions. And I had a buddy who was timed out at the 98.9-mile point last year, so that was in my head, too. I knew I just had to keep moving."
A few finishers jogged solo to the finish line, but most ran, walked, skipped, or danced across the finish line with pacers and crew members or family or friends who arrived at the track earlier in the morning to share in their glory. 
"It never gets old," said Elijah Hall, 50, from Sacramento, who finished in 29:32:39, crossing the line with crew member Lisa Felder, 76, an icon in the ultrarunning world from San Leandro, California, who has helped hundreds of runners reach their goals as a coach, race director, and advocate.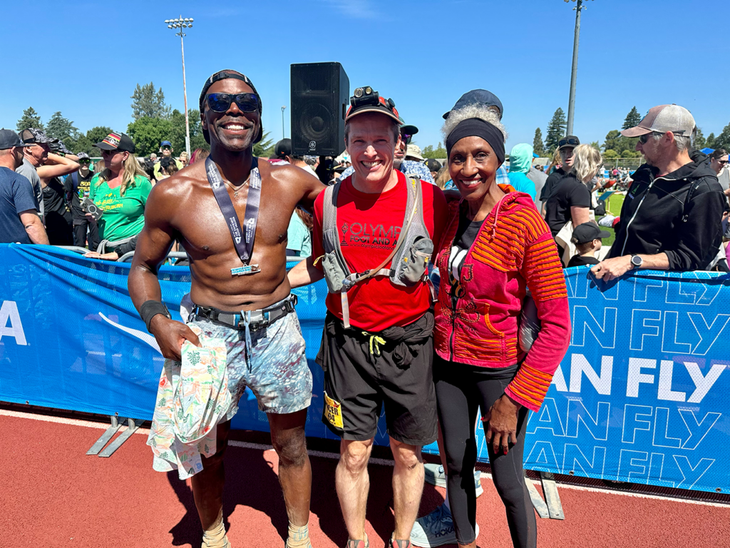 It was Hall's first Western States after eight previous 100-milers. He works as a civil engineer and admits he's driven by data, which is why he had a plethora of course splits meticulously printed on several miniature charts that he wore in a wristband similar to what an NFL quarterback used to keep track of football plays. But once he fell off pace and struggled a bit, he credited the relentless enthusiasm and encouragement of Felder and pacer Michael Fink for helping him get through the night and reach the finish line. 
"Yeah, it was pretty challenging," Hall said. "But when you have good pacers and good crew helping you out, you can find a way to get it done. And to get here to the track with the fans, this is like a dream come true."
Some of the final finishers looked fresh and limber, but most looked weary, fatigued, and dusty. Each one was chasing a similar dream goal, but with their own personal story.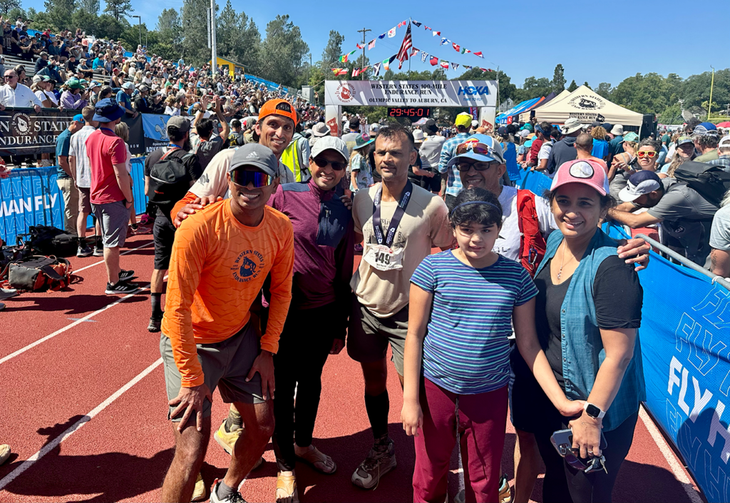 "It was an amazing, crazy day," said Anil Rao, 47, who finished in 29:43:00, exactly 17 minutes ahead of the cutoff. Like most runners who finished in the golden hour—or, heck, like most runners in the race—he had plenty of low points during his journey to the finish line. 
Fourteen hours earlier, during a moment of struggle at the 55.7-mile Michigan Bluff aid station, Rao heard that Dauwalter had already finished in a new women's course-record time. That didn't discourage him at all, but instead it galvanized him in his effort to finish for the second time and provide an inspirational example to his young daughter. 
"States is something special," said Rao, who finished for the first time in 2012, also in the golden hour, in 29:39:29. "I waited like 11 years to do it again. My daughter was one year old when I did the first one. Now this time I came back, and she's 12, so that's why I wanted to run with her because I know it will be a memorable experience for both of us." 
A Golden Morning
While the golden hour is perhaps the most extraordinary 60 minutes in trail running, in reality the entire morning is golden. It's not that the 110 runners who finished under 24 hours and earned a golden belt buckle are more special than anyone else, but those who finished during the final six hours of the race after witnessing a second sunrise and earned a bronze belt buckle were certainly riding the struggle bus quite a bit longer. 
Of the race's 328 finishers, 217 (66 percent) finished in the final six hours and 126 (38 percent) finished in the final two hours. Like the faster runner, it's the support of the community that helps get them to the finish line.
"It took me six years in the lottery to get in, and it has been a dream long before that," said Marcin Krzysztofik, 38, a Polish citizen who lives in Oxford, England, after finishing in 28:47:12 "I was in a pain cave and my pacer, Eric, got me out of it and got me here. He's a superstar, the best pacer in the world. I wouldn't have made it without him."
RELATED: Katie Asmuth's Long Trail Back to Western States
Pacers and crew are vitally important, but so too are the volunteers at the aid stations and other points out on the course. Amelia Valinsky-Fillipow, a 53-year-old runner from Long Beach, California, was grateful to have her husband and daughters crewing her along the way, but she said she would have never made it to the track if it wasn't for an unknown volunteer at the Devil's Thumb Aid Station. 
"I was about ready to drop," admits Valinsky-Fillipow, who finished in 28:48:43, after waiting eight years to enter the race through the lottery. "He sat with me for about five or ten minutes and just kinda talked me through it. I don't know his name. He was just a nice volunteer who helped me out, but I wouldn't be here without him." 
The Final Finisher
With five minutes to go, race announcer John Medinger told the crowd of about 2,000 people gathered on the track and in the bleachers that there were still eight runners between the 99-mile mark at Robie Point and the finish line. That included Kate Cook, 47, a first-time Western States runner from Marblehead, Massachusetts, who was already on the track and soon thereafter finished in 29:55:11 with her young daughter leading four family members across the line.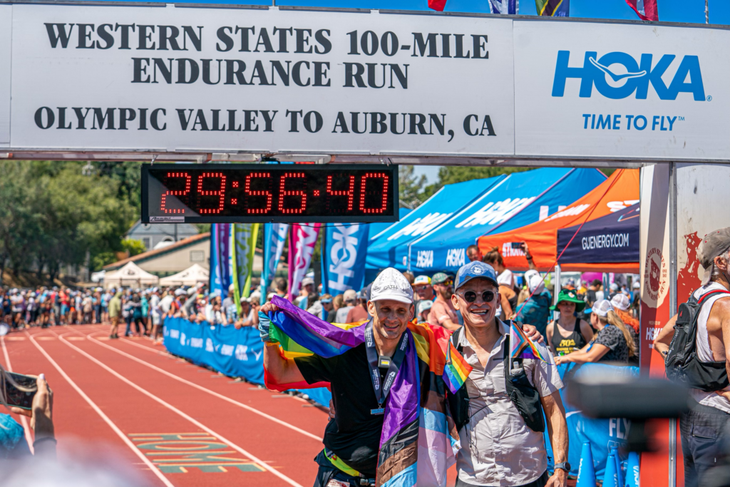 A few moments later, Brent Heady, 50, a first-time finisher from Irving, Texas, arrived at 29:55:5 with a Pride flag draped around his neck. As anticipation continued to grow, Mark Smith, 44, of Coon Rapids, Minnesota, trotted across the line with his pacers at 29:58:18 for his second Western States finish. Moments after Henrik Ostlund, 46, of Stockholm, Sweden, earned his first Western States finish in 29:58:55, Medinger announced that there was one minute remaining in the race. 
And that's when all eyes turned to a group of runners entering the turn on the backstretch of the track, about 150 meters away from the finish line. At the center of the group was Jennifer St. Amand, a 48-year-old ultrarunner from Dexter, Minnesota, with eight 100-milers under her belt. 
A former social worker who works as a recruiter for the Minnesota Army National Guard, she struggled on the snow early in the race, but she kept moving and was determined to finish. 
"That was the slowest and hardest 50K to start a race I've ever seen," said Brian Mansky, one of Amand's three pacers. "That chewed up everybody. But you survive and you have to keep battling back, and that's what she did."
When Amand passed through the Robinson Flat aid station, she was about an hour ahead of the cut-off time, a margin she maintained until slowing late in the race when she only had a 30-minute cushion. But she kept a positive attitude, relied on the supportive efforts of her pacers and crew, and ran with a joyful and hopeful determination.
"Oh my gosh, that was a challenge. It was way harder than I thought it was gonna be," Amand said. "I have to be honest, I didn't think I was going to finish. I was running as fast as I could and I was topping out at 14-minute miles, but that's as fast as I could go. The uphills were really taking a toll on me. Anytime I would do one, it's like I was maxed out. I had no power. I would fall apart and just get overheated."
RELATED: 'UltraGeezer' Gene Dykes is Ready to Tackle Western States 100
Amand admits she was mentally out of it during the final miles and didn't realize she was only a mile away from the finish when she trudged up the last climb to Robie Point. Her pacers, Mansky and Sarah Chapman knew she had time to finish, but she had to hustle. Amand somehow summoned the energy to run down to the Placer High School track, suddenly moving at about an 8-minute mile pace.
When she got to the track, she was greeted by the pure pandemonium of hundreds of cheering spectators. She thought she heard someone say she had to run four laps around the track, so she buckled down and kept going, even though she figured she'd never make it. 
"I was moving as fast as I could, but there was no way I could run four laps around the track at that point, so I was worried I was going to let everyone down. It wasn't until we came around the bend of that curve that I saw the finish lines signs and the clock said 29:59-something, and that's when I realized that, 'Oh, I got this!'" said Amand, who suddenly picked up the pace and ran to the finish line, crossing in 29:59:39 with just 21 seconds to spare. "I started sprinting. I don't know how I did that, but wow, crossing that finish, that was amazing. It was like nothing I've ever felt before."
Addendum
There were a few more runners who reached the finish line, but after the time cutoff, including Ashley Bartholomew, a 61-year-old Australian runner who's the father of elite runner Lucy Bartholomew, who finished third in the 2018 Western States 100. Her dad did what he could to get through the course, but ultimately finished at 30:02:20 and, although he will be listed as a DNF runner, he received a rousing round of applause from the crowd.
"Thank you everyone. for everything," Lucy said. "There might not be a buckle on his belt, but there's a feeling of love in his heart and a memory for life in our minds."