Team USA Ready to Take on the World in Austria
Loaded American team heading to June 7-10 World Mountain and Trail Running Championships
Heading out the door? Read this article on the new Outside+ app available now on iOS devices for members! Download the app.
EmKay Sullivan got a glimpse of where her running could take her at the 2020 U.S. Olympic Trials Marathon in Atlanta.
Although Sullivan admits she didn't run her best race and never thought she'd make the U.S. Olympic team, qualifying to run with more than 500 of the country's top women marathoners in that historic race provided a bit of validation and even more inspiration to keep working hard. After being an All-American steeplechase runner in college and dabbling in road running, she really found her niche on the trails after the COVID pandemic subsided, and has flourished in distances from 20K to 50K. 
In the past year, she's gone all-in on trail running and it has paid off, with numerous podium finishes in top U.S. races, including a runner-up showing at the February 18 Fourmidable 50K in Auburn, California. That earned her a spot in the 45K race on the USATF Mountain and Trail Running Team that will compete at the the second World Mountain and Trail Running Championships, June 7-10, in Innsbruck, Austria. 
"I'm so stoked. To be able to wear a U.S. uniform is a dream," said Sullivan, 28, who lives in Reno, Nevada. "I missed qualifying for the Olympic Trials on the track in 2016 in the steeplechase by two seconds, but that was the first taste of like, 'Oh, that's what I want.' So when I made the Trials in 2020, I knew I wasn't gonna make the team, but it was such a cool thing just to be there. But to make the U.S. team for this year's World Championships and be able to actually wear the Team USA uniform, it's like a whole nother level."
A year ago, with a goal of putting more time and effort into her training, Sullivan left her job as an assistant cross country and track coach at the University of Nevada-Reno. It was a great gig—she managed a lot of the program's logistics as director of operations, helped relaunch the men's cross country team after a 21-year hiatus, and guided young runners at her alma mater—but the travel and time commitments were all-consuming and her training started to suffer. 
"I'd get back from a trip with the team and there would be the team's long run on Sunday after we'd traveled the whole weekend, so then I'd often do my own long run on Monday at 4 A.M. before practice," Sullivan said. "We  decided that I needed to just give this thing a chance. I can always get back into NCAA coaching if I want to, but I'm still young enough and can make rash decisions like that, but you only have a certain window to run at your peak."
Sullivan signed a sponsorship deal to join the Craft Elite Run Team earlier this year and continues to coach trail running clients with FreeTrail. She's planning to run the OCC 50K in Chamonix, France, in late August, and she might even take another shot at qualifying for the 2024 U.S. Olympic Trials Marathon in the fall. 
But for now, her focus is all about wearing the red, white, and blue kit of Team USA and competing alongside Montana's Jennifer Lichter, Alaska's Klaire Rhodes, and Colorado's Bailey Kowalczyk, Kimber Mattox, and Brittany Charboneau in the 45K race.
"It's a real dream come true," said her husband Tommy Sullivan, who is also a competitive trail runner. "Everyone who does a sport like this dreams of wearing those colors."
The 45K race at the world championships includes almost 11,000 feet of vertical gain over three massive ascents—including  a 5,000-foot continuous climb during a 9-mile segment midway through the race—before bombing down a 2.8-mile, 4,600-foot descent to the finish line in the mountain village of Stubaital.
Because some of the steeper mountain trails west of Reno didn't open up until early May due to excessive snowpack, Sullivan did a lot of her harder workouts on a  treadmill—including hill repeats at a leg-burning 25 percent grade. Those were brutal sessions, but her efforts paid dividends at the Canyons 50K on April 29, where she finished a strong third place in 4:17:50.
"Maybe it's just me, but I don't think people give enough respect to sub-ultra distances and 50K races. In those races you are redlining while you're racing people for like four to six hours," she said. "It's crazy. But it's so much fun. The race in Austria is going to be so hard, so that's what it's going to take if I want to get on the podium."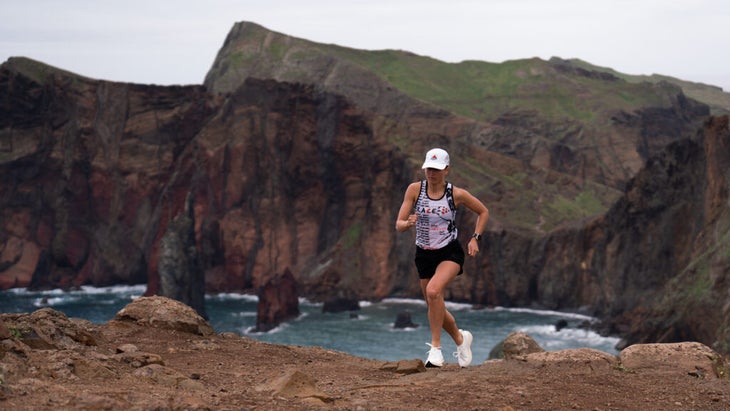 RELATED: 'Allie Mac' Wins World Championship, Leads Team USA to Gold
40 runners on Team USA 
After an enormously successful showing at last year's inaugural World Mountain and Trail Running Championships in Chiang Mai, Thailand, the U.S. is sending arguably an even more talented team to this year's event in Austria. Last November in Thailand, McLaughlin (Vertical Race) and Adam Peterman (80K Race) won individual gold medals, while the U.S. men's team won the 40K team championship and the U.S. women's team brought home a gold (Vertical Race), silver (40K Race) and bronze (Classic Mountain Race) from the four-day championship.
The 2023 USATF Mountain and Trail Running Team includes 40 runners who will race in four senior races—7.5K Vertical Race, 15K Mountain Classic Race, 45K Short Trail Race, and 85K Long Trail Race—as well as a junior 7.5K Mountain Classic Race for U-20 runners. 
The championships are organized by the International Trail Running Association (ITRA), International Association of Ultrarunners (IAU) and the World Mountain Running Association (WMRA) and officially sanctioned by World Athletics. Last year's World Mountain & Trail Running Championship in Thailand replaced the World Mountain Running Championship (1985-2019), World Long Distance Mountain Running Championship (2004-2019), and Trail World Championship (2007-2019).
The U.S. team is headlined by runners who have previously won world titles in various mountain and trail running disciplines, including Allie McLaughlin (2014, 2023), Grayson Murphy (2019), Joe Gray (2016, 2019), Max King (2011), and Kasie Enman (2011). Jim Walmsley, the 2019 World Long Distance Mountain Running Champion, was named to the team earlier this spring but as of May 31 is out with an injury and will not compete in the Vertical Mountain Running Race or the Long Trail Running Race as planned.
The U.S. team, which was selected through a combination of five qualifying races and an application process, includes several runners who have previously competed in world championships for Team USA or have podium results in high-level domestic races. Five U.S. runners—McLaughlin, Murphy, Dan Kurts, and Rachel Tomajczyk—will compete in two events.
"The energy that came from Thailand going into Austria has been amazing," said U.S. team manager Nancy Hobbs, the chairperson for USATF's Ultra & Trail Running Council.  "We had probably double the interest in terms of qualifying races and the application process this year and the team we are sending has a lot of depth. 
"We have good athletes in each one of the disciplines, so it's not like we have only vertical specialists or only people that can climb. We've got a mix of athletes that are good across all the disciplines, so that makes us a really solid team. And a lot of the athletes have run together or trained together, so you already have a little bit of benefit there with the cohesion and team unity."
RELATED: Adam Peterman, U.S. Men Win Gold in World Championships 80km, Women Win Silver in 40k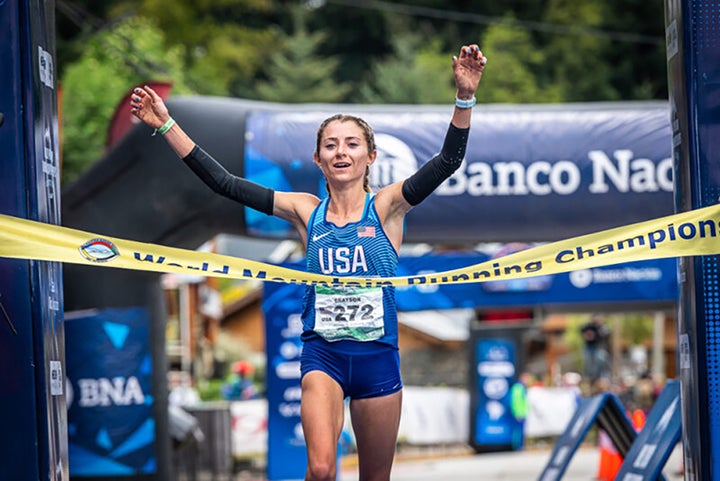 2023 USATF Mountain and Trail Running Team
Vertical Mountain Running Race – June 7
7.5K (4.7 miles), 3,350 feet of vertical gain

Joseph Gray, 39, Colorado Springs, Colorado
Dan Curts, 27, Norwich, Vermont
Morgan Elliott, 31, Salida, Colorado
Liam Meirow, 27, Portland, Oregon
Eddie Owens, 29, San Francisco, California (out/injured)
Jim Walmsley, 33, Phoenix, Arizona (out/injured)
Grayson Murphy, 27, Flagstaff, Arizona
Allie McLaughlin, 32, Colorado Springs, Colorado
Rachel Tomajczyk, 30, Williams, Arizona
Alexandra Lawson, 24, Craftsbury Common, Vermont

Short Trail Running Race – June 8
45K (27.9 miles), 10,500 feet of vertical gain

Craig Hunt, 32, Flagstaff, Arizona
Jonathan Aziz, 31, Colorado Springs, Colorado
Garrett Corcoran, 27, Salt Lake City, Utah
Jackson Brill, 24, Bend, Oregon
Max King, 43, Bend, Oregon
Seth Ruhling, 28, Boulder, Colorado
Jennifer Lichter, 26, Missoula, Montana
Klaire Rhodes, 24, Anchorage, Alaska 
Bailey Kowalczyk, 27, Nederland, Colorado
EmKay Sullivan, 28, Reno, Nevada
Kimber Mattox, 34, Fort Collins, Colorado
Brittany Charboneau, 34, Denver, Colorado

Long Trail Running Race – June 9
85K (52.8 miles), 18,225 feet of vertical gain

Jim Walmsley, 33, Phoenix, Arizona (out/injured)
Drew Holmen, 30, Boulder, Colorado
Zach Miller, 34, Manitou Springs, Colorado
Preston Cates, 25, Flagstaff, Arizona
Eric LiPuma, 29, Richmond, Vermont
Caleb Olson, 27, Draper, Utah
Hannah Allgood Osowski, 31, Colorado Springs, Colorado
Clare Gallagher, 31, Boulder, Colorado
Emily Schmitz, 41, Chamonix, France (replaces injured Erin Clark)
Shea Aquilano, 21, Carmel, Indiana
Sarah Keyes, 38, Saranac Lake, New York
Allison Baca, 32, Golden, Colorado 
Classic Mountain Running Race – June 10
15K (9.3 miles), 2,475 feet of vertical gain
Grayson Murphy, 27, Flagstaff, Arizona
Allie McLaughlin, 32, Colorado Springs, Colorado
Rachel Tomajczyk, 30, Williams, Arizona
Kasie Enman, 43, Huntington, Vermont
Dan Curts, 27, Norwich, Vermont
Morgan Elliott, 31, Salida, Colorado
Liam Meirow, 27, Portland, Oregon
Casey Campbell, 30, Bend, Oregon
Junior Classic Mountain Running Race (U-20) – June 10
7.5K (4.7 miles) 1,230 feet of vertical gain)

Milaina Almonte, 17, Edwards, Colorado
Lily Jin, 17, Wellesley, Massachusetts
Lindsey Whitton, 17, Edwards, Colorado
Samantha Wood, 18, Boise, Idaho
Michael Maiorano, 19, Medford, Oregon
Kenan Pala, 19, San Diego, California
Caleb Richardson, 19, Spokane, Washington
Wes Shipsey, 19, Portland, Oregon
The 2023 World Trail and Mountain Running Championships will be broadcast via livefeed on YouTube and Instagram. The next World Mountain and Trail Running Championships will be held in Canfranc-Pirineos, Spain, in late September 2025.
Boulder-based Brian Metzler has run more than 75,000 miles in his life, competing in every distance from 50 meters to 100 miles, running the Rim-to-Rim-to-Rim run across the Grand Canyon and back several times, racing pack burros on many occasions and going up Colorado's Longs Peak 20 times. In 2018, he ran the Great Wall of China, completed the Leadman series and ran a 100K in South Korea. He is the founding editor of Trail Runner and the author of "Kicksology: The Hype, Science, Culture and Cool of Running Shoes."