Summer of Speed: New FKTs are Falling at Record Pace
Heading out the door? Read this article on the new Outside+ app available now on iOS devices for members! Download the app.
When Buzz Burrell and Peter Bakwin came up with the Fastest Known Time (FKT) concept some 20 years ago as a way to quantify and verify trail-running records, they hoped and believed it would become a global phenomenon.
However the veteran trail runners and adventure seekers probably never dreamed they'd be working long hours after they retired as volunteer data-entry clerks supporting the movement. But with the FKT movement growing exponentially this spring and summer amid the coronavirus pandemic, they're doing everything they can to keep up in the verification and curation process on FastestKnownTime.com.
"It's just exploded since April and it's never let up," Bakwin says. "With most of the races canceled, it seems as if everyone is out running fast on trails. We're basically overwhelmed by the volume. It's creates a giant opportunity, but it's not really an opportunity that we were prepared for—like everyone else who was caught off-guard by the pandemic."
How much has the FKT trend grown? There were 151 verified FKTs added to the site in the record-setting month of July 2019 and a whopping 566 added in July 2020.
How much has the FKT trend grown? There were 151 verified FKTs added to the site in the record-setting month of July 2019 and a whopping 566 added in July 2020. The tiny FKT staff—Bakwin, Burrell and Jeff Schuler—added 62 new more FKTs in the first three days of August, which could lead to the site's first 600-FKT month.
In the spring, a lot of the FKTs were on shorter routes because runner's were staying close to home due to the lockdowns from the pandemic. But lately there have been more top-level athletes who have had their races canceled going out and setting some impressive efforts on longer trails, including the Tahoe Rim Trail, Colorado Trail and Long Trail, says Bakwin.
Aside from the U.S. and Canada, there have been hundreds of new FKTs set in Europe, he adds. Jason Hardath, a school teacher from Kalamath Falls, Oregon, is the all-time leader in FKTs with 71 (including 37 set in 2020), with Ben Nephew, a research scientist from Westborough, Massachusetts, a close second with 60 overall and four this year. Marcy Beard is tops among women with 31 FKTs and nine in 2020.
Bakwin has 25 FKTs to his credit, but he's been mostly stuck at his computer this summer because of the non-stop flow of submissions.
"For us, it peaks on Sunday, Monday and Tuesday because people are doing their runs on the weekend," he says. "Usually by Friday, we're usually caught up again and then it starts over as the weekend begins. But if I went off grid for a month or went out to hike the Colorado Trail, it would all fall apart."
Interested in setting an FKT? Make sure you read the guidelines and prepare in advance. Read more about the FKT craze at this recent article from FiveThirtyEight data analysis site.
10 Top FKTs from Summer 2020
Here's a diverse collection of 10 recently minted FKTs highlighted here to illustrate the wide range of efforts trail runners have been putting forth on trails throughout the U.S. and around the world.
Runners: Ted Erkkila, Michele Zandona
Category: Unsupported
Distance: 9.6 miles
New FKT: 2 hours 23 minutes 44 seconds (August 2)
Yes, you can set FKTs as a mixed-gender team, which is what Erkkila and Zandona did on this 9.6-mile sometimes technical out-and-back trail with roughly 2,500 feet of vert and some of the most scenic views of any trail in the Hudson River Valley. Erkkila and Zandona also set a mixed-gender FKTs on New York's 13.3-mile Storm King Round and the 13.76-mile Five Sister Loop FKT this summer.
Runner: Jason Thienel
Category: Unsupported
Distance: 60.2 miles (out and back)
New FKT: 22 hours 58 minutes 10 seconds (August 2)
At 30.1 miles each way, the Art Loeb trail is one of the classic moderately long distance trails in North Carolina. Thienel, a runner from Nashville, Tenn., who has run several 100-milers (including UTMB in 2019) and one 200, crushed this 60.2-mile out-and-back effort with 9,000-plus feet of elevation gain between the Davidson River Campground and the Daniel Boone Boy Scouts Camp at the foot of Cold Mountain in the Shining Rock Wilderness. 
Runner: Beth Pascall
Category: Supported
Distance: ~66 miles
New FKT: 14 hours 14 minutes 26 seconds (July 24)
The Bob Graham Round is one of the all-time classic fell-running challenges in the English Lake District, first completed under 24 hours by Bob Graham in 1932. It involves traversing 42 fells over a course with 27,000 feet of elevation gain. Beth Pascall sliced about 50 minutes off the previous women's mark set by Jasmin Paris in 2016.
Runner: Johnny Luna-Lima
Category: Unsupported
Distance: 17.3 miles
New FKT: 2 hour 46 minutes 22 seconds (June 4)
The Skyline Traverse has long been a staple of Boulder-area trail runners, but as of late the influx of obstacle-course racers has really helped lower the FKTs. The 17.3-mile route goes over the five peaks on Boulder's western horizon line—Mt. Sanitas, Flagstaff Mountain, Green Mountain, Beak Peak and South Boulder Peak—and includes 5,600 feet of vertical gain. The men's (Johnny Luna-Lima, 2:46:22) and women's (Sara Kadlec, 3:31:08) unsupported marks have each gone down four times since early May, while David Glennon (2:53:01) also set a fast supported FKT.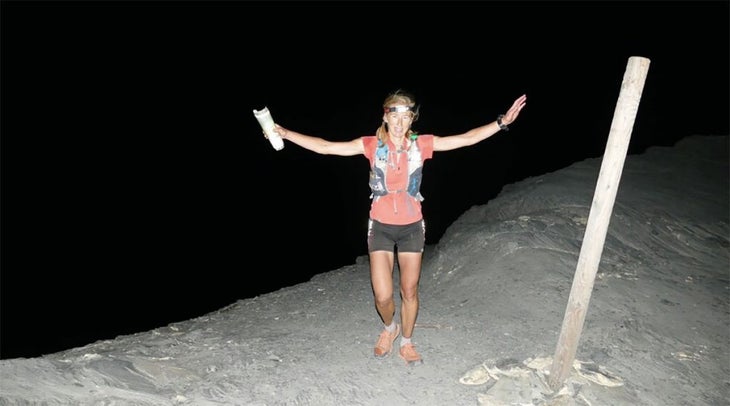 Runner: Sandrine Beranger
Category: Self-supported
Distance: 118 miles (190 km)
New FKT: 40 hours 40 minutes (July 31)
With 39,000 feet in elevation gain, this well-known hiking loop in South France is no small endeavor. Most people hike or run it hut-to-hut style in four to seven days. Beranger, 36, a two-time top-10 finisher in the UTMB, finished it in a little more than a day and a half.
Runner: Todd Buckingham
Category: Unsupported
Distance: 3.35 miles
New FKT: 18 minutes 13 seconds (August 1)
Proving that a trail doesn't have to be long to warrant an FKT, this mildly technical loop with rolling hills and 564 feet of gain offers a fast-cadence grind. Buckingham hammered this circuit at 5:26 mile pace and took a full two minutes off the previous FKT set by Zach Crim on May 13. However, it's interesting to note that Crim ran 10 laps (33-plus miles or about 52K) on this trail in 4:12:29. The "Lake Lansing from Sandhill" segment on Strava tracks the leaderboard for this trail and has been very competitive amongst mid-Michigan runners for years.
Runner: Bonnie Kaminsky
Category: Unsupported
Distance: 9.3 miles
New FKT: 2 hours 34 minutes 5 seconds (August 2)
At 11,928 feet, Mount Nebo is the highest peak in Utah's Wasatch Range. The trail has an average grade of 11 percent and roughly 2,600 feet of elevation gain. Kaminsky set the initial women's FKT on this rugged out-and-back summit shot on June 21 with a 3-hour, 7-minute effort. She returned on August 2 to slice 33 minutes off that mark with a 2:34:05 roundtrip, thanks in part to a stellar 1:21 effort on the ascent.  
Runner: Joey Campanelli
Category: Unsupported
Distance: ~100 miles
New FKT: 41 hours 33 seconds (July 3)
On this increasingly popular route with more than 40,000 feet of elevation gain, Campanelli's unfathomable time was more than 12 hours faster than the old mark set by 14er legend Andrew Hamilton less than five years ago. More impressively, the 31-year-old from Alta, Utah, also bested the two previous fastest marks set on Nolan's in 2018—Alex Nichols' supported northbound FKT (46:41) and Joe Grant's unsupported southbound FKT (49:38). Not to be taken lightly, Sarah Hansell's women's mark (57 hours 43 minutes 34 seconds) on July 8 was also awesome.
Runner: Michelle Hummel
Category: Unsupported
Distance: 21 miles
New FKT: 3 hours 35 minutes 54 seconds (June 27)
Linking part of the iconic La Luz Trail, this rugged loop in the Sandia Foothills on the outskirts of Albuquerque is popular among trail runners and hikers for the scenery it provides. Hummel, 35, set the overall FKT with her strong effort on June 14, taking 20 minutes off the previous mark set by Christopher Bratton less than two weeks earlier. Hummel also moved twice as fast as the original women's FKT (6:41:24) set by Marcy Beard a month earlier.
Runner: Andrew Burford
Category: Unsupported
Distance: 6 miles
New FKT: 49 minutes 25 seconds (August 1)
The Zoar Trail circles the border of the lower section of the Paugussett State Forest in an elongated oval. With 1,370 feet in elevation gain, it's no easy loop. Burford, who has set six FKTs on four trails in Connecticut this summer, took five minutes off the most recent mark set by Jeff Grant back in March. The trail has a lot of interesting features, including the legend of a sunken town, a superb waterfall, an epic lake and some unusual quotes and lyrics written on trees.