Strava Is Now More Trail Friendly. Here's How They Did It.
On Wednesday, the world's largest social platform for athletes announced several new updates, and trail running is front and center.
Photo: Photo Courtesy of Strava
Heading out the door? Read this article on the new Outside+ app available now on iOS devices for members! Download the app.
This week, Strava, the world's leading social platform for athletes sharing data and experiences, announced they will be adding 3D maps of completed activities, "Trail Run" as one of several new activity options, and other exciting updates that benefit dirt-loving mountain types.
Long overdue, right? We're so excited.
Strava announced new off-road interfaces to support "high-growth trail sports," which include trail running, mountain biking, and hiking, activities that are growing twice as fast as other Strava activities like road running and cycling.  
"We have been seeing off-the-charts growth of trail sports over the past several years, outpacing even growth of road running and riding," said Michael Horvath, CEO and co-founder of Strava.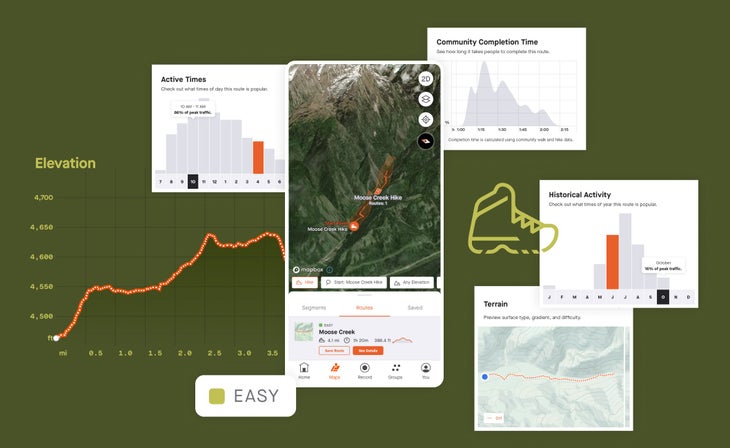 "Our teams are thrilled to be meeting athletes where they are with this release to fuel their joy of exploration." In addition to Trail Run as an Activity option, you will also now see other dirt-loving sports like Gravel Ride, Mountain Bike, and e-Mountain Bike.
Another development specifically geared toward trail and mountain runners is Strava's new offering of Trail Routes, which will highlight activity-specific trail networks and trailheads, with varying distances and elevations. Nuanced details for the routes will include difficulty ratings, Community Completion Times, and historical trends for best times of the year and time of day to run a specific route. Routes will now be available to download for offline use, too. And finally, for subscribers, Strava has introduced 3D maps for a more textured activity log.
With Strava's growth—7 billion activity uploads since its founding in 2009, 2.5 billion in the last 18 months—all of these upgrades offer a significant boost to trail-loving athletes everywhere as we seek to better explore, share activities, minimize trail impact, and build community.