How American Sophia Laukli Won Switzerland's Sierre-Zinal Mountain Race
Although she's only been racing on trails since 2021, Laukli has quickly become one of the world's best mountain runners
Photo: The Adventure Bakery
Heading out the door? Read this article on the new Outside+ app available now on iOS devices for members! Download the app.
As far as sports go, trail running still isn't Sophia Laukli's first love, but it's becoming a very close second.
The 23-year-old American trail runner is also an elite-level professional Nordic skier who recently moved to Norway to pursue skiing at the highest level. But this summer she's been tearing it up on the Golden Trail World Series (GTWS) running circuit in Europe.
After a breakthrough running season last year when she placed second in the GTWS Finals in Portugal, she's seemingly turned it up another notch this summer as she's gotten more familiar with the competitive racing scene and gained more understanding how she can strategically apply her considerable fitness and growing skill set.
Most recently, Laukli outran a stellar international field to win the 50th edition of the Sierre-Zinal 31K (19.2-mile) mountain race on August 12 in Switzerland. She took the lead midway through the point-to-point uphill course and won the race in 2:53:17 with a four-minute margin.
Laukli admitted the day before the race she had no idea how she might run, and, as such, didn't take a lot of pressure into the race. That allowed her to run her own race almost to perfection. She started the race conservatively as the course began with a 6,000-foot climb from the city of Sierre, keeping her heart rate at a moderate level by power hiking the steeper sections.
"This is probably the first race in which I've thought a little bit more tactically," said Laukli, who was one of only a few elite runners who wore a hydration vest during the race. "I felt good on the uphills, that's kind of my jam. I pushed, but didn't want to push too hard because there was a lot of running after that, and I knew so many of the women were probably stronger on that than I would be. But until the very end, I had no idea where I was or how close the other women were behind me. It was really, really rewarding to pay off after that."
Laukli was ahead of pre-race favorite Nienke Brinkman of the Netherlands, last year's Golden Trail World Series overall champion and 2021 Sierre-Zinal runner-up early on, but she trailed early race leaders Monica Madalina Florea of of Romania and Joyce Muthoni Njeru of Kenya. After getting through the stout initial climb, Laukli eventually caught and passed Florea and Njeru near the halfway point and then outran them over the flatter sections at the highest parts of the course.
Although she maintained the four-minute cushion she had built over the final four-mile, 2,500-foot descent to the ski village of Zinal, Laukli said her legs started to cramp with about 500 meters to go and she said she felt nauseous after the race—both indications that she pushed herself to the max. She was four minutes off Maude Mathys's 2019 course record (2:49:20), but she was racing for the win, not the record.
"I had a feeling I was going to be a bit farther back on the uphill because I knew a lot of those women were powerhouses on super steep stuff," Laukli said. "But I felt good and I was just vibing the whole way, gradually picking off girls on the way up. It's a really long race and I wanted to be able to have fresh legs for the final two hours of running."
Laukli became only the fifth U.S. runner to earn a victory at Sierre-Zinal since its inception in 1974 and just the third American woman to win the race, following Megan Lund (2010) and Stevie Kremer (2014). Chuck Smead (1977) and Pablo Vigil (1979-1982) are the only other U.S. runners to win the race.
That Laukli won the historic race in her first try—without pre-running the course at all—is a testament to her huge aerobic engine, a high level of fitness, and a fiercely competitive drive. It not only shows how strong and efficient of an uphill runner she is, but also gives a pretty good indication of where her career in trail running—and maybe her skiing, too—is heading.
RELATED: Cross-Country Skiing Is Ideal Cross-Training for Trail Runners
Laukli won the 42K Mont Blanc Marathon on June 25 in Chamonix, France and then placed a close second in the DoloMyths 22K race on July 15 in Canazei, Italy. After four of the six Golden Trail World Series regular season races, she leads the women's rankings with 588 points over China's Miao Yao (who placed fourth at Sierre-Zinal).
Kenya's Philemon Kiriago won the Sierre-Zinal men's race in 2:27:27 in the second-fastest time ever (on his 21st birthday), after catching and passing countryman Patrick Kipngeno (2:28:50) about two-thirds of the way through the course.
The Golden Trail World Series shifts to the U.S. next month with the Pikes Peak Ascent on September 16 in Manitou Springs, Colorado, and the Mammoth 26K on September 23 in Mammoth Lakes, California. She's not planning to run Pikes Peak—a 13.3-mile point-to-point race up to 14,109 feet above sea level—but she's signed up for the race in Mammoth. The 2023 Golden Trail World Series Championship will be held as a two-part event (a 5K prologue and a 25K race) in conjunction with the Il Golfo Dell'Isola Trail Race on October 20-22 in Ligura, Italy.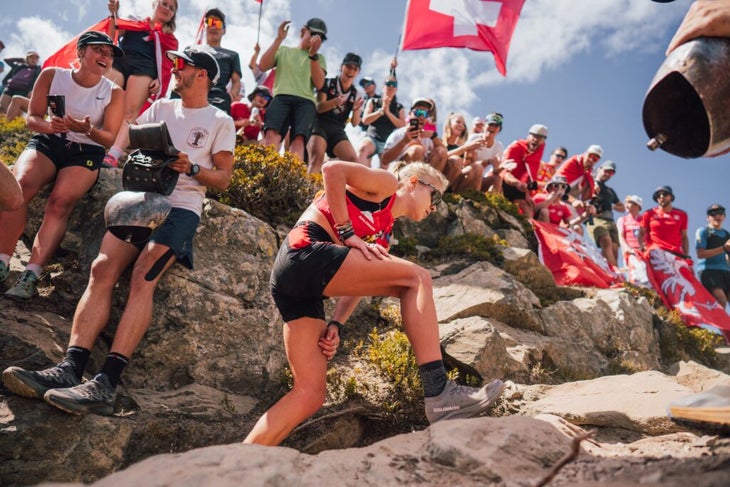 She's a two-sport star
To think that trail running still might be Laukli's second best sport is kind of mind-blowing.
She started skiing when she was two years old, but didn't get serious about Nordic skiing until she was a teenager in high school in Yarmouth, Maine. She began her collegiate ski career at Middlebury College, where she was the NCAA runner-up in the 5K freestyle event in 2020, but transferred to the University of Utah after two seasons.
In the summer of 2021, Laukli began running some of the Cirque Series trail running races as part of the team's summer training program and won up-and-down mountain races in Alyeska, Alaska, and Snowbird, Utah. Six months later she earned a spot on the U.S. Olympic ski team and placed 15th in the 30K race at the 2022 Winter Olympics in Beijing. She returned to collegiate competition in March of that year and won the 15K race and tied for second in the 5K race at the NCAA championships.
Last summer, after Laukli joined Salomon's professional trail running team, she burst onto the international scene by winning the Broken Arrow Skyrace 23K, placing third in the Pikes Peak Ascent and taking second at the Flagstaff 26K before earning four top-five finishes at the Golden Trail World Series Championship.
She earned her first podium finish at a World Cup ski race in January, when she took third in the 10K at Val di Femme, Italy. She wrapped up her college skiing career in the spring with a pair of top-four NCAA finishes, and after graduating from the University of Utah, she signed a new contract with Salomon—that supports her as a professional trail runner and Nordic ski racer.
Then in May, she moved from Salt Lake City to Oslo, Norway, so she could train with her new pro ski team and be closer to the World Cup circuit venues across Europe. (Laukli's father is from Norway, she speaks fluent Norwegian and has dual U.S. and Norwegian citizenship.) She'll ski professionally for Team Aker Dæhlie this winter, but she'll continue to represent the U.S. in major international competitions. One of her biggest ski competitions this winter could be at the World Cup event slated for February 17-19 in Minneapolis.
Skiing is still her first love, but it seems as if the training for each sport complements the other as she has continued to improve as a skier since she got more competitive as a runner. She continued training on skis in Norway through mid-June, just a few weeks before she won the Mont Blanc Marathon.
"For this particular course, I don't know how skiing helps my running but I do run a lot in training and none of it is flat," she said. "It was such a mystery to me how I would do, and I think that played in my favor. I didn't have a lot of pressure or insane expectations, and I think that helped me to just stay focused on my own thing."
RELATED: Mental Strategies for Uphill Running
Heat and heights
While Laukli had a near-perfect day, several pre-race favorites had rougher-than-expected experiences after complaining of heavy legs, upset stomachs, or severe nausea—including Brinkman (sixth, 3:05:48) and fellow American Allie McLaughlin (eighth, 3:08:01) on the women's side and Remi Bonnet of Switzerland (DNF) an Elazzoui Elhousine of Morocco (38th, 2:51:37) on the men's side. But that can be the effect of warm conditions—temperatures were in the mid-70s by the time the elite waves started at about 11 A.M.—when combined with steep climbs, high-altitudes, and 7,200 feet of total vertical gain. Approximately 6,500 runners competed in the event, with several waves of citizen runner waves starting as early as 4:30 A.M. The weather got cooler along the higher sections of the course as clouds covered the sun, but by then the damage had already been done.
The top American in the men's race was Montana's Jeff Mogavero (14th, 2:40:33), who tracked down and caught Colorado's fast-starting Eli Hemming (15th, 2:40:51) late in the race. Hemming, who was coming off a second-place finish at the Mont Blanc Marathon in June, had been in the top 10 early on but said he was suffering from a bad stomach by the halfway point. He's still the top American in the GTWS rankings at No. 13.  "I started off well and felt good for a while … until I didn't," Hemming said. Other top American women included Rachel Drake (21st, 3:19:25), Tabor Hemming (23rd, 3:20:28), and Erin Clark (32nd, 3:28:52).