Sierre-Zinal Winner Mark Kangogo Provisionally Suspended For Alleged Doping Violations
This latest allegation is part of what could be a larger problem in the trail running world.
Heading out the door? Read this article on the new Outside+ app available now on iOS devices for members! Download the app.
Kenyan marathoner and mountain racer Mark Kangogo on Tuesday became the latest distance runner from the country to be sanctioned by the Athletics Integrity Unit for allegedly breaching its anti-doping rules based on a positive test in the Quartz program of the Golden Trail Series.
The race organization announced on October 11 that the 33-year-old winner of this year's men's race tested positive for two substances banned by the World Anti-Doping Agency (WADA). The AIU, an organization independent of the World Athletics global governing body of running, said in a statement that Kangogo had been provisionally suspended after tests showed the presence of two prohibited substances in his system, Norandrosterone and Triamcinolone acetonide.
Kangogo won the prestigious 31km (19.2-mile) Sierre-Zinal race in Switzerland, on August 13, considered one of the world's most competitive sub-ultra trail running events. In his first year racing on trails, he crossed the finish line in 2:27:31—1:48 ahead of runner-up Andreu Blanes of Spain—to become the first African runner to win the historic village-to-village race that includes 7,200 feet of climbing and 3,600 feet of descending.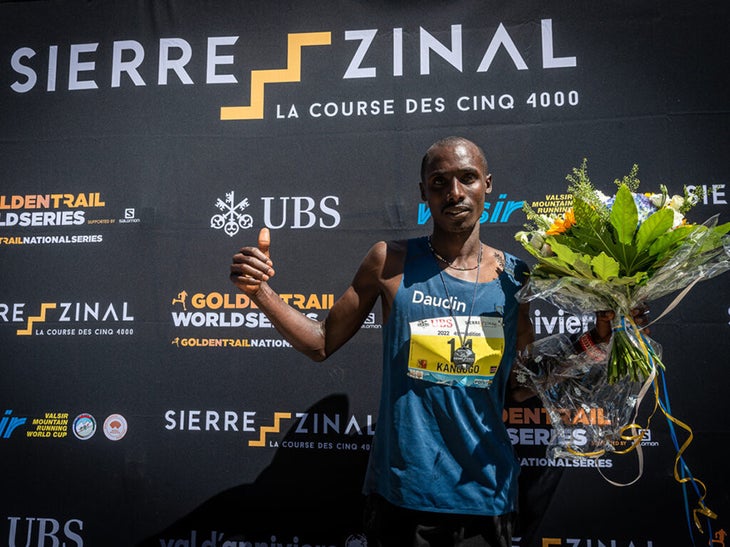 Kangogo is part of the work group linked to the Kenya Sky Running Project, followed by the Swiss coach Julien Lyon, who today, with an official statement posted in an Instagram story, has distanced himself from the athlete. 
Sierre-Zinal race organizers said the race has been fighting against all forms of doping by systematically mandating anti-doping controls. As part of the Salomon-sponsored Golden Trail World Series, Sierre-Zinal also utilizes the Quartz program which is aimed at preserving the health of athletes but has been discredited by some coaches, athletes and brands because it is not an official doping-control program organized by the WADA. 
Sierre-Zinal Race Winner Mark Kangogo Tests Positive For Two Banned Substances. This is why trail running needs more @wada_ama and not the QUARTZ side-show. Photo: Marco Gulberti. Full message from race in English: https://t.co/xkreoSKRpw pic.twitter.com/gI7QWuyeDe

— ATRA 🏃‍♂️ 🇺🇲 🏃 (@ATRAtrailrunner) October 11, 2022
It has not been announced if the positive drug test occurred at the Sierre-Zinal race or a race in early September three weeks later.
The breach could lead to the cancellation of the Kangogo's results prize money at Sierre-Zinal 2022, as well as other trail races from 2022. The Sierra-Zinal prize purse included $2,900 for the first-place finishers, while the World Cup paid out $3,900 to the top finishers.
Among those who kept up with the early pace in the Sierre-Zinal race were Kangogo's Kenyan compatriots Patrick Kipngeno and Philemon Kiriago, who were the top two runners in the Valsir World Cup circuit this summer, as well as nine-time champion Kilian Jornet of Spain.
Gradually that group broke as Kangogo and Kipngeno pulled away from the rest. As the gradients eased after the St,. Luc Chandolin ski resort, Kangogo pulled away from Kipngeno. Running ahead of course record pace, he extended his lead all the way to the 20km mark. Although he slowed dramatically in the final 10km and dropped behind the record, he was never in danger of being caught.
RELATED: Doping Conviction for Petro Mamu, 2017 World Long Distance Mountain Running Champion
Falling to the ground as he crossed the finish line, Kangogo wound up with the third-fastest time in the race's history; only Jornet and Eritrea's Petro Mamu – first and second in 2019 – have run faster. Blanes ultimately caught the lead group and finished second in 2:29:19, just ahead of Kigngeno (2:29:35) and Mamu (2:30:18).​ Jornet, who later reported to have contracted COVID-19 on August 7, faded to fifth place (2:30:19). 
Under a provisional suspension, an athlete is temporarily barred from participating in any athletics competition, before a final decision is made at a hearing conducted under World Athletics anti-doping rules, according to the AIU.
Kangogo has been a mid-level road racer most of his career with a personal best time of 2:12.12 at the Luxembourg Marathon in 2018 and a 1:01:31 half-marathon PB from a race in Kenya in 2014. He came into the Sierre-Zinal race fresh off finishing second behind Kipngeno at the World Cup race in Thyon-Dixence, Switzerland, on August 7.
A Growing Trend
Kangogo's suspension is the latest in a saga that is again threatening to undermine Kenya's athletics reputation. So far this year, 21 Kenyan athletes, mostly marathon runners, have been sanctioned for alleged use of performance-enhancing drugs. In 2016, the country was placed in the top category of the World Anti-Doping Agency's (WADA) compliance watch list.
On Monday, fellow Kenyan marathon runner Philemon Kacheran was banned for three years by the AIU for testing positive for excessive levels of testosterone.
The final men's ranking for the 2022 Sierre-Zinal race has been suspended, pending the conclusions of the ongoing disciplinary proceedings. The management of Sierre-Zinal will not make any further comment on this specific point until the conclusion of the disciplinary procedure.
In the women's Sierre-Zinal race, 27-year-old Kenyan Esther Chesang, another first-year trail runner and 2:26 marathoner on the roads, won in 2:52:01. In second place was Switzerland's Maude Mathys, a three-time Sierre-Zinal winner and course record-holder. Another Kenyan Joyce Njeru, who would go on to win the women's division of this season's World Cup circuit, dropped out before the finish at Sierre-Zinal.
Doping violations have been rare in trail running, mostly because not many races have WADA-sanctioned drug testing at races. As more prize money and bigger sponsorship deals coming into the sport, some are worried it will attract more drug violations if proper drug testing isn't instituted at major races.
Mathys, who took second at the Pikes Peak Ascent on September 17 in Colorado and won the Pikes Peak Marathon in 2019, received a warning from the Swiss Olympic Disciplinary Chamber after testing positive twice for the banned drug clomifene at the 2015 International Ski Mountaineering Federation World Championships and an out-of-competition test.