Rage On! Tommy Rivers Puzey Is Improving, But Still Battling Cancer
Heading out the door? Read this article on the new Outside+ app available now on iOS devices for members! Download the app.
After struggling for his life for the better part of three months this summer while battling a rare and aggressive form of cancer, Tommy Rivers Puzey has been doing much better lately. But just as with the many races he has competed in, the 36-year-old Flagstaff, Arizona-based endurance athlete, brand ambassador, coach and physical therapist still has a long, challenging path ahead of him in his continued battle with primary pulmonary NK/T-cell lymphoma.
The good news is that his health has improved so much in recent weeks that he was recently taken off life-support machines and discharged from the intensive care unit (ICU) of the HonorHealth Scottsdale Osborne Medical Center in the Phoenix area. Doctors were also able to reduce the size of the tracheostomy tube that provides him breathing assistance last week.
However, he remains hospitalized in a stable and improving but very weak condition in the oncology unit, where he is about to begin his fifth round of aggressive chemotherapy. His doctors and family are cautiously optimistic about his progress, but they acknowledge that he has a long way to go in his fight against the cancer and must gain more strength and stability to be able to undergo a bone-marrow transplant in the coming weeks.
It's been a paradigm shift, and we're all really optimistic and incredibly grateful," Jacob Puzey, Tommy's older brother, told Trail Runner this week. "He's gone from survival and life preservation to kind of recovery.
"It's been a paradigm shift, and we're all really optimistic and incredibly grateful," Jacob Puzey, Tommy's older brother, told Trail Runner this week. "He's gone from survival and life preservation to kind of recovery. It's still a treatment phase—and aggressive treatment with the chemo and the bone-marrow transplant—but that's so far beyond where he was three months ago. He's gone from incapacitated and comatose to being able to talk, make basic movements and showing genuine signs of progress."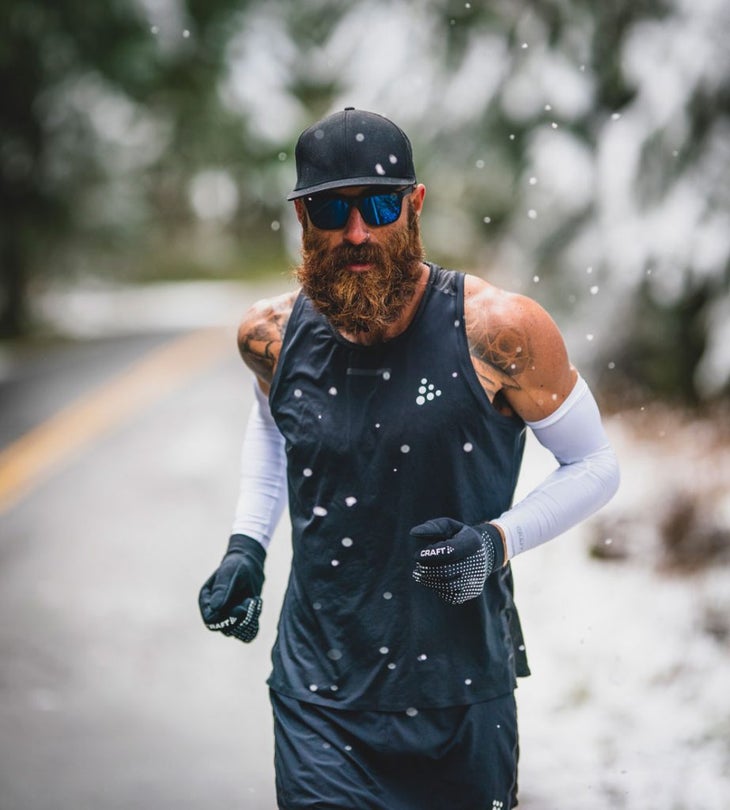 Known as "Tommy Rivs" from his Instagram handle and from his role as an iFit trainer and tour guide, Tommy Puzey has a reputation as an earnest, hard-working endurance athlete, a dedicated father and husband and a modern-day renaissance man with a huge, loving heart. An accomplished trail runner and triathlete, he's also a 2:18 marathoner who narrowly missed qualifying for the 2020 U.S. Olympic Trials Marathon on February 29 in Atlanta.
But he's been known more for his big, bushy reddish-brown beard, ripped physique, contagious smile, the encouraging words he delivers to iFit customers from all over the world and the thoughtful and motivational messages he posts to his Instagram feed with 241,000 followers. His "Rage On!" call to action isn't just a hashtag, it's an inspiring manifesto that equally captures and shares his enthusiastic zest for life.
His "Rage On!" call to action isn't just a hashtag, it's an inspiring manifesto that equally captures and shares his enthusiastic zest for life.
Puzey started to feel poorly during the end of a long run in the Grand Canyon in late June. He initially figured he was suffering from heat stroke or severe dehydration and later he thought it might be COVID-19, but after weeks of self-quarantining and numerous negative tests, he was admitted to a hospital in Flagstaff where doctors diagnosed him with the rare form of cancer. Suddenly fighting for his life, he was transferred to the Scottsdale hospital in late July and was sedated into a medically induced coma.
"It was touch and go for a long time as to whether he was going to make it through the night," said Jacob Puzey, who has posted numerous updates about his brother on his Instagram channel. "So, yeah, we're absolutely over-the-moon elated by the progress he's made. He's not out of the woods, but it's not a daily battle of wondering if he's going to make it anymore."
Tommy Puzey was revived from the medically induced coma in late August and, although he's had ups and downs since then, doctors determined last week that his condition had progressed enough he was able to be taken off the ventilator and the extracorporeal membrane oxygenation (ECMO) machine that had been revitalizing his blood. He was moved out of the ICU to the oncology unit on September 30, shortly after doctors determined that his latest CT scan revealed that the cancerous mass in his lungs had been reduced by about 50 percent from the time it was discovered in late July.
"He had zero lung capacity when he was transferred to hospital in Scottsdale because his lungs were completely full of nodules," said Jacob Puzey, an elite runner, race director and coach who lives in Canada. "He's at a point now that he doesn't need the external oxygen because he has more function in his lungs and the cancer has been reduced enough to be able to breathe on his own. He's now an agent in the process. For the past several months, he had been a recipient of life support essentially. Now he gets to be a part of the process and that's really exciting and promising, and we're really grateful."
A GoFundMe campaign was established in July to help his family offset what are expected to be astronimcal medical bills. To date, the fund has raised $619,000 from friends, family, acquaintances and runners from around the world, but it's probable that his extended hospital stay will exceed amount that because his health-insurance coverage cap will likely be surpassed. Craft, a sponsor of Tommy's since January, has also sold 5,000 "Run with Rivs" T-shirts and 2,500 "Team Rivs" skull and crossbones hats, with all proceeds going to the family.
The outpouring of love and support and numerous other "Run with Rivs" fundraisers has been overwhelming, Jacob said. That includes numerous other "Run with Rivs" fundraisers and a $40,000 raised from pizza sales at Pizzicletta in Flagstaff.  (He said that Tommy is proud of the hats and extremely grateful for the support, but he has said that he hopes it can become something that's bigger than just about him for all those who have contributed their support, something that perhaps leads to motivational in their own lives or sharing love and kindness with others, too.)
"There is something there that is authentic and unique about him, the mindset that he has and a genuine love for other people," said Eric Schenker, CEO of Craft Sportswear North America. "During my career at Craft, we've dealt with Olympic champions and professional athletes from every endurance sport there is and many of them are incredibly wonderful people, but he's a genuine guy on a different level. The outpouring of support we've all seen in such a short amount of time is truly amazing, but it's because he's such a real person who cares about other people."
During my career at Craft, we've dealt with Olympic champions and professional athletes from every endurance sport there is and many of them are incredibly wonderful people," said Eric Schenker, "but he's a genuine guy on a different level.
For the past five weeks or so, Tommy's family members have been able to see him and communicate with him via Zoom calls facilitated by his wife, Steph Catudal, who has been the only one who has been able be with Tommy in person since he was admitted to the hospital in Flagstaff in mid-July. Steph temporarily relocated to the Phoenix area with their three young daughters, who are being cared for by their grandmothers, Tommy and Jacob's mom, Julie, and Steph's mother, Susan, who are on extended visits from Oregon and Georgia, respectively.
Tommy has been regaining his ability to move and speak (with an amplifier in his tracheostomy tube) in small doses, his brother said, but it still takes considerable strength and typically leaves him very weak. Although he no longer has his well-known beard, or any hair on his head, for that matter, he's slowly been regaining his dexterity and use of his hands even though he's often slowed by a fog from the residual effects of powerful chemotherapy drugs.
"His motor functions are night and day better than they were a few weeks ago when he came out of the coma, he just responded to a text that I sent him a couple of days ago," Jacob Puzey said. "I'm an emotional guy and, based on how limited he has been to use his hands prior to (Wednesday), I broke down and cried, knowing that he was able to respond on his own because that means he has a lot more dexterous than he's been for three months."
Doctors screened Rivers' five siblings to see if there was an optimal DNA match for a bone-marrow transplant and, fortunately, Katie Hendrickson, his 40-year-old sister who lives in the Dallas/Fort Worth area, came up as a match. But before that procedure can take place, Tommy will have to endure and recover from the latest round of chemotherapy and achieve several health benchmarks that will give a good indication that he can sustain the rigors of the bone-marrow transplant.
If and when that happens, Hendrickson will travel to Scottsdale to have blood drawn, and doctors will then siphon out blood stem cells and inject them into Tommy. The stem cells will then travel to the marrow in his bones, where they will help produce new blood cells and promote the growth of new marrow with the hopes that it will help improve his destroyed immune system.
A bone-marrow transplant is a dangerous and risky procedure that is typically reserved for patients with life-threatening diseases. Doctors have said they want to make sure more of the cancer is reduced before going ahead with the transplant.
"His immune system is destroyed, so he has to be as healthy as possible to be able to even accept the bone-marrow transplant," his brother said. "It's a delicate balance, for sure. They want to kill the cancer without killing him. And, similar to training, he needs to be able to recover. Just as there is time built in after long run and before a hard workout, he needs to have recovery days built into his schedule to be able to give it the best chance of yielding good results."
Even if the bone-marrow transplant happens successfully, Tommy could still need additional rounds of chemotherapy so it appears that he'll remain hospitalized for weeks to come, his brother said. Each round takes about five to seven days to complete, but then it takes several weeks for his body to fully absorb it and doctors to be able to assess the results. Tommy has started doing basic physical therapy, but he'll also need to go through extensive occupational therapy and speech therapy.
While there's no way to create a long-term outlook yet, the good news is that Tommy is alive, improving and getting the care that he needs while having the loving wife he adores at his side for many hours every single day. (Read her extraordinary Instagram posts for a deeper look into their loving connection.) For now, Tommy is present and engaged and immersed in the daily challenges of his recovery.
"He's aware of what's ahead, but he's really good at kind of blocking out all of the noise and just being present to focus on the task at hand, and that's how he trains as a runner, too,"  Jacob said. "I don't think we'll be seeing him racing down Boylston Street and outkicking former champions anytime soon, but we're really grateful at where he is and really appreciate all of the support that everyone has given to him and his family."
Please consider donating to the family of Tommy Puzey at this GoFundMe campaign.
Brian Metzler is the founding editor of Trail Runner and now serves as a contributing editor.