This Week's Mammoth Trail Fest Centers Community, Stewardship, And Storytelling. (And Donuts.)
Elite ultrarunner Tim Tollefson created a local event that invites everyone to enjoy running mountain trails through races, panel discussions, and films.
Heading out the door? Read this article on the new Outside+ app available now on iOS devices for members! Download the app.
When he's not training for, racing, or finishing on the podium of the world's most difficult ultrarunning races, 37-year-old HOKA athlete Tim Tollefson from Mammoth Lakes, California, is thinking about ways he can introduce more folks to enjoying and protecting amazing running trails.
This was the motivation behind the first-ever Mammoth Trail Fest. The festival starts this Thursday, September 22, and runs through Sunday, September 25, all based at The Village at Mammoth. The four-day festival offers a variety of races, including a 50K, 26K, Hill Climb – with a $17,000 prize purse – plus a kid's fun run. Other activities include morning shakeout runs, local coffee breaks (with donuts!), afternoon panels, and film screenings.
"It was surprising to me that we didn't have anything like this here," says Tollefson, referencing his hometown of Mammoth Lakes, where he and his wife, Lindsey, have lived for the past 11 years. 
In addition to competing at the highest levels of the sport, Tollefson works as a physical therapist at the Mammoth S.P.O.R.T. Center and Performance Lab. After running collegiate track and cross-country at Chico State, he found himself running longer distances, eventually taking him to the U.S. Olympic Trials Marathon. Tollefson would later commit to ultrarunning and go on to become a three-time USATF 50K Trail National Champion and perform at some of the highest levels, of any American male, at the UTMB race series, and others. 
RELATED: Tim Tollefson's Perfectionism Is Paying Off At the Western States 100-Mile Endurance Run
Community, Preservation, and Storytelling
This week's Mammoth Trail Fest is designed with three core pillars: 
Community: "We want to increase access to all sorts of user groups…to include people who either are intimidated by trail running or haven't had the opportunity," said Tollefson. The event founder shared that, of the several hundred folks registered for the races, 42% are women. This year, the event is sponsoring students from the nordic and cross-country high school teams. The aim, says Tollefson, is to start there and build off that momentum to increase future scholarships.
Preservation: "If we want to continue enjoying these public lands that we recreate on, then we have to be a part of that conversation and advocate for these regions," says Tollefson. The Mammoth Trail Fest has partnered with select nonprofits – Runners for Public Lands, Footprints, and two local groups, Friends of the Inyo and Keep Long Valley Green Coalition – all of whom are offering a panel discussion on Saturday night, centering on the importance of public lands and stewardship.
The festival will close with a special screening of "Without Water," a film that deals with local water disputes between the Los Angeles Department of Water and Power and various stakeholders of Long Valley, California, adjacent to Mammoth Lakes.
The hope with showing such films is that runners will come to enjoy the race, the mountains, and the activities, and then be able to learn what's at stake with these films and discussions: "We have to be thoughtful about what's going," says Tollefson. "We have to be part of the conversation."
"If we want to continue enjoying these public lands that we recreate on, then we have to be a part of that conversation and advocate for these regions."
Storytelling: Tollefson is bringing in podcasters and content makers from the sport to fully capture the event and share films, to leverage for making this event an annual offering. He solicited films for consideration for the festival and curated a few special ones for the audience, exceptional stories that he hopes will move people. After all, stories remind us of our shared experience, our challenges and triumphs.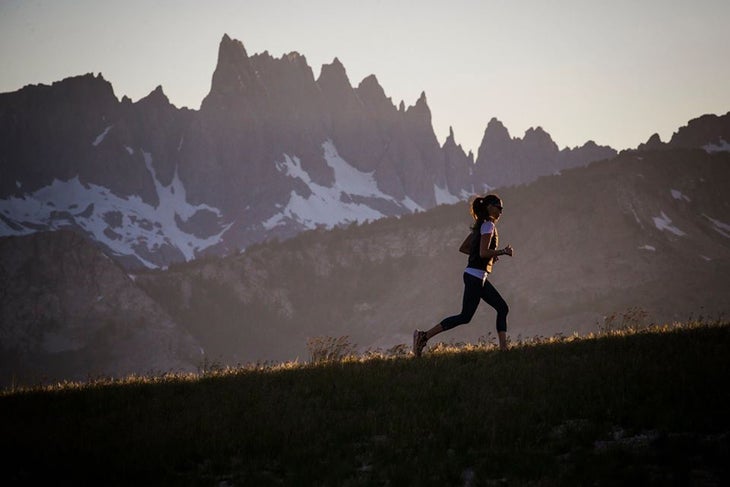 "We're so much more than runners," reminds Tollefson. "There's so much commonality in our community that extends beyond us just being runners. We want to destigmatize the tough, hyper-individual demeanor of being trail runners and recognize, Hey, it's OK not to be OK."
Tollefson is new to the business of putting on events, but it's actually become the most effective way to build his personal community through the permitting process, food sourcing, and securing event space. To build a local event requires first to build relationships and trust with locals. No part of these offerings can be successful alone. 
Of all the wonderful runs and activities on schedule, to Tollefson it's the evening talks and films that get him most enthusiastic. "We've certainly prioritized the runs, to ensure people are safe and have a good time," says Tollefson, "but it's the stories and conversations that really infuse meaning into this event."
Schedule of Events
Thursday will include a shakeout run with coach and "The Morning Shakeout" podcast host Mario Fraioli, followed by a live podcast interview between Fraioli and Canadian mountain athlete Adam Campbell, and two short films. 
Friday's schedule offers a shakeout run with filmmaker Billy Yang, Tollefson, and Hilary Matheson, a coffee break hosted by local café Black Velvet, the kid's fun run, and the 26K. Afternoon program highlights include Ballet Folklorico de Las Flores, a local dance troupe, performing in celebration of Hispanic/Latino Heritage Month, an evening panel on mental health and the healing power of storytelling, and a Billy Yang film, "The Why," to end the evening.
RELATED: Laura Cortez Builds Community On And Off The Trails
Saturday's schedule centers around the 50K race, with offerings of Tai Chi, gear demos, and evening panels and films that celebrate National Public Lands Day.
Can't Make it? Follow Along Online.
If you're unable to attend, local Mammoth Lakes elite trail athlete Katie Asmuth will be putting together regular preview interviews with athletes leading up to the races, which will be posted on YouTube and shared on social media. There will also be reels released each day on Instagram as the event unfolds.
"It's important for me that we are building something from the community for the community," Tollefson says. The event will take place at The Village at Mammoth, and it's their shoulder season, which, to Tollefson, feels like a wonderful opportunity to drive folks to local restaurants and cafés to boost the local economy.
"We're really trying to build something more than just amazing races," says Tollefson. "You can come, learn, connect, grow as a runner and as a person, and what better place than the beautiful Eastern Sierra."