No One Commits To Running Downhill Like Kristina Mascarenas. That's How She Won Last Weekend's Pikes Peak Marathon.
With record-shattering descents and a deep love for the mountain, Colorado-based Mascarenas overcame unhealthy habits and injury to become the Queen of Pikes Peak.
Heading out the door? Read this article on the new Outside+ app available now on iOS devices for members! Download the app.
Even as long as she's lived below Pikes Peak, Kristina Mascarenas still continues to marvel at the purple mountain majesty every time she glances up at it. 
Especially this week.
The 33-year-old lifelong Colorado Springs resident turned in a masterpiece performance in the Pikes Peak Marathon on September 18, running up the 14,115-foot mountain faster than she ever has and recording the sixth-fastest downhill split of the day—yes, faster than all but five men—on the way to winning the classic American trail race for the second time.
For Mascarenas, Pike's Peak has been an ever-present beacon of inspiration that has brought her athletic thrills and challenges since she was a little girl. It's where she hiked as a kid with her grandparents, where she became a trail runner as a young adult, and one of the things that brings joy and energy on a daily basis. Running races on Pikes Peak is also a bit of a family legacy, as she followed in the footsteps of her grandparents, mom, aunt, and brother before her. 
"That mountain means everything," Mascarenas said Monday. "I told my brother that I keep looking at it and I can't wipe this grin off my face. It's almost like a spiritual connection with the mountain. Every time I am driving somewhere, I look up at her and think, 'Wow, it's just my happy place.' I have so many good memories of running, family and just being on the trails. But so many bad memories, scars and stitches, too. I have paid my price in a pound of flesh, but I still love her."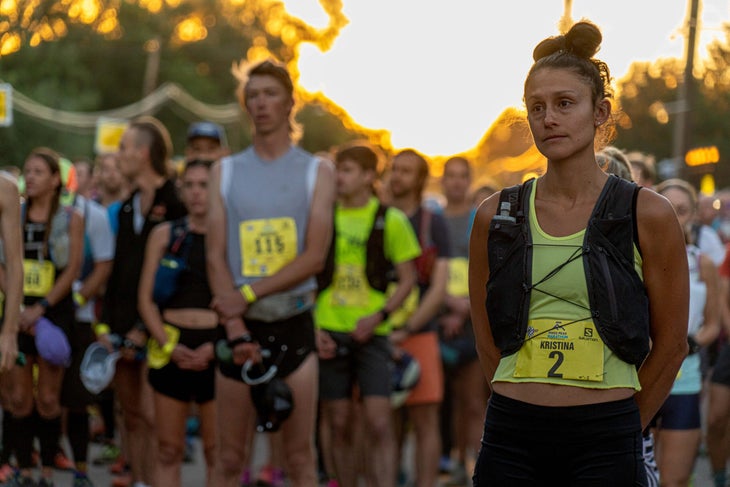 Much of the attention of last weekend's racing action on Pikes Peak was focused on the 13.3-mile Pikes Peak Ascent because it featured a star-studded international field as part of the Salomon-sponsored Golden Trail World Series and featured a $18,000 prize purse, plus additional bonuses for course record times. Although no records were broken, Switzerland's Remi Bonnet (2:07:02) and Dutch runner Nienke Frederiek Brinkman (2:27:26) turned in solid performances to win the uphill-only Ascent races.
Yet Mascarenas' runaway win in the women's division of the 26.2-mile marathon up and down "America's Mountain" might have been just as remarkable for the singular, tenacious effort she unleashed, especially after having to overcome numerous injuries in recent years. A personal best 3:03 uphill split gave her an 8-minute gap on 2020 marathon winner Brittany Charboneau, a strong and experienced mountain runner sponsored by The North Face, at the turnaround point just below the summit. But after another devilishly fast downhill blast that she's become known for, Mascarenas broke the gap wide open and crossed the finish line back in Manitou Springs with a 13-minute margin of victory.
RELATED: The Science Of Downhill Running
The win earned Mascarenas, an elite runner without a footwear sponsor, the $2,000 paycheck and a qualifying spot on the U.S. team that will be competing in the 40K race at the 2022 World Mountain Running Championships, this November 4-6 in Chiang Mai, Thailand. 
A String of Setbacks
That was all just icing on the cake, because simply running the race at all was a victory for Mascarenas. As recently as last year, she thought she might never return to the form she had in 2017, when she won the race for the first time.
In June, 2019, she fell rock climbing, after running the Mont Blanc marathon in France, and broke her right ankle, causing her to miss the Pikes Peak Marathon that year. In 2021, she sprained her left ankle and ruptured her left plantar fascia. After rehabbing for two months, she fell on her first trail run back on Barr Trail, halfway up Pikes Peak, and shattered the left ankle.
Although she says she didn't feel nearly as fast running down this year as she did on previous descents, her 1:33:50 split this year ranks No. 12 on the all-time women's list. 
"Running 1:33 is nothing to shake a stick at, but I was just happy I didn't break anything," she said. "I was happy with it because anything under 1:35 and you know you're moving. I love downhill running. The only reason I run uphill is so I can run downhill."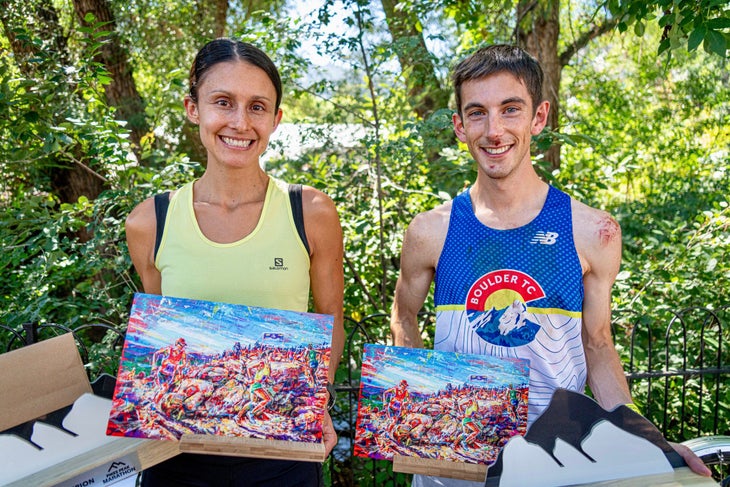 To make sure she was as strong and fit as possible this year, she started working with coaches David and Megan Roche last fall. She's been running 65-75 miles per week with some regular higher-intensity workouts mixed in this year while also working 8-to-5 as a lab technician doing research on Lyme Disease and other biological tests.
David Roche said Mascarenas has great fatigue resistance and a high lactate threshold, but also a wide range of athletic skills and a very strong work ethic.
"She's one of those people whose ability will expand to fill the vessel in which it's placed," he said. "I'm just curious and excited to see where it goes from here. I think she's one of those athletes who, even though she's been doing it for a while, I think is still just scratching the surface of what she might do in the coming years."
RELATED: Chasing Your Trail-Running Potential Takes Many Years, So Keep Believing
From Smoker to Smoking Fast
The formidable challenge of running on Pikes Peak literally helped put Mascarenas on the path to becoming the competitive runner she is today. Admittedly, she didn't always live the healthy lifestyle she does today. As a teen, she started smoking, a habit she said she enjoyed even though it drove her older brother, Jesse, nuts. 
"He was pretty adamant about me quitting, so he would always harass me about it and one day he was talking about running Pikes Peak," she said. "He said if I could run any of the uphill miles between the tree line and the summit, in under 14 minutes, he'd never tell me to stop smoking again. And I was like 'Oh my God, I could crawl a 14-minute mile.' "
Mascarenas accepted the challenge, but only after her brother agreed to give her a month to get in shape. She started running every day and soon they found themselves on Barr Trail above tree line at about 2 miles from the summit. 
She's one of those people whose ability will expand to fill the vessel in which it's placed
"So I tried to run a mile under 14 minutes, and it took like, ugh, about 24 minutes," she recalled with a laugh. "I lost the best hard, but at that point I was already kind of psyched about running, so it was pretty easy to quit smoking. I had a small overlap of smoking and running, but I've been running ever since."
She eventually kicked that bad habit for good and immersed herself in regular trail running. A year later, she, too, entered the Pikes Peak Ascent and turned some heads in 2015 when she placed ninth overall and won the 25-29 age group with a 3:14:43 effort. That would have surpassed her brother's PR had he not lowered his best time by 24 minutes that same day.
After that initial shot at the Ascent, Mascarenas knew the marathon would suit her better because of her uncanny ability to run fast downhill. She placed third in 2016, but then won it the following year after overcoming a six-minute deficit to Courtney Dauwalter at the turnaround point with an insane 1:29:43 downhill split to win the race by almost 9 minutes. That was briefly the all-time fastest women's descent dating back to the race's inception in 1956, but that record only lasted a year because Mascarenas ran even faster (1:28:51) the following year when she placed third among a strong international field.
Amid the debilitating injuries, she wasn't in peak form when she finished fourth in the marathon in 2020 and sixth in the uphill-only Ascent last year. It wasn't until this year that she was able to run somewhere close to her typical downhill ferocity. 
A former gymnast, an avid rock climber and all-around athlete, Mascarenas loves launching off rocks and the sensation of momentarily free-falling. She's typically smiling when she runs fast downhill and sometimes spontaneously sports airplane arms out of pure joy.
"People ask me how I run downhill so fast, and I really don't know," she said. "I just like to fly downhill. I am not afraid of taking direct lines. I think you just have to commit and go. I think it's about just seeking that rush to satiate the feeling that I crave. It feels effortless and fun. I think when you enjoy something, you naturally gravitate toward it and it becomes part of what you're good at."