After 4th at UTMB, Jim Walmsley is More Determined than Ever
We caught up with Jim Walmsley after his 4th place finish at UTMB
Heading out the door? Read this article on the new Outside+ app available now on iOS devices for members! Download the app.
Jim Walmsley left Chamonix on Sunday, but he'll be back to honor his dream of winning UTMB. 
The top-tier American trail runner went for broke in the 171km Ultra-Trail du Mont-Blanc race last weekend, but he wasn't able to hold the lead he built and had to settle for fourth place. That was largely disappointing in his view, especially with the way the race played out.
But if there are silver linings to the gray clouds muddling his goal of trying to become the first American man to win the race, it's that he turned in his best performance yet in his fourth attempt at the race after DNFs in his last two attempts in 2018 in 2021 and a fifth-place showing in 2017. In doing so, Walmsley joined Topher Gaylord, Mike Foote, Tim Tollefson and Zach Miller as the only American men to record two top-10 finishes at UTMB.
Now he's digging in and becoming a temporary resident of France to continue chasing his UTMB dream for the next two years. Time will tell if he'll be able to achieve that dream or reach the podium, but he's pursuing it with as much fervor as he ever has.
"This is maybe the best shot I could leave Chamonix without winning. Feeling satisfied but hungrier than ever, is probably a good way to say it," Walmsley told Trail Runner. "I didn't accomplish what I wanted to, but when I start from a spot of winning UTMB, it's not a small feat, and it may or may not happen, but the dream is still there and alive." 
WATCH: Jim Walmsley Is All In For UTMB
The dream is so alive that Walmsley is setting down roots in France with the intent of going after a UTMB victory in each of the next two years. He and his wife, Jess Brazeau, relocated to Arêches-Beaufort, France in May. Living in the same area as good friend and four-time UTMB winner Francois D'Haene, they've rented a house, bought a car and started to learn the language. 
They've met many athletes and neighbors who are becoming friends and are starting to get comfortable with living abroad and training for an extended period of time in a foreign land. As Walmsley was training for UTMB, Brazeau was training for the 56km (35-mile) OCC race, which she finished in 7 hours, 13 minutes to place 24th among women. 
They're looking forward to training on skis through the winter in the Beaufortain mountains and approaching next year's UTMB with a full year of local living under their belt. 
"After two years, I don't know if we'll stay longer or go back to the U.S." Walmsley said. "So far, Arêches has been really great; there are good people and a lot of world class athletes there. We need to improve our French and we will, but we also both miss home, we miss our friends. Friends and people are the thing that you can't just bring here. There's a lot of scenery, beauty, food, experiences, and yes, of course it's amazing here, but it takes time to build friendships."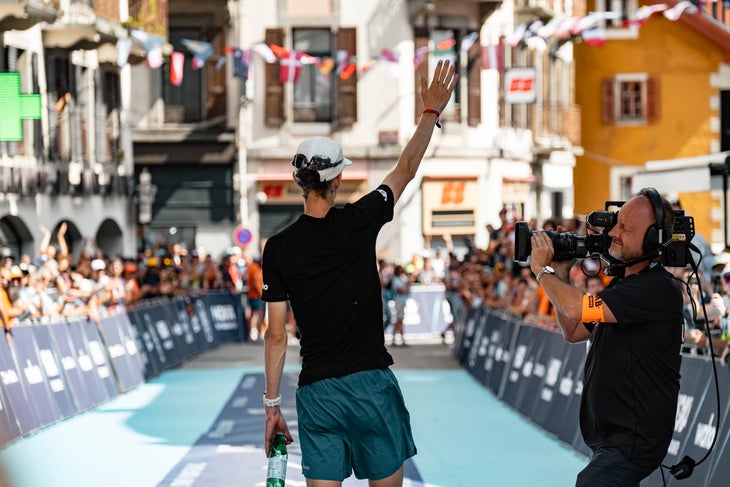 Going for it
UTMB is unlike any other trail running race in the world, including the prestigious Western States 100 in California, which Walmsley has won three times. Not only does the UTMB course send runners on a grueling 171.5 km loop (106.5-miles) around the Mont Blanc massif, with nearly 33,000 feet of vertical gain, but it also brings together the deepest international field of the year, with more hype and media attention—including epic coverage and commentary via livestream—than any other event in the world by far.
Walmsley felt the hype and media attention before and during the race — "it was a circus out there" — but he stayed the course of running a smart, consistent race. He and Jornet ran together most of the first half of the race, surging to the front after the 21km aid station in the ski resort village of St. Gervais. 
RELATED: Kilian Jornet Co-Founds New Brand, NNormal
They continued their front-running efforts into the darkness as the course crossed into Italy, but not only after reaching the 80km (50-mile) aid station in Courmayeur is when Walmsley started to surge. He threw down a strong power-hiking effort up and over the Grand Col Ferret, the highest point on the course at 2,490 meters (8,169 feet) where the loop heads into Switzerland, and opened up a 5-minute gap over Jornet and a 14-minute gap over Frenchman Mathieu Blanchard. 
Running downhill through the Swiss village of LaFouly and the 112km (70-mile) aid station, Walmsley's lead over Jornet stretched to 14 minutes, though both were ahead of record pace. Walmsley still held a sizable lead at the 126km (78-mile) Champex aid station. As Walmsley blazed out ahead along a flat section on the road adjacent to Champex Lac, Jornet and Blanchard made brief stops at the aid station and left together.
Jornet and Blanchard caught Walmsley on the climb over La Giete and gapped him by 19 minutes by the time they got to the 142km (88-mile) aid station in Trient. As Jornet and Blanchard continued to move with purpose on the massive climb out of Trient, Walmsley figured he could do the same. But that's where his race went sideways.
"In my mind, when I left Trient, I thought in my mind that I was going to do this and catch back up," he said. "But Immediately when I hit the hill, I thought, No way. I was so shot. The hill out of Trient was very much a reality check that I was deep under water."
Recovering from doom and gloom
The climb out of Trient turned out to be Walmsley's darkest moment of the race. He was upset, disappointed and depressed that he was on the verge of failing again at UTMB and wondering what happened. In hindsight, he thinks it might have been insufficient fueling, beat-up legs and maybe a lack of high-intensity training in the final two weeks leading up to the race.
But he recalled how he had gotten through low points in other races—including when he wanted to drop out of the 2015 JFK 50 despite having a 30-minute lead—and was able to rally mentally and emotionally. That helped him keep moving up the final massive climb up Tete au Vents still in third place.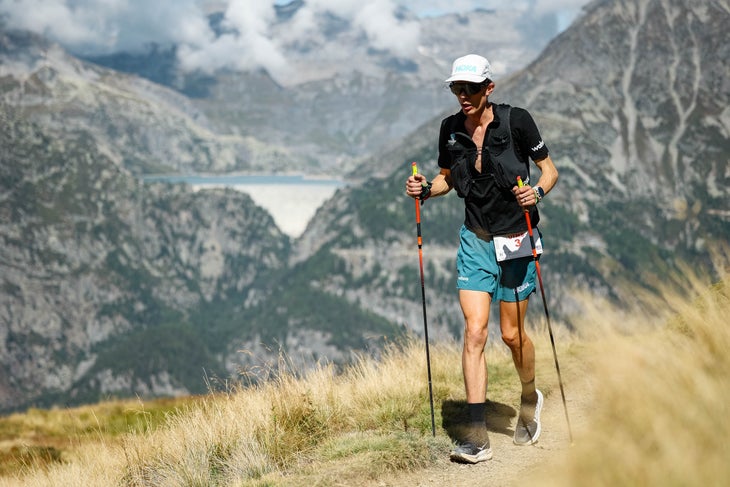 Jornet, meanwhile, was running away with Walmsley's dream, putting a big surge on Blanchard on the way out of Vallorcine and outrunning him to the finish to set a new course record of 19 hours, 49 minutes and 30 seconds. Not only did Jornet win for a record-tying fourth time, he also became the second runner to win both the Hardrock 100 and UTMB in the same summer. (D'Haene, the UTMB's other four-time male winner, pulled off that feat last year.) Blanchard, meanwhile, followed up his third-place showing from 2021 by also running under the previous course record to finish second in 19:54.
Although Tom Evans of the UK eventually passed Walmsley near the 164km aid station at the LaFlarge ski area en route to third place (20:34), Walmsley ran strong enough on the final 7km (4-mile) descent back into Chamonix to take fourth (21:12) while holding off American Zach Miller (fifth, 21:27) and a charging Frenchman Beñat Marmissolle (sixth, 21:28).
RELATED: 10 Takeaways From the 2022 Ultra-Trail du Mont-Blanc
"The section after Trient was a low, dark moment for me, but to be able to keep fighting is always rewarding and probably the most relatable thing in ultra," Walmsley said. "I think that's the thing that a lot of elite runners probably avoid addressing in good races. Really most people are dealing with that much much more. At that point, it was all about my own personal goals and motivations, and sometimes that's most important instead of trying to win this or that."
Looking ahead
It's mostly gone well, but there has been stress too. They applied for residency status back in May but it's been held up in an ongoing paperwork process. With their status in limbo, technically they can't leave the country for the time being—although they do have plane tickets for a visit back to Flagstaff in November. 
"We've been trying to do all of this while I've been training for UTMB this year, so it causes hard-to-quantify stress that sometimes beats you up," he admits. "And at times you think, 'what the hell are we doing?' In some ways, it would have been easiest to come here for three months and train like a tourist, but now we're into a bigger process. Next year I think we'll be full European training-wise because we'll switch to skiing this winter and then get back to running in the spring. So it will be good to be more settled heading into UTMB next year."