How Grayson Murphy (Once Again) Became One of the World's Best Mountain Runners
Led by Murphy's gold and bronze medals, Team USA notched 10 top-10 finishes at World Mountain and Trail Running Championships.
Heading out the door? Read this article on the new Outside+ app available now on iOS devices for members! Download the app.
It took Grayson Murphy four years to get back to square one, which, for her, just happened to be the top step of the podium.
After a long, frustrating and sometimes painful journey, the tenacious 27-year-old runner from Flagstaff, Arizona, finally got a chance to return to the World Mountain and Trail Running Championships on June 7-10 in Innsbruck, Austria. When she got there, she ran with a combination of unfettered joy and relentlessness that she'd been waiting to unleash since she won her first mountain running world title in 2019. 
Murphy was not only the top performer on the 40-runner U.S. team, but also the most extraordinary runner of this year's championships as she earned a bronze medal in the 7.5K Vertical Race on June 7 and then grabbed the gold in the 14K Classic Mountain Race on June 10.  
"This is a special one," Murphy said after her gold medal run. "I felt like I've finally come full circle from the first time. It feels like I've been working for it for a long time, but I finally got the chance to shoot my shot."
Just three days after taking the bronze in the Vertical Race, Murphy got her shot in the Classic Mountain Race and she sent it. She charged to the lead early on the fast first lap of the two-lap race that climbed 1,200 feet up a steep road and then a series of stairs before heading onto dirt trails through a small forest. But on the descent back into the city, she was caught by Sweden's Tove Alexandersson, a 17-time orienteering world champion who happens to be an exceptional downhill runner. 
Although Murphy waited for this opportunity for four years, she showed her poise by staying in behind Alexandersson as ran on a short loop on the edge of the city before they began ascending at the start of the second lap. Benefitting from the highly responsive, smooth-riding Saucony Endorphin Speed road shoes she actually bought the day before at an Innsbruck running store (because 40 percent of the course was on pavement), Murphy took the lead again as the climb got steeper and never looked back, increasing the gap over Alexandersson through the remainder of the loop and the whole way back to the finish line.
RELATED: Mountain Runner Grayson Murphy's Adventures In Cross Training
Murphy's coach, David Roche, called her victory a masterclass of speed, strength, and strategy.
"Grayson is one of the best athletes ever, but I think part of what makes her a superhero is that she is driven by finding fulfillment and joy in the process," he said. "Worlds was a chance to do what she loved against incredible competitors, and that adventure seemed like a total celebration for her. The gold medal was some celebratory icing on the cake." 
She covered the two-lap course with 2,475 feet of vertical gain in 1:04:29. Alexandersson was second in 1:05:26, while Kenya's Joyce Muthoni was third in 1:06:40.
"I definitely thought if she was gonna catch me then good on her," Murphy says. "I was not going to let her do it easily; I was gonna make her work for it if she was gonna do it, but I wanted to test myself too."
RELATED: American Grayson Murphy Earns Bronze in World Championships Vert Race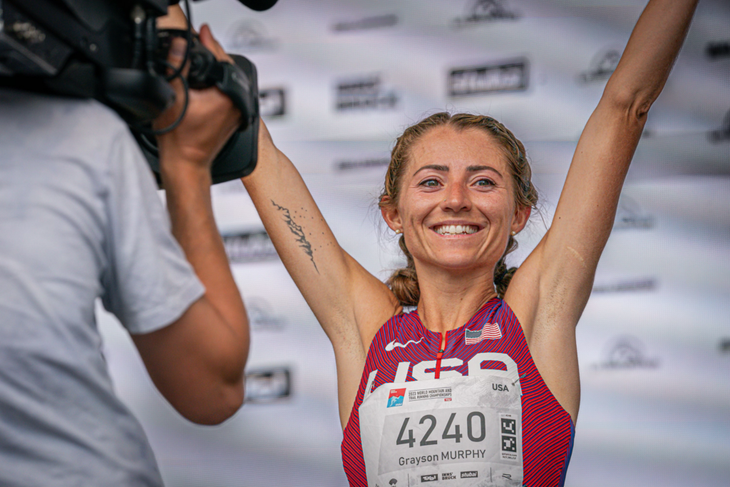 A Long Time Coming
Although it had only been about nine months since Murphy had won an international trail running race, she has been wanting to test herself at the world championships for nearly four years. In her first year as a pro runner in 2019—and really her first year running trails competitively—she surprised everyone but herself by winning the U.S. trail running championships and then rode that momentum to a victory at the World Mountain Running Championships in Villa La Angostura, Argentina.
She was ready and eager to do it again the next year, but the 2020 world championships were canceled because of the Covid pandemic. She was ready and eager to do it again in 2021, but the newly reorganized mountain and trail world championships in Thailand were postponed until late 2022. 
But late last summer, after she was named to the U.S. team that would compete in Chiang Mai, Murphy started feeling an awkward numbness in her lower back and left hip. The ailment advanced to the point that it muddled her proprioceptive awareness and control in her left side. She said it felt like an awkward paralysis in her hips.
"I couldn't tell where my leg was in space," Murphy recalls. "I had kind of choked a nerve out in my back through my hip. So that's why it felt like it was paralyzed or dead." 
After several months of working with doctors to figure it was a pinched nerve, she had to make the difficult decision to decline the trip to Thailand. Once she was able to recover and start running again, she set her sights on the 2023 world championships. 
Now she'll transition to the Vertical K race at the June 16-18 Broken Arrow Skyrace and then the Golden Trail World Series. She's also already qualified for the 2024 U.S. Olympic Trials Marathon on February 3 in Orlando.
While she won U.S. trail running titles in 2021 and 2023, being injured for part of 2022 was a physical and mental setback. 
RELATED: Grayson Murphy Talks Mental Health
"I'm really glad I made the decision to step away from Worlds last year to get healthy," she said. "Coming back like this was pretty validating. What I took away from all of this is that, if you can make listening to your body and being healthy the priority, it will pay off even if it requires waiting four years and having to be patient. A reminder to believe in yourself has been a lesson too, to know (winning in 2019) wasn't a fluke, but recognizing that and knowing like you can get back to that level if you keep working toward it." 
RELATED: The Broken Arrow Skyrace is Stacked with Elite Runers
Four years after winning gold in the Classic Mountain Race in Argentina, Murphy turned in two of the top performances in U.S. trail running history, matching in reverse order of what teammate Allie McLaughlin pulled off at last year's world championships in Thailand.
Murphy joins a select list of American runners to earn gold medals at a mountain or trail running world championship race, including Adam Peterman (2022, Long Trail Race), Jim Walmsley (2019, Long Mountain Race), Joe Gray, (2016, 2019 Classic Mountain Race), Allie McLaughlin (2014, Long Mountain Race), Sage Canaday (2014, Long Mountain Race), Stevie Kremer (2012, Long Mountain Race), Glen Randall (2010, Long Mountain Race), Brandy Erholtz (2010, Long Mountain Race), Kasie Enman (2011, Classic Mountain Race), Max King (2011, Classic Mountain Race), Matt Carpenter (2006, Long Mountain Race) and Jay Johnson (1987, Classic Mountain Race).
View this post on Instagram
Team USA Among the Best in the World
Although Murphy's exploits were the only individual medals for the U.S., the second combined World Mountain and Trail Running World Championships was still a success for Team USA. Aside from Murphy's medals, eight other U.S. athletes ran their way to top-10 performances, including Jennifer Lichter (fourth, Short Trail Race), Joe Gray (fifth, Vertical Race), Drew Holmen (fifth, Long Trail Race), Zach Miller (sixth, Long Trail Race), Allison Baca (sixth, Long Trail Race), Emily Schmitz (seventh, Long Trail Race), Eric LiPuma (seventh, Long Trail Race) and EmKay Sullivan (ninth, Short Trail Race).
Several other American runners turned in top-25 efforts, led by Allie McLaughlin (13th in the Vertical Race), Liam Meirow (13th in the Classic Mountain Race), Garrett Corcoran (14th in the Short Trail Race) and Micahel Maiorano (15th, U-20 Classic Mountain Race).
The U.S. men's team (Holmen, Miller, LiPuma and Caleb Olson) brought home the silver medal in the Long Trail Race, while the U.S. women (Lichter, Schmitz, Kimber Mattox, Klaire Rhodes) earned the bronze in the Short Trail Race. Team USA also garnered fourth-place team finishers in the women's Long Trail Race and Classic Mountain Race, as well as fifth-place finishes in the women's Vertical Race and both the men's and women's U-20 Classic Mountain Race.
RELATED: Beast Coast Runner Eric LiPuma Helps Team USA Earn Silver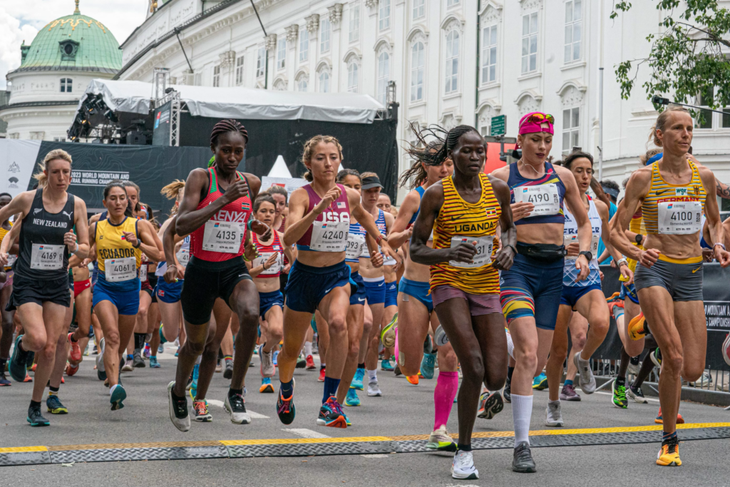 As a team, the U.S. finished third in the overall federation award standings with 3,176 points behind No. 1 France (3,247 points)  and runner-up Italy (3,210 points) after finishing fifth or higher in seven of the 10 race divisions.
"An event that brilliantly highlighted the best parts of trail and mountain running," Drew Holmen said in a post on Instagram. "Individuals from all over the world racing with, and for, each other on one of the most grueling courses in recent years. In a sport that most frequently elevates individual performances, we were gifted a platform to be a team."
American runners were inspired from afar, many watching the livestream in the wee hours of the morning.
The next World Mountain and Trail Running Championships will be held in Canfranc-Pirineos, Spain, in late September 2025.
Boulder-based Brian Metzler has run more than 75,000 miles in his life, competing in every distance from 50 meters to 100 miles, running the Rim-to-Rim-to-Rim run across the Grand Canyon and back several times, racing pack burros on many occasions and going up Colorado's Longs Peak 20 times. In 2018, he ran the Great Wall of China, completed the Leadman series and ran a 100K in South Korea. He is the founding editor of Trail Runner and the author of "Kicksology: The Hype, Science, Culture and Cool of Running Shoes."