For 95 Straight Days, Alyssa Clark Ran A Marathon, Setting A New Record
Heading out the door? Read this article on the new Outside+ app available now on iOS devices for members! Download the app.
This past March 31, 2020, Alyssa Clark, 27, of Panama City, Florida, ran a marathon. She ran one the next day, and the next, and the next. For 95 straight days. She blew past the official record … and kept going—until she was felled by the very thing that launched her streak: coronavirus.
At the time of those first steps, Clark was living in Naples, Italy, where her husband, Codi, was assigned for the U.S. Navy. The couple lived in a small home in the mountains outside Naples, which sits on Italy's western coast, about 130 miles south of Rome.
Clark, who considers herself a mountain runner first and foremost, got her start trail running at home in Southern Vermont. Hers was an adventurous family. Every September, Clark and her mother would run the lower 20 miles of Vermont's Long Trail near her home in Bennington to Williams College in Williamstown, Massachusetts, where Clark went to school.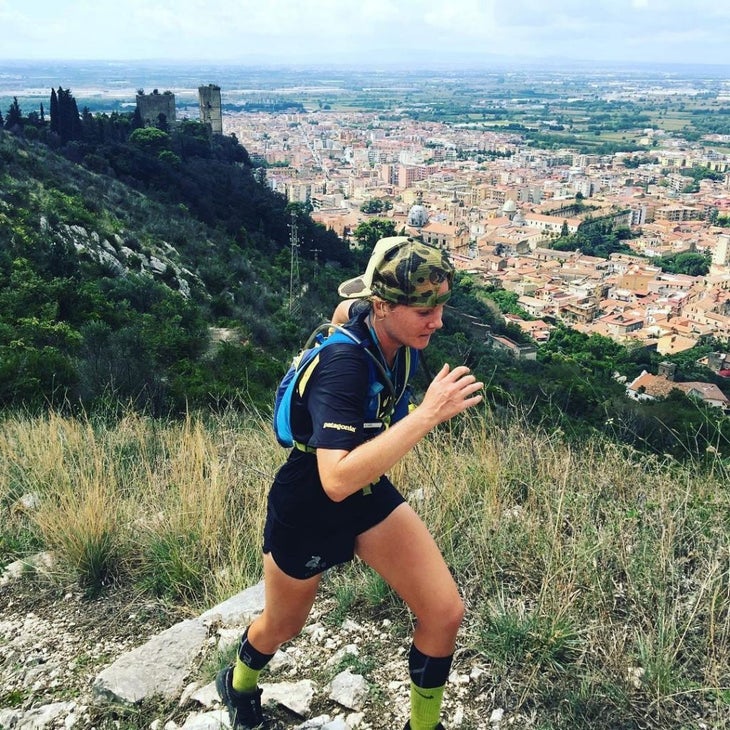 Since those early days, Clark has ticked off impressive results—notably third-place finishes in Hawaii's Hurt 100 and the Vermont 100K in 2018. She was less lucky in 2019, dropping from two of the world's hardest ultras—the UK's Dragon's Back Race and Italy's epic 330K Tor des Géants.
Clark is a keen observer, though, and learned from those lessons—and 2020 was, she hoped, going to be different. She had been training hard, coached by Shawn Bearden, host of the podcast Science of Ultra. On her calendar were a number of top Ultra-Trail World Tour races, notably Italy's Lavaredo Ultra Trail and Croatia's 100 Miles of Istria.
Then, the pandemic arrived—and Clark experienced her own version of a story most trail runners now know well. "I started to wonder," she says, "'How am I going to use this fitness?'"
Italy, hit early and hard by the coronavirus, began to shut down—and fast.  "One day we were allowed to travel freely, then we were limited to our own regions, then we were restricted to our houses," she says. "It was a quick fall."
Boxed in—literally—Clark wondered what kind of adventure she could create, while not putting herself or others at risk. "I knew I needed to channel my energy—and also cope with the anxiety of not being allowed to go anywhere." Eyeing a treadmill in her house, she had her answer: a marathon a day, until the lockdown ended on April 15th.
That was March 30th. She added a few rules for herself: Consecutive days, finishing before midnight, Italy time. Tackling a big physical challenge during a pandemic raised an ethical issue, too. "One of the promises I made to myself," says Clark, "Is that if I begin to jeopardize the health and safety of myself or others, I needed to stop." Her personal guidelines acknowledged the social goal of not adding stress to already max-out medical resources.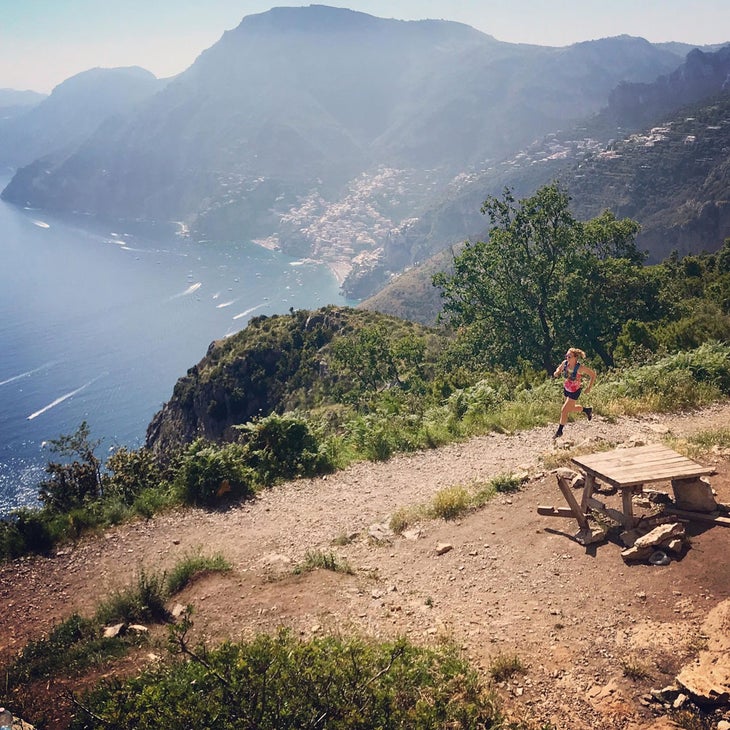 The Streak Begins
The following morning, she ran her first marathon.
A few weeks later, the lockdown was extended until May 2nd. "I said to myself, 'Time to buckle up!'" Clark kept running. Later, the lockdown was extended another week, to May 9th. And so, on she went.
Somewhere around two-dozen marathons, Clark started to eye the women's consecutive marathon record, held by the UK's Alice Birch, which stood at 60.
On May 10th, lockdown over, Clark headed for the dirt roads and trails around Naples. "It was liberating. I was finally able to run away from the treadmill or the 2 – mile loop I was doing on the U.S. navy base," she says. But it wasn't all good. A windstorm storm kicked up, blowing dust from Africa throughout southern Italy. Temperatures rose into the 80s and 90s. "It was brutally difficult," says Clark, "I felt like I was breathing through cheesecloth."
Next, came a challenge that had been in the forecast a bit longer—a move for the couple to Panama City, Florida. To keep her streak going, Clark kicked off May 27th with a final marathon on the roads and trails around Naples. By 9:30 that night, she and husband were at the U.S. Air Force base in Ramstein, Germany. Clark knew everything had to fall into place.
"With the military, if you mess it up, they're not very kind about that, as they should be." After an hour of sleep at a hotel, Clark woke up at 12:45 a.m. to tick off another 26.2. She ran loops in neighborhoods around the enormous, hilly base, looking for areas with good lighting. Clark ended up on the base's airstrip. "That was nuts," she says, laughing. "It was one of the hardest marathons I've done. I'll never forget it. It was so weird. I didn't know whether to laugh or cry, but it got done."
A few hours later, the couple were on a flight for Norfolk, Virginia—where she ran another marathon—this time, at 8 a.m. East-Coast time. Charleston, South Carolina, was the next stop, with two marathons. By the time her travels were over, Clark had run six marathons in three countries and three U.S. states.
It was in Charleston where Clark made it official, ticking off marathon number 61 on May 30th. Runner's World wrote an article, and a few astute readers commented that a woman named Annete Fredskov had run a mind-boggling 366 consecutive marathons. The record, however, was never verified and remains unofficial. Still, Clark is quick to make sure Fredskov gets credit. "I was completely blown away when I heard of it," she says of the record. "It's important to me that we recognize her efforts."
The Magic Number
Still, Clark continued to run. And, with each success, she moved the goal posts forward. Now, the magic number was 100. Settled in Panama City, Florida, all seemed to be going well, despite the Sunshine state's brutal summer temperatures.
Then, Clark started to fall ill. "I was dragging," she says. Clark felt like she was losing a battle. "I felt like each marathon I ran was taking a bit of my soul," she says, pointing out,"Normally, I love running. I'm like a dog. I see someone out running and I want to be out there with them!"
Clark knew she was sick—and she suspected coronavirus.  "I started feeling dizzy running, and my senses were numb. I wasn't enjoying it. I'd finish each marathon, then I'd have problems eating," she says. "It was hard to taste foods. I would come home, shower and immediately fall asleep." With the loss of appetite came intermittent fevers. By the end of June, all she wanted to do was rest indoors.
Then, on July 1st, she was coughing badly and her chest hurt.  The fever was unabated. At mile 8 during her daily marathon, she called her husband, who now was worried about Clark causing permanent damage. In short order, the two were at a local hospital. There, Clark got a steroid injection to help her lungs. Her doctor told her, skirting the obvious, "You have an upper respiratory virus." Her diagnosis was clear, if unstated. Clark was told only nursing home residents and admitted patients would be tested for coronavirus. "It didn't leave me with a lot of faith in the medical system," she confesses. "If they don't test me," she points out, "I'm not another number."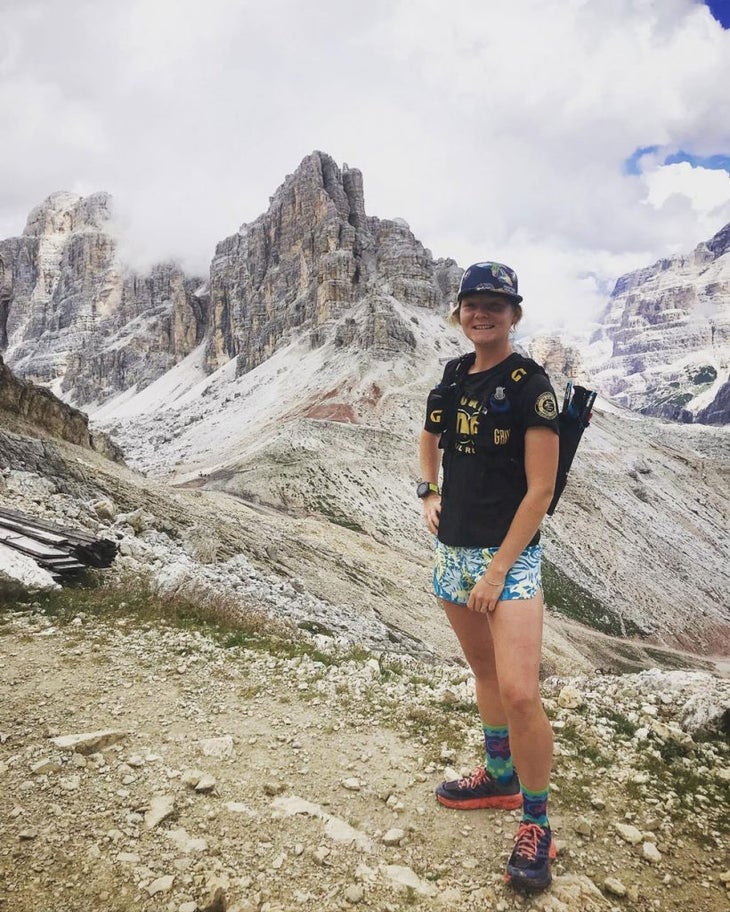 Clark stopped running after 95 consecutive marathons. "I had reached the point where I could be a real burden on the medical system." She was on the verge of violating one of her starting principles.
Clark stopped running after 95 consecutive marathons. "I had reached the point where I could be a real burden on the medical system." She was on the verge of violating one of her starting principles.
Regarding the end of the streak, she remains philosophical, even upbeat. "My goal is to be involved in the running community as long as I can," she says. "Jeopardizing that for an arbitrary number was not worth it. Sure, I was sad.  My friends had put together a celebration. But how could I be disappointed with the outcome? When I started, I thought I was going to do 30!"
Clark credits her consistency with helping her reach and then surpass her goal. "I was running 80 to 100 miles a week, for years," she notes. "Training is key." Her routines continued through the three-month-long odyssey. "Every night, I would set out my clothes and get my bag ready."
Clark has submitted an initial proposal to Guinness World Records and expects an answer within the next week or two. From there, she will be asked to submit her data and related information.
Streak over, Clark says she surprised herself. "Running was what I was doing. It was the job of the day. Each day, there was no question in my mind that I was going to run a marathon. If you set your mind to a goal, there's no out. It just is."
Clark says she surprised herself. "Running was what I was doing. It was the job of the day. Each day, there was no question in my mind that I was going to run a marathon. If you set your mind to a goal, there's no out. It just is."
The public reaction has caught Clark off guard, too. "It surprised me how much it seems to mean to others," she admits. "It really has blown me away—it seems to mean a lot to people. It's so humbling."
What's next? Right now, Clark has been doing shorter runs and walking. "Nothing big and hard," she says. She's been discovering the local trails.  And, yes, there is already a new goal. "Next week, I'll start getting into more structured training," she says. The project? The first edition of a new trail race in her adopted state, named Across Florida. The distance? 200 miles.