Fast Feats On The Tahoe Rim Trail
Heading out the door? Read this article on the new Outside+ app available now on iOS devices for members! Download the app.
Kyle Curtin had some big goals when he took his first steps on the Tahoe Rim Trail at the Echo Summit mountain pass just after sunrise on the morning of July 3, 2020.
Although the 33-year-old former Army special-forces helicopter mechanic from Durango, Colorado, was running unsupported without any assistance, he had set his sights on breaking Kilian Jornet's 2009 supported mark for the Fastest Known Time on the 171-mile Tahoe Rim Trail loop.
Meanwhile, a few days later, Candice Burt returned to Lake Tahoe to tackle a task that had eluded her on a couple of occasions over the past eight years. But while the 38-year-old race director of the Tahoe 200 Endurance Run, Altra-sponsored pro and mother of two young girls was gearing up to give the women's unsupported FKT another go, two other women were also trying to set the fastest women's time.
The route is situated between 6,000 and 10,000 feet above sea level and includes a hefty 29,000 feet of elevation gain. No doubt, the Tahoe Rim Trail was the place to be before, during and after the July 4 holiday weekend.
Curtin's Crush
Although he lives in Colorado, Curtin, an Altra- and Suunto-sponsored pro, is no stranger to the Tahoe Rim Trail, having won the Tahoe 200 two years ago in a record-setting 49 hours 27 minutes and change. He needed every bit of energy and good fortune in that race, as he was able to outlast Courtney Dauwalter by a mere 27 minutes. He also completed the Appalachian Trail in 2015 and the Colorado Trail in 2017, so he knows what it takes to cover long distances self-sufficiently.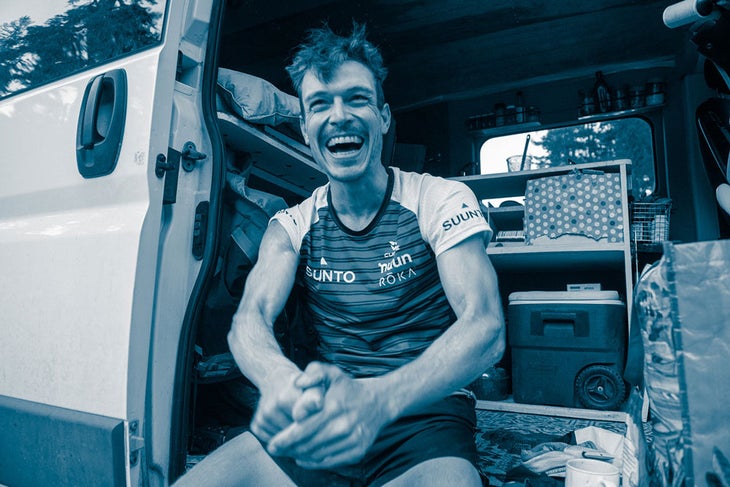 Curtin continued to post big race results in 2019, including a respectable 43rd place overall (38th among men) in his first attempt at the Ultra-Trail du Mont-Blanc in Chamonix, France. He placed sixth in the Red Mountain 30K in Ivins, Utah, on March 7, but then, like everybody else, had his 2020 race season shattered by the COVID-19 pandemic. He shifted gears and started thinking about FKTs and, based on his experience in 2018, was compelled to go after the Tahoe Rim Trail FKT.
When he set out with a nine-pound pack, Curtin's primary goal was to surpass the men's unsupported FKT (51 hours 45 minutes), he really wanted to make a run at Jornet's 38:32 supported effort. That would mean he'd have to finish before sunset on July 4. He was carrying 10,000 calories of nutrition, headlamps, extra clothes and a water filtration system to fill up at the streams along the route.
https://www.instagram.com/p/CCKBfMunWZ5/
Curtin was crushing it for the first 93 miles without incident, but then a small miscalculation with his water supply left him without enough hydration for a 36-mile stretch of trail. After suffering through water rationing and with roughly 25 miles to go, Curtin slumped over and fell asleep along the trail. He was pretty sure he was done, especially because it was hard to consume the liquid calories of Tailwind Nutrition without additional water.
"I knew from the way I set up my run, water was going to be an issue," says Curtin. "There's a 36-mile stretch on the Nevada side of the lake were the only water option was a mucky lake a mile off trail. At 3 a.m. and 93 miles in, I cameled up, topped off my bottles and started this segment. I opted to skip the mucky lake and push to the creek another 24 miles past. I made it around 11:30, but I don't think I ever really recovered from getting dehydrated on this stretch. I needed the perfect performance to get the overall FKT, so I'm OK with some risks, but this one got me."
At that point, breaking Jornet's overall FKT was out of reach, but the unsupported FKT was still in sight. After a short nap, the rejuvenated Curtin picked himself up and continued. Pushing strong into the night, Curtin finished the TRT at 11:09 p.m. on July 4, setting a new unsupported mark of 41 hours 9 minutes by slicing 10 hours off the previous mark set by Sean Ranney in 2015. Curtin's time is second only to Jornet's since the trail was completed in 2001.
"I knew I was falling behind and wouldn't have the day I was hoping to," Curtin told the Durango Herald on July 7. "At Mile 145 or 150 or so with Armstrong Pass—one of the higher points on the route at 9,500 feet of elevation—the mental side and physical side of being that far in and that high, it was pretty difficult. I mentally quit for a little while.
"Once I got over the pass, I knew I wasn't going to get the time I hoped for. I was dizzy and not moving very fast on the trail. I stopped, took off the pack and fell asleep on the side of the trail for what I am guessing was 40 minutes or so. Even when I woke up from the nap, I was disappointed I wouldn't have the day I hoped for. I texted Luis Escobar and told him I was going to walk back to the car and that I was done. But he sent me encouraging messages, and some friends who were tracking me texted and said I was doing great and to keep it up. That was pretty inspiring, knowing people were watching and cheering me on. I kept going. By the time I got down to the car, I had 16 miles to go at that point. I am happy I decided to finish it up."
Burt's Battles
Curtin's effort was the first new FKT set by any runner on the Tahoe Rim Trail in five years, but by the time he had finished and before Burt even started, the women's unsupported FKT had gone down twice.
Fran Zelenitz (47, Bozeman, Montana) completed her solo tour on June 27, covering the loop in 101 hours 51 minutes. But just as she was finishing, Helen Pelster, a local from Truckee, California, and also 47, was just getting started. She sliced a day off Zelenitz's time, by hammering the loop in 75 hours 44 minutes.
On July 4, less than 30 hours since Pelster had finished and while Curtin was still on the loop, Burt set out from Tahoe City to lower the women's mark one more time. Like the others, she also ran completely unsupported and unaccompanied, but she had the experience of attempting it previously. She hadn't planned on another attempt at the Tahoe Rim Trail so soon, but when the Badwater 135 was canceled this summer she knew she could convert her training into an FKT attempt.
Burt carried her own food, carrying out her own trash and only drinking water she collected and filtered from streams. She carried about 11,500 calories (mostly in the form of Spring Energy Gel), but only consumed about 7,000. She suffered from blisters early on—she admits it was odd because she never gets blisters—and had to strip off her socks to ease the friction and pain.
She said she tried to sleep on a few occasions, but ultimately could never fall asleep. She rested three different times for 15 to 30 minutes, but never slept a wink.
That ultimately affected her mental well-being during the second half of the run, resulting in hallucinations. It was the hallucinations that did her in last November when she was 65 hours in and just 10 miles from the end of the loop. Although she eventually finished last fall in 72 hours 21 minutes, it couldn't be credited as an FKT because she had called for help at one point.
The hallucinations got pretty bad this time around, too, but she forced herself to focus and keep the fear and anxiety at bay.
"I would constantly question whether I was just running in circles and at Echo Summit almost got really turned around thinking I'd already passed the summit when I still had not arrived," she recalled in her post-run report. "I had to pay very close attention and I still had not arrived. I had to remind myself that what I was seeing was not real. At night, everything became something else and inanimate objects moved and became alive."
Despite all of that, she charged to the finish to try to reach her sub-60-hour goal. She ran the final 16 miles faster than any segment on the loop, but ultimately fell short because it got dark again and she had some navigational challenges. She returned to where she had started in Tahoe City at 11:10 p.m., for a new women's unsupported FKT of 60 hours 47 minutes. With little fanfare, Burt crawled into her car and fell asleep.
https://www.instagram.com/p/CB7HMoMnVcp/
That's the second-fastest women's effort ever, ranking behind Krissy Moehl's 2015 supported FKT of 47 hours 29 minutes but ahead of Amber Monforte's 2014 unsupported mark of 49 hours 17 minutes.
"A reminder that it's never too late to chase your goals, and that any meaningful path is often made of 'failure' on our way to completing the biggest and best adventures," Burt said. "I knew I could run the route a lot faster. Let's just say it takes at least one go at this kind of unsupported effort to know how to approach it and what to take, when to push and when to relax. OK, there's no real relaxing. This time I knew I'd be able to conquer the mental battles that toppled me last time."