Defending UTMB Champion Katie Schide Takes Second at OCC
Schide proves she can compete with the world's best over every ultra distance. New mother Rachel Drake takes sixth, showing she's back on the world stage.
Heading out the door? Read this article on the new Outside+ app available now on iOS devices for members! Download the app.
When it comes to ultrarunning, Katie Schide can do it all. On August 31, the defending UTMB champion faced many of the world's best short-course ultrarunners at OCC, the UTMB World Series 50K. The 31-year-old American who has lived in France for several years, beat all but one: Toni McCann of South Africa.
Schide's runner-up performance at this world-class 50K comes two months after her second-place finish at the Western States 100, which she completed in under course record time while finishing behind Courtney Dauwalter.
By claiming UTMB and Western States titles in less than a 12-month period, Schide proves she can excel over both the steep, slow terrain of the Alps and the flatter, faster trails of California's Sierra Nevada foothills. Now she can add another level of versatility to her decorated résumé.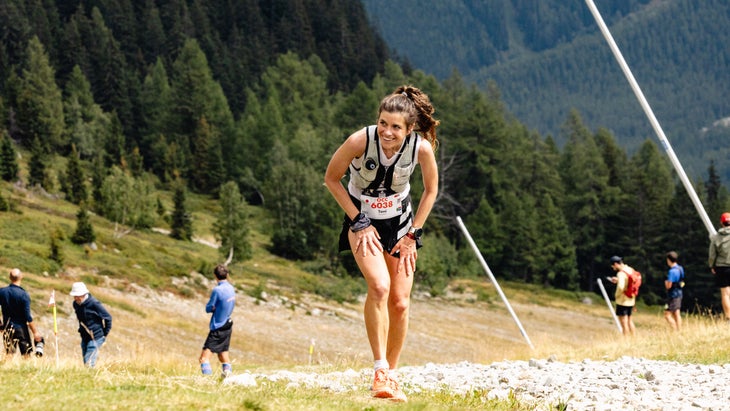 An Elite Runner of Diverse Talent
Schide already knew her quiver of talents extended far beyond the 100-mile distance.
"I came here because I wanted to try and win. I don't have to be shy about it," says Schide, a professional runner on The North Face elite team. "I'm so happy with how everything went. One of the things that brought me to OCC was having the chance to really race side-by-side with other girls. You don't always get that in ultrarunning."
Schide sought out ​​tête‑à‑tête competition, and she received it.
In characteristic fashion, fellow American Allie McLaughlin surged to the lead within the first half-mile of leaving the Swiss village of Orsières. McLaughlin entered OCC looking to improve upon her sixth place in 2022. What she possessed in heart, she lacked in the legs. McCann overtook McLaughlin coming out of the first aid station at mile 4.5.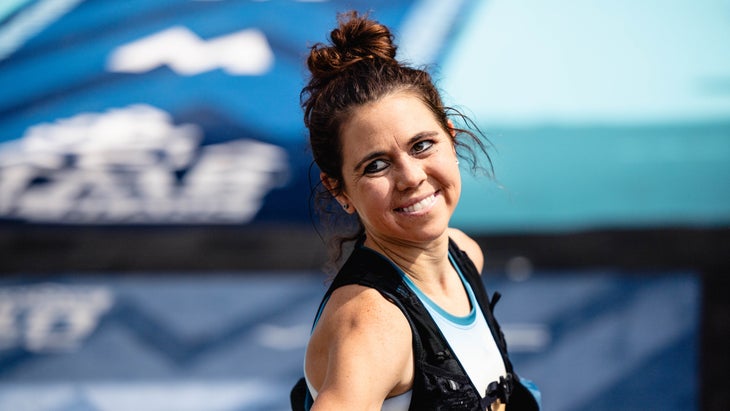 "I got really dizzy," McLaughlin says. "I filled up on water but I ran out again. Like last year I took the lead, but it didn't feel as good as last year."
Depleted and dehydrated, McLaughlin fell once and slowly slipped back  in the field. Meanwhile, the front of the race saw endless jockeying  for the next 10-plus miles, with McCann, China's Miao Yao , and American Jennifer Litchter battling for the lead.
McCann took advantage of the smooth trail sweeping through the alpine along the ridge of the Col to definitively stamp her mark on the race. She put on the turbo chargers and incrementally pulled away from the field. McCann extended her lead all the way to the church, crossing the line first seemingly without a drop of sweat on her face in 5:18:21—eight minutes before Schide.
RELATED: Trail Runner's Guide to UTMB 2023
The final climb on this year's course varied from last year, taking a lower route up the final climb of La Flégère before bombing into Chamonix and the finish line. That discrepancy makes it difficult to compare times to those from previous years, but there's no doubt that performances at this race are only getting faster—and McCann's performance was no exception.
Meanwhile, Schide ran an aggressive but smart race. She sat around seventh for the first third of the race, making a move into second by the halfway mark in Trient before getting her wish of a battle, thanks to a tenacious Yao who clung to her coattails until the end.
"To finish with Miao right on my heels, in the moment it was stressful but I kept reminding myself that this is why I came and this is what I wanted," Schide says. "I couldn't ask for anything more."
Yao crossed the line just 42 seconds later.
Rachel Drake Is Back with the World's Best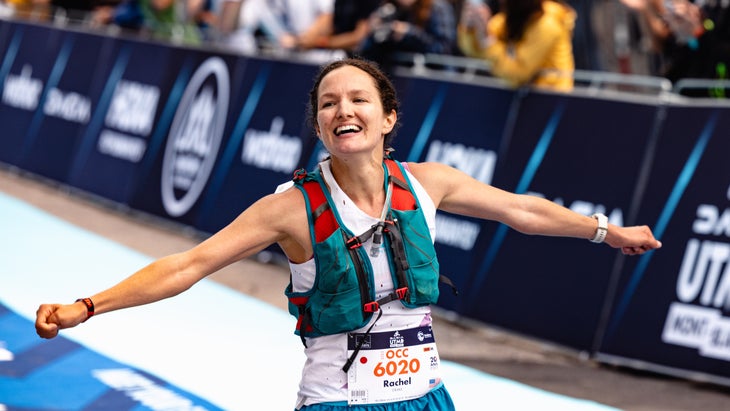 Eleven months after giving birth to her son Lewis, Rachel Drake from Portland, Oregon,  proved she's back at a world-class level. Drake suffered from a sacral stress fracture over the winter, which she attributes to returning to post-partum training with a little too much excitement.
Recovering from the fracture was scary and isolating, Drake says. But she doubled-down on recovering from both the injury and pregnancy.
"I feel like I'm working three times harder than I've ever worked with the not-fun stuff, like core, strength, and PT, to run less and run slower," Drake says. "But there are physiological adaptations that make you stronger after giving birth, like your blood volume increases."
RELATED: 10 Things to Know About Jim Walmsley's Obsession with UTMB
Her diligent, conservative training down the road in Les Houches for the past six weeks paid off, and perhaps the post-partum physiological benefits paid off, too. Drake took her upward trajectory to another level with sixth-place and the second American at OCC, two minutes after fellow new mother Daniela Demus of Germany.
"It was so fun, oh my gosh," Drake says. "It was the perfect day for running. All the friends everywhere. It was wonderful. I'm really, really happy."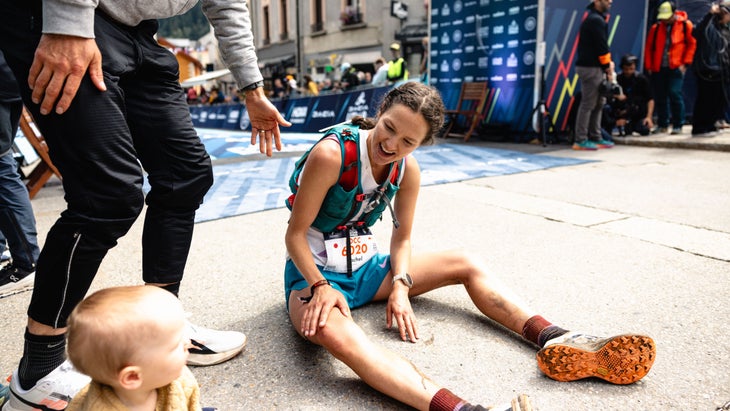 McLaughlin, Heather Jackson, and Stephanie Howe rounded out the top five American women in 14th, 20th, and 30th, respectively.
Missoula, Montana's Jennifer Lichter's day ended 15 miles early on the Col de Balme (mile 19.1), the high mountain pass that demarks both the Franco-Swiss border and the crux of the race. In fact, the Col proved to be Kryptonite for much of the top end of the American field, with Peyton Thomas and Emkay Sullivan ending their races there as well. Top-ranked Dani Moreno ended her day five miles before the Col, in Trient.
Unstoppable Stian Angermund Storms to the Win
On the men's side, Norway's Stian Angermund capped off a dominating past 12 months by adding an OCC win to his 2022 and 2023 world championship 40K titles. Like McCann, Angermund stormed into the lead after topping out on Col De Balme. He put another two minutes on the field over the final 15 miles, crossing the line in 4:42:40.
While Angermund had the win in the bag late in the race, it was once again a battle for the rest of the podium. Second place Francesco Puppi of Italy crossed the line 23 seconds before Antonio Martínez Perez, who threw down late in the race to pass fourth place China's Yousheng Guan in the final miles coming into town.
Jeshurun Small held on for fifth and the first American after leading early in the race. Americans Nicholas Handel and Cole Watson also cracked into the top 20, taking 11th and 14th, respectively.
OCC is the first of the three world series finals taking place this week. CCC, the 100K finale, starts on Friday at 9 A.M. local time (3 A.M. ET). UTMB, the 100-mile finale and the crown jewel of the week, starts at 6 P.M. (12 P.M. ET) Friday, when runners depart Chamonix for a 106-mile loop around the Mont Blanc massif.
Catch the action unfold in real time by tuning into the CCC and UTMB live streams for free on Outside Watch.