Race Recap: Javelina Jundred
Last weekend's hyper-competitive race in Arizona's Sonoran desert drew top talent, record-breaking paces, and confusion around nonbinary award categories.
Photo: Courtesy of Aravaipa Running
Heading out the door? Read this article on the new Outside+ app available now on iOS devices for members! Download the app.
Two days before Halloween, Dakota Jones and Devon Yanko turned in some spooky fast efforts for the race's 20th annual trail running party in Arizona's Sonoran Desert. 
The 31-year-old Jones showed off the revitalized form he displayed enroute to finishing third at the Hardrock 100 in July by running a stunning 12:58 record time on the relatively flat five-lap course near Fountain Hills, Arizona. It was the first 100-mile win of his career and arguably his most prominent victory since he won the Pikes Peak Marathon in 2018.
Meanwhile, Yanko, 40, notched another top-tier result in her ultra career by winning the women's division in 14:36 and placing sixth overall. In running the second-fastest women's time ever—trailing Camille Heron's 14:03 record from 2021—Yanko finished with a 40-minute gap over Nicole Bitter up until the moment she finished in 15:16.
But about a half hour before Bitter finished, 27-year-old Riley Brady, who was one of two participants in the field of 399-runner field who had registered in the non-binary division but competing in the women's awards category, ran an exceptional race and placed seventh overall in 14:45.
"When I crossed the finish line, I was happy but in a little bit of disbelief!" says Brady. "I'm thrilled to be going to Western States. I always come away from races feeling like I'm walking on clouds because I love the trail community."
I always come away from races feeling like I'm walking on clouds because I love the trail community.
"Riley is one of the most stunningly gifted and strong athletes I have ever met," says their Coach, David Roche. "They have a special spark that is ready to ignite the podiums of the biggest races all around the world."
It appeared that they won the non-binary division, as was amplified by the race's social media and in the final results. But that's where things got complicated.
View this post on Instagram
The Javelina Jundred was the second of seven HOKA Golden Ticket races for the 2023 Western States 100 in which, according to the stated rules, the top two male and female finishers automatically qualify for entry into the 2023 Western States 100 event. Dakota Jones and the men's runner-up, Jonathan Rea (13:05), are the pending Golden Ticket winners for the men, while Yanko and Brady, and not Bitter, are the pending winners for the women's division, according to the Western States 100 site. However, Bitter, the apparent second-place women's finisher, wasn't awarded the second Golden Ticket, based on how athletes are allowed to register.
Presently, Golden Tickets aren't allocated to the non-binary runner division, but non-binary athletes in Golden Ticket races are allowed to choose a gender of award category (male or female) while registering on Ultrasignup.com, because the race had only two traditional award divisions. 
Unfortunately, race staff, social media teams, and real-time results were communicating Brady as the leader of the non-binary division, and Bitter as the second female, during and immediately after they finished, said Jamil Coury, co-owner or Aravaipa Running. Brady has signed up as a non-binary runner and competed in the women's award category to go after the Golden Ticket as they had communicated with the race organization prior to the race.
Most runners and those following the race weren't aware of the stipulation that required non-binary runners to choose between one of two traditional genders for awards, so it created confusion, especially for Bitter, who wasn't told she was third until after she finished. The results were updated on Monday to reflect Brady as the second female finisher and Bitter as third place to reflect the correct positioning for awards. Coury admitted the error was on his team, and he hopes this can be a learning moment and positive discussion point going forward. 
"We basically screwed up. I'll own it," Coury said. "We miscategorized them in the online race results, and our team was amplifying that on social media based on some internal miscommunication. We didn't play through every scenario, and there are probably scenarios that are still unforeseen." 
Brady, who never changed their registration status, correctly earned the Golden Ticket, said Western States race director Craig Thornley, who was working with the race directors at Aravaipa Running to try to fix the challenge in real time on Saturday. 
"The change definitely left people to speculate that Riley chose to change from non-binary to women after they realized they were in second place, but that's not at all what happened," Thornley said. "Riley did what they were supposed to do, but they were miscategorized on both social media and the immediate results. They were racing for a Golden Ticket the whole time, we just didn't think it through. In a quest to be inclusive, it was probably a little premature."
Although Bitter finished over a half-hour behind Brady, she was being informed by race channels and live results that she was in second place for women the entire day, which would have guaranteed a Golden Ticket. Therefore, she had no reason to adjust her race strategy. 
"Let's use this situation as a way to bring it right to the front of the table," Coury said. "There are people who want to feel included, who want to be themselves, and they should be welcomed as they are. As race directors, we should make our rules clear so there is fairness in competition, that all athletes understand it's very clear before the gun goes off, so they can track their place accurately. That's where we messed up." 
The running industry as a whole is trying to figure out how best to manage all of the scenarios in welcoming non-binary runners. The Boston, Chicago, and New York City marathons have added non-binary divisions in the past year, but each has different stipulations about how, or if, non-binary runners can earn prize money.
There are people who want to feel included, who want to be themselves, and they should be welcomed as they are.
Thornley said the Western States Golden Ticket rules will be reviewed and updated before next season. In the case of Western States, allocating Golden Tickets for non-binary runners would mean committing an 14 additional Golden Ticket entries into the 369-runner Western States field.
The intent of the process is to be fully inclusive, Thornley said, but he admits there have been unforeseen stumbling blocks. "It shouldn't be, 'Hey which gender would you like to be considered for awards?'"  Thornley said. "It has to be predetermined, so we have some updating to do."
Bitter was happy with her race but disappointed about the confusion, according to Zach Bitter, her husband and coach. He said races and the racing industry needs to develop a consistent framework in which all possible outcomes are known ahead of time.
RELATED: Transgender Athlete Rights Are Human Rights
Notable Finishes
As for the rest of the results, Kaci Lickteig continued her comeback from a devastating hamstring injury last year by finishing fourth among women in 15:40. She was followed closely by Heather Jackson (5th, 15:42), a professional Ironman triathlete and former elite track cyclist who was making her 100-mile debut, and Kathryn Drew (6th, 15:43).
View this post on Instagram
Last year's men's winner Arlen Glick capped off a strong 12-month stretch that included six 100-mile podium finishes by placing third at this year's Javelina with the sixth-fastest time (13:25) in race history. Amazingly, it's Glick's 15th top-three podium finish in 15 career 100-milers since 2018. Brett Hornig (4th, 13:45) and Nick Coury (5th, 13:52) rounded out the men's top five in what was the fastest race in Javelina history.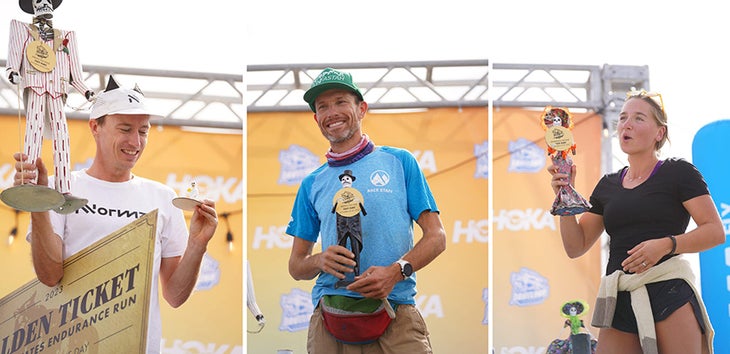 Willow Dolde, who was the first official non-binary competitor at Javelina last year, based on registration categories, returned this year and finished 131st while improving by 22 minutes with a 23:22 finish time. After the change to Brady's registration status, Dolde is the only non-binary runner listed in the results.
In the Javelina 100K race, Scott Traer won the men's race in a record-shattering 7:31, while Lotti Brinks finished second overall and won the women's race in a similar fashion with an 8:36 effort. Ruairi Moynihan won the Jackass 31K night race for the second consecutive year in 2:12, while Abby Jahn was the women's winner in 2:29. There were no non-binary runners entered in the 100K or 31K races.
RELATED: The Lightning Round 50K, Hardrock 100 Edition: Dakota Jones
Golden Ticket Updates

The first Golden Ticket race for the 2023 Western States 100 was the Ultra-Trail du Mont-Blanc on August 26, in Chamonix, France. American Katie Schide won and accepted the ticket, but runner-up Marianne Hogan of Canada already had an entry based on her third-place finish among women this year. American Kaytlyn Gerbin, the third-place finisher at UTMB, declined, meaning the second Golden Ticket will go to Jocelyne Pauly of France. On the men's side, UTMB winner Kilian Jornet turned down his Golden Ticket, meaning the entries will likely go to runner-up Mathieu Blanchard of France and Tom Evans of the UK.
As for the top finishers at Javelina, Rea and Yanko have previously run Western States, but Jones and Brady have not. Each of those four athletes will have about two weeks to accept or decline the Golden Ticket for next year's race. In the case that either first- or second-place finisher declines the entry or already has an entry to Western States, the automatic bid rolls down to third place, and then fourth place or fifth place, as necessary, before being rescinded. No places below fifth will be offered a Golden Ticket.
Here is a list of the remaining Golden Ticket races: 
Editor's Note: This article has been updated to remove language that was overly editorial and harmful toward non-binary runners. We are committed to listening and learning as continue to report on this subject accurately and fairly.