Competition Is Stacked at This Year's Lake Sonoma 50
Lake Sonoma is celebrating its Sweet 16 with Team USA Selection and a deep field of competition. Here's what to know about this legendary 50.
Heading out the door? Read this article on the new Outside+ app available now on iOS devices for members! Download the app.
The Lake Sonoma 50 is one of the fastest and most competitive 50-milers in the U.S., and it's turning up the notch on competition in its 16th year. 
Set in the rolling foothills near Healdsburg, California, the hilly course is known for its smooth singletrack and more than a dozen creek crossings. For the first time, Lake Sonoma will be the 50-mile selection race for Team USA, and all runners who race their way onto the podium will get an automatic invitation to run for Team USA in the long-format race in this year's  World Mountain and Trail Running Championships set for June 6-10 in Innsbruck-Stubai, Austria. 
While Lake Sonoma has always been a competitive event (previously a Golden Ticket Race), that invitation has certainly encouraged a high level of competition. 
"I'm super psyched for Lake Sonoma to be a USA Selection Race," says Gina Lucrezi, race director and founder of Trail Sisters, a non-profit that supports women in the trail space. "This event has been a top 50-mile race in the U.S. since its inception. John Medinger, Lisa Henson, and Skip and Holly Brand have created a sought-after course and event, and I'm proud to continue their legacy of keeping it a barn burner event, pulling in top talent to test their fitness and abilities." Lucrezi represented the U.S. at several USATF MUT Championship events, and she's excited that her event will extend that opportunity to a new generation of ultra athletes. "It's both an honor and privilege to host this opportunity for runners vying to represent the USA," says Lucrezi. 
RELATED: Trail Sisters Wants to Help You Get Outside
The event is Trail Sisters certified, which means there will be equal podium spots, awards, women's specific race swag, menstrual products at aid stations, and equal space for women on the start line. Lake Sonoma races are held within the Native lands of the Southern Pomo. The Southern Pomo are part of the Federated Indians of Graton Rancheria, a federally recognized tribe. The race has also partnered with a local charity, The Children of Vineyard Workers Scholarship, which provides education funding to the kids of agricultural workers in the area. 
"In terms of diversity, equity, and inclusion, when hosting the lottery, we split the field 50/50 male/female. (Non-binary folks were grouped in the field that they noted as their gender assigned at birth). We then utilized gender-specific waitlists if participants cancel or defer, but we extinguished our waitlists and then allowed for open registration to fill our vacant spots. In the lottery form, we requested race and ethnicity information," Luzrezi told Trail Runner in an interview. "This provided insight into the diversity of signups and helped us make sure the starting line could be as diverse as possible."
Sweet Sixteen
In its 16th year, Lake Sonoma has ushered a generation of ultrarunners onto the scene, and many are returning to reconnect with those fond memories at an event that epitomizes the grassroots appeal of trail races, with an internationally competitive field. 
Ultrarunner Devon Yanko is competing in the marathon after her win and earning a Hoka Golden Ticket at Javelina Jundred, says she feels a deep connection to the race after winning it early on in 2010. Building up to Western States in June, Yanko says her primary objective is to feel healthy and enjoy the race. 
"I have been a part of Lake Sonoma almost since its inception and have been a spectator/crew for most of its biggest years," says Yanko, who formerly lived in San Anselmo, California. "It was an extension of my local community and always had the best vibes. I'm mostly looking forward to seeing friends, supporting the race, and helping keep the tradition of Lake Sonoma alive."
Many runners have long histories with the buttery, grass-lined trails. Lake Sonoma was one of the first ultras OCR athlete and ultrarunner Amelia Boone ever knew about more than a decade ago. But, a broken femur derailed her initial attempts at the 50-mile event, and she's been looking for an opportunity to get back to Lake Sonoma's start line ever since. She says the high level of competition and community vibe were big draws as well.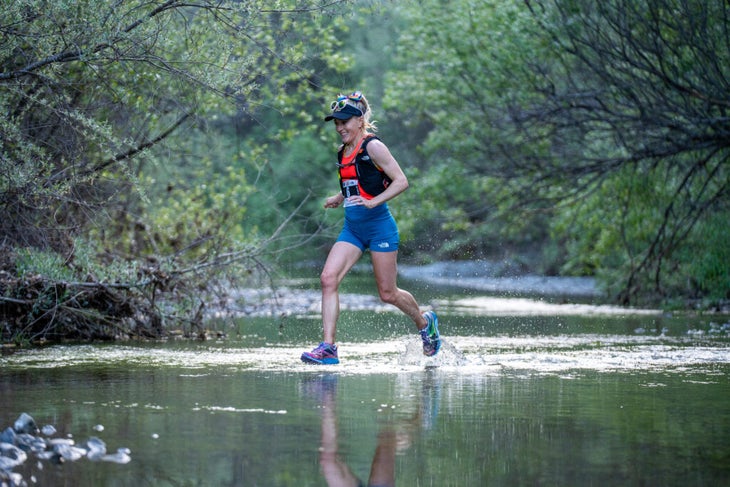 "I'm looking to run strong in a competitive field. It's been a while since I've run a race with a super deep field, so I'm looking to put the ego aside and have some faith in myself. My ultimate reach goal would clearly be top 3 to qualify for the U.S. World team, but that'd just be a bonus," says Boone. "Oh, and give as many high fives on the trails as possible."
Brett Hornig, a coach and athlete from Ashland, Oregon, hopes that the third time's the charm. He's run the race twice, and hasn't had the day he wanted.
"LS50 was one of the premier 50-mile races in the world when I was first introduced to trail and ultrarunning around 2014, so the allure of competing against the best has always been there for me," says Hornig. "That initially drew me to the race, and the competition is still there, but it is the community who puts on the race that keeps me coming back. The race directors (both past and current), the volunteers, sponsors, and fans of the sport put on an incredible event that everyone should check out for themselves at least once."
Ryan Miller, the winner of the 2022 Gorge Waterfalls 50k and Bandera 100k, from Vero Beach, Florida, says he's excited by the fast and smooth Sonoma trails.
RELATED: An Advanced 50-Mile Ultramarathon Training Plan 
"The primary allure of Lake Sonoma 50 has to be the trails themselves. Have you seen the videos and pictures of this place?! It's absolutely stunning. I'm most looking forward to the competitive racing with big stakes as it tends to bring the best out of everyone," says Miller. 
The proximity to wine country doesn't hurt either. 
"Throw in a deep competitive field, prize money, my wife's excitement to go to California wine country, and an opportunity to earn a spot on the World Championship team, and it's a no-brainer for an athlete like me focusing on the 50K-100K distances."
Miller, like others, is gunning for a podium finish that would earn an invitation to race for Team USA at the World championship. 
The race field is chock full of talented runners, including the women's field with Abby Levene, Anne-Marie Madden, Allison Baca, Tara Fraga, Sarah Keys, Megan Drake, Sarah Biehl, Erin Clark, Natalie Sandoval, Erin Viehl, Amelia Boone, Anna Kakis, Catrin Jones, Mercedes Siegle-Gaither, Sarah Cummings, Kristina Randrup, Jackie Merrit and Hannah Osowski.
The men's race includes Miller, Hornig, Drew Holmen, Seth Ruhling, David Kilgore, Drew Macomber, Preston Cates, Terence Copeland, Reed Breuer, Aubrey Myjer, Charlie Ware, Ryan Sullivan, Caleb Olsen, Chris Myers, Jason Schlarb, Erik Sorenson, Matthew Seidel, Morgan Elliot, Addison Smith, and Travis Lavin.
"The overall Lake Sonoma race event is focused and centered on community," says Lucrezi.   "I'm really excited about our new start and finish location and the celebration vibe we are creating. No matter your pace, experience, or what place you finish, Lake Sonoma is an event that welcomes all runners and fosters friendships made through the event and on the trails."
Zoë Rom is Editor In Chief of Trail Runner magazine, and Managing Editor of Women's Running. When she's not running, she's writing, and when she's not climbing she's cooking or eating. Southern story-teller turned mountain-dweller, she starts every day with a cup of strong coffee and a good story. Her work has appeared in  REI Co-op Journal, Discover, Rock & Ice, Trail Runner, Backpacker, and Threshold Podcast. She currently hosts and produces the DNF Podcast. She is co-author of the forthcoming book, Becoming a Sustainable Runner with Tina Muir.