Courtney Dauwalter Sets Course Record And Jeff Colt Claims Victory at Bandera 100K
Sparks flew at the first Golden Ticket race of 2023, with a competitive field and a course record finish by Courtney Dauwalter. Here's your recap.
Photo: Anthony DiPasquale
Heading out the door? Read this article on the new Outside+ app available now on iOS devices for members! Download the app.
The Bandera 100K, hosted by Tejas Trails, is the first Golden Ticket race of the new year, and  the first opportunity in 2023 for runners to gain automatic entry to the Western States Endurance Run (WSER).
Two tickets are up for grabs for the men and women who come in first and second. For many elites, the only way to gain entry to Western States is by winning a Golden Ticket at one of the seven races in the Hoka Golden Ticket series. A winning ticket at Bandera gives athletes ample time to train toward WSER, while others will have to try again at races that become increasingly close to the WSER start date. 
RELATED: The Chase for Golden Tickets will be Livestreamed at the Bandera 100K
The men's and women's fields were deep, with numerous contenders for the Golden Tickets. Not far into the race, it was clear Courtney Dauwalter was going to take home a ticket if she could keep up her blistering, course-record pace. She never slowed and earned her Golden Ticket, along with a nine-minute course record. Nicole Bitter started slower than her competitors but moved her way up to a second-place finish during the second half of the race. Jeff Colt also turned it on in the second half of the race, coming in first place (despite taking several weeks mostly off for flu-like symptoms), followed closely by JP Giblin who was in the top three throughout most of the day.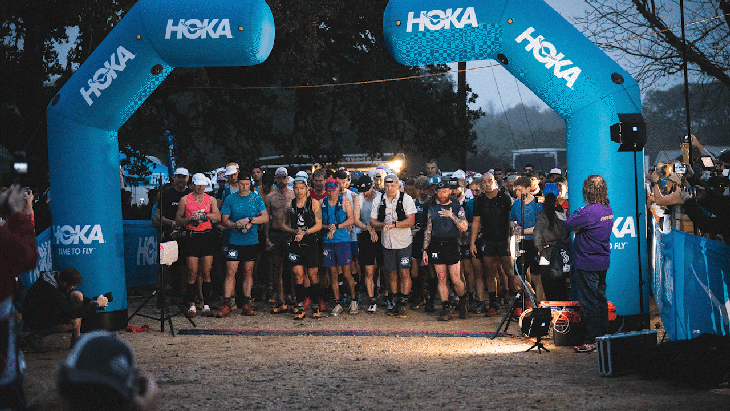 First Time Livestream
Traditionally, Bandera has been a rather quiet Golden Ticket race as limited cell service along the course makes live coverage nearly impossible. This year, Jamil Coury, founder of Aravaipa Running, assembled his team who put on livestream coverage for all their trail races to provide 11 hours of live coverage via their Starlink satellite connection. 
Every aid station was equipped with a drone operator and handheld camera runners, who fed video into their hub in Phoenix where commentators kept the day lively for spectators around the world. Leah Yingling (a Salomon elite runner who finished sixth at WSER last year) debuted as the field correspondent, keeping the Phoenix commentators informed about the action on the ground.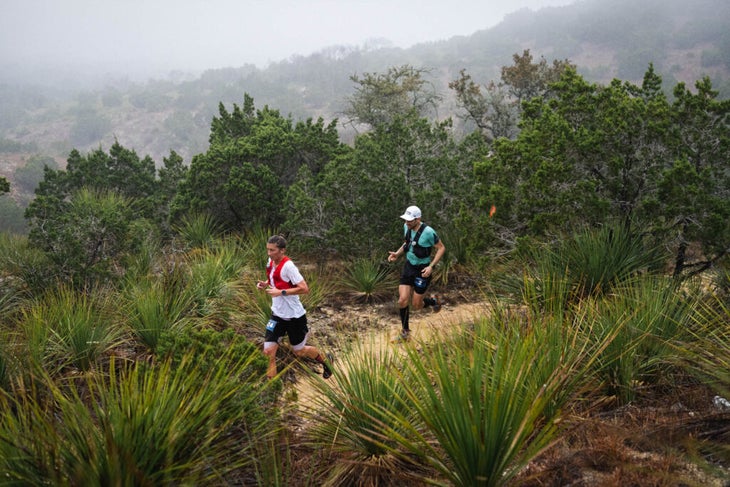 The Bandera course consists of two 50K loops, taking runners through the rolling hills and technical descents of the Hill Country park just outside of Bandera, Texas, the self-appointed "Cowboy Capital of the World," an hour's drive northwest of San Antonio. 
An impressive cast of ultrarunners toed the line, looking for their ticket to WSER: Courtney Dauwalter, Amanda Basham, Kasie Enman, Nicole Bitter, Kathrine Short, Michelle Magagna, Careth Arnold, Rachel Lemcke, and Sarah Bergeron-Larouche were the top picks for the women. Ryan Montgomery, Canyon Woodward, Anthony Lee, Jeff Colt, Nick Coury, Charlie Ware, Bryan Kerl, Chris Myer, JP Giblin, Ryan Soule, Anthony Wallick, Zack Smith, and Devon Olson were favorites on the men's side. 
RELATED: The Chase for Golden Tickets is On at Bandera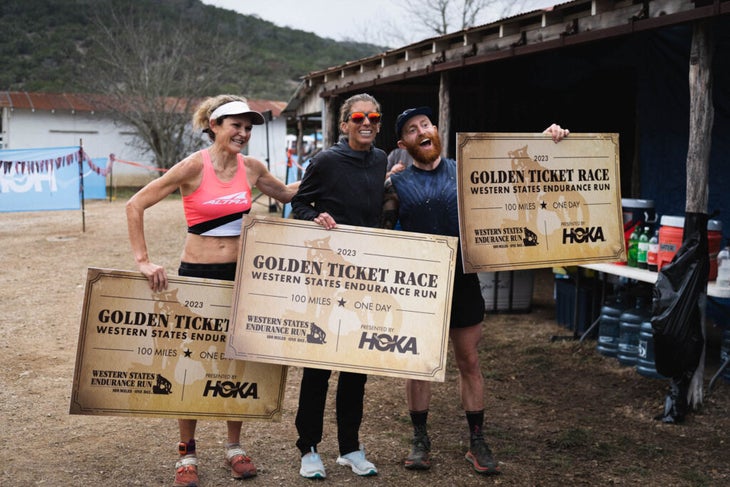 It's Not The Heat, It's The Humidity
The day started with temperatures in the 60s, with full humidity, while light rain led to some mud, making the already technical course even more slippery. Perhaps this is why the men's field started slower than in previous years (21st for the overall fastest first lap at 3:57:26, compared to the top six fastest first laps being in the 3:40s).
There was a large group of men that stuck together through the first aid station, but by 25K, Nachos aid station, Canyon Woodward took a slight lead on the rest of the group. Giblin managed to catch up to Woodward on the back half of the first loop where the course is flatter, winding its way through fields of grass. Coming through the start/finish area at halfway, Woodward and Giblin came in together followed closely by Anthony Lee, Bryan Kerl, Jeff Colt, Joe "Stringbean" McConaughy, Ryan Montgomery, and Chris Myers. The lead pack of men were close enough that no lead was decisive through the first lap. 
RELATED: Meet the "Rural Runner" Canyon Woodward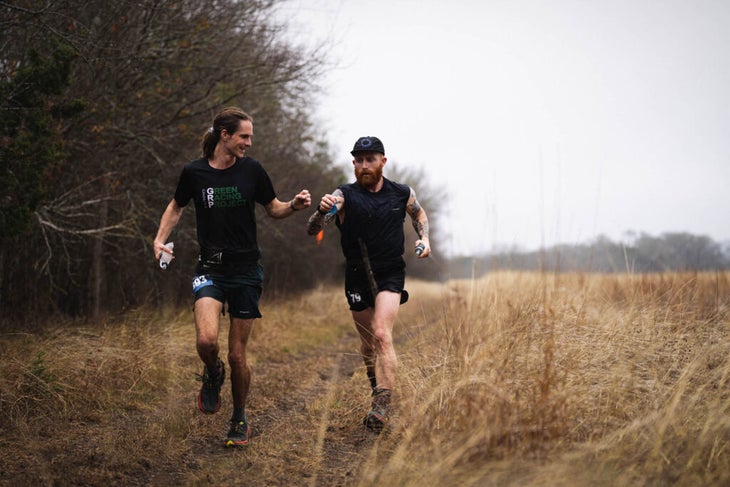 In the women's race, Courtney Dauwalter took an early lead and continued to separate herself from the rest of the women all day. After completing the first, she had a 17-minute gap on the second-place woman, Kasie Enman, as well as arriving four minutes faster (4:14:17) than Stephanie Howe's 2017 course record pace (4:18:24). 
The women's race ended up playing out as a race for second. After Dauwalter, the women's lead pack remained much closer together, in second through fifth place, shuffling around significantly during the first loop. At halfway, Kasie Enman came in second with Sarah Bergeron-Larouche seven minutes behind, followed closely by Katherine Short, Nicole Bitter, Careth Arnold, and Amanda Basham.
The weather pivoted from overcast to bluebird, drying the course and bringing up the temperature to 74 degrees. The runners were feeling the heat, using water and ice to keep cool, even though these are mild conditions compared to WSER's often triple-digit heat. 
After the halfway mark, Giblin overtook Woodward with Colt on their heels. At the Nachos aid station, about 75K, Colt and Giblin came in together with Colt looking full of energy. Woodward, Myers, Kerl, and Atkins weren't far behind and still within range of the podium. Colt came into the finish first at 8:23:51, followed by Giblin at 8:29:06, for the Golden Tickets.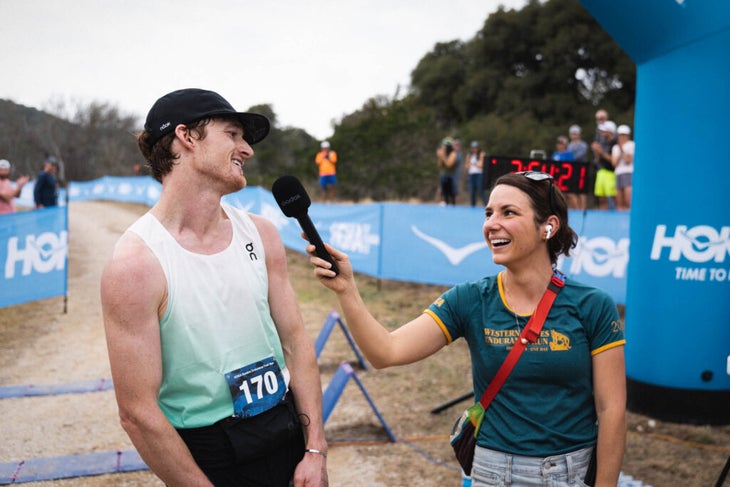 "I'll be the first to say it, that was really hard," said Colt at the finish. "That second lap was really sloppy."
"I really put it all out there, and this was a great race for me," Giblin reflected during his finish-line interview. Woodward held on for 3rd at 8:35:23 with Myers finishing at 8:37:05, and Atkins at 8:55:47, taking fourth and fifth, respectively.
It's a hard course. I could use a chair and a beer
In the women's race, Dauwalter continued to pull ahead, widening her gap during the second loop seemingly unaffected by the heat. She finished in first place, over an hour ahead of the other women, at 8:59:34, a new women's course record.
"It's a hard course. I could use a chair and a beer," Courtney says looking exhausted but cheery across the line.
Bitter and Arnold made moves in the second half, slowly climbing their way up the ranks. Bitter pushed all the way to second, coming in at 10:03:59, followed by Arnold ten minutes later at 10:13:45. Basham fought hard for her fourth place finish, at 10:20:25, completely collapsing over the line and saying something like, "That's still hard." Short finished while Basham was still on the ground, trading high-fives as she crossed in fifth at 10:21:07.
"I'm so happy," Bitter said, getting emotional at the finish. "It was hard, it always is. I'm just happy to be back in Texas. It feels like home."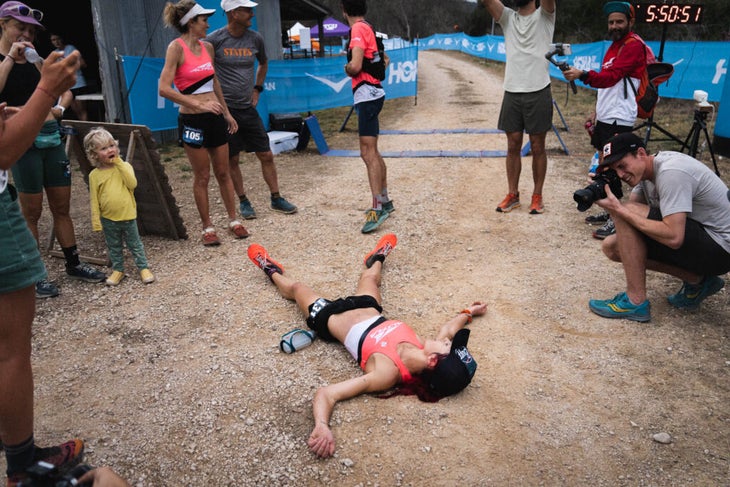 The Quest For Golden Tickets
As of this publication, Dauwalter had accepted her Golden Ticket, while Bitter, Colt, and Giblin are still marked as pending (we will continue to update as more information becomes available.) 
Next up in the chase for Golden Tickets is Tarawera by UTMB on February 11 and Black Canyon by UTMB on February 18th. Then, with one last opportunity for runners to race their way into Western States, the Canyons by UTMB will take place on April 28th, and will decide the final Golden Tickets for Western States in 2023.