Ben Light and Mike McKnight Will Go Head-to-Head for AZT FKT
Two ultrarunners face off to capture the fastest known time on the Arizona Trail, hoping to push one another to a new record.
Heading out the door? Read this article on the new Outside+ app available now on iOS devices for members! Download the app.
In possibly the first of its kind, two ultrarunners will go head-to-head for the fastest known time (FKT). Literally. 
Starting Saturday, October 15, at 8 a.m. Arizona Time, Mike McKnight will head south and Ben Light will head north on the 800-mile Arizona Trail in pursuit of the FKT. To do that, they'll have to beat Joe "Stringbean" McConaughy's 2020 existing record of 13 days, 3 hours, and 21 minutes.
The trail spans the entire state and is home to the Ak-Chin Indian Community (Ak-Chin O'odham); Cocopah Indian Tribe (Kwapa); Colorado River Indian Tribes (Mohave, Chemehuevi, Hopi and Navajo); Fort McDowell Yavapai Nation (Abaaja); Fort Mojave Tribe (Pipa Aha Macav); Gila River Indian Community (Akimel O'odham); Havasupai Tribe (Havasuw `Baaja); Hopi Tribe (Hopi); Hualapai Tribe (Hualapai); Kaibab-Paiute Tribe (Kai'vi'vits); Navajo Nation (Diné); Pascua Yaqui Tribe (Yoeme); Pueblo of Zuni (A:shiwi); Quechan Tribe (Quechan); Salt River Pima-Maricopa Indian Community (Onk Akimel O'odham and Xalychidom Piipaash); San Carlos Apache Tribe (Ndé); San Juan Southern Paiute Tribe (Kwaiantikowkets); Tohono O'odham Nation (Tohono O'odham); Tonto Apache Tribe (Te-go-suk); White Mountain Apache Tribe (N'dee); Yavapai-Apache Nation (Wipuhk'a'bah and Dil'zhe'e); and Yavapai-Prescott Indian Tribe (Wipuhk'a'bah).
While FKTs are nothing new, they've become increasingly popular since the COVID-19 pandemic limited racing opportunities. Yet, possibly never have two runners gone for it at the same time on a point-to-point trail, let alone in opposite directions.
RELATED: Two Women Tackle The Adirondack 46 High Peaks
The idea was the brainchild of the depleted, wandering mind of Light during the Utah Brawl 300. Never heard of it? That's because it's another brainchild of the duo who found a way to connect the Bear 100 and Wasatch 100 race routes, via a 100-mile connecting trail.
A long way into that run together, in 2020, Light turned to McKnight and said, "You know what would've been really cool? We're together and having fun, but we could've started on opposite ends to see who could finish first."
Two years later, the runners are at their respective start lines on the Mexico and Utah borders.  The directions for each runner were picked on October 10th with a combination of rock-paper-scissors and a coin toss. Light, winning both, picked the south-to-north route. As the loser, McKnight chose the start time of 8 a.m. Arizona time.
Now, they face off as friendly competitors, both seeking the same overall FKT. Each could theoretically get the FKT for their perspective direction, but they both want the overall title.
"I don't know if we had the intention of doing something so unique and kind of monumental, but it is fun, exciting, and engaging," Light said. "If we can increase the engagement of FKTs, whether that's the AT or AZT, I think it could open a lot of doors."
Tale of the Tape
McKnight and Light take their different resumes and approaches to this attempt.
In the north corner, we have McKnight. He is a well-known name in the 200+ mile circuit, winning the 2019 triple crown by winning all three races (the Bigfoot 200, Tahoe 200, and Moab 240). Most recently, he took second at the Cocodona 250, behind current FKT holder, Joe McConaughy.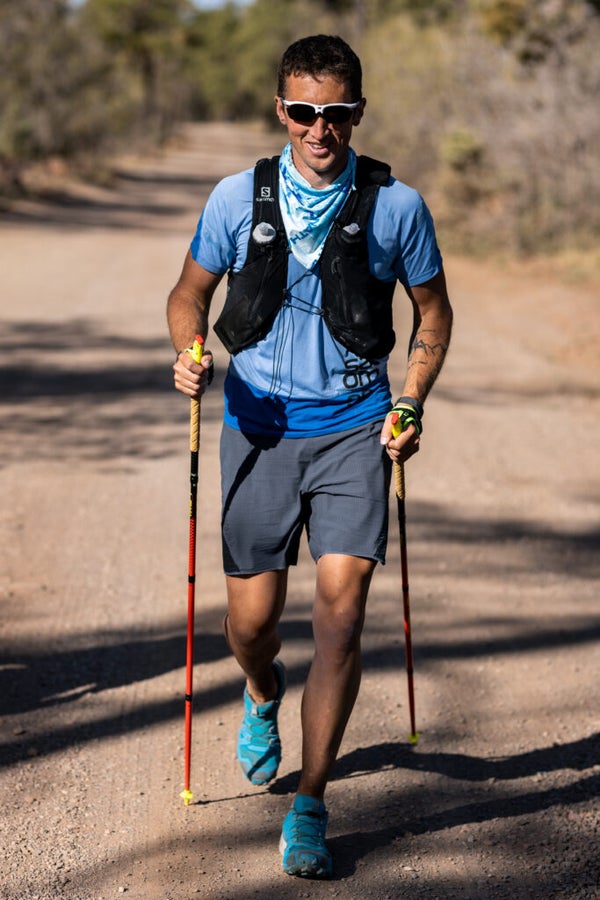 This is his second FKT attempt. He earned his first in 2020, running 7 days, 13 hours, 16 minutes on the Colorado Trail. That mark still stands.
Yet, McKnight will have to adapt his strategy from that run. Sleep was not a priority then. In fact, he averaged only 45 minutes per night.
"I had a lot of things happen during the Colorado run," McKnight said. "I had a bag of shoes stolen. I dealt with altitude sickness for the majority of it. I felt crappy the whole time. This time, sleep will have to be different, but I feel like you don't have to move fast, but you need to be moving. I think that'll be enough to get the job done."
Known as a "low carb runner", McKnight said he plans to fuel with Spring energy gels, grain-free granola, mummy balls, Mountain Ox supplements, and fruits while running. At the van with his crew, he'll have larger meals of steak, burgers, and potatoes.
He plans to sleep between midnight and 6 a.m. He said this is a good plan for this race and good practice for a future Appalachian Trail FKT attempt.
"It's basically 100K a day," McKnight said. "That gives me 17 to 18 hours to run 100K every day, which, as long as everything holds up, doesn't seem too crazy."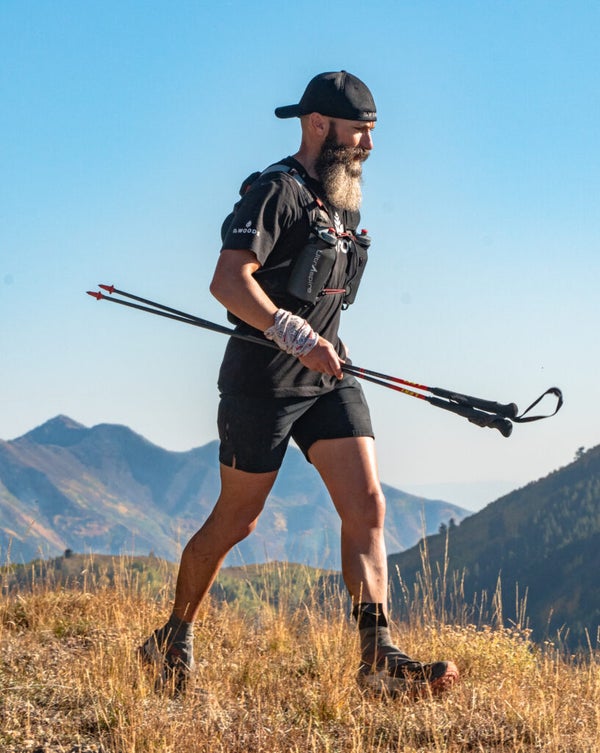 In the southern corner, we have Light. Also known for 200+ mile efforts, Light has also completed the triple crown of 200s, completed the Spine Race, a brutal 268-mile winter ultra in the United Kingdom, and the 470-mile Haute Randonnee Pyreneenne route across the Pyrenees Mountain Range.
However, this is his first official FKT attempt.
Light admitted that he doesn't have the wheels that 42-year-old McKnight has. But the 44-year-old said that, in this David-versus-Goliath matchup, his fitness is there and his ability to handle vertical gain will be able to compete with that speed.
RELATED: A Theory About Building Speed While Doing Long Races and Ultras
"He definitely has a faster gear, and if he has a solid 10 or 11 days, he's going to crush it," Light said. "But, I also know he has a higher percentage of hitting difficult points. If I play it smart and I'm conservative, execute my plan properly, and minimize injuries and blisters, I know I can beat him. That's why I like being the underdog."
For fuel, Light is going with Maurten and Spring Energy gels, trying to consume 100 to 150 calories every 45 minutes. Larger meals will include steak and potato with occasional sweet potatoes, while drinking protein shakes during the day.
Light will take a different approach to sleeping. Starting in the warmer part of the state, he plans to run from 6 p.m. to 10 or 11 a.m. most days. Because McKnight picked the start time, he said it will take a day or two to get on that schedule with the morning start time.
"I'll have to get creative for the first two days, but I hope to get it done by day three," he said. "That day, I have a big climb and I want to do it all at night."
Both come into the matchup with minor injuries. McKnight suffered a sprained ankle during training and Light had minor calf issues. Despite their injuries, both are ready for the challenge. 
I know I can beat him. That's why I like being the underdog.
However, before starting, Trail Runner was able to obtain some friendly trash talk from the competitors.
"I feel pretty confident that I'm gonna be able to beat Ben for two reasons," McKnight said. "First is that huge, ugly beard. When he runs, there's no way around it, it's blowing in the wind, so he's got some drag with that thing. Second, I got like 40 years on that old guy. I don't think he stands a chance at that age. Beard and age will be his kryptonite."
In response, Light said that he refused to shave his beard, stating that if he has it, Mike can justify a handicap.
Light also said he may hand McKnight a pack of mini powdered donuts when they pass on the trail. This is because McKnight accepted a donut from a stranger 300 miles into the on the Colorado Trail though he "usually avoids gluten like the plague." After 100 miles of knee pain already, the sugar his body was unfamiliar with made his knee go further down hill leading to a painful final 100 miles, according to McKnight. 
"He better watch his six," Light joked. "I told him yesterday, 'Prepare to get your butt kicked.'"
How to Follow
The race will have GPS tracking. They are also raising money for two causes. Light is running for Bigger Than The Trail, a nonprofit for mental health through trail running. McKnight is running for RODS Heroes, which helps families adopt orphans with Down syndrome or other special needs.
Donations will be split evenly between the organizations. Anyone interested in following or donating can do so at Great Western Adventures website, a race and run-retreat company the duo created.
Additionally, they teamed up with Jamil Coury and Aravaipa Running to film the race and also have a daily YouTube broadcast with live interviews with the runners from the trail pending service and also include video footage from the day before from videographers on the trail.
"It's not entirely real-time like Cocodona, but to get a live update on a daily basis is historic," Light said. "That is a new piece we think the audience will love."