10 Trail-Running Highlights From Summer 2020
Heading out the door? Read this article on the new Outside+ app available now on iOS devices for members! Download the app.
OK, just like that another summer has come and gone. And, yes, it was one of the most bizarre/challenging/wild summers in history, including for trail running. But while most races were canceled and some trailheads were more crowded, at least we got a chance to hit the trails and get our run on.
As autumn sets in, here's a look back on a handful of the great moments from the summer that was. Keep in mind this collection is just a sampling of moments and not a fully inclusive list of everything that happened this summer.
10. FKT Madness
Fastest Known Times fell at a record clip this summer. A whopping 566 FKTs were confirmed by the FastestKnownTime.com crew in July 2020 compared to 151 in July 2019. Then in August, things got even crazier, with 674 new FKTs set during the months compared to 136 in 2019. Through August 31, there have been a whopping 2,806 new FKTs registered in 2020 (more than four times the total through August 2019), proving that, despite, all the crazy and challenging aspects of this year, trail runners have been inspired to run faster than ever.
9. International FKTs
There were hundreds of international FKTs set this summer, including a new women's mark for the Bob Graham Round in England's Lake District and a massive new overall mark for the Ramsay Round in Scotland. In July, Beth Pascall finished the 65-mile Bob Graham Round in 14 hours 34 minutes—taking 50 minutes off the previous women's mark of Jasmin Paris in 2016. That route covers 42 fells and includes about 27,000 feet of vertical gain.
Meanwhile, Finlay Wild crushed the overall FKT for the Ramsay Round on July 17, completing the rigorous 58-mile circuit over 24 mountains in the Scottish Highlands in 14 hours 42 minutes 40 seconds.
8. A Fast Lap Around Mont Blanc
One effort that wasn't an FKT is still worth mentioning. A year after his record-setting win in th Ultra-Trail du Mon- Blanc (UTMB), Spanish trail runner Pau Capell tried to run the 104-mile loop course from Chamomix, France, through parts of Italy and Switzerland and back in under 20 hours. The UTMB was cancelled this year due to coronavirus, but Capell headed out on a solo (but supported) tour of the course in the "Breaking 20" project.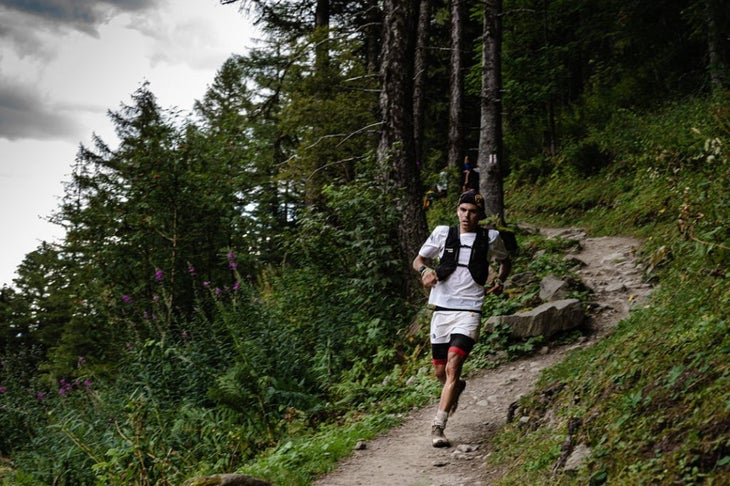 He lowered the race course record to 20 hours, 19 minutes, 7 seconds in his victory last year, but he was slightly slower this year in his unsuccessful but still impressive FKT attempt, finishing in 21 hours 17 minutes.
7. New Shoes Debut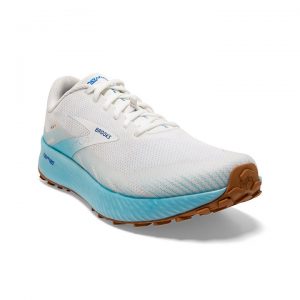 Several brands debuted new trail running shoes this summer. Among our favorites include: Inov-8's TerraUltra G 270 ($160, inov8.com), a comfy cruiser with an updated version of the reliably tacky Graphene-Grip rubber outsole; Nike'sPegasus Trail 2 ($130, nike.com) a complete overhaul of Nike's flagship trail shoe with a maximally cushioned React foam midsole; the Brooks Catamount ($160; brooksrunning.com), a lightweight, long-distance racing shoe with amazing traction, cushioning and comfort; and La Sportiva's VK BOA ($130, sportiva.com), one of the lightest, sleekest and most agile trail-running shoes ever made and built with the superior fit of a BOA dial closure system.
6. The Speedgoat 50K
While Covid-19 shut down most trail races this year, Karl Meltzer was one of the race directors who pushed ahead and, working within the safety guidelines of national, state and local agencies, the Speedgoat 50K and 28K races happened as planned on July 25. Although it was more of a regional race with slightly slower winning times given that most of the runners came from Utah and surrounding states, Noah Brautigam (5:29:02) turned in a solid effort to outrun Hayden Hawks (5:42:59) and Anthony Costales (5:33:48) in the men's 50K race.
Meanwhile, Michelle Hummel won the women's 50K with the eight-fastest time ever (6:26:17). Speedgoat wasn't the only big race of the summer, but, thanks to race director Karl Meltzer's steadfast approach to develop new protocols while following state, local and ATRA guidelines, it helped paved the way for the return of other races in the U.S.
5. Wonderland Trail FKTs
Dylan Bowman set a new FKT running the Wonderland Trail around Washington's Mt. Rainer on August 19. He covered the 93-mile loop with 24,000 feet of elevation gain in 16 hours 58 minutes 41 seconds, chopping more than 90 minutes off the previous best supported time. But that record only lasted for five days because Tyler Green took another 18 minutes off the FKT on August 24.
Meanwhile, Kaytlyn Gerbin, who helped pace Bowman on his FKT effort, went back a few days after that and lowered the women's FKT to 18:41:54 (the fourth-fastest time overall). In the final weeks of summer, both Kris Brown (20 hours 39 minutes 55 seconds on August 27) and Mark Hammond (19 hours 47 minutes 42 seconds on September 5) lowered the unsupported FKT on the Wonderland Trail. Also of note, as summer wound down Alex Borsuk broke the women's unsupported record by more than an hour, completing the loop in 24 hours, 1 minute and 26 seconds on her own. Lastly, Christof Teuscher started a Double Wonderland Trail FKT on September 18 and successfully finished the 186-mile effort in 3 days 10 hours 50 minutes 30 seconds just as autumn began.
4. Jornet, Mathys Win "Surprise" Sierre-Zinal
In August, organizers of the Sierre-Zinal 31K race in Switzerland announced a plan to allow a limited number of runners to compete in a modified version of this year's race over the span of a month from August 17 to September 18. What they didn't announce until the final day of that span was that there would be a special race for a handful of elite runners held without fanfare or many spectators. Naturally, course-record-holder and seven-time Sierre-Zinal winner Kilian Jornet was one of those toeing the line in the men's race, along with Remi Bonnet, Davide Magnin and Francesco Puppi.
Jornet wound up running away from the field to win for the eighth time in 2:33:15, about eight minutes slower than his record-setting time of a year ago. But what's interesting to note is that Frenchman Frédéric Tranchand ran the course in 2:33:45 earlier in the month and that allowed him to take second overall. In the women's elite race, Maud Mathys, the 2019 Pikes Peak Marathon champion from Switzerland, dominated in 2:48:48. Also, Jornet's new book "Above the Clouds: How I Carved My Own Path to the Top of the World" hit bookstores on August 25.
4. Jason Hardrath's Summer of Speed
There have several trail runners who recorded multiple FKTs during the summer, but no one was as industrious about the pursuit of record times as Jason Hardrath. The 31-year-old elementary school physical education teacher and running coach from Klamath Falls, Oregon, set 10 new FKTs during the summer and 40 since the start of 2020. Those efforts give Hardrath 74 FKTs for his career dating back to his first in 2018 and have helped him surpass longtime career FKT leader Ben Nephew (60).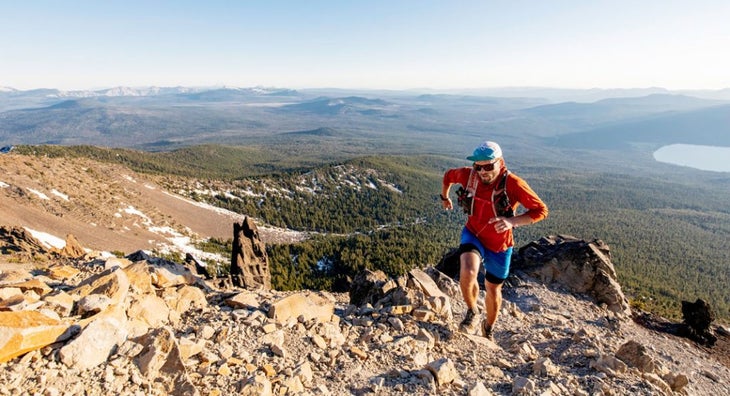 Hardrath has set fastest times on mostly flat routes like the Bizz Johnson Trail, rugged mountain routes like his recent 14,088-foot Mt. Russell roundtrip and a variety of multi-sport efforts like his Yosemite Picnic effort. Also worth a mention is Marcy Beard, who added four more FKTs this summer and nine so far in 2020 (in eight different states) to increase her career total to 31, which is tops among women.
3. Adirondack High Peaks FKT
On August 17, Alyssa Godesky of Charlottesville, Virginia, and Sarah Keyes of Saranac Lake, New York, began a Fastest Known Time (FKT) attempt on the 46 Adirondack High Peaks in upstate New York. They didn't start together and run it as a team. Instead, they made it a race and started at the opposite ends of the route.
In the end, Godesky summited all 46 High Peaks in 3 days 16 hours 16 minutes, covering roughly 200 miles with 65,000 feet of vertical gain to establish the first women's FKT. Keyes also put in a huge effort, completing the course in 4 days 22 hours.
https://www.instagram.com/p/CEcpdLTBsMj/
2. New Northbound Women's FKT on the AT
Running under the trail name "Mercury," Liz Anjos of Portland, Oregon, completed the 2,193-mile Appalachian Trail between Georgia and Maine to set a new women's FKT for the northbound route on August 28 despite battling shin splits for a portion of the run. Anjos, 35, a professional piano player and founder of the Rose City Track Club, began her journey on July 5 and averaged 42 miles per day before reaching Mt.  Katahdin in 51 days 16 hours 30 minutes, the second-fastest women's time on the trail behind Jennifer Pharr-Davis, who ran the southbound FKT of 46 days 11 hours 20 minutes in 2011.
Anjos has had a remarkable 2020, also setting the women's unsupported FKT (fastest known time) out-and-back on Wildwood Trail (60.5 miles), the women's FKT on the Kings Mt. – Elk Mt. Traverse (10.8 miles), and the overall FKT of the Forest Park "Tour de Nasty" (67 miles / 13,500 feet of climbing).
https://www.instagram.com/p/CEcuOpTHKu6/
1. Nolan's 14 Madness
Nolan's 14, a line of 14 summits over 14,000 feet in Colorado's Sawatch Range, is one of the hardest combined trail-running, hiking and mountaineering challenges in the world, especially when it is done solo and unsupported. The exact route is open, but distance is roughly 100-plus miles and elevation gain is about 40,000 feet at a minimum.
When Fred Vance originated the Nolan's 14 challenge, it was hard-core challenge among friends who had completed the Hardrock 100. It remained off-the-radar for years, but in the past 10 years it's seen more and more attempts, including this year when the men's and women's northbound FKTs were both shattered.
Joey Campanelli (41 hours 33 seconds) shattered the overall unsupported FKT in early July, while Sarah Hansell (57 hours 43 minutes, unsupported), Andrea Sansone (53:14) and Sabrina Stanley (51 hours 15 minutes, supported) lowered the women's mark before Meghan Hicks ripped off an impressive 50-hour, 32-minute supported effort on Sept. 6, allowing her to reclaim the FKT she original set in 2016.
https://www.instagram.com/p/CE4p54FHxbz/