Tommy Rivs' Cancer-Free Return to the Boston Marathon Was Beautiful
Five years ago, Thomas "Rivs" Puzey competed in the Boston elite field. This year, he was glad to be among the last to cross the finish line.
Photo: Nick Gruen Photography
Heading out the door? Read this article on the new Outside+ app available now on iOS devices for members! Download the app.
Alternating bouts of running and walking, Thomas Puzey—widely known as "Tommy Rivs" or simply "Rivs"—made his way along Boylston Street toward the finish line of the Boston Marathon on April 18. Flashing a wide smile and waving to the crowd, the Arizona-based runner celebrated his return to the site of his fastest marathon.
Five years ago, Puzey ran the race of his life here, averaging 5:17 per mile as he covered the hilly course in 2:18:20 to place 16th overall. This year, he utilized a run-walk method throughout and averaged just under 15 minutes per mile, reaching the finish line in 6:31:54. Officially, he was 24,799th out of 24,918 finishers.
Few, however, covered the course with as much joy and gratitude or received so much support and goodwill. The 37-year-old is a far different runner now than he was in 2017, after a near-death battle with a rare and aggressive form of lymphoma.
"I know I am one of the lucky ones, to still be alive," he says.
This time around, Puzey's 26.2-mile journey was a celebratory benchmark of progress on his new athletic quest, where the primary goal is to be fit enough to battle cancer if—or, more likely, when—it returns. His blood and chest scans have been cancer-free for the past 15 months—after he completed six rounds of chemotherapy—but doctors have told him the rare form of cancer still has a high probability of relapsing.
"You hope that never happens, but I'm still in the bunker." he says. "It's not over for me yet. I'll always be looking over my shoulder. It's all hovering just out of sight or circling above me."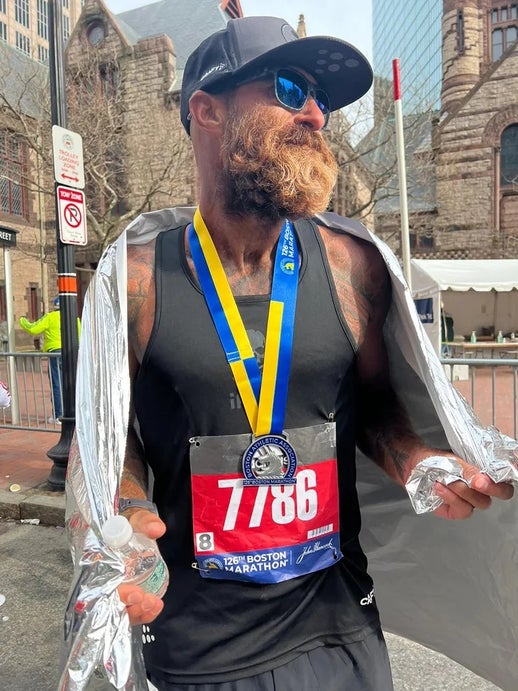 In June 2020, Puzey returned home to Flagstaff from a routine training run in the Grand Canyon feeling exceptionally fatigued and disoriented. He initially assumed he was suffering from heat stroke or severe dehydration; later, he thought it might be COVID-19. But when he ultimately checked himself into a hospital two weeks later, doctors diagnosed him with a rare form of cancer and discovered his lungs had been almost completely overtaken by invasive nodules. Suddenly fighting for his life, he was airlifted to the Scottsdale hospital in late July and was eventually sedated into a medically induced coma.
RELATED: How Tommy Rivs Defied Death To Inspire The Trail Running Community
Five months and multiple surgeries and treatments later, Puzey was released from the hospital, weighing in at a gaunt 95 pounds and unable to cross a room without the aid of a walker. But he was alive.
Thousands of followers, who had come to know Puzey as much for his soulful posts and coaching wisdom as for his athletic achievements, poured out support as he candidly shared his experiences and emotions on social media during the long, slow recovery process.
Today, Puzey has regained much of the muscular physique that made him stand out in a field of lanky elite runners as much as his bushy reddish-brown beard and array of tattoos. But it's always been his relentless determination that has defined him as an athlete and helped him earn podium finishes in ultramarathon trail races, triathlons, and marathons.
That determination has been evident as he's slowly rebuilt his health. Last November, Puzey had just enough physical and aerobic strength to walk the New York City Marathon in about nine hours. Since then, he's been able to start a running routine again. These days, he says, he runs at a 10-to-12-minute per mile pace for 30 seconds, followed by 30 seconds of easy walking. He had been doing a routine of running 60 seconds, then walking 60 seconds, but that proved too ambitious, leaving him excessively fatigued.
On most days, Puzey, who continues to be sponsored as an elite athlete by Craft Sportswear, says he is out the door by 5 A.M. for four to five miles alternating running and walking. He bikes to school with his three daughters before continuing solo for a two-to-four-hour ride, keeping the pace "slow and methodical." Later in the day, usually after a nap, he'll try to get in another hour-long run-walk session before getting back on his bike to pick up the girls at school. Throughout the day, he'll do dozens of push-ups, pull-ups, sit-ups, and planks to build general strength. Occasionally he'll get in a swim.
"He's still pushing his body more than most people do," says his wife, Steph Catudal. "That's the only way he knows how to exist, just forward movement, being outside and being on his feet."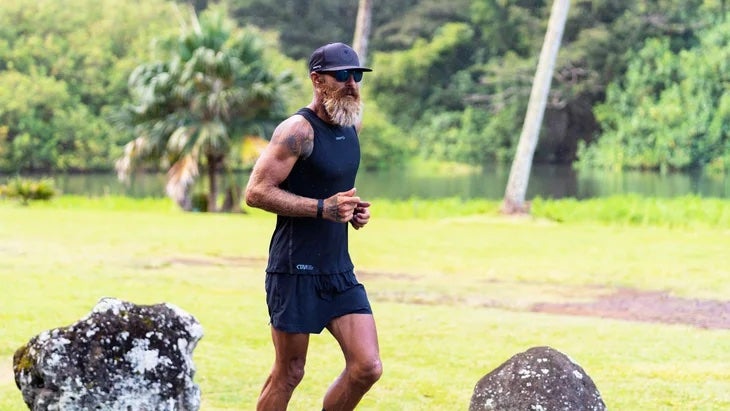 Still, Puzey's adaptability impresses Catudal. "It's just so beautiful to see him embrace that and not be frustrated and not be angry and bitter that he's not where he was a couple of years ago," she says. "It's so inspiring for me to see that he is happy where he is right now and coming to terms with it all, and that he's accepting that 30 seconds at a time is what it is, and that's OK."
The hardest adjustment, Puzey says, is how long it now takes to build fitness. "The process is exactly the same now—stress, rest, and replenish—it's just a lot more gradual trajectory, and progress comes much more slowly."
No matter how hard he works, Puzey's oxygen capacity will likely never be remotely close to what it was two years ago. His pulmonary and critical care specialist Dr. Seth Assar says his lungs are like Swiss cheese, replete with holes and scar tissue from where the cancerous nodules had been.
His passion for endurance sports, however, had never been about race results but about the pursuit of excellence within the bounds of his potential. That passion holds true now. "Satisfaction and happiness in life don't come from sitting around and doing nothing," he says. "It comes from working really, really hard at something and actually accomplishing it from time to time. That is where happiness is found, in that struggle."
And Puzey recognizes the opportunity he's been given and the responsibility that comes with it. "This has been really rough, but it could have been much worse and much different," he says. "I'm one of the lucky ones, with the gift of having another chance, and because of that, I feel morally obligated that there is a responsibility to test the limits of this new potential. I owe that to my family. I owe that to myself. I owe that to my physicians and my nurses. And I also owe that to the tens of thousands of people who have supported me and my family. If I don't seek out that potential, then it's a mockery to the people that supported me, and it's also a mockery to the people who don't have this opportunity."
RELATED: Leaving Home To Find It Again – Tommy Rivs Returns To The NYC Marathon
While his rare type of leukemia/lymphoma has a very high recurrence rate, Assar says Puzey has exceeded expectations every month since his release from the hospital, and that gives hope for sustained remission. In the event that it does come back, Puzey's renewed strength and fitness will be an asset.
"I don't see Tommy as living with a dark cloud over his head," Assar says. "He's gone on with his normal life. He's pushing himself every day. He's not living under the fear and the burden that this disease is just going to go ahead and sweep him up one day. Tommy is living."
What better way to affirm that you're still living than running Boston? "Running a marathon is a time stamp in which we're able to declare 'I am here.'" Puzey says. "So, I am here. This is where I am right now. It's not where I want to be, it's not where I want to be forever, but it is where I am right now."
This article originally appeared on Outside Online.