The Good, the Bad, and the Barkley
The Barkley Marathons got weird this year. We tracked down stories from seven runners, from virgins to veterans.
Heading out the door? Read this article on the new Outside+ app available now on iOS devices for members! Download the app.
The 2022 Barkley is in the books. Tales from those on the ground, like social media sensation (and Phish fanatic) Keith Dunn, offered us a glimpse of the craziness that is the Barkley Marathons, the brainchild of Laz, or Gary "Lazarus Lake" Cantrell.
While there were no finishers for the fifth year in a row, there were many stories that have yet to be shared from Frozen Head and nearby Petros, Tennessee. We tracked down stories from seven Barkley runners from this year's race, from virgins to veterans, Fun Run finishers to (literal) butt freezers. 
RELATED: No Finishers At The 2022 Barkley Marathons
"The Suspicious Woman"

Karel Sabbe
Through two loops, Belgian dentist Karel Sabbe was running strong. He and John Kelly – five-time Barkley runner and the last person to successfully finish the race, back in 2017 – powered through the first loop in just over eight hours, and they conquered the second night's cold rain with four hours to spare heading into loop three.
Sabbe was strong in his second Barkley attempt. In 2019, he fell short of a debut finish on the fourth loop. With a Barkley finisher by his side, he thought this might be the year. But Kelly was fading as they came into camp.
"John was having a hard time and shouting the whole way down from Chimney Top [the final climb and descent on the first and second loops]," Sabbe says. "It was a strange experience for me running behind him, but he said it was his technique to stay awake."
At camp, Sabbe refueled and left about fifteen minutes later. Kelly stayed back to warm up and rest before heading out for loop three. Sabbe was on his own. This wouldn't necessarily keep Sabbe from finishing, but two minds working together at the Barkley are always better than one. After an uneventful third loop, he retained a three-and-a-half hour cushion for the fourth.
Was a finish in the cards?
Through six books on loop four (which are hidden in the woods for runners to find, rip out the page corresponding to their bib, and bring to Laz as proof of completion), Sabbe had conquered Rat Jaw (an infamous incline lined with briars), passed the prison on the course, and was on his way to Stallion Mountain, another steep and tricky climb. Hallucinations started to pop up, but not enough to interfere with navigation. He talked to himself to keep his focus, repeating his goals.
But as Sabbe went up Stallion Mountain, he found himself on the wrong route. He was too far east, stuck in dense backcountry brush. After many hours without sleep, his brain wasn't able to troubleshoot the problem. 
"I totally started losing it," he says.
He found a river, then a road, then the jeep road to the fire tower that his brain didn't trust was the actual jeep road to the actual fire tower. After more wandering, Sabbe found himself back at the prison. He was two books back and hallucinating hard. To make up the time lost would be nearly impossible. He was cold, tired, and couldn't think straight. 
He followed lights to the nearby town of Petros. It was 3 a.m. and no one was out. He tried to flag down cars or people he saw, but some of them weren't people . . . they were trash cans. 
Unsuccessful, he found an open post office and napped inside. When he woke, he tried to flag down passing cars, but few were out that late. He was tired. He was cold. He just wanted to get back to camp. 
Then, his savior arrived. A 911 call prompted the Morgan County Sheriff's Office to send a deputy to investigate "a suspicious woman dressed as an Indian."
"I tried to pull over a car again and it was a police car," Sabbe says. "He lowered the window and asked, 'Are you running the Barkley?'"
Sabbe got a ride back to camp, where spectators welcomed Sabbe back and the deputy took a picture with the race director, Laz.
Days later, Sabbe reflected on his race. He'd thought he had it. In hindsight, he can see the simple actions he should have taken that his tired mind couldn't comprehend at the time. But he's already focusing on the fun he had and the lessons he learned for next time.
"I feel that I'm much closer now. My rescue is now part of Barkley history," Sabbe said. "It all makes it that much sweeter if I can finish someday."
RELATED: Did A Belgian Dentist Break The PCT Speed Record?
The Swede Who Forgot to Pack

Anna Carlsson
Anna Carlsson is no stranger to cold temperatures. She ran the virtual 2020 Big's Backyard ultra on a frozen lake near her home in northern Sweden. The temperatures weren't anywhere near that in Tennessee for Barkley, but Carlsson found herself freezing on the first night on the course.
After a strong first loop with sunshine and temperatures in the 60s and sunshine, Carlsson was lulled into a false sense of safety. She set out for the second loop with only an extra sweater. She had waterproof gear, but nothing that could withstand more than a few hours of rain. She underestimated the sharp changes the mountain weather could bring.
"I've seen and heard of conditions like this at the Barkley, so I don't know why I was so stupid," Carlsson says. "I really don't know why I didn't bring more things."
She was with Alyssa Godesky, fellow Swede Johanna Bygdell, and Ian Farris to start loop two. The foursome worked together, but as night fell and rain came, the cold hit them fast. Stopping to find books or look at the map quickly made the situation worse.
The longest stop arose at book five. In the dark with fog and dropping temperatures, they were unable to locate the rock with the book under it. After some time, the trio of women departed unsuccessfully back to camp. 
Farris would find the book soon after, but as reported by a few people from camp, he ended up sleeping in a bear box during the night to get out of the rain. Laz said he was thankful that the box – designed to store food away from bears – could be opened from the inside.
Carlsson was disappointed returning to camp so soon. She knows she could've gone further had she brought proper gear on the loop, like legitimate waterproof shells and warm base layers. She enjoyed her time in camp and plans to do more trails in the future, but hasn't decided yet if she'll reapply to Barkley.
The Newbie Rockstar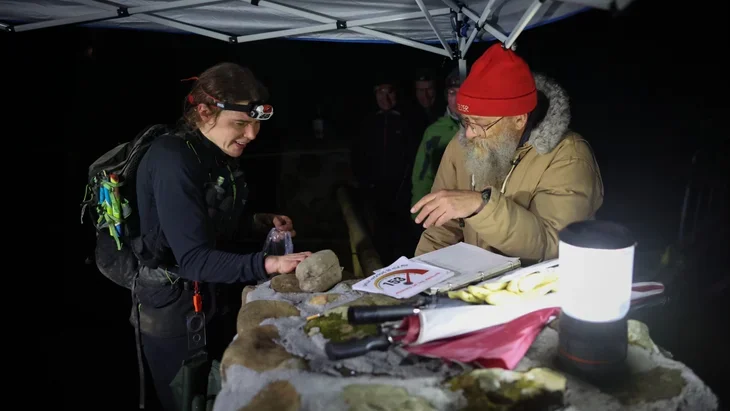 Jasmin Paris 
There were high hopes for a female finisher at the 2022 Barkley Marathons. That illustrious honor was up for grabs, with top contenders like Courtney Dauwalter and 2019 Montane Spine Race overall winner Jasmin Paris lining up at the yellow gate.
Paris was a first-time Barkley contender, making her way to Tennessee with her husband, Konrad Rawlik, as crew. Paris was quiet as she settled into camp, focusing on the task at hand. When the conch went off and the cigarette was lit, she was on a mission.
Her first loop was smooth, and she returned to camp in 9:23:18, well under the 12-hour cutoff to start loop two. For the second loop, she packed more gear: waterproof layers, an extra fleece, an extra long sleeve. But the cold, rain, and wind were relentless.
"Compared to the United Kingdom winds this winter, it was a breeze," Paris says. "But I had to run with my head torch in my hand because the fog reflected the light into my eyes. Holding that, a compass, poles, a map, and grabbing onto things made it difficult."
Slowed by the weather, she finished the second loop just 22 minutes before she needed to leave for the third. That meant no room for error on loop three if she wanted a fourth. She left less than 8 minutes before the cutoff to complete the first counterclockwise loop.
"It's surprising how new the course seemed going in the opposite direction," Paris says. "It should be the same, but it's not at all."
The new direction played tricks on her. She slowed down, and a chance at a fourth loop quickly slipped away. However, if she could finish the third in under 40 hours, she'd get credit for a Fun Run, the Barkley name for three completed loops.
Like she had on loop two, Paris occasionally ran into Dutch runner Thomas Dunkerbeck, who was also on his Fun Run loop. Paris passed him as he backtracked looking for lost pages. Dunkerbeck almost caught up on the final climb; both had under an hour before the 40-hour mark. Mistakes would likely cost them the Fun Run.
Dunkerbeck ran into camp first, with navigational trouble meaning Paris had to do some backtracking. Spectators at camp watched as her headlamp corrected itself, then came slowly toward them. With about ten minutes to spare, she touched the gate, but all wasn't well at first.
"Laz counted my pages, and that was the moment I was looking for one lost page among my Sweeties wrappers," Paris says. "There was a tense moment when I couldn't find it. Everyone was pleased when I did."
Once the relief of officially completing the Fun Run sunk in, so did the reality of what Paris had accomplished. She was the first woman to finish a Fun Run since 2013, and only the seventh woman ever. She'd been hoping for a complete finish, but now she knows that's within reach. Barkley may have won the first time around, but she plans to return stronger if invited back.
"I feel like I get it, why people get obsessed with this event," she says. "I still think a woman will finish it. A woman will definitely finish it. If I can contribute to that effort, great. There are loads of women who can do this. Courtney was there this year. I hope she goes back next year. It will be exciting to try again."
RELATED: How Jasmin Paris Conquered The Barkley Marathons "Fun Run"
The Dark Horse

Thomas Dunkerbeck
Thomas Dunkerbeck, of the Netherlands, was finally at Frozen Head State Park. He was accepted in 2020, but that edition was canceled due to the pandemic. This year was his chance to see the mythical home of the yellow gate.
While camp was foreign to him, the terrain was not. After training in the Eifel mountains in Germany, the trees, rocks, and gradients felt similar. That familiarity may helped him join John Kelly as the first athletes to the first book. 
"John joked that it didn't mean anything because within minutes twenty people were there," Dunkerbeck says. While true that it mattered little, Dunkerbeck was proud to be on the right path, navigate to the first book, and use that confidence as he went on.
He stayed with the front pack of Kelly, Sabbe, and Dauwalter as long as he could, but the pace was hot. He slowed down and found the final five books on his own. At camp, he scarfed down a meal and went back out, getting to four books before the rain came down. 
That was around the first time he ran into Jasmin Paris. He struggled to find the fourth book, and she came to his aid. They split up again after that, but would connect as Dunkerbeck missed the turn he needed on Stallion. The error cost him ninety minutes before Paris saved him again.
"I saw her head torch on the ridge, so I yelled, 'Are you from the Barkley?'" he says. "When we met up, she was laughing. 'What do you think? There's nobody else out here!' We had a good laugh."
Both entered camp under 24 hours. Five loops were possible, but unlikely. Dunkerbeck was first out of camp, working well in those first hours on loop three with better weather. Then, forty-five minutes climbing up Stallion again, he discovered a catastrophic error.
"I lost my pages," he says. "They were not there, so I had to retrace my steps along the river."
He tried three or four routes up Stallion and trekked along the river. Luckily, he found them, but by then any thought of starting a fourth loop was gone. Instead, he focused on getting under the 40-hour Fun Run cutoff. 
After connecting with Paris yet again ahead of her navigational error, he touched the gate at 39:27:46. His Fun Run was complete.
"The best compliment anyone gave me was Laz," Dunkerbeck says. "He said, 'Every time you were at the gate, you were happy and dedicated to the task.' I was happy all the time. Even lost. Being able to smile all the time felt very good."
Dunkerbeck hopes to return, and though it may not be as recognizable Sabbe, Paris, or Kelly, he's happy his name was next to theirs this year.
"There was a lot of news about everyone, but then there was Thomas. Who the hell is Thomas?" Dunkerbeck says. "I'm not as fast as Karel or Kelly or Courtney, but in this type of race, I think I showed I can be in the vicinity of them . . . and that feels good."
The Big's Backyard Guru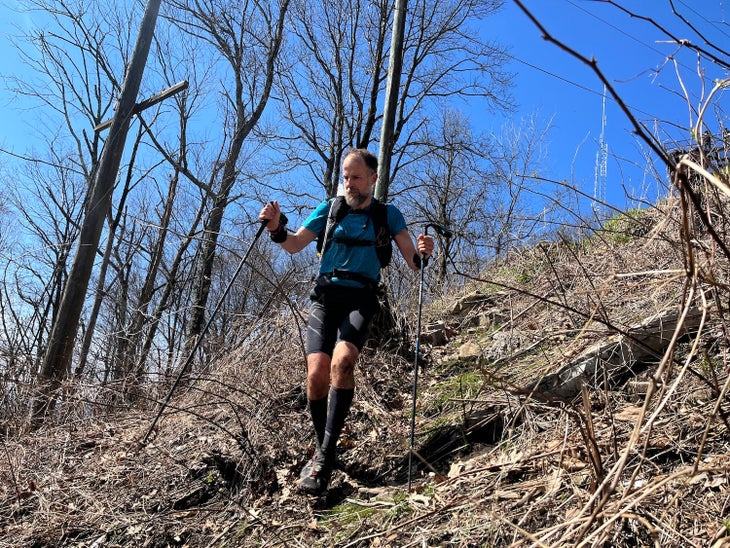 Harvey Lewis
Harvey Lewis has known of his Barkley acceptance since winning Big's Backyard in October. That world record run led to some of the most intense training of his career. He had made a few trips from Cincinnati to Frozen Head in the months between the races. His hope was to master the navigational skillset.
While he improved immensely, struggles arose. He started loop two with master navigator New Zealander Greig Hamilton and later found Courtney Dauwalter between books one and two. By book seven, Hamilton was long gone and Lewis and Dauwalter struggled to find the book. By then, it had been raining for hours. 
"After 30 minutes, we were so cold from stopping and looking for the book that we decided to call it," Lewis says. "More gear would've helped us stay out there longer, but we still would've had to find that damn book."
The problem with dropping out is that they were still at one of the farthest points from camp on the course. They took a shortcut, but it still required steep inclines.
"They were steep enough that we were crawling on our hands and knees, grabbing roots, using our poles and each other to pull each other up," Lewis says. "It was definitely challenging, but Courtney has such an awesome attitude. That could've been a bad situation, and it took a lot of energy to get out of there."
A surprised camp awaited them when they returned around 2 or 3 a.m. They warmed up and watched the rest of the race unfold. 
"I'm not one to quit," Lewis says. "I haven't quit a race since 2010 other than a backyard race. I thought coming in I knew it pretty well and I did a whole crazy ass training, but I guess it wasn't
crazy ass enough." 
The Legend

John Kelly
Among the crop of talented runners this year was one of the legendary Barkley finishers, John Kelly. He is only the 15th person ever to complete the course, which he did in 2017. Hoping for another finish, he and Sabbe teamed up for the first two laps like they had in 2019.
Combining speed and navigation, they found each book with ease. By the last one on the second loop, they descended Chimney Top back to camp. That's when fatigue hit. The slog back to camp was long and dull. Kelly screamed into the forest to stay awake. 
They arrived at the gate in just under 20 hours, well ahead of Kelly's 2017 time.
At camp, he and Sabbe agreed on a fifteen-minute turnaround to go back out. In addition to fatigue, Kelly was shivering from the night's cold. Sabbe recommended a hot shower, but Kelly opted to heat up in the car, bundle up in a sleeping bag, eat a meal, take a nap, and wait out the weather.
Fifteen minutes later, Sabbe was off and Kelly remained. The first thirty minutes in the car, he kept shivering. He couldn't fall asleep. He asked for another thirty minutes and another. By the time he left, he had been at camp for two hours.
"I stayed way too long," Kelly said. "If I was going to spend two hours in camp, I should've slept for an hour and a half. I should've taken a hot shower and gone out with Karel, but I didn't."
But Kelly's plan to wait out the weather worked. On fresh legs and in dry clothes, he returned to the course with a decent cushion for a finish. Despite a few navigational errors, he was moving strong. He was making his way down the hill after the fire tower when he looked down in horror.
"I had been carrying my pages in a zippered pocket on my waist belt and the waist belt was gone," Kelly says. "I've used this countless times. It never comes off. I chose it for how secure it was. The whole belt was gone."
Kelly backtracked, searching, for three hours. Finally, at the top of the hill on a gravel road he crossed before the descent, there it was. The belt. 
From there, he finished the loop in time to start a fourth. He only had thirty minutes to do so, and in that time, he did the math. It was unlikely he'd finish. Though he wanted to, he thought he'd save his energy for another day, and tapped out.
"Mathematically and logically speaking, there wasn't a way for me to finish at that point," he says. "There is a bit of regret for me on this as there typically is anytime you pull out because in a few weeks you'll see you were in a better spot than you thought you were. It's that Dumb and Dumber saying, 'So you're saying, there's a chance.' 
The Hopeful From Japan (With a Frozen Ass)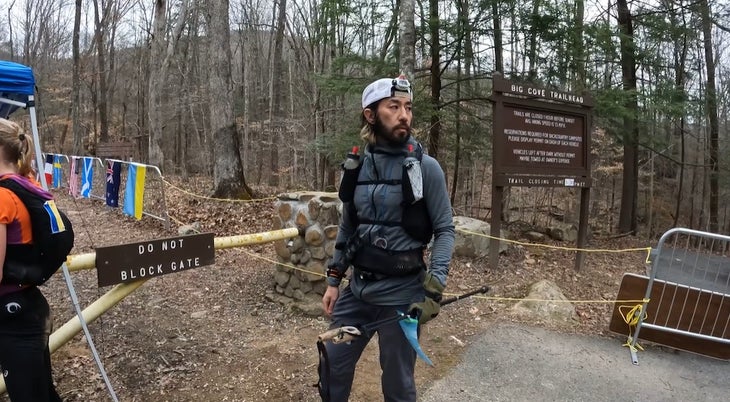 Tomo Ihara
Tomo Ihara, of Japan, had his heart set on improving on his 2019 Fun Run. He had already improved on his 2018 single loop. Three times had to be the charm. He even brought a t-shirt with a cartoon illustration of Laz his nephew made. Luck should've been on his side. 
But Barkley had other ideas, as it often does.
On a descent after the very first book, Ihara took a nasty fall, hitting his knee hard. It slowed him down tremendously. He tried to keep pace with other racers but ended up on his own.
His Barkley experience made up for usual delays. He found book after book with ease. Though two hours behind his plan after the first loop, he was confident heading into the second. 
Then the rain came.
"On Rat Jaw, it was steep and the clay surface made me slide," Ihara said, "If you're a good skier, you can slide down on it. I wasn't able to grip my foot because of my knee, so I lost my balance a lot. I slipped and fell through the cables and briars on my butt. My pants were shredded. I didn't have anything on my butt."
Every hour from there, Ihara squeezed the water out of his clothes to lessen the weight. He said about a cup of water would come out each time. 
The woes continued. His poles broke. He had issues finding books seven and eight. At the prison, he trudged through freezing water, making his feet numb. In places, the wind was blowing so hard at his back that his butt was painfully freezing.
"My butt was really freezing," Ihara said. "I had to hike up a bit, hide behind a tree, warm myself up a bit, and then go up and find another tree. At least I got to lean on the tree when I was tired."
Around that time, Sabbe passed him going the opposite direction on his third loop. They wished each other luck, went down in their respective directions, and Ihara accidentally fell into the river.
"I got soaked head-to-toe," Ihara said. "It kind of breaks your heart. You're trying to keep yourself warm and then you fall in the river and it's like goddamn it!" Finally, he made his way up Chimney Top and the wind again blew at his backside. The final descent was painful on his swollen knee, but he triumphantly walked into camp. 
With twenty-five minutes to get out for a Fun Run loop, Laz and campers cheered him on. Ihara thought about it, but he didn't want to risk further injury since his knee was already in bad shape. He debated heavily, but after a warm shower, his body refused to go. His feet were still numb and his body still cold. He tapped out. 
Each year Ihara runs, Laz jokes before the race that he's sorry for hanging the Japanese flag upside down (which is impossible to do). Ihara always gifts Laz a pack of Camel cigarettes from Japan. 
"As I was sitting there in a chair next to him, I gave him the Japanese Camel," Ihara said. "Laz said, 'Tomo, what does this say in English?' I looked and I said, 'Laz, this is English.' Laz responded, "Oh,' and chuckled like he always does. I think he only got four hours of sleep overall."
Laz's Take
"It's the Barkley," Laz said. "Weird shit happens."