Race Recap: The 2023 Tarawera Ultramarathon By UTMB
Americans Zach Miller, Ryan Montgomery, Hayden Hawks, Amanda Basham, and Allie Mac reach the podium at New Zealand's premier ultra
Heading out the door? Read this article on the new Outside+ app available now on iOS devices for members! Download the app.
Midway through one of the most competitive early season women's ultra-distance races ever, Nancy Jiang kept betting on herself.
The 33-year-old New Zealand runner is a multi-time champion of the iconic Kepler Challenge 60K race, but she was running the Tarawera Ultramarathon 102K in Rotorua, New Zealand—which happened this past weekend—for the first time. 
American Amanda Basham set a fiery early pace when the race started early on the morning of February 11, but China's Jiang, Australia's Stephanie Auston, and Spain's Aroa Sio stayed close behind, often flip-flopping positions coming in and out of aid stations. 
Women's 102K Race: "It's Not Over Until It's Over" 
The Kiwi runner was the most tenacious runner in a deep women's field at the Tarawera 102K, as she wore down her competitors over the last few miles to win the race in 9:26:08. Less than five minutes separated Jiang from runner-ups Auston (9:27:29) and Sio (9:30:41).
"It's not over until it's over, and I knew it was runnable. I was just like, if I can just keep running, I'm just going to keep going and try and push," said Jiang, who was 22nd last year at the CCC race in France, at UTMB. "I was just telling my legs to not blow up, because they were about to win Tarawera. The women's field was stacked, probably the most competitive it has ever been, and it is so good to see everyone coming back to Rotorua. The place is buzzing."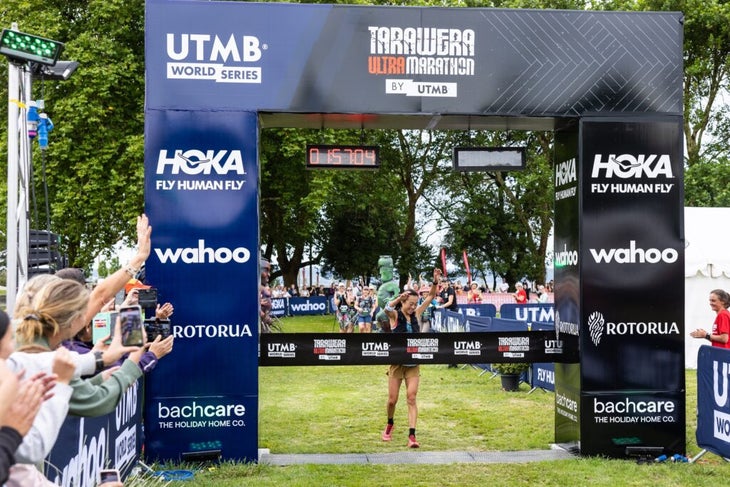 With 770 runners toeing the starting line, the Tarawera Ultramarathon 102K reconfirmed its place among top international ultra races, making a roaring comeback from two years of COVID-19 suppression—it was canceled last year and open only to local runners in 2021—even though race officials had to reroute part of the course because pre-race storms washed out part of the original route. The races were immersed in traditional Maori culture, including performances of the ceremonial Haka dance. 
The event is now under the ownership of the UTMB/Ironman partnership and was the first race of the year with automatic qualifying spots for the UTMB World Series Finals on August 30 – September 3, in Chamonix, France. The top three female and male podium finishers in the 102K races qualified for the CCC 100K race at UTMB World Series Finals in Chamonix, while the top two also earned Hoka Golden Ticket entries to this summer's Western States 100 on June 24 in Auburn, California.
Auston ran a strong race but the fast early pace caught up to her over the last quarter of the race. She was delighted to hang on for second, the same position she finished the race in 2019. She earned a Golden Ticket back then but was never able to make the trip to Auburn to compete at Western States.
"I was really happy with how I went," she said. "The race was so fast at the start, I was like, 100K is a long way, but good competition makes you run really well. I felt pretty good until about 70K and then I hit some rough patches. When Nancy went past the last eight kilometers, I was gone. But I was really happy to hold on to second and get a Golden Ticket."
RELATED: Western States Endurance Run Announces This Year's Golden Ticket Races
Men's 102K Race: New Zealand's Daniel Jones Outkicks Hayden Hawks 
In the men's 102K, New Zealand's Daniel Jones claimed victory in 7:27:55 by outrunning American Hayden Hawks and securing his long-term goal of qualifying for Western States. Jones, who grew up nearby in Whakatane and lives in Wellington, was running in a chase pack for the first 40K until he reached the Redwoods, and from there began to wind up the pace alongside Hawks. 
By the 62K mark, Jones put together a huge surge that took him away from Hawks, his friend and occasional training partner, and took the lead until the finish.
"I'm just over the moon. It's been a work in progress. I had some good success last year, but in terms of 100 kilometers [63 miles], this blows my mind to finally get this accomplishment, this golden ticket," Jones said. "To be honest, I've just been focused on making this my number one goal, and really it just paid off having it as my primary focus."
Hawks placed second in 7:42:13, but because he already has a Western States entry based on his runner-up finish last year, the second Golden Ticket went to American Ryan Montgomery, who placed third in 8:11:21.
"After some failed attempts last month and a saga of injury last year, I'm just happy to feel like my body is back and performing," Montgomery said. "I felt like I executed my race, exactly what I wanted to do. I wanted to 'hang out' for the first 50K and then slowly go into my next gears, and I feel like it really worked out in my favor."
100 Mile Race: Zach Miller and Lucy Bartholomew Take the Wins
American Zach Miller and and Colorado-based Australian Lucy Bartholomew won the Tarawera 100-mile races, automatically qualifying them for UTMB at the World Series Finals in Chamonix. Miller led the race, finishing in 14:41:41 with a 30-minute gap over Hajime Mamba (15:11:30), of Japan. 
Bartholomew led from the start and finished in 17:54:50 with a 40-minute margin over Japan's Kimino Miyazaki (17:54:50). Nicholas Bamford of the UK earned the third men's UTMB-qualifying spot (15:32:57), while Katie Wright (18:19:22) of New Zealand was the third women's qualifier.
Miller and Bartholomew both traveled from wintery conditions in the U.S. in the days before the race and slept in vans they rented because lodging was so scarce. Miller, 36, suffered from a strained calf muscle for the final 80 miles of the race, but he didn't let that stop him from reaching his goal of returning to Chamonix.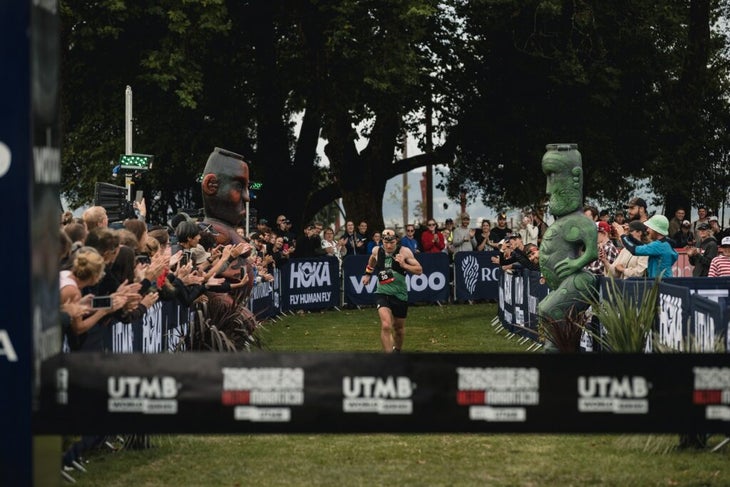 "It's always nice to put another victory notch on your belt, especially in a new country," said Miller, who has three top–10 finishes at UTMB, including fifth last year. "I guess this is technically my first 100-mile win. The only 100 I've run is UTMB, so this was drastically different. It's good, but I'm glad it's over."
Bartholomew, 26, focused all of her training on Western States last year but ultimately didn't finish the race, so now she's focused on a return to Chamonix. She placed fifth in the OCC 50K in 2018 and fifth in the TDS in 2017, but now will get a chance at running UTMB.
"I don't think anyone fully understands what that meant to me out there," Bartholomew said. "It's just been a long time between good races, so it was just nice to do it with the support of so many people out on the course, on the sidelines, and the volunteers. It was just something so special that I'll never forget.
RELATED: Skydiving Trail Runner "Allie Mac" Takes Flight
In the 50K races, New Zealand's David Haunschmidt (3:33:03) won the men's race, while American Allie McLaughlin (3:43:38) bested the women's field to earn the top qualifying spots for the OCC 50K at the UTMB World Series Finals in Chamonix.
Boulder-based Brian Metzler has run more than 75,000 miles in his life, competing in every distance from 50 meters to 100 miles, running the Rim-to-Rim-to-Rim run across the Grand Canyon and back several times, racing pack burros on many occasions and going up Colorado's Longs Peak 20 times. In 2018, he ran the Great Wall of China, completed the Leadman series and ran a 100K in South Korea. He is the founding editor of Trail Runner and the author of "Kicksology: The Hype, Science, Culture and Cool of Running Shoes."