Carbon Fiber Hits the Trails
Heading out the door? Read this article on the new Outside+ app available now on iOS devices for members! Download the app.
If you're a running shoe geek, you might have seen this coming.
But as a trail runner you certainly hoped it was coming.
With a brief unveiling of some of its 2021 product line this week, The North Face appears to be on track to become the first running shoe brand to utilize a semi-rigid carbon-fiber plate in a trail running shoe. The Flight VECTIV won't launch until late January, but the company confirmed that it has been working on the new design concept for about two years.
Not much more information has been released about the shoe, except that it will retail for $199. It appears to have a thickly cushioned midsole and a unique shape, but no details about the foam compound or the heel-toe offset have been released. It's the first shoe from the new trail running footwear team, which includes footwear industry veterans Jean-Marc Djian, Michael Thompson and Brett Rivers, among others.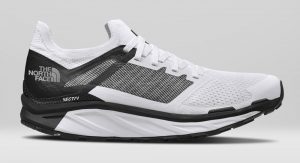 The Flight VECTIV is designed for long-distance trail running and racing with the carbon-fiber and energetic foam engineered in a system designed to provide maximal energy return the way numerous brands (Nike, Saucony, Hoka, Brooks, Adidas) have used similar concepts in road running shoes designed for running half marathons and marathons.
Those advanced road running models have produced exceptionally fast half-marathon and marathon times since 2016 (including new marathon world records) and have been on the feet of Olympic and World Championship medalists, as well as hundreds of podium finishers at World Marathon Majors events and the top three finishers in the 2020 U.S. Olympic Trials Marathon in February.
But the Flight VECTIV was designed specifically for trail running, which entails a variety of different types of surfaces and requires runners to continually alter their stride length and gait pattern. It appears to have a thickly cushioned midsole and a unique shape, but no details about the foam compound or the heel-toe offset have been released.
To design the Flight VECTIV, The North Face has relied heavily on input from its elite team of trail runners, logging more than 6,000 miles in numerous prototype models since late 2018.
"VECTIV is a system, it's not just a plate," Thompson said. "We're excited about what this represents for The North Face and performance trail running."
Earlier this week, Dylan Bowman wore a pair of Flight VECTIV prototypes to set a new Fastest Known Time running the Wonderland Trail around Washington's Mt. Rainer. He covered the 93-mile loop with 24,000 feet of elevation gain in 16 hours, 58 minutes, 41 seconds, chopping more than 90 minutes off the previous best time.
Kaytlyn Gerbin, another TNF athlete, helped pace Bowman on his FKT effort and then went back a few days later and lowered the women's FKT to 18:41:54 (the fourth-fastest time overall) wearing Flight VECTIV shoes. Also, Pau Capell, the 2019 winner of the Ultra-Trail du Mont-Blanc (UTMB), wore a pair while running the UTMB course solo in a swift (but not record-breaking) 21:17:18 this week.
More details about the Flight VECTIV and other shoes in the VECTIV line will be announced this fall.
—Brian Metzler