The 2023 Barkley Marathons is Underway
The craziest event in trail running began Tuesday morning in Tennessee's Frozen Head State Park
Photo: The Washington Post via Getty Im
Heading out the door? Read this article on the new Outside+ app available now on iOS devices for members! Download the app.
It's time to refresh your Twitter feed, because the Barkley Marathons got underway on Tuesday morning.
When race organizer Gary "Lazarus Lake" Cantrell lit his cigarette at 9:54 A.M., about 40 runners began the quirkiest race in the world of trail running at Tennessee's Frozen Head State Park.
What is the Barkley Marathons? In theory, it's a race that consists of five 20- to 25-mile loops with about 12,000 feet of climbing. But it's so much more than that. Runners battle the steep hills, bramble, and brush, not to mention wet, slippery, and often cold conditions as they try to complete successive loops. It's a brutally hard event that only a select few runners get the chance to enter every year. Requirements and times to submit an entry application are a closely guarded secret with no details advertised publicly.
Previous winner John Kelly (2017) has returned to Frozen Head, alongside Jazmine Paris (the first woman to complete the three-loop "Fun Run"), Karel Sabbe, Harvey Lewis Jared Campbell, and rookie Damian Hall.
RELATED: Barkley RD Sparks Debate on Inclusion 
"We've made it easier to try to assure a finisher," Cantrell said before this year's event, though it's likely that he wasn't being straightforward or remotely honest about that assessment.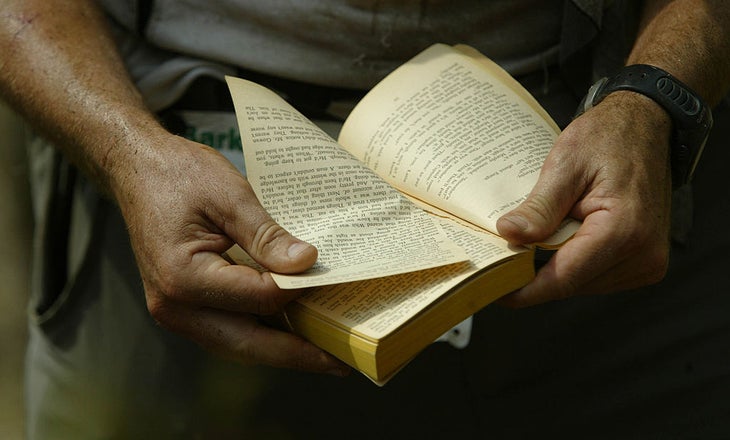 Since the race's inception in 1986, only 15 of the roughly 1,000 runners who have tried Barkley have completed it. More than half of the contestants each year are previous Barkley veterans. Frozen Ed Furtaw, author of Tales from Out There, a historical account of Barkley, has attempted the race more than a dozen times. 1999 Hardrock winner Blake Wood tried Barkley eight times between 1997 and 2011, but only finished once, in 2001.
RELATED: The Barkley Marathons got weird this year. We tracked down stories from seven runners, from virgins to veterans.
Although Utah's Jared Campbell has finished it three times (2012, 2014, 2016), the only other runner with more than one finish is Colorado's Brett Maune (2011, 2012). Vermont's Sue Johnston and British runner Jasmin Paris own the best women's finishes, with three laps in 2001 and 2022, respectively.
Last year, for the fifth year in a row, there were no finishers at the Barkley Marathons. An incredibly deep field was lined up to face the beast. That included a mix of Barkley veterans like Courtney Dauwalter and 2017 and 15th-person ever Barkley finisher John Kelly, alongside strong Barkley virgins, like Big's Backyard record holder Harvey Lewis, 2017 Big's champion Guillaume Calmettes, and Appalachian Trail FKT holder and Belgian dentist Karel Sabbe.
In the end, Kelly, an American from Tennessee, Sabbe, New Zealand's Greig Hamilton, Thomas Dunkerbeck of The Netherlands, and British runner Jasmin Paris completed three loops within the 40-hour timeframe that Cantrell refers to as the "fun run" portion of the event. Sabbe, Lewis, Kelly, and Spinks are among the 40 or so runners who started this year's race.
"Third time's the charm," Sabbe said on Instagram. "See you on the other side."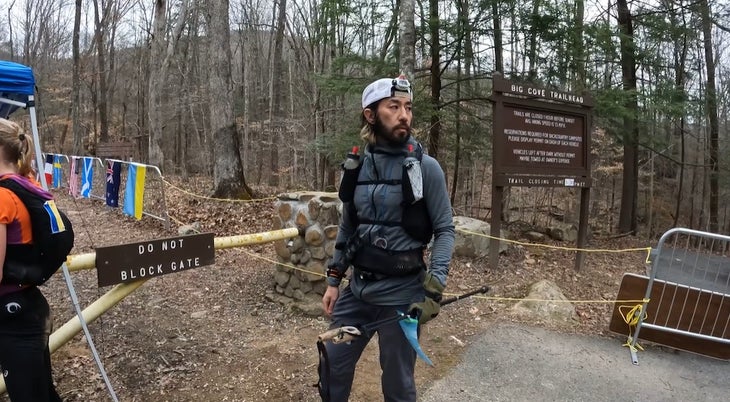 In the days prior to the race, Cantrell places 10 or 11 books out on the course to serve as checkpoints. Each runner's bib number is the page number they need to rip out of that book and bring with to prove you reached that point. Each of the loops must be done in 12 hours in order to begin another lap in an attempt to complete the full course. The first two laps are done in the same direction, while the third and fourth laps are done in the opposite direction. If a runner makes it to the start of the fifth lap, it's their choice which direction they go.
The race was the subject of a 2014 Netflix documentary, Barkley Marathons: The Race That Eats Its Young. A book called The Finishers from photographers highlights the stories of the 15 individuals who have completed all five loops.
RELATED: Meet Frozen Ed, The Barkley Marathons' First Finisher. 
Want to follow the Barkley action? Follow #BM100 on Twitter, as well as @keithdunn, @dav1dmiller and @jeremy.gerber.
Kelly likened his return to Frozen Head State Park to run with the small community of Barkley runners similar to friends coming over for a sleepover when he was a youngster.
"For me the Barkley Marathons has become the equivalent of those sleepovers," Kelly said on Instagram. "A bunch of my friends come over and I get to show them around my home mountains and explore the forests I love, returning a bit of the favor that so many people and places have shown me. Yes, there will be competition. Many (nearly all) people will fail. But each will stagger back into camp to share their stories of (mis)adventure, maybe even over pizza and ice cream."
Boulder-based Brian Metzler has run more than 75,000 miles in his life, competing in every distance from 50 meters to 100 miles, running the Rim-to-Rim-to-Rim run across the Grand Canyon and back several times, racing pack burros on many occasions and going up Colorado's Longs Peak 20 times. In 2018, he ran the Great Wall of China, completed the Leadman series and ran a 100K in South Korea. He is the founding editor of Trail Runner and the author of "Kicksology: The Hype, Science, Culture and Cool of Running Shoes."