Join us live May 3: MMIR Awareness – Running as Advocacy
The panel will include five Indigenous runners and touch on topics from trail safety to justice for missing and murdered Indigenous runners.
Heading out the door? Read this article on the new Outside+ app available now on iOS devices for members! Download the app.
Join Trail Runner and the Rising Hearts Foundation for a live panel focused on safety in running led and moderated by five Indigenous women runners. The panel will take place on Tuesday, May 3, at 5 p.m. MST. You can join this free Zoom event here. 
MMIR Awareness: Running as Advocacy will focus on addressing what safety means to us and will include a section on Missing and Murdered Indigenous Relatives. Topics will include how to create a safety plan and who to include in that plan, self defense, and how to be an advocate and ally for athletes in marginalized groups.
Meet the Panelists
Moderator: Guarina Lopez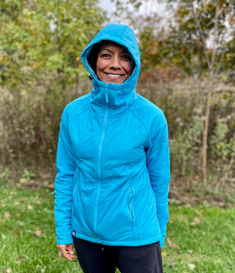 Guarina Lopez is a member of the Pascua Yaqui Tribe of Tucson, Arizona, and currently resides on the ancestral lands of the Piscataway and Nacotchtank in Washington, D.C. Guarina is a visual artist, storyteller, athlete, and mother. She is an environmental activist and Indigenous rights advocate whose life's work is dedicated to sharing stories of the Native people and the land throughout Turtle Island. 
Guarina is the founder of Native Women Ride, a virtual community that shares stories of Natives on bikes and educates about the land we ride on. Her work can be found on Instagram Guarina Paloma Lopez , This Native Land  and Native Women Ride
Verna Volker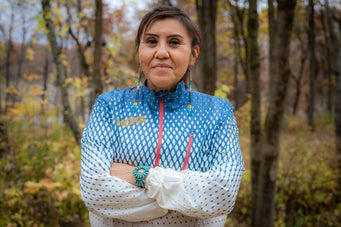 She/her/hers. Mom, Wife, Founder of Native Women Running, Hoka Global Ambassador and Suunto Ambassador. 
Verna is from the Navajo Nation. Her clans are Tódích'íi'nii (Bitterwater) nishlíi, Hashtl'ishnii (Mud People) bashishchiin,  Ta'neesz ahnii (Tangle) dashicheii, and Tó' áheedlíinii (Water Flows Together) dashinalí. 
Verna's running journey has taken her from a newbie runner to a marathoner and ultramarathoner. She wants to use running to inspire others. She created Native Women Running to increase the visibility of Indigenous runners. It has become a place for our women to find inspiration, motivation, and community in a virtual setting. 
Jordan Marie Brings Three White Horses Daniel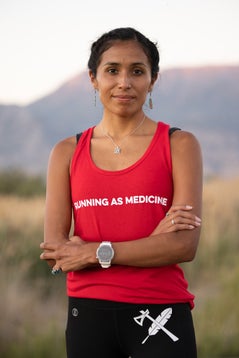 Jordan is Kul Wičasa Lakota, a citizen of Kul Wicasa Oyate (Lower Brule Sioux Tribe) as well as a passionate and devoted advocate for Indian Country and all people. Nationally known for her advocacy and grassroots organization for anti-pipelines/climate justice efforts, change the name/not your mascot, the epidemic and crisis of Missing and Murdered Indigenous Relatives (MMIR), Justice – Equity – Diversity – Inclusion efforts, filmmaking, and native youth initiatives. 
Jordan is the founder and organizer of Rising Hearts, an Indigenous-led grassroots group devoted to elevating Indigenous voices and promoting intersectional collaborative efforts across all movements with the goals of racial, social, climate, and economic justice. Currently, she is using her running platform to raise awareness of missing and murdered Indigenous relatives by dedicating the miles she runs to a missing or murdered Indigenous person, relatives stolen and forced into boarding schools, advocacy efforts, called #RunningForJustice and is now intersecting this effort and prayers for Black lives, Asian lives, and other lives impacted by white supremacy and systems of oppression, racism, and calling an end to police brutality. 
Jordan is an Outreach and Project Manager with the UCLA, supporting researchers with their grant and project submissions, and continuing to organize in the community she lives on, homelands to the Tonvga, Chumash and Kizh peoples, also known as Los Angeles, CA.
Shaniya Smith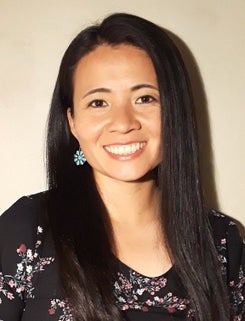 Shaniya is Bitter Water, born for Near the Mountain People. As a Diné artist, fiction writer, runner, and educator, she draws from her experience growing up in a culture meshed with brokenness and enduring beauty to bring awareness to the complex ongoing injustices within and around the Navajo Nation. 
A recipient of the Dockstader Fellowship, AZ Humanities Mini-Grant, PEN Foundation Literary Engagement, and Activism Fund, she spent her time as an MFA candidate at Northern Arizona University, bringing awareness to missing murdered indigenous people. She continues to use her writing, work, and running as conduits to further conversations and pursue community.
Rosalie Fish
Rosalie Fish is Cowlitz enrolled, Muckleshoot descendent and of Yakima heritage. She is an athletic advocate for the Missing and Murdered Indigenous Women crisis. Rosalie runs track for the University of Washington and attends the school of social work.