Meet The Woman Making Space For Black Trail Runners In The UK
Trail Access Series: Sabrina Pace-Humphreys, and UK-based Black Trail Runners, provides a powerful example for the global trail running community
Heading out the door? Read this article on the new Outside+ app available now on iOS devices for members! Download the app.
Growing up in the Cotswolds, a rural area in south-west England, Sabrina Pace-Humphreys was often the only Black person in the spaces she occupied. When she started running to heal from postpartum depression in 2009, she seldom questioned the Whiteness of the running community. After all, start lines were just like the schools she attended as a child, or the local stores where she shopped for groceries—just one of many spaces where no one else looked like her. It was not until Pace-Humphreys—a 43-year-old running coach, personal trainer, mother of four, and grandmother of two—entered the trail running community, that she realized the full burden she carried as a Black woman in an overwhelmingly White sport. 
In 2019, while competing in an alpine trail race, Pace-Humphreys lost her footing on an icy patch and slipped off the trail. All of a sudden, she found herself gripping onto the side of a mountain, her knuckles sweating as she screamed for help. In that moment, all Pace-Humphreys could think was that she did not want to die; she could not die. So, she continued screaming as five White men passed by—none of them stopping to help her. It was not until a sixth runner passed by and stopped his race to pull Pace-Humphreys back onto the trail that she knew she would survive.  
"As trail runners, we are told during race briefings, 'if you see a runner who is in distress during a race, you stop and help.' We are not told, 'you stop and help if they are White.' You just stop and help," says Pace-Humphreys. 
Her personal experience as a Black trail runner, followed by the events of 2020—the murders of Ahmaud Arbery and George Floyd, and the constant barrage of violence against Black people—inspired Pace-Humphreys to turn her frustration into action. 
In July of 2020, she joined together with five other runners (Sonny Peart, Rachel Dench, Marcus Brown, Phil Young, and Donna Richards) to found Black Trail Runners (BTR). Now a registered charity with a global membership of 425 runners and thousands of social media followers, BTR seeks to increase the inclusion, participation, and representation of Black people in trail running. The founders focus on three barriers to entry: access, skills, and representation. 
Access
Starting in the 1940s, Black immigrants to both the U.S. and the UK were excluded by landlords and other housing authorities, pushed into lower quality housing, and concentrated in larger, industrial cities. Many black peoples' far proximities from trails and rural spaces can be traced back to this post-World War II period. 
"The Office for National Statistics data from the 2011 Census shows that 3% of the U.K. population identify as Black, while another 1.5% are mixed race white/black. This year's Census is likely to show an increase in both those numbers. Most of that Black population is urbanized, living near places with less green space. A lot of Black people I know need to get in a car or get on a train to really access the countryside. Layer that with the fact that Black people, on average, are paid less than White people; and there's an issue with what it takes to fund a day out of the city," explains Pace-Humphreys. She emphasizes the additional costs of coaching, gear, entry fees, lodging for races, and the time-cost of training. 
In response to these access barriers, the BTR team has partnered with multiple organizations and brands, including the London-based youth organizations, Outrunners and TrailFam, to make it easier for folks in cities to experience the trails.
Skills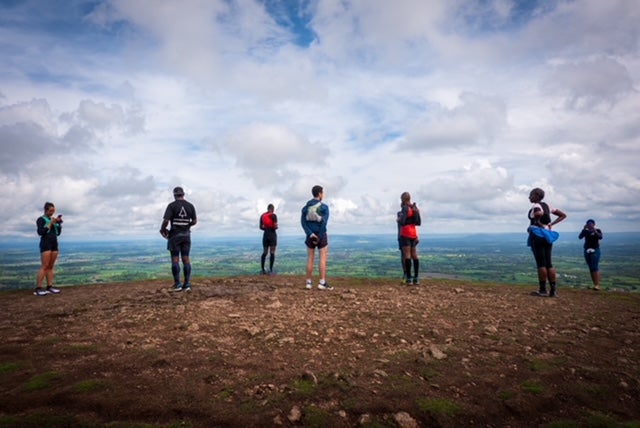 For runners with easy trail access, running off-road might feel like second nature. But, if you can't easily access the trails, there are countless questions—countless loose threads to tie before you might feel comfortable on a trail run. Questions include: How fast should I run on a trail? What safety measures should I take? What shoes should I wear? What food should I bring and when should I eat it? Eventually, all of these loose threads pile up, creating a blanket of self-doubt—a psychological barrier that further dissuades a person from trying the sport. During Trail Taster Days, the BTR team squashes this self-doubt by teaching skills such as nutrition, safety, and trail-specific strength exercises. 
Representation
For any runner who has stood on the start line of a trail race, the overwhelming Whiteness is hard to dispute. But after receiving various skeptical messages—trail running is for everyone, all you need is shoes—the BTR cofounders wondered if, perhaps, the visual evidence was not enough to spark action. So, in Julyof 2020, the BTR team launched a campaign to collect ethnicity data from race registrations. The results were stark: of more than 10,000 U.K. trail race entries in 2021, just 0.6% were from Black or mixed-race runners. One in 22 of the U.K. population is Black or mixed race. For trail entrants, this figure is just one in 167. If trail running is inclusive and the trails are open to all, where are the hundreds of other Black trail runners? Armed with numbers, the BTR team now hopes to push for a better reality. Notably, through their 21 in 21 Campaign, they aim to bring 21 Black trail runners together for a race or training event this coming fall.
"I want to show Black people, Black women, and Black mothers that this is possible," says Pace-Humphreys. "That these spaces are not off-limits to us."
What comes next?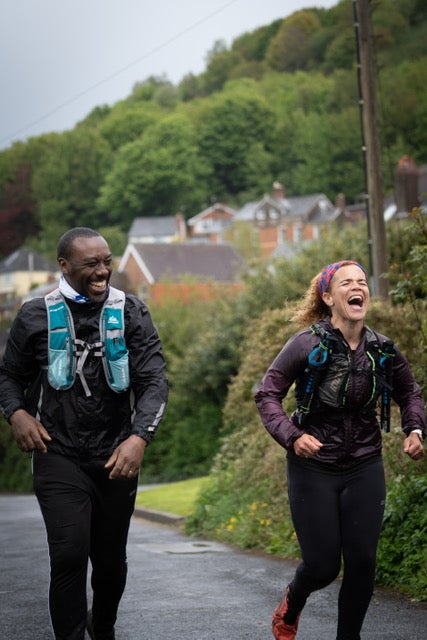 Pace-Humphreys emphasizes that creating an inclusive trail running community cannot begin and end with individuals. She wants to foster change on the industry level, too. So, what can outdoor brands do to create a more inclusive trail running culture?
 "Ask questions," says Pace-Humphreys. "Ask Black people, rather than assuming you know all the answers. Our ultimate goal is to have a really inclusive community of trail runners, where you can look around at a race, at a training event, or in a documentary, and see the global population truly represented. That will only happen if brands and events, and people in power, are willing to ask questions and have difficult conversations—that's what sparks change."
Starting on June 15th, 2021, Pace-Humphreys and five other Black trail runners will begin a traverse of the Ramsey Round, a 58-mile, 24-summit mountain circuit named for Charlie Ramsay, a Black trail runner from Scotland. While this event holds symbolic importance for Black runners in the UK, Pace-Humphrey's goals are more global. Already, BTR groups are sprouting up in the U.S., and the founders hope that additional runners will expand the movement. If you are interested in joining or expanding this historic group's presence in the U.S., you can message Black Trail Runners on Instagram, Twitter, or Facebook, and visit them online at https://www.blacktrailrunners.run.
RELATED READING:
A Trail Runner's Guide To Environmental Justice