Meet the "Rural Runner" Canyon Woodward
Canyon Woodward channels his love of rural spaces into political activism, fueled by his adventures in trail running.
Heading out the door? Read this article on the new Outside+ app available now on iOS devices for members! Download the app.
Canyon Woodward has always loved rural places but wasn't always engaged in rural politics.
"Rural America is freaking awesome," says Canyon. "It's beautiful. It's where so many of our public lands are, and the people are amazing, and they defy stereotypes."
Some of Canyon Woodward's closest friends describe him as a talented potter and someone who makes a delicious quiche, while others describe him as someone who runs hundreds of miles through rural America while organizing to defend American democracy.
Canyon grew up in rural western North Carolina, in a town called Franklin. He started running after his high school history teacher, who was an ultra runner, suggested he join the cross-country team. He describes his relationship with running as "mostly dabbling" until he started training for a 100-mile race with his brother, Forest Woodward, an ultrarunner, photographer, and artist.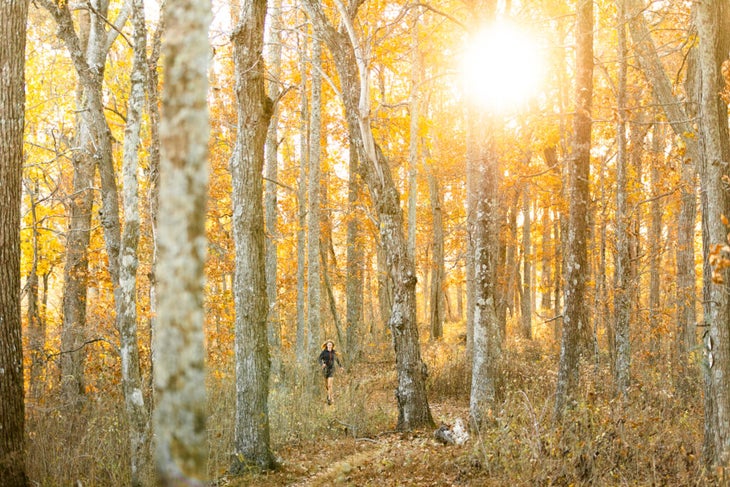 Running To Run
Running connects Canyon to his community, and to the environment. Themes that he sees in his political work as well.
"For me, running keeps the cup filled up to stay balanced and fight burnout," says Canyon. "I learned a lot of training for my first 100 miler while running my first primary campaign. Making time for running is so important to me."
"For me, running is something that enables me to feel fulfilled and stay grounded, says Canyon. "It gives me energy for the parallel long-distance work of organizing."
Canyon has won the Crewel Jewel 100 miler and finished top 50 at 2022's UTMB, one of the top men from the U.S. He also holds the S.C.A.R FKT (Fastest Known Time), a 70+ mile traverse of the Great Smoky Mountains along the Appalachian trail. It boasts over 18,000 feet of climbing, with only one extraction point should things go awry.
"When he got the S.C.A.R. FKT, he fell and broke his hand relatively early in the 70+ mile route. To him, it was barely worth a mention in his post-FKT recap, outside of letting me know when he had to get it fixed and he probably couldn't train that day," says Canyon's coach, David Roche. "When someone is that tough and strong… well, I would bet the house on him accomplishing whatever he sets his mind to, on the trails and off."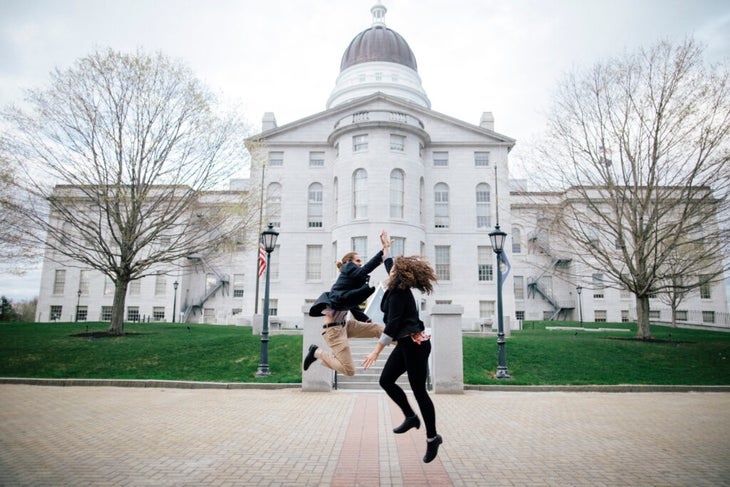 The Rural Runner
After growing up in rural North Carolina, Canyon spent a stint in the big city to attend Harvard, where he became engaged in campus climate activism. Canyon started working with Harvard's divestment campaign, a movement aimed at getting institutions to get rid of stocks, bonds, and investment funds tied up in mineral extraction, depriving would-be extractors of capital to pursue projects.
Canyon hadn't ever considered himself very political, just someone who cared about the environment. But his involvement in the successful push to get Harvard to eventually divest in 2021 spurred him to do more politically, particularly in rural areas. He became single-mindedly determined to re-engage rural communities in progressive politics, to ensure that progressive candidates were truly speaking to the concerns of those communities. He had become frustrated by the progressive left's writing-off of rural areas as places where progressive policies didn't resonate. To Canyon, it wasn't the policies that weren't resonating, they just needed a better and more responsive messenger.
"Growing up, I wanted nothing to do with politics," says Canyon. "But I always had a strong environmental ethic, as you can imagine coming from a family with kids named Canyon, Forest, and River. I realized that we weren't getting anywhere close to where we needed to go in terms of legislation necessary to really counteract climate change. And that was because leaders weren't speaking to rural areas."
So, Canyon moved to rural Maine, to support friend and fellow classmate Chloe Maxmin's run for state senate.
"Through climate organizing, I realized that politics might seem awful, but nothing's ever going to change unless people are willing to hold their noses and kind of wade and wade into the muck of it and try to do things differently," says Canyon.
Through climate organizing, I realized that politics might seem awful, but nothing's ever going to change unless people are willing to hold their noses and kind of wade and wade into the muck of it and try to do things differently.
He was on a quest to transform rural politics into something much kinder, compassionate, and more responsive to constituents' needs. He walked all over Maine's District 13 to knock on doors and meet voters, building a grassroots campaign that was people-driven. Running careers and political careers are both built on a foundation of high mileage.
"Canyon has natural political instincts," says Maxmin. "By nature, he's a unique human. And he brings that unique perspective to his political work. Ever since I've known Canyon, his political work has been infused with his sense of community, ensuring that everyone feels welcome. He does not conform to the traditional way of doing anything, which means that creativity and boundary-breaking define his political journey."
"Canyon gives so much of himself to others, and even for someone who is intrinsically motivated to do good in the world, that must be exhausting," says Roche. "What he does with activism really, really matters, and I get the feeling that fully dedicating himself to running is liberating because it's something that can matter in a much more playful and low-stakes way. He can flex similar muscles, but with less of the stress."
Canyon and Maxmin ran a 100% positive campaign, focusing only on policy and solutions. They turned the lessons learned from their climate activism into a compelling, grassroots campaign aimed at the issues that resonated in rural Maine, to find common ground. In the 2020 Election, Maxmin became the youngest woman ever to be elected to the Maine state senate.
RURAL RUNNERS. from gnarly bay on Vimeo.
Community, Justice, and Light
After the success of Maxmin's 2020 campaign, she and Canyon co-authored a book, Dirt Road Revival: How to Rebuild Rural Politics and Why Our Future Depends On It, which was published in May of 2022. In addition to the book, Maxmin and Canyon teamed up to launch Dirt Road Organizing, aimed at sharing resources and mentorship for political organizing in rural communities.
"We're trying to fight this narrative that it's not worth it to organize in rural America," says Canyon. "We can't afford to give up on it. Folks don't understand the political power that rural America holds, in the way our system currently works. And it's critical to listen to rural voters."
Canyon has been inspired to see a growing culture of activism and political engagement amongst his fellow trail runners, especially around issues of climate.
"I really feel like I see the trail-running community being a leader in terms of this growing energy around engagement and activism."
I really feel like I see the trail-running community being a leader in terms of this growing energy around engagement and activism.
He has been working with Protect Our Winters (POW) to "Stoke the Vote" and engage outdoor athletes in political action that advocates for policies to protect outdoor spaces. For Canyon, melding his passion for political organizing, environmental advocacy, and running is completely natural. The advocacy work reflects his love for adventures off the beaten path, and his running, in turn, feeds his passion for political work.
"Canyon embodies the word openness. As soon as you meet him, you feel the warmth of someone who is deeply listening, excited for whatever you say next. And he applies the same approach to training, taking each day as it comes, willing to explore the limits without constraining himself," says Roche. "There is this background curiosity in all he does, where it seems like he's an explorer of people, trails, and his own potential–not because he wants to end up at some destination, but because he wants to see what he can learn and how he can uplift others along the way."
Maxmin agrees.
"Canyon is the most honest, creative, and empathetic human that I've ever met. When you meet Canyon, you know that your life will be different. He does not fit any mold. He paves a unique path in this world, one that is grounded in community, justice, and light."
Zoë Rom is Editor in Chief at Trail Runner, and also proudly lives in rural America.