Will Jim Walmsley Be the First American Man to Win UTMB?
With a deep men's field at ultrarunning's biggest event, can Jim Walmsley become the first American man to claim the title at UTMB?
Heading out the door? Read this article on the new Outside+ app available now on iOS devices for members! Download the app.
Jim Walmsley has always been an outlier among American trail runners.
Not only is he as fast and talented as any ultrarunner the U.S. has ever produced, but he's also been bold and even a little brash about his intentions. His off-the-front racing style is something to be revered—and respected if you're one of his competitors —because the lanky 32-year-old Hoka-sponsored runner from Flagstaff, Arizona, has proven time and time again that it works for him. 
On August 26 in Chamonix, France, Walmsley will embark on his latest and most prodigious quest yet: to win Ultra-Trail du Mont-Blanc (UTMB). It's his fourth attempt at trying to follow up on his stated intention of becoming the first American man to win the race, but he's gone to extra lengths this year to prepare for it. It would certainly add to what has already been a great year, given that he and longtime girlfriend Jessica Brazeau got married on May 4 in Silverton, Colorado.
But if Walmsley is going to pull it off this year, he will have to fend off three-time UTMB winner and 2022 Hardrock champion Kilian Jornet, of Spain, among other strong runners in the talent-loaded field.
UTMB has been one of the pinnacle events in the sport of trail running since its inception in 2003. Not only does the course send runners on a grueling 171.5K loop (106.5 miles) around the Mont Blanc massif with nearly 33,000 feet of vertical gain, it also brings together the deepest international field of the year and more hype and media attention—including epic coverage and commentary via livestream—than any other event in the world by far.
RELATED: The Ultimate Guide to All Things UTMB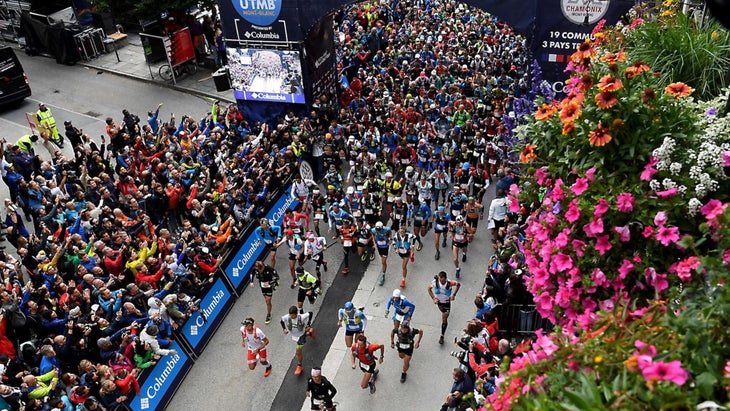 One of several top-tier Americans in this year's UTMB field, Walmsley skipped the Western States 100 this year and since June has been living and training in the mountains of the Rhône Alpes region of France near Beaufort, not far from good friend François D'Haene, who knows a thing or two about training for big mountain ultras. 
Last year, D'Haene not only became the first male runner to win UTMB for a fourth time, but he also became the first runner to win both Colorado's Hardrock 100 and UTMB in the same year.
The Frenchman was crewed and paced by Walmsley at Hardrock in 2021 and was one of the first people to suggest that Walmsley spend a summer training in the French Alps in order to best prepare for UTMB, rather than showing up in Chamonix 7-10 days before as he—and many other American men—have in the past.
Aside from Jornet, who won this year's Hardrock 100 for the fifth time on July 16, the top international runners include Frenchman ​​Aurélien Dunand-Pallaz, the runner-up at UTMB last year; Germany's Hannes Namberger; New Zealand's Scott Hawker; and Spain's Pau Capell, who won the race in 2019.
D'Haene certainly thinks Walmsley is capable of winning UTMB, but points out that there are always numerous capable runners who are contenders and it all depends on how the race plays out. The idea of Walmsley stating his intent out front—that he wants to win UTMB—is more of a bold American approach, D'Haene says, as opposed to a more subtle European style he prefers.
"Just to explain to people, 'I am here to be the first American to win the UTMB,' puts a lot of pressure on him," D'Haene says. "He thinks UTMB, he sleeps UTMB, he eats UTMB, so it's a lot of pressure. If you take the approach that I just want to smash that course and win that race, then it's a lot of pressure. I'm not sure if he'll win or not win, but at least he's training well in the Alps and his confidence is up."
Walmsley has raced UTMB three times already—taking fifth in 2017 but DNF-ing in 2018 and 2021. The fact that no American man has ever won UTMB is irrelevant in the scope of this year's race, but it certainly adds a heightened focus in Walmsley's quest and a brighter spotlight on him before and during the race.
Whereas four American women have won the women's UTMB race a total of seven times—including the 2019 and 2021 champion Courtney Dauwalter—only a handful of U.S. men have made it to the UTMB podium. The highest finish came when when Topher Gaylord and Bradon Sybrowsky tied for second in the inaugural race in 2003. 
RELATED: Will 2022 Be The Last, Great UTMB?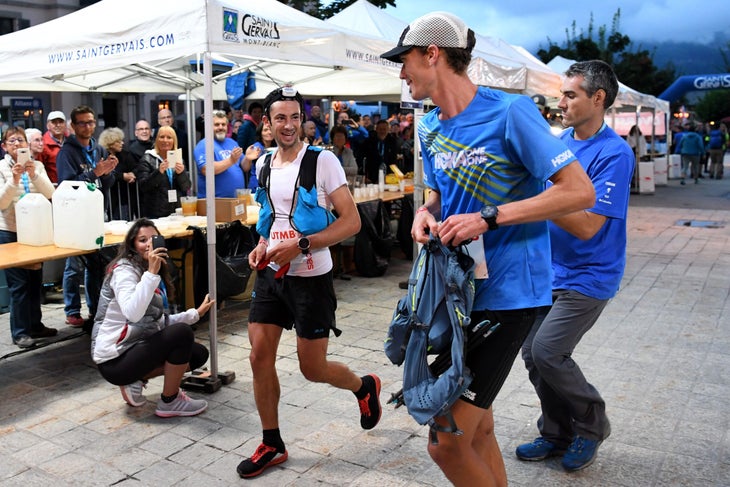 While Walmsley appears to be the top American this year, it would be foolish to focus on him as the only American capable of winning. Other U.S. runners with momentum and motivation heading into UTMB include Tim Tollefson, who finished second at CCC in 2015 and third in UTMB in 2016 and 2017; Tyler Green, fourth at Western States 100 this year and 10th in the TDS 145K in Chamonix last year; Zach Miller, winner of the CCC 100K in 2015 and sixth and ninth, respectively, in UTMB in 2016 and 2017.
Miller went for broke trying to win UTMB in 2016 and held a 35-minute lead beyond the halfway point. He still led at the 100K mark, only to struggle over the final 50K and wind up sixth. What makes UTMB different, he says, is that the endless string of long climbs and descents demands a more moderate rhythm and effort over the first half of the course so you don't blow up before the race really begins.
"I don't think there's a super-secret code to crack. We've had a number of really good American men run there, it's just we have to have one of them have a good day all day one of these years," Miller says. "It's not anything we can't figure out or accommodate for. I think we've done it in other European-style races. It's just this one has kind of eluded us. I think it's possible that someone is going to have that 'right' day, but you almost have to have to get a little lucky, too."
Tollfeson is coming off three DNFs at UTMB in 2018, 2019, and 2021, and had a tough Western States this year (21st). Miller also DNF'ed at UTMB in 2018 and 2019 and then was away from racing because of injuries. He finished his first long ultra in several years in late June, winning the Andorra 100K to earn his place in Chamonix.
Other Americans in the field include David Laney (third at UTMB in 2015), Jason Schlarb (fourth in 2014), Seth Swanson (fourth  in 2015 and seventh at TDS last year) and Sage Canaday (48th at UTMB in 2017), who is back after suffering a pulmonary embolism and a devastating house fire in 2021.  
As for Walmsley, his front-running style has helped him snag three Western States 100 titles, three JFK 50 wins, a 50-mile world-best time, a 100K American record and the Fastest Known Time running across the Grand Canyon and back. It also helped him produce a solid 2:15:05, 22nd-place effort at the 2020 U.S. Olympic Marathon Trials. 
Most recently, he tore up the trails (and the competition) at the rough and rugged Madeira Island Ultra Trail 115K in Portugal in April. Otherwise is been running in the Beaufortain Mountains with D'Haene and training a lot on a Wahoo bike trainer in France. Two weeks ago, he completed the arduous 114K (71-mile) Ultra Tour du Beaufortain loop with 7,300 meters (25,000 feet) of vertical gain as one of his last big training days. 
"I hope Jim can change it this year," D'Haene says. "I hope he will be OK and can run a good race, of course, but it's UTMB and, of course, it's always difficult."