Inspirational Trail Runner Tommy Rivs Diagnosed With Aggressive Cancer
Heading out the door? Read this article on the new Outside+ app available now on iOS devices for members! Download the app.
This story was updated at 10:20 a.m. on July 24.
The well-known trail runner from Flagstaff, Arizona, was transferred to HonorHealth Scottsdale Osborne Medical Center in the Phoenix metro area on Thursday, July 23, after being diagnosed with an aggressive form of cancer known as NK T Cell lymphoma.
He had been hospitalized in Flagstaff for three weeks with what was an undiagnosed undiagnosed respiratory issue that was not related to COVID-19. He has been sedated in a medically induced coma on a ventilator for several days.
The 35-year-old Puzey, a high-profile, super-fit elite marathoner and ultrarunner known as "Tommy Rivs" on social media, revealed last weekend through a series of Instagram videos that he's been suffering for weeks from an unknown respiratory illness.
Puzey is a doctor of physical therapy, endurance coach, husband and father of three girls. He's known for his impassioned, inspirational social-media posts as much as he's known for his feats of endurance and chiseled physique.
As of July 22, he remains in the hospital in stable condition—but sedated and on a ventilator—suffering from a COVID-like but undiagnosed respiratory illness that has severely damaged his lungs. He had a procedure on July 19 to open up his lungs, but has been battling for his life, according to his posts from his brother, Jacob Puzey, also an elite marathoner and ultrarunner who is lives in Canmore, Alberta, Canada.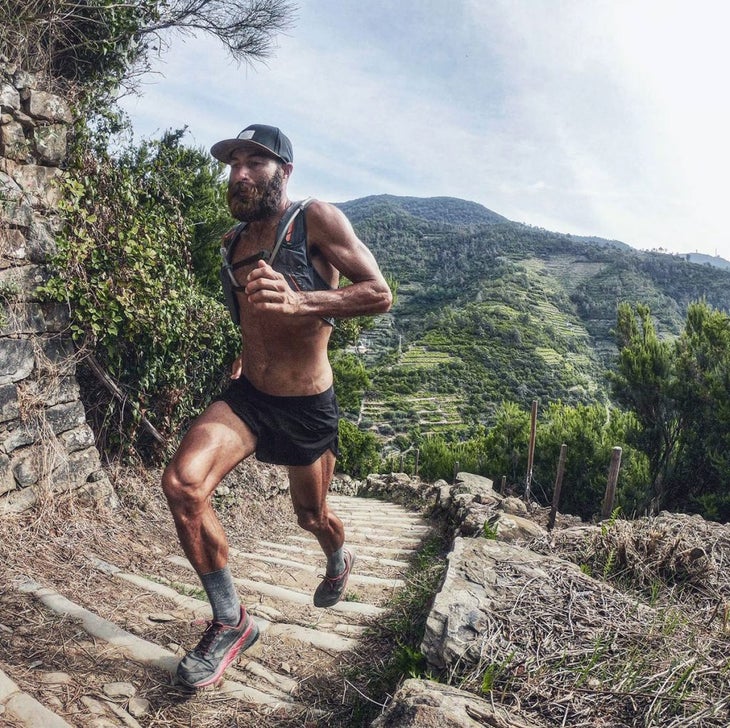 "There is still no diagnosis & therefore no timeline as to how long Tommy will need to be in the hospital," Jacob Puzey said on July 22 in a Facebook post. "He has a team of very skilled doctors who still have more questions than answers. Progress is usually slow. Please be patient. Tommy has taught us about the value of long-term sustainable work. Brick by brick. Hopefully he's just laying the foundation for a brighter future when he comes out of this."
"He's in the best place with the best people in control of the best equipment and most advanced treatment modalities in the universe," Tommy's father, Kim Puzey, posted on Facebook on July 24. "He's in the hearts and minds and thoughts and prayers of all of you. That's a lot of good news on our side of the Yin/Yang of the perpetual dualities that keep us balanced and centered and grateful."
Tommy Puzey went public last week with several Instagram videos that described what he has been dealing with for three weeks while being treated in an intensive-care unit. Speaking from his hospital bed while wearing a supplemental oxygen tube in this nose, Puzey struggled amid coughing to tell his story in the candid selfie videos.
He started to feel poorly during the end of a long run in the Grand Canyon with photographer Derrick Lytle. They intended to run from the South Rim on Bright Angel to the North Rim and back as part of a photo shoot for Craft, but he started feeling overheated and it became a rugged, 13-hour slog.
"It wasn't normal Tommy by any means," Lytle said. "We stopped at Phantom Ranch for about an hour and he was drinking water and eating food. He finally mustered up the strength to go, but it was one of the longest hikes out ever. As soon as we got out of the Canyon, he got in my truck and passed out. We got food before we drove to Flagstaff, but he was asleep in my truck and barely ate anything."
Tommy said he initially had some kind of reaction that affected his lungs and his ability to regulate his body temperature. He said he was coughing up and peeing blood and assumed he was suffering from heat stroke. They got back to Tommy's house where they napped and had a bit more food before Lytle headed home to Utah.
Once at home, Tommy assumed that he had contracted COVID-19 and self-isolated while back home and proceeded to rest and self-isolate from his family. His situation improved a bit for a few days, but then deteriorated considerably. He said his lungs filled up with fluid and thought he had some type of viral pneumonia, but there were also signs that it might have been bacterial pneumonia.
"I could tell from the exertion it took to get out of the Canyon that I was in bad shape and that there was something bigger going on," he said in his first Instagram video. "I probably should have gone to urgent care or the hospital right away to get an IV. That probably would have helped, but in retrospect that probably doesn't matter. I was nervous. I didn't know if I should go to the hospital. I didn't know if I should be in contact with everyone I had come in contact with in the last several weeks and months."
He eventually did a drive-through Covid-19 test and waited five days for the results, which came back negative. He took additional COVID-19 tests but all came back negative, so he admittedly was stubborn about avoiding the hospital. But he eventually succumbed to going to the hospital and has been under close watch and treatment of doctors in an intensive-care unit ever since.
True to his character, Puzey also expressed concern for the Navajo Nation as it deals with the impacts of COVID-19 . In one of his subsequent videos, he made a plea for people to wear masks, be kind and considerate to each other and express love to everyone, even amid the necessary social-distancing practices due to COVID.
"It doesn't take a lot to make differences in people's lives," Tommy Rivers said in one of his posts last week. "On that note, another thing I wanted to mention, is that we have to be loving with each other and be kind to one another. There is a sense of standoffishness since this COVID crisis has gotten really out of control, where people are almost afraid to interact. Obviously, we have to be responsible and not engage in things with people who aren't members of our family. If we can just take the time to be at home and the people you are with, the people you are quarantined with or isolated with, just show them how much you love them."
Jacob Puzey recently posted a link to a GoFundMe fundraiser page aimed at helping Tommy and his wife, Stephanie, offset enormous medical costs. As of July 21, it had raised more than $191,000. Another link aimed at raising money to provide COVID relief to the Navajo Nation had raised more than $58,000.
"If he were conscious, he would not feel comfortable asking for help," Jacob Puzey said. "He would not want to be a burden. He takes great pride in providing for his wife and daughters by sharing the knowledge and experience he has with the world."
Jacob also posted a touching video of Tommy playing guitar and signing  "Upward Over the Mountain" by Iron & Wine that Tommy usually only plays for his girls.
Tommy was determined to qualify for the U.S. Olympic Trials Marathon in January with a 2:18 effort at the California International Marathon in December and the Houston Marathon in Janaury but he had some physical challenges each time and came up short. He also had some other physical challenges this year, plus some sponsor issues and other factors have been causing him stress, Lytle said.
"If you're reading this, please know we're grateful for your love, support, and kindness," Kim Puzey said in a Facebook post. "We're mindful of your pain, anguish, and concern. Sometimes it helps to know that our grief is directly proportional and commensurate with our love. Stout heart! Rage on! Love deeply! Be kind to one another!"
SEE THE UPDATES:
Rage On! Tommy Rivers Is Improving
How Tommy Rivs Inspired the Trail Running World From His Deathbed
Because love knows no bounds and neither does Tommy's heart, even from his ICU bed, he urged us to consider donating to provide emergency assistance to families of the Navajo nation, through an organization that is dear to him, Ajooba' Hasin, Families to Families. https://www.gofundme.com/f/clean-water-for-navajo