How Carol Seppilu Found Hope At The Leadville 100
A Siberian Yupik Alaskan Ultrarunner Fights For Every Breath
---
Join Trail Runner Magazine
Create a personalized feed and bookmark your favorites.
Join Trail Runner Magazine
Create a personalized feed and bookmark your favorites.
Join for free
Heading out the door? Read this article on the new Outside+ app available now on iOS devices for members! Download the app.
This story originally appeared in the Summer 2022 print issue of Trail Runner magazine.
The feature discusses suicide and suicidal ideation. If you or someone you know is struggling, call or text the National Suicide Prevention Hotline, 1-800-273-8255. Bigger Than the Trail also provides free counseling to folks in need.
Carol Seppilu was deep in thought as she descended the switchbacks of Hope Pass. It was a bittersweet trek, having just missed the cutoff at the Hope Pass aid station during the 2019 Leadville 100 Run, in Colorado. A cruel reality of dropping out here was that no vehicles could reach this point. The only way out was backtracking the four miles and 3,400 vertical feet she had just ascended, back to the town of Twin Lakes.
Leadville was the pinnacle of the sport for Seppilu. As a major race that she and other ultrarunners in her hometown of Nome, Alaska, dreamed of, this was an opportunity she knew few had, via the lottery system. It was a privilege she never thought she'd experience. Only four years into running at all, here she was in the famed mountains, looking out over the valleys from above the treeline for the world to see.
Alone with her thoughts, the 37-year-old breathed rhythmically through her mouth and the tracheostomy tube in her neck, a plastic device placed in an incision in the windpipe, made to relieve an obstruction to breathing. She pondered her race and the life that brought her here. In a way, it was her second life. She hadn't died, but the visible and invisible scars of a past suicide attempt were a reminder of how important it was to make the most of this second chance.
Under her blue Ultimate Direction pack on her pink tank top, it read, "Strong Resilient Indigenous." These three words define her and her work as an advocate, athlete, survivor, and hero to those she runs for in Nome, in Alaska, and beyond. 
"I run to inspire people," Seppilu said. "We all can go through something difficult and painful, and in those places, it can be hard to see a way out. I'm proof that you should keep going. That's why I run. That's why I keep going. For my ancestors, for my people, for anyone struggling with life. I run for them."
While her race was over, she had a mission to get to the finish line. It was what she set out to do, what she told everyone she would do, and she shared her thoughts later that day.
"I'm definitely leaving a piece of my heart here in Leadville, up in the mountains along Hope Pass," Seppilu said. "I'll just have to come back stronger."
Life in Nome
The town of Nome hugs the Bering Sea in the southwest corner of Alaska. Known for being the finish line of the Iditarod sled dog race, Seppilu and the 3,500 other residents call it home.
Seppilu is Siberian Yupik Alaskan. Their land was stolen from them, first by Russians in the 18th century and later sold to the U.S. in 1867, and their lives and cultures upended by the movement to "Westernize" North America between the 1700s and 1900s. Settlers brought disease and placed Indigenous children in boarding schools. They shifted the economy from trade-based to cash-based and eschewed the historical Alaskan reliance on the land.
"In our culture, we take care of each other," said Crystal Toolie, Seppilu's friend from Nome and fellow ultrarunner who got Seppilu into ultras. "We have our issues, much of it from our historical and generational trauma, but we always care for our people. We do it, one, because of how we grew up, and two, out of respect. It's who we are."
Succeeding generations continue to feel the effects of that trauma. Nome is remote and only accessible by bush plane, making it challenging to get food and other necessities into the community. Jobs are limited, too. The places to work in Nome are essentially limited to the clinic, the local government, the school, and the post office.
As a result of a system unfit for their needs or culture, the community of Nome has experienced crises of poverty, housing, and care for an increasingly aging population. There is high drug and alcohol use among adults and youth, and domestic abuse and sexual assault also pose significant issues. But arguably one of the biggest health crises in Nome, and across many remote villages in Alaska is the high rate of suicides, especially among teens. 
"There's much, much more good and positive things happening in this region than there is, I'll call it, negative like often gets highlighted," said Lance Johnson, administrative director of Behavioral Health Services Norton Sound Health Corporation, whose focus is on mental health in the region. "But the bottom line is there is a problem here, and we've got to continue to address this. We can't turn a blind eye on suicide issues."
RELATED: Indigenous Athletes are Running For Justice
According to data from the Centers for Disease Control and Prevention National Center for Injury Prevention and Control, in 2019, suicide was the second leading cause of death for American Indian/Alaska Natives (AI/AN) between the ages of 10 and 34. For AI/AN adults, they are 20 percent higher than the non-Hispanic white population. 
In most American populations, suicide rates tend to be more prevelant in older age groups. That isn't the case for AI/AN groups. In 2018, AI/AN males, ages 15-24, had a death rate was 49.1 per 100,000, which was twice that of non-Hispanic white males (18.3) in the same age group. In 2019, adolescent AI/AN females, ages 15-19, had a death rate of 29.7 per 100,000, which was five times higher than non-Hispanic white females (5.7) in the same age group.
"What the region's seeing is young and younger kids in our hospital beds," Johnson said. "It's a scary subject because it's so triggering for people. Everybody, I dare say, in this region knows somebody who's either made an attempt, has completed suicide, or has been hospitalized for suicidal ideation. We just can't ignore that."
Seppilu faced similar struggles as a teenager. In 2000, at age 16, she had already lost 11 friends to suicides. She, herself, dealt with depression. A mix of the historical trauma and an inability to process feelings of being alone or trapped as a teenager, she turned to drinking and doing drugs. She didn't know what else to do.
Seppilu doesn't remember much of what happened the evening of her suicide attempt. After drinking at a party with some friends, she got herself home somehow. Unconsciously, she attempted suicide.
Numerous surgeries in Seattle were needed to save her life and reconstruct her face and skull. Doctors called her survival a miracle. 
Her nasal airway was gone, meaning Seppilu would live her life with a tracheostomy, a device placed into a hole in her throat to help her breathe. She nearly lost her sight and, for a month, she couldn't speak. More reconstructive surgeries, more than Seppilu can remember, were needed down the road. Healing, both physically and mentally, took years.
"Twenty years ago, you didn't talk about it," Seppilu said. "No one wanted to talk about it. No one wanted to address it. If someone said they didn't feel like living anymore, it just got swept under the rug. They said, 'Don't talk that way.' That was it."
Initially, Seppilu did not want to share her story. It was hard to hide it. She wore a surgical mask, but the tracheostomy still drew eyes.
In high school, Seppilu was asked to speak to students about what happened. It was the first time she spoke to a group about it. In a way, there was a sort of healing that came with it. A dialogue amongst her peers or younger students became her norm through her early twenties. 
She became a certified nursing assistant later, working with community elders. Her life was good, but depression lingered.
"I was very, extremely depressed back then," Seppilu said. "I couldn't do anything. I didn't want to do anything. It just made me do nothing."
That was until one day in 2015. It was around noon. Seppilu was still in bed with the curtains shut. Some part of her told her to get up and go for…a run?
Aside from a Fourth of July run when she was a kid, Seppilu hadn't run in years. Yet, some force compelled her to move. There was a two-mile loop around town. Maybe she'd try that.
"I made it a block," she said. "But people were waving at me. I remember thinking, they must think I'm a runner but I'm not. I didn't make it the two miles. I was too tired, but I kept trying every day after that."
Running became a form of unexpected meditation. It was therapeutic, but it wasn't therapy. It was something she could count on each day, that would separate her from daily life for just a moment to recenter herself. Each time she ran, she could go farther. 
Any runner starting from the ground up knows the challenges that come with building up endurance. Add the challenge of breathing through a tracheostomy and not your nose, and it takes extra effort to find the rhythm. Seppili was determined to master it, to see how far she could go. 
"It's like you're in a dark house and then you open the curtain and windows," she said. "You get light and everything becomes clearer. That's running for me: the opening of doors and windows."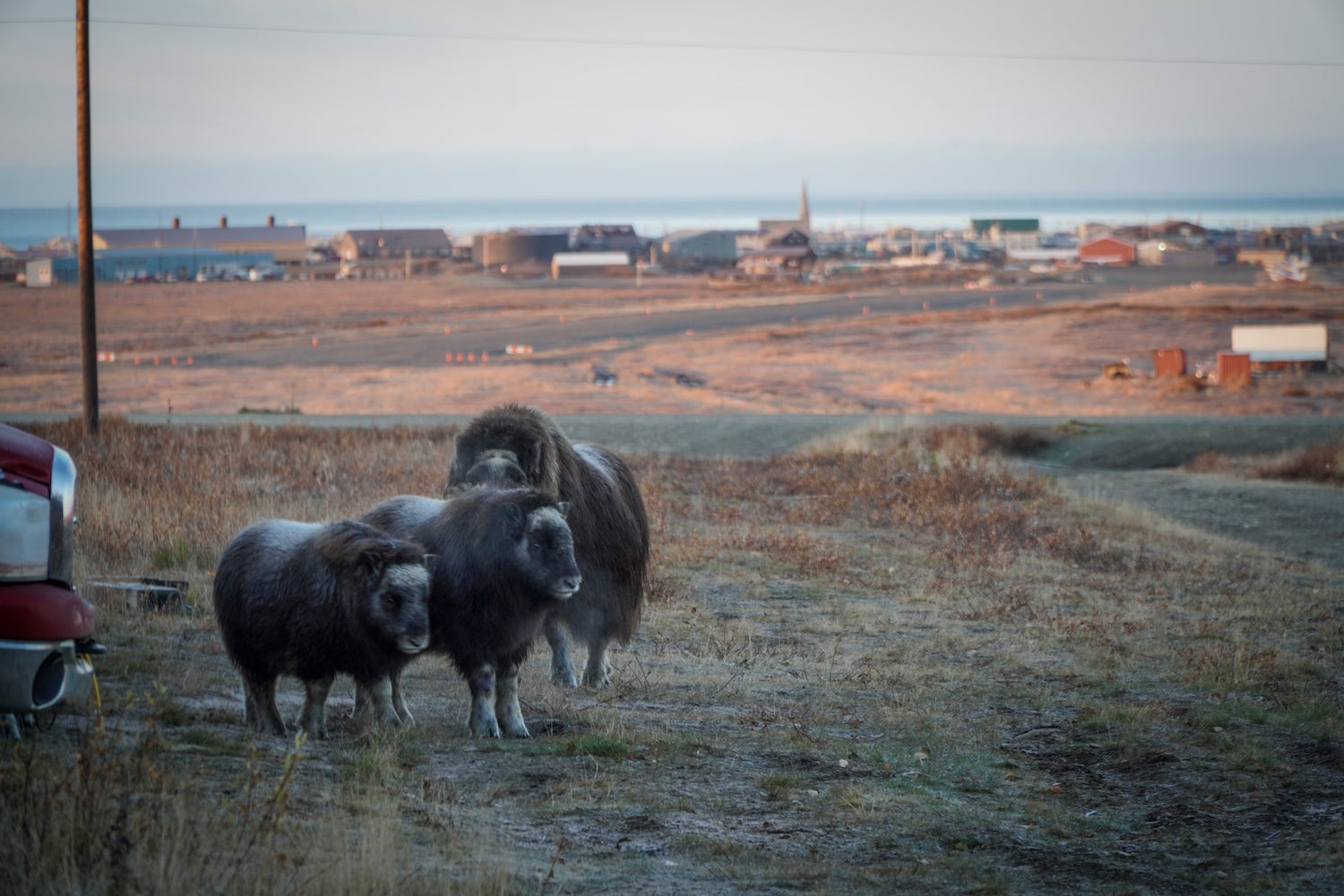 Runner Reborn
Seppilu's surgical mask was falling off. Dampened from 22 miles in the heat during her first 50 miler in August 2017, she needed to replace it. However, doing so takes about five minutes. When every second counts in a race, she wondered if it was worth it.
It was the first time at a race she went without one.
"I remember being really nervous," she said. "Runners were coming toward me on the out-and-back section. They saw me without the mask, and they were smiling. They were supportive. They weren't staring. It made me feel good."
Seppilu admits that she doesn't feel comfortable in public. She mentions situations where people stared or gave her mean looks, so she prefers to wear it in public. The only time she doesn't is at races.
"Running is something that makes you feel strong," Toolie said. "It's something you can share with people, just like dancing can help you heal. It shows part of who you are, and regardless of what happened, it's something that no one can take away from you."
"It's like you're in a dark house and then you open the curtain and windows," she said. "You get light and everything becomes clearer. That's running for me: the opening of doors and windows."
Running only amplified who Seppilu was: A nurse taking care of elders, a dancer for the Nome-St. Lawrence Island Dance Group, which performs traditional dances, and an ultrarunner. Toolie introduced her to the sport early in her running journey. Seppilu had no idea a person could run these distances.
"Carol has such a warm personality," Toolie said. "When you're around her, she has no ill intentions. I'll see her at dance practice and she'll make sure everyone has a chair. I've also done a lot of dumb things in my life. I smoked at age 12 until I was 21. I can tell her things and she won't judge me. She's a valuable person to this community and as a friend."
Running was another thing Seppilu could share with her community and beyond. The more she ran and raced, the more people she encountered. The more people she encountered, the more people inquired about her story. The more she shared her story, the more its power was revealed.
"That's the domino effect that you start to see happen," Johnson said. "With Carol, what we're seeing is more and more people coming out. As they cheer her on, more and more people are taking advantage of booths, brochures, seeing signs and learning the symptoms and other prevention tools, or creating a safe space to talk about it. She's a real catalyst for bringing the conversation out."
That story has been shared throughout Alaska, the U.S., and even the world. She's been featured on podcasts,  news outlets, and in a short documentary. She also details her life and journey on her Instagram account (@nasqaq). 
While she has learned how best to cope with her depression, the dark days in her past still linger. However, now she's no longer afraid to share them.
"It opens people up to not be afraid to talk about how they are feeling," she said. "When you're in a dark moment, it's difficult to process anything. It's hard to get out of bed. It's hard to do anything. It's like an ultramarathon. You're going to have fun and you're not going to have fun. You're going to want to quit, but if you keep pushing, and reach the finish, it's the best feeling in the world." 
She knows she's being heard, too. 
"People contact me from all over the world," she said. "A man from Germany contacted me and said, 'Hey, thanks for what you're doing. I really appreciate your story and your willingness to share it.' "Seeing what my story can do, that's what keeps me sharing and what keeps me running."
Since September 2021, Seppilu has worked in a suicide prevention role alongside Johnson at the Norton Sound Health Corporation. This work includes giving talks around the region, hosting discussions within communities around mental health, hosting prevention and training workshops, and sharing resources.
In the midst of it all, she still finds the time to train for ultras. Prior to running Leadville in 2019, she had attempted the 100-mile distance in December 2018 at the Hitchcock Experience Endurance Runs in Iowa, but made it only as far as 85 miles because of frost-bitten toes. Leadville was her chance to finally hit triple digits. While it didn't go as planned, she beat back the heat and the pain throughout for one reason. Before going up Hope Pass, Seppilu came into Twin Lakes only 20 minutes ahead of the cutoff. Toolie ran with her to crew that awaited. They quickly cooled her in the heat like a Nascar pit, to give her ample time to get up Hope Pass.
In the middle of all the action, Seppilu caught her breath for a moment. At altitude, when every breath counts with her tracheostomy, she said almost nothing. Her only words were to her crew and to herself. It's the message she's been sharing: "I'm fighting for every breath, but I'm going to keep going."
"What I want more than anything is to connect with my ancestors and their way of life," Seppilu says. "To put one foot in front of the other. It's my form of meditation where I get to pray for my people and be connected to the land. I run for them and anyone facing trauma in this world."
Back up Hope Pass
Thirty hours after her Leadville began, Seppilu stood along, but not inside, the fenced finisher's chute with Toolie. The crowd roared as the final runners raced to beat the 30-hour cutoff. Limping, leaning, and jogging, they came down the red carpet for tear-jerking finishes to claim their belt buckles. She was supposed to be one of them.
"I wish I was still out there," Seppilu told Toolie. "I wish I was still running."
It was the moment Seppilu had dreamed of and talked about for years. Here she was, so close to it, yet all she could do was watch others finish. Coming down Hope Pass after DNFing, she already knew she would need to come back and try this race again. It would be on her mind for the next few years. She knew she could do it, but she couldn't just go out the next day or any day and run it. It would be years before she'd be able to make the trip from Alaska again. 
RELATED: Indigenous Runner and Artist Yatika Fields Creates Beauty at the Western States 100
No one could technically predict the future at that moment, but you could see through the smile in Seppilu's eyes watching that finish that her path forward was set.
"I've been through a lot of pain in my life," she said. "I still cry about some things, but I like to see how far I can go and I like to finish what I started. I always keep going."
This motto encompasses her entire life. Her work in the mental health field may change soon, as she considers a return to being a CNA. She said she wants to do her mental health work in her personal time where she feels it's done best. She still plans to travel around the region to share her story.
Seppilu and other groups and advocates are pushing for legislation and action from the state to teach mental health lessons in school, promote programs that prevent suicide, and identify the high rates of youth suicide as a recognized healthcare crisis.
"This is a healthcare crisis, and we need to talk about the long-term effects," Johnson said. "If we teach students now, they'll be able to take this information with them when they become parents. We do physical education in schools. We need to combine that with mental health education. The body, mind, and spirit all go together."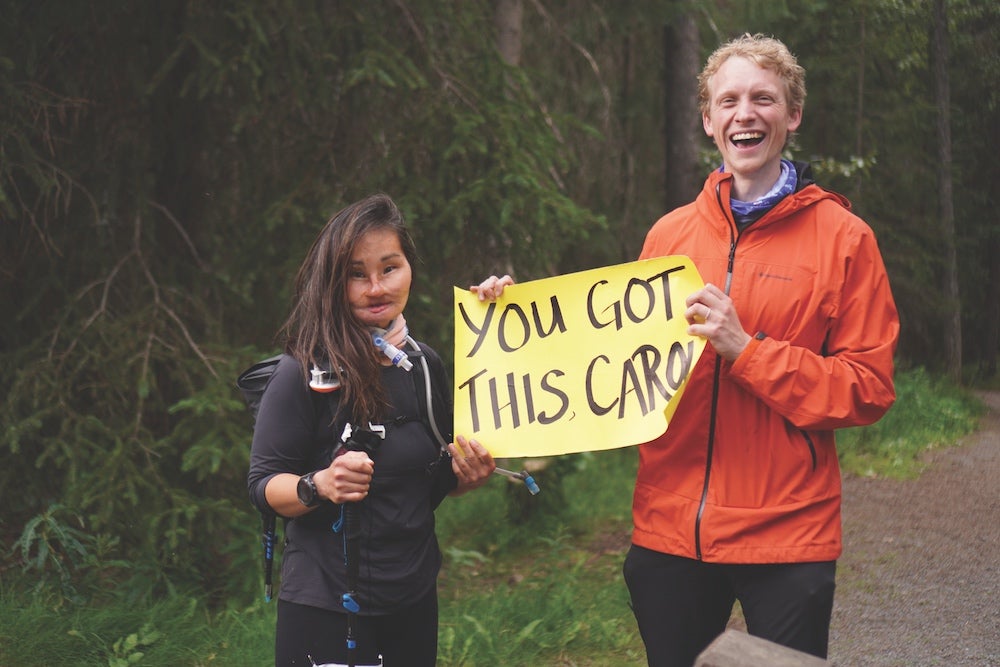 She's also in the midst of hardcore training, doing more mileage and running than ever. Seppilu completed her first 100 miler during the pandemic at Alaska's Resurrection Pass in August 2020. That goal is passed. What she really wants is redemption.
"I'm really looking forward to going back to Leadville," she said. "I've been working really hard and I've been committed to becoming a better runner, so I can finish it. It's been on my mind since. I keep reminding myself, 'I've got to do it. I've got to get out there and remember how good of a time I had.'"
As fate would have it, she and Toolie were both accepted via the lottery for the 2022 race. Through the bitterly cold, well-below-negative temperatures of Alaskan winters, Seppilu has logged her best training cycle. She competed at Broken Arrow in June and is preparing to line up again in Leadville this August.
"More than anything, I hope that my running will inspire people," she said. "I hope it tells people that you can keep going. Even if there are dark moments, you need to know it's not always going to be like that. You can keep going. This is something so many people need to hear. It's them, my people, my ancestors, all of them. They are the reason I run."
She plans to carry them all with her again, all the way up, and over, Hope Pass.