Hayden Hawks Headlines International Field at New Zealand's Tarawera 102K
A strong international field is lining up at the Tarawera race this weekend. Here's what you need to know.
Heading out the door? Read this article on the new Outside+ app available now on iOS devices for members! Download the app.
After hearing glamorous stories about New Zealand since he was a little boy, Hayden Hawks has finally been able to live out the dream of running in Middle Earth.
Following in the footsteps of his grandfather, who once lived in New Zealand, Hawks, an American trail runner from Utah, has spent the past several months living in Aotearoa—the Maori name for New Zealand—in preparation for his debut at the Tarawera Ultramarathon 102K on February 11. 
The international training sojourn is both the start of a big year for Hawks—who is planning to race the Western States 100 again in 2023—and also the conclusion of a strong 2022. Hawks and his family arrived in New Zealand after a course-record win in the 100K race (7:48:55) at the Ultra-Trail Kosciuszko by UTMB in Australia in early December. 
The Tarawera Ultramarathon, the first event of the 2023 UTMB World Series, also includes 100-mile, 50K, and 21K races, all of which are infused with Maori culture and send runners through geothermal terrain features and the lush Whakarewarewa Forest before finishing in the North Island lakeside town of Rotorua. The 102K race, which has 7,700 feet of elevation gain, is the fifth of seven Hoka Golden Ticket Races that serve up automatic qualifying entries to the Western States 100. 
RELATED: Courtney Dauwalter Sets Course Record And Jeff Colt Claims Victory at Bandera 100K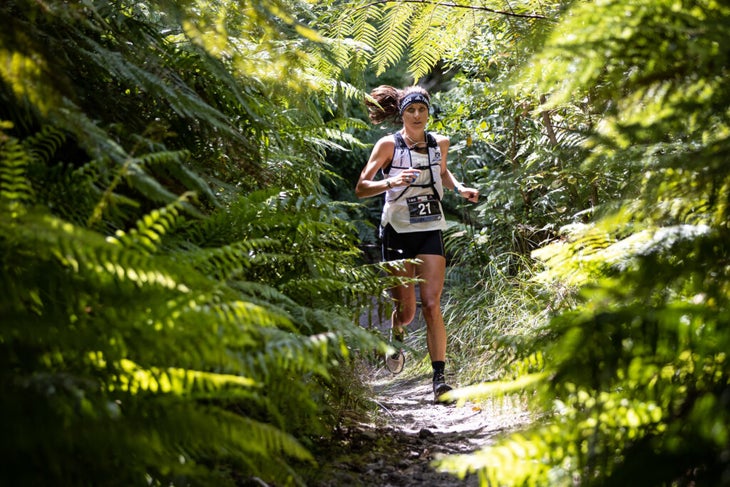 More than 5,000 runners are competing in the events, which are returning after a two-year hiatus after a COVID-19 outbreak forced the cancelation last year.
"As a child I would hear his [grandfather's] stories and always wanted to get here," Hawks said. "My interests were piqued even more with Tarawera and the friendships I have developed over the years with Kiwi legends Scotty Hawker, Ruth Croft, and Dan Jones. We are so happy we made the decision to spend a couple months down here and explore both the South and North Island. It's been a wonderful experience and I hope to cap it off with a great race."
There's a deep field of women in the 102K race, including Amanda Basham (U.S.), Claire Heslop (U.S.), Cat Bradley (U.S.), Konoka Azumi (Japan), Naomi Brand (South Africa), Aroa Sio (Spain), Stephanie Auston (Australia), Fuzhao Xiang (China), and Nancy Jiang (New Zealand).
Other top entries on the men's side include Ryan Montgomery (U.S.), Paul Giblin (UK), Luke Taylor (Australia), Brendan Lombard (South Africa), Vlad Shatrov (Australia), Michael Voss (New Zealand), Sam McCutcheon (New Zealand),​​ and Dan Jones (New Zealand).
Hawks is hoping to join a long list of Americans who have run to victory in Rotorua, including Sage Canaday (2013 in the 100K; 2014 in the 69K), Dylan Bowman (2015, 100K; 2018, 102K), Jim Walmsley (2017, 102K), Sally McRae (2018, 100-miler), Kelly Wolf (2018, 102K), Jeff Browning (2019, 100-miler), Camille Herron (2017, 102K; 2019, 100-miler), and Courtney Dauwalter (2019, 100K).
The 31-year-old Hoka athlete is coming off a year in which he was the runner-up at last summer's Western States 100. He also won the Bryce Canyon 60K race in May, but DNF'ed at the Transgrancanaria 128K in March and the CCC 100K in August.
"I have wanted to run this race since I started my ultra-running career in 2016," Hawks said. "I love competitive racing and this race is one of the most prestigious and competitive races consistently every year. It is a fast course, fast competition, and fits my style of racing. It's always fun to push your body to the limits, see what you can do, and suffer a little in a barn burner."
RELATED: Just Weeks After a Lupus Diagnosis, Devon Yanko Wins the Javelina Jundred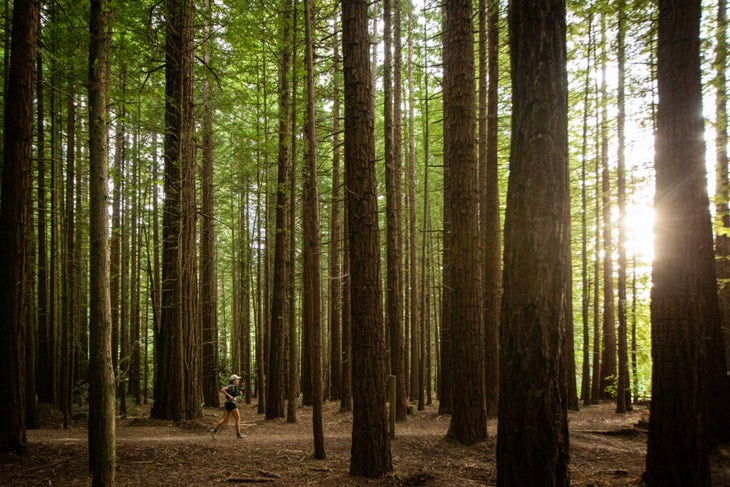 While preparing for the race in New Zealand, Hawks has been training with Dan Jones, who recorded multiple trail and road race wins in 2022, including the Auckland Marathon (2:21:52), Queenstown Marathon (2:26:30), and Kepler Challenge Mountain Run 60K (4:43:14) on the tip of New Zealand's South Island.
They struck up a friendship last year when Hawks invited Jones to train with him at his home in Cedar City, Utah. They shared two solid weeks of training together in the Utah mountains, as well as on trails in and around Zion National Park and Bryce Canyon National Park. While racing in the U.S. last summer, Jones finished 10th at the Canyons 100K (9:55:08) and won the Lake Sonoma 100K a month later (8:59:58). He also placed sixth at the European Running Festival in Poland.
At the end of last year, Jones made a reciprocal gesture and invited Hawks down to New Zealand. The 32-year-old Jones grew up in Whakatane, a coastal town on the North Island about 90 minutes from Rotorua.
"We quickly built a lasting friendship built around our love for running, hunting, fishing, and everything outdoors," Hawks said. "We have now been training for the last three to four weeks and have had a great training block. We have learned a lot from each other through training and have pushed off of each other's energy and motivation."
The 32-year-old Jones is also running Tarawera for the first time, but with the added incentive of finishing among the first two men to earn a Golden Ticket. The top two women's finishers will also earn Golden Ticket entries to Western States.
RELATED: Western States Endurance Run Announces This Year's Golden Ticket Races
"In the end we're all here to race our hardest. It may be Hayden, or the other Kiwis, Aussies, Americans or international athletes that are pushing for the win," Jones said. "The 102K is a long way so there will likely be a bit of testing of form as we go along, but everything will be laid down, that's for sure. If it's a sprint for the line, then that will be what it will be. There will be no holding hands."
Hawks said he's definitely aiming to win, but he'd love to see Jones finish second and earn a Golden Ticket so they can continue training in the U.S. in the spring.  
"He's a good dude and can't wait to see him execute a great race at Tarawera," Hawks said.  This is what I love so much about this sport, so much of it is about the relationships you build, the friendships you make, and sharing these experiences with others. This is ultra trail running."