Your Guide To Responsible, Sustainable Gear Usage
Heading out the door? Read this article on the new Outside+ app available now on iOS devices for members! Download the app.
Over 10 percent of global carbon emissions come from the apparel industry, which is more than all international flights and maritime shipping combined.
It's also bad for water. Most of those textiles, particularly athletic clothing, contain polyester, a plastic (fossil-fuel byproduct) that releases two to three times more carbon emissions than cotton, and doesn't break down in the oceans. Polyester production for textiles released about 706 billion kilograms (1.5 trillion pounds) of greenhouse gases in 2015, the equivalent of 185 coal-fired power plants' annual emissions.
In many countries that produce garments, untreated wastewaters from textile factories are dumped right into rivers, and can carry toxic substances like lead, mercury and arsenic. This is not only harmful for wildlife, but also for the millions of people who live near and depend on those waterways.
Aside from choosing clothes and gear made in countries with stricter environmental regulations, like the EU, Canada and U.S., you can keep clothing out of landfills and reduce your environmental impact by following the three R's: Reduce, Reuse, Recycle. And recycling should be the last resort.
"The best thing we can do for the planet is cut down on consumption and get more use out of stuff we already own," says Corey Simpson, a Patagonia spokesperson.
Reduce
The priority should be to reduce the amount of gear that gets made and contributes to environmental degradation by using precious resources and producing detrimental waste products. The single most important thing you can do is simply buy less gear and apparel.
A 2014 report by the World Resources Institute found that the average consumer bought 60 percent more clothing than they did in 2000, and that it lasted half as long.
"Slow down and think before you buy. Buying feels good, for a moment. We've been preconditioned to keep up with the modern trends, feed our shopping highs and prop up an apparel industry that contributes up to 10 percent of the pollution driving the climate crisis. But it doesn't have to be this way. We all have the power to change the way clothes are made. When you need something, we recommend buying used, repairing what you wear out, and demanding recycled, Fair Trade, and organic," says Simpson.
Purchase quality goods and apparel that will last longer, something we always stress in our in-depth reviews. Spending a few extra bucks now could keep your shell or shoes out of the landfill for years to come. Try to buy from brands that have a guarantee and use quality, sustainable materials.
"Always check the recycling math, says Simpson. When it comes to recycled goods, keep your eye out for misleading percentages. '50% more recycled material' sounds great until you find out the product only contained 1% recycled material in the first place."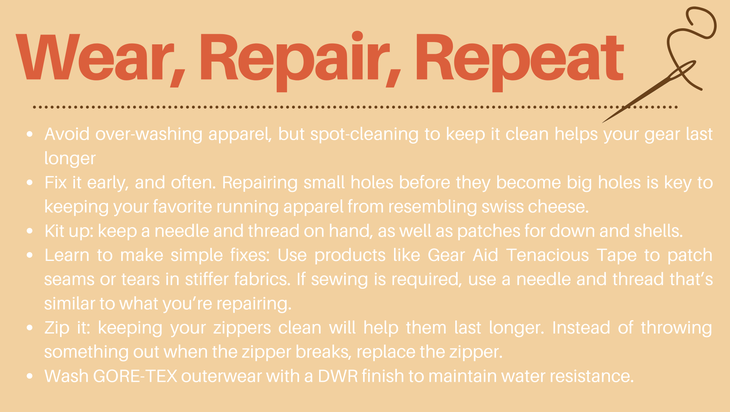 Reuse/Repair
Keep your gear in the game longer to reduce your footprint. According to the Waste and Resources Action Programme, using a piece of clothing for nine additional months can reduce that product's associated CO2 emissions by 27 percent, its water use by 33 percent, and its waste by 22 percent.
If a shell starts to feel leaky, slap some NikWax on it to improve waterproofing. Only wash your gear when it's absolutely necessary to minimize wear and tear. Spot clean when you can, and read the washing instructions to make sure you're giving your gear its best chance to survive the spin cycle.
If you're truly done with a piece of gear or apparel, try to find a new home for it. Patagonia's Worn Wear or REI's Used Gear are great resources for re-homing good gear. Online resources like GearTrade or Facebook Marketplace can also help find a willing user to extend the life of your gear.
Learning to fix your own gear is a great way to extend its lifetime. Adhesive patches can work wonders on down and shells, while even those of us with inexpert hands can wield a needle with enough efficiency to keep some shorts together.
For DIYers, ifixit.com has incredible tutorials on how to repair a variety of technical apparel and running gear. Consumers can bring Patagonia products that need more complicated fixes into a Patagonia store, or send them to Patagonia's Repair Center in Reno, Nevada, one of the largest apparel repair facilities in the U.S. REI offers a range of repairs too; from fabric to footwear, REI connects you with a repair person or cobbler to fit your needs.
Recycle
Getting rid of your gear and apparel should be your last option, but it is better than tossing it in the garbage. TerraCycle, a recycling and waste management company will accept almost anything through their recycling programs. Users can order a Zero Waste Box to fill with clothing, shoes and hard sporting goods. The only "sporting good" TerraCycle specifies they won't take? Live bait. Fabrics and hard goods are sorted into respective categories, such as nylons, cottons, plastics and metals then either upcycled or recycled appropriately.
"Recycling any sort of otherwise unrecyclable material is important and benefits the environment in two distinct ways. Most visibly, using post-consumer recycled material in new products proactively eliminates the need to extract additional fossil fuels from the earth which are used to make new "virgin" plastics," says TerraCycle's Alex Payne. "Since 90 % of the average product's environmental impact comes from extracting and refining the raw materials from which it is made, this offset is quite significant."
Nike's Reuse-A-Shoe program accepts old shoes at Nike and Converse stores, then breaks them down into their component parts to be recycled into new applications.
Rubber from the soles can has been melted down for use in running tracks and playgrounds. Foam can become underlay for basketball courts, and fabric uppers become padding for facilities like basketball courts or goal posts.
Patagonia will also accept the brand's products for recycling at retail stores.
"According to a 2019 McKinsey report, apparel purchases have increased by 60% over the past 15 years, while the average lifespan of each garment decreased by half. Our criteria for the best product rests on function, repairability, and, foremost, durability. Among the most direct ways we can limit ecological impacts is with goods that last for generations or can be recycled so the materials in them remain in use. Making the best product matters for saving the planet," says Simpson.
Reduce what you buy. Reuse as much as you can, and recycle the rest. While we're not going to gear ourselves out of the climate crisis, being just a bit more mindful about your gear is a great way to make an impact.
Zoë Rom is Associate Editor at Trail Runner magazine and host of the DNF podcast.