Glacier Collapse Threatens UTMB Trails
Heading out the door? Read this article on the new Outside+ app available now on iOS devices for members! Download the app.
One month after 2,300 runners toed the line at the Ultra-Trail du Mont-Blanc, part of the course has been closed due to rapid glacial melt.
A glacier on the Italian side of Mont Blanc glacier is at risk of collapsing from melt linked to climate change. The Planprincieux Glacier sits on the Grandes Jorasses peak on the Mont Blanc massif above Courmayeur, Italy.  The small resort town is the halfway point for the UTMB and the starting point for the TDS and CCC races. 
Scientists have been using radar technology to monitor the glacier since 2013, and detected the accelerated melting via radar this summer. A summer heatwave is causing a lower chunk of the glacier to melt at a rate of two feet per day, according to glaciologist and alpinist Ulyana Horodyskyj, who has climbed Mont Blanc.
"The high air temperatures this summer have led to more melting and faster movement of the glacier down the mountain," says Horodyskyj. "The glacier is always moving and always has a large crevasse, but this summer it's melting faster and the crevasse is bigger." The part of the glacier below the crevasse could break, and separate entirely. 
If it collapses, 250,000 cubic meters of ice could tear away from the mountain and crash into trails, roads and alpine refuges below. That impending danger has prompted road closures and evacuations. 
"For this region, in particular, the biggest impacts will be on tourism," says Horodyskyj.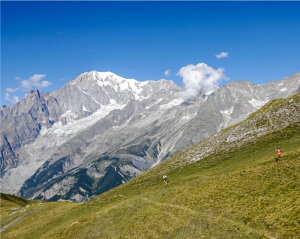 Glacial melt could endanger trails like those on the UTMB course, and also affect local water supplies. Though it's impossible to predict when exactly the glacier could collapse, the glacier's speed has local officials and scientists concerned. 
"These phenomena once again shows that the mountain is going through a phase of strong change due to climatic factors. Therefore it is particularly vulnerable," said the mayor of Courmayeur, Stefano Miserocchi, in a statement. 
Scientists have been monitoring thousands of glaciers across the Aosta Valley Region. Temperate glaciers, like the ones on Mont Blanc,  are essentially at melting point. Liquid water coexists with glacial ice, which makes them especially vulnerable to temperature variation caused by climate change. If greenhouse gas emissions continue at their current rate, alpine glaciers would shed half of their ice by 2050. They could lose over 80 percent of their ice by 2100, according to Horodyskyj. 
Italian Prime Minister Giuseppe Conte warned the United Nations General Assembly last week that this news just the beginning, and that Mont Blanc's future "must shake us all and force us to mobilize".