Running Up For Air: Ten Years Later
After beginning in Salt Lake City to address air quality concerns, the RUFA series now has five different races aiming to make a difference.
Heading out the door? Read this article on the new Outside+ app available now on iOS devices for members! Download the app.
It took exactly three laps of Mount Sentinel before I remembered the dead woodpecker. 
The red-cheeked flicker startled me at first, unmoving by the side of the road as I ran past to participate in the Running Up for Air event in Missoula, Montana. The winged casualty brought to mind a viral video from earlier that week in Chihuahua, Mexico, where a surveillance camera caught hundreds of Yellow-headed blackbirds falling from the sky, thought to have passed through a toxic patch of the region's air pollution. After further review, ornithologists doubted pollution as the culprit, instead citing some follow-the-leader flocking failure. Regardless, the haunting image caused me to take air quality extra seriously on this day. 
On February 12, Runner's Edge teamed up with Climate Smart Missoula, a local climate action nonprofit, to sponsor the city's second annual Running Up For Air fundraiser. RUFA started ten years ago in Salt Lake City as a grassroots effort led by Jared Campbell and other local runners to address the city's poor air quality. Salt Lake City is infamous for having some of the worst municipal air pollution in the world, worse at times than Jakarta or New Delhi. What started as a community effort up Grandeur Peak grew so popular that now there are five RUFA events: three in Utah, one in Colorado, and one in Montana, plus more planned. CUFA events (Climbing Up For Air) are emerging, too. 
Every RUFA event follows five simple steps: 
Select the amount of time you wish to run (three, six, twelve, sometimes twenty-four hours).

Run up a mountain. 

Run down a mountain. 

Repeat as many times as you can in the allotted time. 

Fundraise before, during, and after for local clean air initiatives. 
Missoula's RUFA route starts at the famous M trail on the eastern edge of the University of Montana campus; ascends two miles to the top of Sentinel; wraps around its southern flank to lollipop back to the M; and down. Four miles and nearly 2,000 vertical feet per lap.
Due to its glacial-cut valley (the area that would become the city spent thousands of years submerged under Glacial Lake Missoula), Missoula often holds a thick layer of polluted air via atmospheric inversion (as seen in this 90-second video), much like the weather seen in Salt Lake City. In winter months, cold air can become trapped beneath a blanket of warm air, pinning dust, exhaust, industrial emissions, and wood smoke closer to ground level. Lung level. It's not uncommon to go for your afternoon run and notice a low-lying haze settling in the valley. 
During summer months it can be worse, the valley holding wildfire smoke for days or weeks, crowning Missoula the 12th most polluted city in the nation for short-term particle pollution.
For this year's event, there was no inversion – at least not yet. In fact, the most hazardous thing I noticed upon arrival wasn't foul air but a three-year-old kid in an orange puffy holding a wand lighter and trying to ignite the event's propane tank. Luckily, he couldn't produce a spark, but he did represent something I love about Missoula – it's a community of learn-by-doing and trial by fire, even if lighting your hair on fire teaches you a lesson or two about combustion. And combustion was why over one hundred of us gathered on this day.
RELATED: 5 Classic Vertical Races in the U.S.
"After you see all this pollution from the mountaintop, what are you going to do about it?"
Alex Hanich, a thirty-one-year-old filmmaker and mother from Missoula, ran the twelve-hour event from six a.m. to six p.m. It was the first official event she'd ever registered for.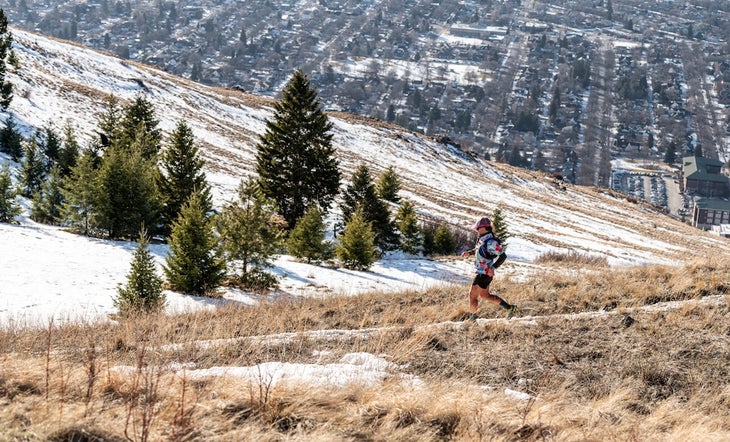 "I just love how Sentinel hangs over our valley. I love the stories of the Indigenous Blackfeet and Salish's relationship to the mountain. So powerful. But in the wintertime you can see the inversion so clearly," Hanich said. "It doesn't just affect runners; it affects everyone. As I ran, I thought about what summers feel like here. The heat. The smoke. Having to run before sunrise because the air quality gets so bad from smoke. After seeing this pollution from the mountaintop, I ask myself: What are you going to do about it?" 
So she did something. She pledged to raise $500 for Climate Smart Missoula, a goal she surpassed. 
"No matter who you are, you can be part of climate solutions."
Abby Huseth, Climate Smart Missoula's Outreach Director, joined the six-hour run – also something she'd never before attempted – and was overjoyed by the event's success. 
"It just makes so much sense for a community like Missoula," she said. "It's great to offer such a visceral connection between clean air, health, and the outdoor community." 
Huseth was certain this year's event would double the amount fundraised in 2020. A majority of the funds support CSM's Clean Air Program, which, among other things, purchases and distributes HEPA air filtration systems for the city's most vulnerable populations. They work with the Food Bank, the All Nations Health Center (formerly Urban Indian Health Center), the Office of Emergency Management, Missoula County's Sustainability Office, Missoula Aging Services, and others. 
Climate Smart Missoula was conceived in 2015. Soon after, they received a grant for their Summer Smart Program, in response to extended wildfire seasons and extreme heat, to address community needs around indoor air quality. "It's been part of our DNA for a very long time," said Huseth. 
RELATED: 4 Environmental Laws That Athletes Should Care About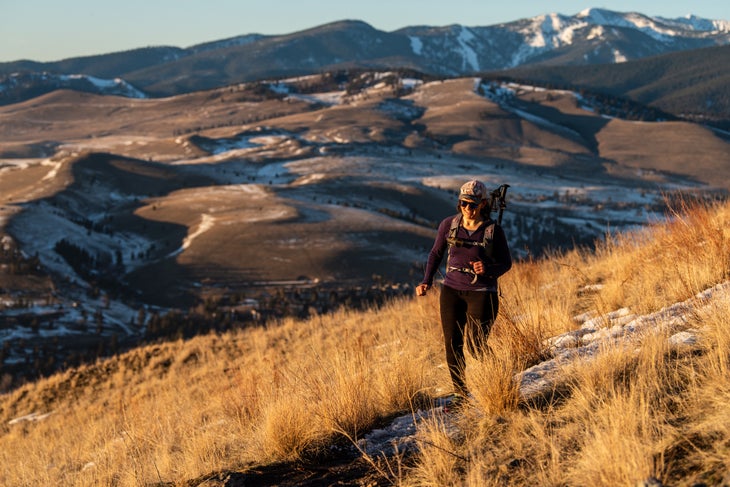 She also stressed the critical connection between local air pollution and larger concerns about climate change. "We have to both mitigate our contribution to climate change – cutting emissions as much as we can – but also realize that the impacts are here and now, and they will continue to be, even if we stop burning fossil fuels today. As a community, we need to figure out how to also build resiliency.
"The climate crisis can be so vague and abstract. But locally is really where we see the impacts. With air pollution, people can see it. They can smell it. This can really open up conversations around climate mitigation. It's where the rubber meets the road. Events like Running Up For Air are a great way to bring more folks into the conversation. No matter who you are, you can be part of climate solutions." 
As the sun set on Missoula and a waxing moon rose from the east, the sky purpled and a haze slivered across the city as my microspikes struggled to grip a slurried mix of mud and ice to finish the fifth and final descent of my own six-hour trek. At one point, I stopped to watch a mile-and-a-half train pull into town, a train stuffed with coal for export, and I was reminded of the larger structural work yet to be done, to confront this voracious resource appetite of ours. 
In total, one hundred participants climbed over 850,000 vertical feet to raise over $10,000 for clean air, doubling the amount raised in 2020, just as Huseth had hoped. Everyone ended up in the warming tent, tired and circling stacks of pizza boxes to the tune of bluegrass. Mike Foote and Dakota Jones, two Montana elite, encouraged runners as they arrived.
All of us, doing what we can. All of us, under one tent.