Raising Climate Awareness, One Stride at a Time
A Vermont professor's plan to promote environmental engagement by running 171 miles across Iceland.
Heading out the door? Read this article on the new Outside+ app available now on iOS devices for members! Download the app.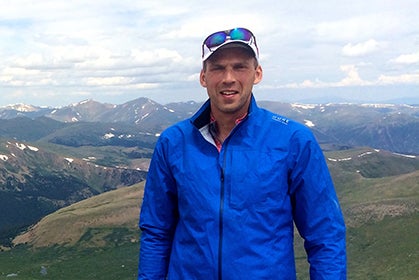 A professor at Vermont's Sterling College has a unique idea for raising awareness about climate change: run across Iceland.
Next June, Pavel Cenkl, 43, of Craftsbury, Vermont, will set out from Iceland's Atlantic coast and end up at the Arctic Ocean, three days and 171 miles later. The semi-supported solo run, named Kjölur Run, will take him past the glaciers, thermal springs and waterfalls of Iceland's Kjölur Plateau.
Cenkl is something of a multi-sport academic: in addition to typical-sounding courses like Literature of the Northeast, he teaches courses in Adventure Literature, Rock and Ice Climbing and—wait for it—Trail Running.
"My academic work has focused on the relationship between people and the natural world," says Cenkl, who, in addition to serving on Sterling's Environmental Humanities faculty, is Director of Athletics and coaches the school's trail-and-mountain-running team, the first of its kind on the U.S. collegiate scene. "I see significant interweaving between helping students understand and enjoy physical challenge outside and studying the way humans interact with nature."
Iceland holds special significance for Cenkl—he first visited the country as a 5-year-old, and returned in 2007 to teach a field class—which was one reason that he chose to locate his run there. But Iceland also has broader symbolic weight when it comes to the climate.
"[Iceland] is at an ecological crossroads," he explains. "The Arctic is where the impact of climate change has already been felt most keenly, and Iceland itself has seen significant glacial recession."
With Kjölur Run, Cenkl hopes to encourage athletes and adventurers to think about the role they can play in confronting climate change.
"As outdoor athletes, we are unique in the ways that we depend on a consistent and active relationship with our environment," Cenkl says. "We're out in it all the time and often witness subtle changes in seasonality, temperature or snowpack more keenly and more immediately."
More information on Kjölur Run and how to support it can be found on the project's blog.