How Trail Runners Can Offset Their Carbon Emissions
What are carbon offsets, and how can trail runners use them to run more sustainably?
Heading out the door? Read this article on the new Outside+ app available now on iOS devices for members! Download the app.
As more and more runners are vaccinated, many are looking at fuller race calendars and increased air travel for run-cations and races. 
 In the United States, the average person emits around 386 kilograms of CO2 each year from domestic flights. The Environmental Protection Agency, or EPA, reports that aircraft contribute 12 percent of U.S. transportation emissions, and account for three percent of the nation's total greenhouse gas production.
"People are starting to travel post-COVID, and we're going to see emissions go back up again. It's super easy to figure out your travel footprint and offset it to travel more sustainably, says Alice Madden, Executive Director of the Grethes-Wilkinson Center for Natural Resources, Energy and the Environment at the University of Colorado Law School. 
While three percent isn't huge, we still need to get that to zero to achieve the "net-zero" (point at which carbon emissions are reduced to zero through reductions and offsets) by 2050 to avoid the disastrous effects of warming the planet beyond 1.5 degrees Celsius above preindustrial levels. While offsets represent a "band-aid" solution, the overwhelming scientific consensus is that we need to make big changes in a short amount of time. Any action that trail runners can take, both individually (through offsetting personal carbon footprints) and collectively (through policy and advocacy) is a step in the right direction. 
The North Face has been offsetting emissions associated with athlete expeditions since 2017, and views offsets as a critical tool for reducing emissions while enabling big adventures. "We are aware that our travel has an impact on the environment, and while offsets are not a perfect solution, they ensure that our expeditions don't add to the challenge we are working to address," says Carol Shu, Senior Manager of Global Sustainability for The North Face. 
So, what's a runner to do if you can't go full Greta Thunberg and sail to your next competition?
RELATED READING:
A Trail Runner's Guide To Environmental Justice
These Eight Trail Runners Are Changing The Game
What Are Carbon Offsets?
One solution to minimize the environmental harm caused by air travel, or any travel, is carbon offsets. A carbon offset represents one metric ton of carbon that has been avoided or sequestered through a specific project in response to emissions. Basically, an individual or an organization can pay someone else to cover emissions they can't reduce themselves. While it doesn't actually change the amount of carbon coming out of your car or plane, it acts as an accounting mechanism to help you balance your carbon budget. 
To offset your carbon emissions, you first need to calculate your footprint for a specific project or trip. Protect Our Winters has developed a tool with The North Face aimed at outdoor athletes that calculates your footprint, and lets you purchase offsets with just a few clicks. 
How Can Athletes Get Involved?
North Face athletes use expeditions to test gear performance in extreme and harsh conditions, and on these trips, were exposed first-hand to the effects of climate change. Some athletes have even leveraged expeditions to collect climate data on glacial melting, diminished snowpack and avalanches. 
In 2020, after five years in development and internal use, The North Face and POW launched the Carbon Calculator. The calculator was created to empower explorers to learn about and reduce their carbon footprint, according to Shu, who helped develop the calculator. "Understanding the footprint of different elements of travel is key to making better decisions. For example, learning the carbon impact of various transportation methods and utilizing that information to make more mindful decisions, while ultimately having a simple way to offset said travel."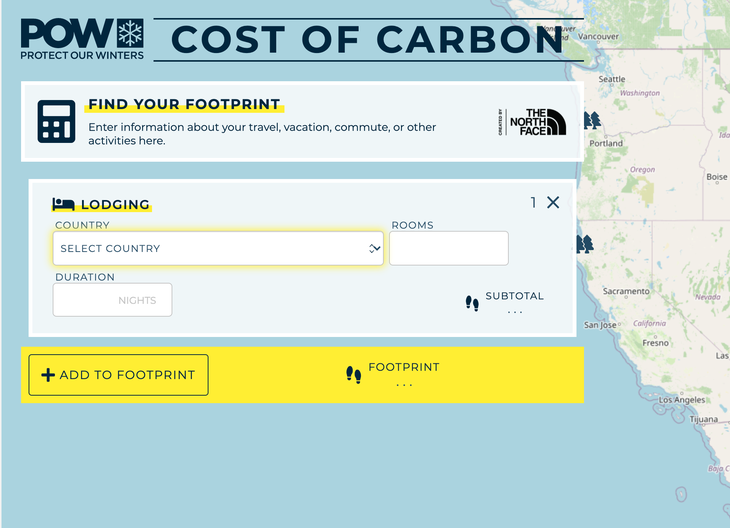 After you type in how and where you're traveling, POW's calculator shows you your footprint (you can even combine several types of transportation, for instance, driving to the airport). It then gives you several options to choose from in offsetting the emissions you produce. Specific carbon offset projects include landfill gas capture, improved forest management, livestock gas capture, grassland conversion prevention, urban forestry, waste management, industrial process emissions reduction and energy efficiency. 
For instance, if I pay eight dollars to offset the emissions of a flight from Denver to Portland, that eight dollars could go towards investing in better management of forests in California, or maintenance of mangroves in India, or to pay a farmer not to cut down trees in Brazil. The idea is that my money goes towards a project that would have the effect of removing an equivalent amount of carbon from the atmosphere or preventing the addition of that amount of carbon to the atmosphere by other means. Some offsets could buy cleaner-burning cookstoves in developing countries that reduce deforestation for firewood, or finance a wind turbine generator that would displace fossil fuels on the power grid. 
The registration platform UltraSignup is working on building carbon offsets into the sign-up process for trail races. Starting this summer, runners will be able to opt-in to a $1 carbon offset when they sign up for a race. Soon, David Callahan, partner at UltraSignup, is hoping to transition to a process that will automatically opt runners into an offset calculated to cover their travel emissions. 
"It is our responsibility, as stewards of the land, to leave no trace. This is widely understood when it comes to leaving physical trash on the trails, but it is just as applicable to the carbon footprint that we leave as a result of our racing. This carbon footprint, cumulatively, will lead to detrimental environmental change that we will all suffer from in the years to come. Currently, we cannot say that we are leaving no trace," says Callahan. "Carbon offsets are an important tool because the total carbon footprint of races is dominated by racers' travel to and from the events (in the 97% range of the event's total carbon footprint). This is meaningful and each participant in the system can do a little to fully offset their carbon load." Callahan says trail runners and race directors should be uniquely invested in the fight against climate change because the likelihood of climate-change interfering with races and running through fires, mudslides, flooding and other environmental events is increasing. 
"Race directors should care, first, because they are runners as well and they share the same environmental responsibility. In addition, their business livelihood depends upon trails that people want to run upon," says Callahan.  
What To Look For In Carbon Offsets
Good projects should be permanent and enforceable. For instance, if you buy a credit to prevent the conversion of grasslands to farmland, those grasslands need to stay grasslands, forever, for the offset to be effective. They must also be additional, meaning, they wouldn't just happen if not for the offset. 
Carbon offsets are unregulated, so you may have to do your own research to ensure the project is reputable. If a carbon offset seller doesn't list all the projects in their portfolio (basically, the specific projects they're using your money to fund) and provide third-party certifications for each, that's a red flag. Check out the projects to make sure they've been approved by a reputable organization or certifier, like the American Carbon Registry, Climate Action Reserve or Verra. These organizations develop protocols for ensuring that projects are up to snuff and post lists of approved offsets. Transparency is another good indicator of a project's effectiveness, and programs that are poorly devised, implemented and run may not deliver on the reductions they promise. 
An Imperfect Tool
Even in good carbon projects, nature can get in the way. Drought, storms and invasive species can weaken trees in forestry projects and reduce the carbon stored. In one case, a wildfire in Oregon ended up releasing carbon from a would-be store.  
Some critics say that carbon offsets simply allow the wealthy, responsible for burning the most fossil fuels, to pay their way out of feeling guilt or responsibility without examining or changing their consumption habits. Another critique is that if purchasing offsets becomes so cheap and convenient, people will just buy offsets rather than making critical lifestyle changes. 
"I don't think that's a good-faith argument," says Madden. "Anything we can do to start moving towards carbon neutrality is vital, and this is a way that many more people can participate in that process."
"We have not received any criticism yet, but we can see skeptics lurking. The problem is so enormous and, in the grand scheme of climate change, trail runners are a small part," says Callahan. "It is going to take the actions of our trail running community, in addition to thousands of other small communities, to effect the change we want to see."
As runners and individuals, its best to not view offsets as a panacea, but just one more way of engaging on the issue, however imperfectly, while moving towards equity and climate action. 
"This is just one of many tools, and there are so many things we need to do. Urge your university, employer, whoever to offset carbon for travel," says Madden. Don't underestimate what an action like that adds up to! I may just be giving $20, but if every single person did that, it'd be very impactful."