How Footprints Running Camp Uses Trail Running to Support the Next Generation of Climate Leaders
Dakota Jones combines his love for trail running and environmental stewardship in his Footprints camps. 
Heading out the door? Read this article on the new Outside+ app available now on iOS devices for members! Download the app.
Dakota Jones is always looking for ways to connect the dots. 
He's looking for ways to use the constellation of running, environmental stewardship, and time spent above treeline in the terra cotta and emerald San Juan mountains of Colorado. Jones' formative experiences brought him closer to the environment and inspired him to pursue studies in mechanical engineering at Montana State University, in the hopes of better bridging that gap in his own life. 
In 2018, Jones, based out of Bozeman, Montana,  attended fellow runner Geoff Roes' run camp in Juneau, Alaska. He loved the relationships he formed with other athletes through days spent on long trail runs at camp. Something clicked. 
"I thought, I want to do this too. I'm an environmentalist, and I want to take action. A camp could be how I do that," says Jones. 
The Spark
Jones started reaching out to friends and fellow athletes like Clare Gallagher to form the foundations of what would become Footprints trail running camp. The name Footprints refers to the fact that everyone has a footprint, no matter how much you try to minimize it. Everyone, every runner, has an impact, and Jones wanted to harness that impact for collective climate action.
"I wanted to acknowledge our impacts and point out that being imperfect doesn't disqualify us as being advocates. But acknowledging your weaknesses is the best way to become stronger," says Jones. He connected with athletes, activists, scientists and storytellers to establish an inaugural class of mentors that could help shape and guide campers' projects. "Footprints" also alludes to the idea that participants are following in one another's footprints, and running from mentors and other campers alike. 
"Trail runners tend to have a particularly deep affection for the places we run. We notice the subtle year-to-year changes and care deeply when we see our favorite spots being damaged by climate change or careless degradation," says Moira Hough, a post-doctoral Scholar at the College of Forest Resources and Environmental Science at Michigan Tech University. "But we often feel powerless as individuals against the magnitude of the problems we see."
"Footprints constructively gives runners that missing link to turn their passion and observations into action to protect the places we love to play," says Abby Levene, a mentor and professional trail runner.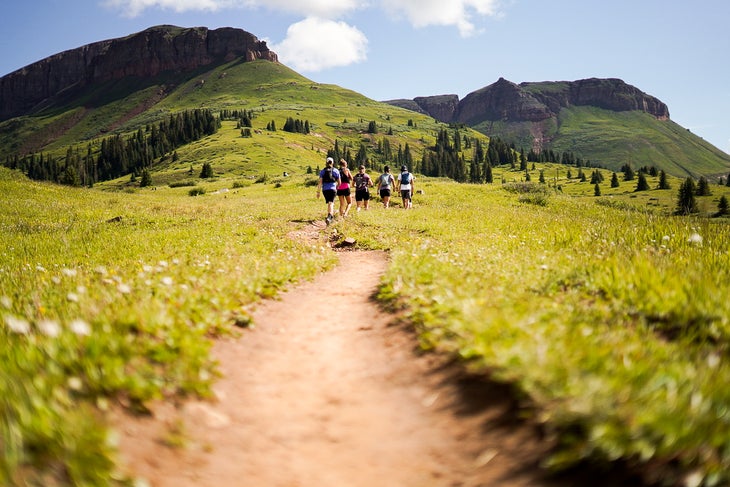 The Solution
Trail running was a poignant platform to start discussions around climate. The trail runner to climate activist pipeline is short, and Jones is interested in activating and educating the growing number of potential environmental stewards. 
"As trail running and this community of runners expand, so too will the number of runners who, upon understanding and experiencing our natural environment, choose to invest, give back, and protect the awesome places we all call home," says Paul Edlund, a 2021 camper and program manager at Montana State University's Office of Sustainability. 
Each participant pitches a community-oriented project as part of their application. Footprints emphasizes collective action over individual action, prioritizing projects that would have the most impact. Projects included:
studies of water quality and algae blooms

film projects to support underserved youth through running in New Mexico

a camp for nurses to develop their medical knowledge through environmental study to inform them of how environmental problems impact health

a photojournalism project to unite different sub-communities in Indiana

university sustainability programs

a bike commute program

an after-school mountain-skills program for girls

.
The projects proposed offer solutions as complex and variable as the problems they look to remediate. 
"I wanted to acknowledge our impacts and point out that being imperfect doesn't disqualify us as being advocates. But acknowledging your weaknesses is the best way to become stronger."
"We want to encourage our campers to experiment with projects at a scale that we can actually make a difference in our own communities," says Nate Bender, marketing director at Footprints.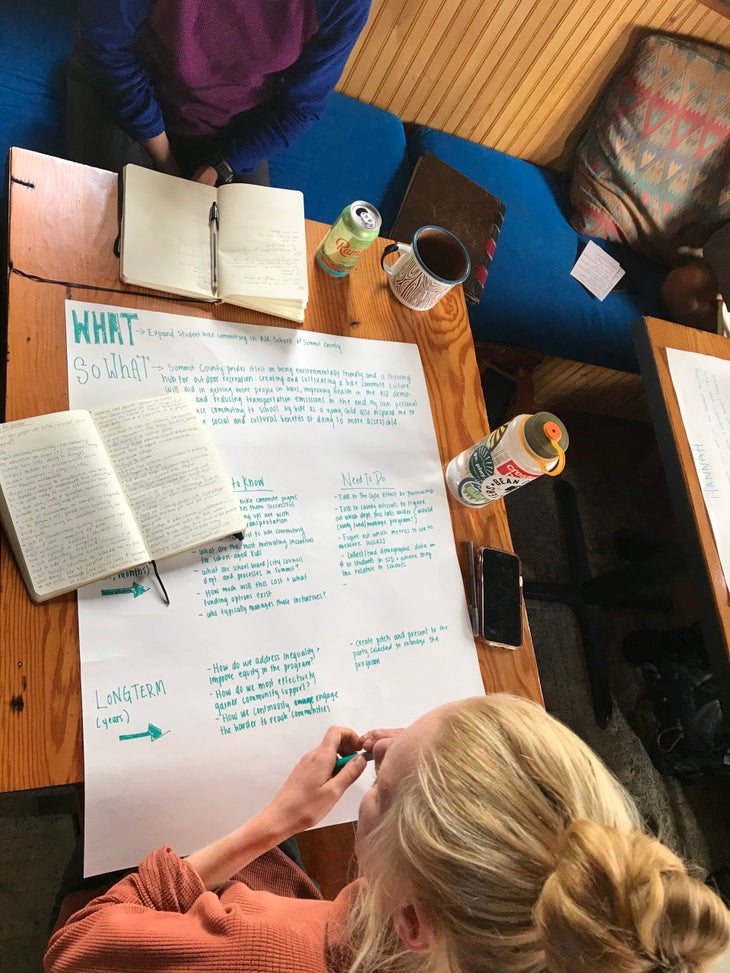 Campers spend a week at the Opus Hut, a scenic, off-the-grid mountain hut high above Colorado's San Juan mountains,  armed with a project centered on what their community might need most. They're given the mentorship support and feedback from other campers that helps them alchemize their project plans into a community reality. Mentors push participants to consider tough questions around their projects.
"What are you passionate about? What do you want to do with your life? What kind of difference do you want to make?" says Bender. 
Campers lovingly referred to it as a "purpose-finding camp" as opposed to a running camp. Grace Williams, a camper, says the experience dramatically altered the arc of her academic studies, and ultimately, her life. Her original project idea morphed into a photojournalism and storytelling project that includes writing and photos that combine philosophy, sport and mental health that is now her final thesis for school. 
"You don't need to be the most accomplished runner, college student, scientist, or human in the world to get involved. Footprints is an incubator to cultivate passion into action. If you're motivated you have all the credentials you need," says Levene. 
Integration
On the final day of camp, mentors and campers woke early and crept quietly out of the Opus hut to summit a nearby peak. They gathered in a circle on the windswept summit, as mentor and pro skier Connor Ryan led a reflection about the attendants' shared passion for environmental stewardship. 
"We all went around the circle, many of us crying, saying our thank yous and goodbyes. We put our hands in the middle, yelled 'Footprints!' into the air, and all walked our separate ways as if it represents going out into the world to do the work and enact the dreams we finally had the courage to seek," says Williams. 
The Future
Footprints is back on this year, and currently raising money for their next year's operations. They're hoping to expand the number of resources they're able to offer to help other runners put their passion for the environment into action, and expand the services and support they offer campers. 
Hough's work as an ecologist informs her approach to mentorship and gives her a unique perspective on Footprints' efficacy.
"For those of us who care about these issues, it is easy to be overwhelmed by the large scale of the problems and to feel like they can only be solved by politicians far away," says Hough.  "But as much as we need policy at the national and international level, we also need individuals and groups protecting their local forests or mountains."
"Footprints is a welcome break from the daily grind of work, training, and life to take a step back and reflect on why we bother with any of this. Spending a week holed away high in the San Juans last summer reconnected me with the landscape and the people that make trail running such a valuable component of my life," says Levene. " I learned so much from both my fellow mentors and the mentees. The next generation is filled with bright minds, warm hearts, and eager hands and it fills me with hope during what has been a dark start to this decade."
Above all else, Jones and his Footprints companions are motivated by an unwavering love for the natural places that allow us to work, play and run. And rather than despairing when things look grim, they're moved to action, and to give back. 
"When we receive a gift, like running down single track at golden hour or high fiving a friend at the end of your favorite trail race, the next natural step is to give back. And if you don't know where to start, Footprints is the place to learn how to give back to this place we call home," says Edlund.
Applications for next years camp are open until April 1, 2022.
RELATED: How Trail Runners Can Offset Their Carbon Emissions