Fires Could Change Trail Running As We Know It
How climate change, and with it, an increase of fires and heat, is affecting our sport.
Heading out the door? Read this article on the new Outside+ app available now on iOS devices for members! Download the app.
The snow melted just in time for race director Richard Betancourt to prepare the single track for Grey Rocks Trail Race in Washington state's rugged Cascade Mountains. Then it hit 113 degrees. 
"The fire crew left me a voicemail," said Betancourt, who works with a public lands manager regularly on trail conditions. "He told me, 'Hey, we're going to need to cancel the race. It's way too dangerous. The sparks from the vehicles, a muffler or anything like that, could spark a fire, and there's no way out.'" 
Betancourt held the phone in disbelief. After scrambling to get the race together under state COVID restrictions, registration numbers were finally on trajectory for a sell-out event. But understanding that safety of the runners and volunteers is above all else, he rushed to send cancellation notices before more people could sign up. 
RELATED: Should You Run in Smoky Air? Probably Not.
The fire danger for Grey Rocks – among the dozens of other axed races in the state – came amid the historic heatwave in the Pacific Northwest. It created hot, dry conditions that could instantly trigger a catastrophe if dry brush or grass were to be met by the smallest ignition. That means people driving up to the starting line of the race could easily cause a fire on a narrow forest road – with no escape routes. 
"This would have been my seventh year running this race. Back then, the weather was fine. It's been hotter since I've been race director," Betancourt said. 
It's an observation shared between climatologists and life-long runners in the Pacific Northwest.  
Recently, Washington state closed its public lands in Eastern Washington to recreational access in the face of extreme fire danger and ongoing drought. So far this summer, over 980 fires burned more than 170,000 acres. Collectively, that's a burn area twice the size of the city of Seattle. Looking south of the Cascades in Oregon is the month-long Bootleg Fire, a wildfire so bad that at one point it created its own weather with vortexes of heat, smoke, and high wind, according to the National Weather Service. 
Scientists measure a period of climate, defined as a long-term pattern of weather, over a span of 30 years, and that's about how long Tim Stroh has been running long distances.    As the saying goes, if data is the plural of anecdote, then noting the human experience in climate can give us a clearer picture of what's happening, and how it affects our sport.
RELATED: Our Favorite Trails Are Burning
"I've been running ultras since 1995. It is clearly different than it used to be," said Stroh, who is also the race director of The Plain 100 in Wenatchee National Forest, where alpine lakes and spares ponderosa pine forests dot the landscape. 
"So, The Plain has been going since 1997. The first two years we had snow on the course. In 2003, it was canceled for wildfires. In 2014, we had a modified course due to a wildfire. In 2015, we had canceled for wildfires. In 2018, canceled for wildfires. And then, of course, we had COVID this last year."
Even if the race continued in 2020 despite the pandemic, a cancellation was likely for the September race as historic wildfires burned across the Cascade Mountain Range from British Columbia to California. It trapped communities in a smoky haze with some of the worst air quality in the world. The Pacific Northwest is bracing for another smoke season just like it this summer. 
"You don't really have enough of a data set there to say too much, but that's pretty telling," Stroh said. "Regardless of how much you want to tie the current wildfire phenomenon directly into man-made climate change, you know, there are some things that are really different."
The director of the Oregon Climate Change Research Institute has plenty of data to show the trend, and it tells a story that dates back centuries. This year, Erica Fleishman's organization released a robust, 95-page climate assessment that evaluated everything from satellite images of weather patterns down to natural records of trees. 
RELATED: Do My Actions Matter?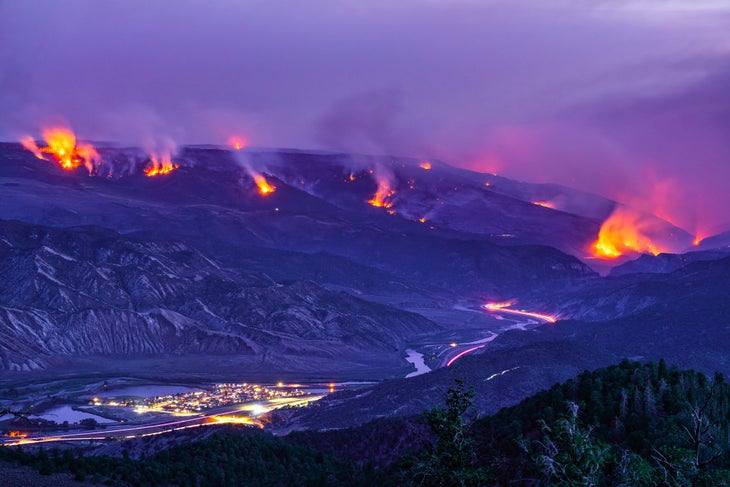 Into The Flame
When taking a closer look at charred western larches or ponderosa pines, their serrated burn scars tell a story of survival. Going inward, their growth rings detail years of its life and show when the fire happened through wavy, charcoal-lined grooves that circle around themselves closely like a vinyl record. In many northwest trees, the needle stops moving as notches become less frequent around the early 1900s when fire seemingly subsided. 
At that time, European settlers started to displace indigenous peoples. Unlike the first people of the land, they did not understand that fire has almost medicinal uses as it clears out dead debris, fallen foliage, and crowded canopies. The United States Forest Service chose suppression over Indigenous forest health practices. Rather than continuing to intentionally set small, fire, referred to modernly as prescribed fire,  the Forest Service aggressively stopped all fire in its tracks. As a result, the dense forests became a tinderbox, with overgrown vegetation and invasive species, ready to feed voracious, future fires.
Dark tree rings picked back up again in the 1970s when the Forest Service allowed fires ignited by lightning to burn again in wilderness areas. What this good fire does is recycle nutrients, feeding new growth for trees and wildlife. However, decades of poor wildland fire management merged with hotter and drier climate conditions now fuel the megafires we see today. These fires burn hot and long, damaging terrain to the point where future generations won't have a place to root, age, and thrive in their own rings. 
"When any precipitation or especially intense precipitation is falling on areas that burned at high intensity, there's more of a risk of flash flooding or landslides," Fleishman said. 
Over the next 50 to 100 years, Fleishman's organization projects that fire frequency will increase substantially, first on the eastern side of the Cascades — where fires historically have burned — and then onto the western, traditionally wetter, side. The fires will likely correlate with hotter days. This will immensely impact the lives and livehoods of people in vulnerable groups and communities historically underserved by the government. 
"People who are unhoused people, who are agricultural laborers, people in cities, parts of cities that don't have much shade, there are many groups of people who are disproportionately affected by those changes in temperature," said Fleishman, who noted that air pollution and wildfire smoke is also a public health concern. "When you have a large section of the population that doesn't have access to health care or for other reasons, is reluctant to seek out health care maybe because of their residency status or something like that, that it is more difficult for people to get treatment when they are exposed." 
The running community is no exception to experiencing its own loss. 
Runners On The Frontlines
As a runner herself, unprecedented wildfires that cancel races and create low-visibility smoke with hazardous air quality conditions isn't the only thing that concerns Fleishman. It's the extreme heat.
"There are always going to be heatwaves," Fleishman said, reminding me that even amid climate change there will be anomalous weather patterns. "But as climate is changing, heat waves are becoming hotter. There are a greater number of very hot days, and temperatures on those days are increasing."
"Early mornings are not as cool as they used to be," she said. "In general, there is a trend toward nights becoming warmer than days. So that cooling we really like to take advantage of across a lot of the west? A lot of us in the summertime, you just start your runs really early, because you have a nice window that feels really good before it gets hot. Are we not going to have that as much or are we going to have a shorter window? I mean to some extent, probably." 
Humidity also plays a damaging part. More clouds form over the warming Pacific Ocean as moisture rises from the sea surface into the atmosphere. It strongly influences nearby land in the Northwest with prevailing winds pushing moist-rich air over the region. Not only is the atmosphere warmer, but it now holds more water, which can contribute to heavy — but not necessarily more frequent — rain. While uncomfortable running conditions are nothing new for runners, warming temperatures partnered with an increase in humidity is a perfect storm for heat-related illness. 
Our bodies, like the forests and oceans, can only take so much.  
As the climate changes, Fleishman and health experts can only speculate on how close races or record attempts will come down to the most dreaded three letters in the running community: DNF. 
In some forecast scenarios, Oregon's annual average temperature could increase by 5 degrees by 2050 based on what humans are contributing globally with our abundant use of cars and energy that release carbon emissions, a greenhouse gas that wraps itself around the earth like a thick blanket, warming it. 
Because people can't see temperatures increase like wildfire smoke, it can be hard to grasp the severity of the impending change. Fleishman speculates that ultra runners participating in multi-day events will soon take notice, if they haven't experienced it already.
For trail runners, adaptation has always been a part of the deal, whether it's responding to unfortunate weather or managing an exhausted body. 
It takes several rounds of training or racing to best understand what our bodies need to perform well in certain environments. Right now, the changing climate is just one more thing to track in training plans.
As the seasons – and inevitably the climate – change, the running community will need to do more than keep feet to the ground. We'll need to put our ears there, too, listening to what our bodies and environments need as the uncertain future unfolds.  
Trail races and FKTs take place on the unseeded, ancestral land of indigenous people and their tribes across the west. The Plain 100, and Grey Rocks are on Yakima land. The Wenatchee National Forest overlaps Yakima and Wenatchi lands. The Western States 100 spans across Washoe and Nisenan land.