When My Passion Nearly Killed Me
An excerpt from Hillary Allen's Out And Back
Heading out the door? Read this article on the new Outside+ app available now on iOS devices for members! Download the app.
The following chapter is an excerpt from Hillary Allen's Book, Out And Back. You can get your own copy here. 
In August of 2017, ranked number one in the world skyrunning circuit, I signed up for one of the hardest ultrarunning races in the world: the Tromsø Skyrace in Norway. Tromsø was one of my last races of the season and a dream opportunity for me. I had never been to that part of the world, and the competition gave me the chance to test my running in a way I never had before. It was also a way to explore a new place, by foot—my favorite method.
When race day came, I was motivated, inspired, and physically in top form. The odds were in my favor not only to complete the race, but to win. The weather that day was perfect. I felt great, and for the first three hours, I performed great. I was at my best. But as I climbed the most technical ridge on the course, a rock gave way. With one step I felt the ground give way beneath my feet—and the horizon turned upside down.
I was airborne.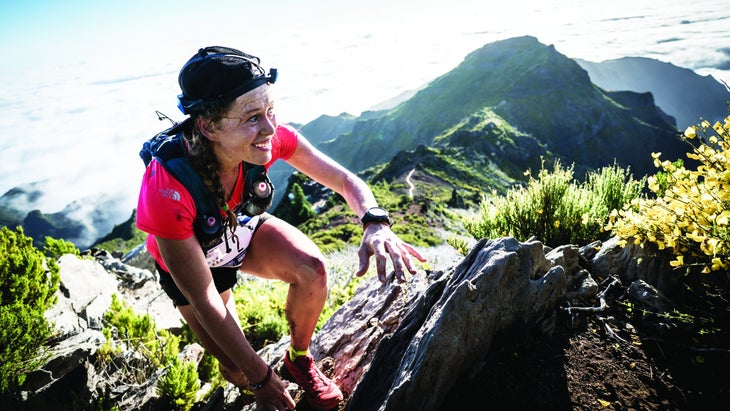 I was falling off the edge of a cliff.
I felt the first impact, then the second, then the third.
I hit the ground again and again and again. With each impact, I felt bones breaking, skin ripping. I grasped for something, anything, to stop my momentum, but I didn't know which way was up, and as soon as I hit the ground I was spinning and airborne once again. I heard my own voice, floating somewhere above my head, declaring to me, calmly, "Hillary, this is it. You're dying."
This was my death.
Relax.
You've got to relax.
Breathe.
It will all be over soon.
I came to on the mountainside. Somewhere between the six points of impact and the 150 feet I had fallen, I lost consciousness. I remember the vivid pain when I came to. The world was throbbing, pulsing in and out. I couldn't see straight . . . only blurred shapes amid the blackout pain. I screamed out when the pain came, hoping that yelling would somehow release the intensity of the agony rushing over me. I felt like I was being suffocated. Unable to breathe or relax, I kicked my legs out of reflex and frustration. Then I thought to myself, You're moving your legs; that's a good sign. You're not paralyzed. But then the pain would rush back. I shut my eyes tight, and flashes of red and yellow danced across my eyelids. It hurt so much I had to stop moving.
RELATED: 5 Things We Learned from Out and Back by Hillary Allen
Somehow, I realized, I was only in my socks. My shoes must have flown off my feet somewhere along the way down the mountainside, as I spiraled through the air like a tomahawk. I couldn't move my arms or hands, but tried to anyway. When I looked down, all I saw was a bundle of bones that didn't look like arms, and my wrists were turned the wrong way. There was so much blood. What was happening? I thought. What had just happened? I was confused, scared, and stranded—alone on the mountainside.
Suddenly there was a voice, and the face of another runner I vaguely recalled seeing earlier in the race. I had passed him as we ascended the steep part of the ridgeline, and we exchanged some words of encouragement. Why was he here now? Had he fallen too?
His arms were wrapped around me. His face was close to mine. Had he been here the whole time? He covered me with an emergency blanket—which was somehow still in the pack I was carrying—and later his jacket. He braced me and stayed with me, making sure I didn't fall any further down the mountainside.
Manu was his name, as I learned later. He had seen the rock fall, and me with it. Trained in first aid and wilderness responder training, Manu scrambled down the ridgeline after me.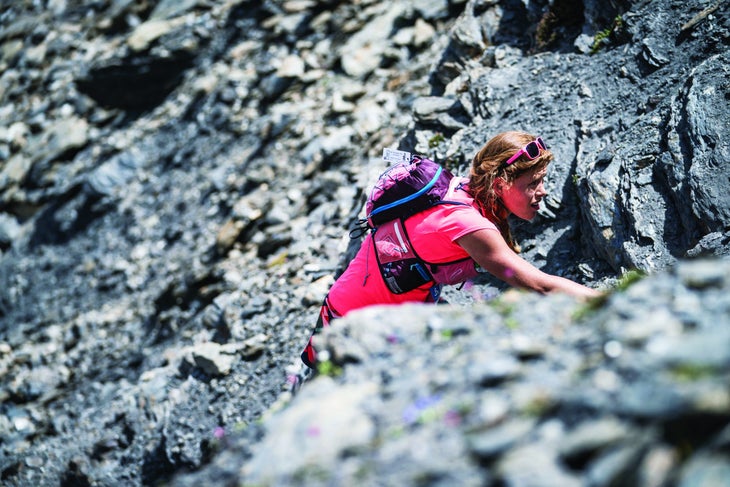 Others had seen me fall too. My good friend Ian Corless, a professional photographer who worked for the Skyrunner World Series, was perched on the summit of the ridgeline waiting for my arrival, but as I came around the corner, what he saw through his lens wasn't what he expected. Another good friend, Martina Valmassoi, was with Ian. Martina, a professional ski mountaineer, runner, and photographer for the sporting goods company Salomon, was terrified when she saw me fall off the cliff. They both thought they had just witnessed my death. Panicked, they quickly called race director Kilian Jornet, who called the mountain rescue team. Martina, Ian, and Kilian scrambled their way down to me on the side of the mountain.
As I lay there, seeing the fear in their eyes, their features expressed what I was already thinking: I'm dying.
Martina put her puffy jacket over me, mostly to cover the blood but also to keep me warm. My body convulsed, either from pain, loss of blood, or shock—I couldn't tell which. I focused on Martina's voice as she stroked my head and told me it would all be OK. As I continued to cry out in pain, she looked to Ian and Kilian with worried eyes full of urgency, desperation, and despair.
Where was the rescue team?
After an agonizing thirty minutes, I heard the bellowing sound of the helicopter. As it approached, the vibrations of its blades and the wind created in its wake pulsed over me. The rescue operation was starting. A doctor lowered onto the ridgeline and scrambled down to me to assess the damage. "Inhale," he told me as he sprayed something up my nose, some sort of painkiller. It dulled the pain, but not my confusion. My eyes took in the shapes of their faces . . . they were still full of fear.
From that point on things moved quickly. There was a lot of movement. There was a lot of pain. Ian, Kilian, Manu, Martina, and the doctor tried to stabilize me. They shuffled rocks around, trying to make room to hoist me up onto the cot. The agony was unbearable. Any slight movement sent pain shooting throughout my body. With every movement, I yelled out in anguish, my cries eventually dissipating into a whisper. I didn't know where the pain was exactly. I couldn't pinpoint it or figure out where it originated from—I felt it all over. As I was secured to the cot, the doctor fastened himself by my side and signaled to the helicopter pilot, who flew upward and outward from the side of Hamperokken Ridge. The feeling of falling swept over me again, and I closed my eyes tight.
RELATED: Rage On! Tommy Rivers Puzey Is Improving, But Still Battling Cancer
Breathe. It will all be over soon.
Once inside the helicopter, I heard myself whimpering. The vibrations of the chopper sent pain signals pulsing throughout my body. I looked to the doctor and asked, tears streaming down my face, "Am I going to be OK?"
His eyes met mine, trying to comfort me, as he replied, "We're going to the hospital; they will take care of you."
Once we arrived at the hospital I was in and out of consciousness. Everything was fast-paced, and so many faces surrounded me, cutting off my clothes, peering into my eyes with lights, asking me questions.
Could I move my legs or arms? Did I know who I was? Who was my emergency contact? I remember reciting my mother's phone number and giving them her full name. I had to call her. One of the head doctors told me we would contact her soon, but first I needed X-rays and an MRI to assess my internal injuries. Time was of the essence. Tearfully I asked again, "Am I going to be OK?" She gazed at me and in her Norwegian accent said, "We are going to do the best we can."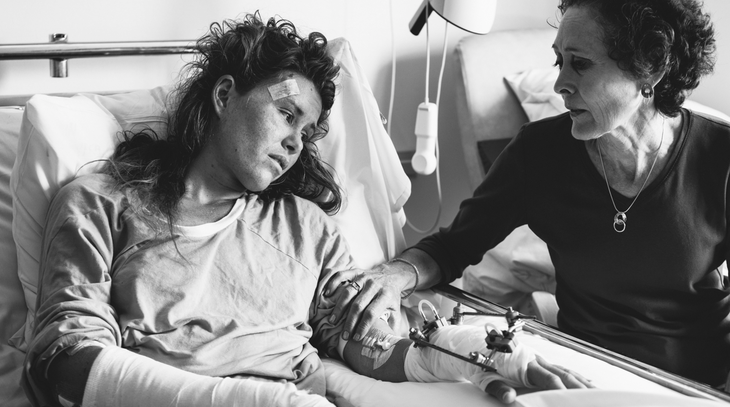 When I came out of the MRI, that same doctor took my hand. Astonishment evident in her voice, she said, "We are so surprised, Hillary. You have no internal bleeding and your legs are not broken, but you need to go into surgery to clean out your wounds and fix your arms." I asked for my mother again, but there was no time. I was rushed off into surgery.
After surgery, back in the hospital bed, the memory of the accident played in my mind over and over again. Every time I started to drift off to sleep, I felt like I was spinning in the air, crashing into the side of the mountain. I saw the faces of the doctors who rescued me. I remembered the feeling of being airlifted, the doctor hanging off the side of the cot as I was hoisted up into the helicopter. And the pain, red, pulsing through me with the vibrations of the helicopter.
I didn't know if I was going to be OK. I didn't know how bad it was. And the fear of the unknown was almost as biting as the pain.
When I awoke after the initial shock and surgeries, I recounted my injuries. I had broken a total of fourteen bones—including my back (vertebrae L4 and L5 in multiple locations), multiple ribs, both wrists, and my feet—one badly sprained ankle, and a serious rupture of a ligament in the other foot. I also had a concussion, and too many lacerations to count.
The helicopter had transferred me to the nearest hospital, in Tromsø, Norway. That's where I lay in the hospital bed, unable to
I was still in denial. What accident? What had happened? Someone fell? Who fell? Was it me? Why couldn't I move? Why was I there? I was scared and alone.
move. Friends and other athletes from the race came to visit me, but it was all a blur. Drowning in the intense pain, and yearning for my mind to stop replaying the fall, I swam in and out of consciousness. When I called the nurse for more morphine, it wasn't to stop the pain, but rather to numb my thoughts—the warm rush that fell over my body allowed my mind to become quiet, and to drift off to sleep.
I don't remember much from those brief moments of consciousness or the faces who came to visit, or even what they said to me about the accident. I was still in denial. What accident? What had happened? Someone fell? Who fell? Was it me? Why couldn't I move? Why was I there? I was scared and alone. I hadn't been able to speak with my mother yet, or with anyone from home. Emelie Forsberg, a friend and co-race director with Kilian, told me she had spoken with her and she was on the way to see me.
I was scheduled for another surgery on my wrist the day my mother arrived at the hospital. When her face appeared in the doorway of my room, I broke down crying. The look in my mother's eyes—of fear, concern, sadness, and simultaneous relief—caused reality to crash over me. I knew, right then, it wasn't a dream. I was the one who had fallen, almost died, and yet somehow managed to survive.
The next few days were brutal. In an instant I had gone from being extremely fit and capable to utterly dependent. I couldn't move or even get out of my hospital bed. I was weak, I was in pain, and my spirit was broken. I hadn't moved from my bed in five days. My mother saw me slipping away into depression, wanting to give up. The nursing staff saw it too. I was giving up.
One day one of the nurses told me, quietly and frankly, "This isn't the end for you, Hillary. Now it's time to fight. It's time to move out of this bed. You are not done yet." She swung my legs over the side of the bed and practically carried me over to a chair in the shower, where she helped wash my body and hair. The exertion it took to move made me nauseous.
The next day, I decided to get out of bed to have breakfast in the chair next to my hospital bed. It probably took me thirty minutes to move there, with my mother's help. When the nurse came in and saw me sitting near the window, she smiled and took my vitals. My spirit wasn't completely broken yet. I started to try. Every day I did just a little bit more. I went on "walks" down the hospital corridors with my mother. We found rooms or patios where the sun streamed in, overlooking the fjords.
I stayed in the hospital in Norway for two weeks before I had the strength and medical clearance to fly home to Colorado. But traveling internationally with my injuries was no easy feat. I couldn't walk, and Tromsø doesn't have a very big airport, or planes large enough to accommodate wheelchair access. So, my mother talked to Maeve Sloane, my athlete manager with The North Face, who arranged for a private jet to fly to Tromsø and take me to an international airport.
The pilot of the private jet was nervous to take me, given my condition, and hired a medical assistant to accompany me on the flight. The assistant basically carried me on and off of the airplane. We flew into Munich, Germany, where a team of experts hoisted me onto a special chair built for handicapped passengers and carried me off the plane.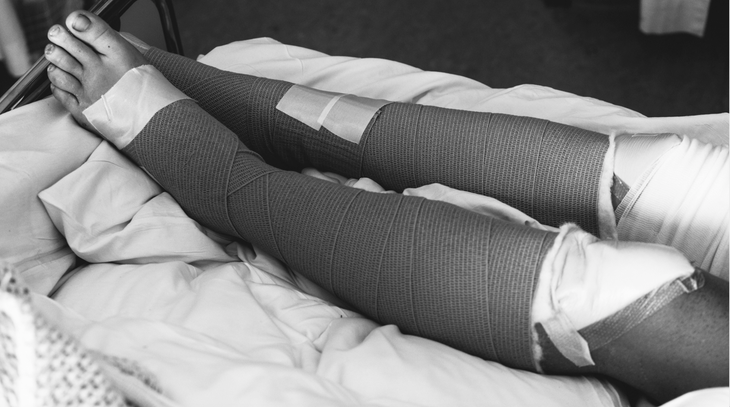 A wheelchair service waited for me inside the airport. I had a direct flight from Munich to Denver. It was my first time to fly first class on an international flight. Thankfully, I was able to lie down and rest in my big seat—in between taking painkillers and injections of blood thinners. I was overwhelmed with gratitude to Maeve and The North Face for arranging it all and getting me home safely.
Back in Colorado, I went straight to the doctor's office to reassess my injuries. First, I saw a hand specialist. After numerous X-rays, the doctor let me know that things weren't healing correctly. My left arm, which had rods and pins sticking out of it, was externally fixed. But my doctor wasn't happy with the status of the bone. He wanted to remove the hardware and put in a plate and screws internally to ensure proper healing. He told me if I continued healing as the bones were set now, I would have early arthritis and a limited range of motion.
I saw his point. So, I agreed to do the surgery. But he wasn't done. My right wrist was casted, with no hardware. It was healing, and the break wasn't as bad as the left wrist, but my doctor said that wrist needed surgery too—a plate and screws.
Two surgeries. He could do them on Thursday. It was already Tuesday. I needed a moment to think. I had never broken a bone before, never had major orthopedic surgery. I was overwhelmed. The doctor left the room to give me some time to consider.
A new doctor came in, Dr. Melissa Gorman. Her face told me everything I needed to know about her: stern, kind, no bullshit. She looked me straight in the eye and said she wanted to talk to me about my right foot.
There was an injury they missed in Norway, she said. A Lisfranc fracture. My mind was blank, as I'm sure was my face. I'd never heard of it. She took a deep breath and said, "Hillary, this is a foot-changing injury."
The Lisfranc is a ligament bridging the arch of the foot. It's a major ligament that contributes to the integrity of the foot, forming the arch, which is essential for standing, walking, and running. Lisfranc fractures are common in football, where players running at full speed are impacted from the side. Athletes who have surgery don't necessarily make a full recovery. She recommended—insisted—on surgery.
Time was crucial. It had already been two weeks since the rupture.
She told me it was unlikely I'd ever compete again.
All the feeling drained from my body.
The hand doctor came back into the room. He restated his diagnosis, impatiently waiting for my approval. I told him to do the surgery. "Good choice," he said as he nodded to his assistant to confirm the surgery date—Thursday. Then he exited the room and I looked to Dr. Gorman again. I knew I had no choice. My foot wasn't going to heal without the surgery, and if I ever wanted to get back to running, I at least had to try. I nodded to her, and we booked that surgery for the next day, Wednesday.
That night I couldn't eat. I couldn't speak. All I could do was stare, cry, hope—pray— that everything was going to be OK. I hardly slept. The few minutes of precious sleep I got were interrupted when I jolted awake with the dream of falling off that cliff in Norway. Tears came fast as, scared yet again, I relived the experience, the feeling of falling. Then I cried because I was thankful I was alive. And then the tears of fear came. Fearful of what was to come. My surgery, my recovery. Would I ever run again? I didn't know. The tears kept coming. The fear of the unknown was all-consuming.
My phone rang at 5:14 a.m. As I peeled my face off the damp pillow to look at my phone, I didn't recognize the number, but I answered it anyway.
"Hello," I said, tears already streaming down my face. The voice on the other end belong to Dave Mackey. A tremendous athlete, Dave was someone I looked up to, who had also suffered from a terrible accident.
Dave had fallen fifteen to twenty feet off Bear Peak, a summit I had run up often in my hometown of Boulder. But Dave's leg had been trapped under a rock, and after a year of recovery and rehab, he decided to amputate it. His story was incredible, his will was insatiable, and he was calling me the morning of my surgery to offer his encouragement and support.
"Hi Hillary, it's Dave. How are you doing?"
"Not good," I sputtered out, simultaneously laughing and crying.
"That's understandable," he said, chuckling as well. "I remember how scared I was before my surgery. I was a complete wreck! But these doctors know what they are doing, and they will do their best to take care of you. You'll be OK." Then he added, laughing, "Plus, they give you the good drugs, so you won't remember much of anything after that! Waiting is the worst part." Smiling a bit through the tears, I thanked Dave for calling. He wished me well and offered his support as we hung up.
Dave's unexpected pep talk gave me a little courage to face the day, and I started telling myself that I would be OK. That I would figure it out. I had the support of my family and my running community, and with that reassurance I started to foster belief in myself. I needed it for that first surgery. I prayed my doctor was ready and sharp and wouldn't screw up my foot with the screws she was putting in.
By 7 a.m. I was being prepped for surgery. Everything moved so fast. Nurses assessed the locations of all my injuries and breaks. They marked me up and told me they would remove my stitches while I was under anesthesia. My body looked like a coloring book that a child had gotten hold of: multi-colored marks all over, doctors' initials, and scribbled notes to make sure they operated on the correct foot (the right one).
I decided to get a nerve block for the pain. I watched as the anesthesiologist used an ultrasound to locate my peroneal nerve and stuck a needle in my leg. Within seconds, I could no longer feel my foot. A familiar face arrived: my surgeon, Dr. Gorman.
"Are you ready?" she asked.
Tears welling up in my eyes, I nodded. Her eye contact lingered, as if to tell me she had me now. It was her turn to do her job, and I could trust her. They wheeled me into the operating room. I gazed upward, blinking into the florescent lights as the world faded away.
The surgery lasted a couple of hours. It was late afternoon when I woke up from anesthesia. My eyes opened slowly. I was still in the hospital. Still in my hospital gown, with an IV in my arm. My mother, who had been sitting next to me, approached the bed to stroke my hair. My eyes were heavy with sleep, my body weighed down by the painkillers. Warm yet fuzzy, my senses were dulled. The doctor came in to tell us everything went according to plan.
My mother looked at me with tears in her eyes. "It's time to go home," she said as she kissed me on my forehead.
But it wasn't over yet. Tomorrow we'd go to another hospital for another set of surgeries. I closed my eyes wearily.
Back at my sister's house that evening, I was wheeled to the dinner table—a now-familiar routine. I hadn't eaten all day. And I wasn't hungry either. But I tried to eat—it was my only chance until the fasting period for the next day's surgery. Carefully, I placed my fork in my broken right hand and began strategically shoveling food into my mouth, instead of onto the floor. But as I ate, that pit in my stomach was still there. Food did nothing to fill it.
I was exhausted from the day's events, the emotional stress and trauma of the operation. But I couldn't sleep. Again, I just lay there. Restless, I texted Dave Mackey. Told him the first surgery went well and that I was preparing for two more the next day, on my wrists. I was afraid, unsure, and overwhelmed by the thought of another operation. Dave offered his support, and sometime around 2 a.m. I dozed off.
Day two was the same routine, with teams of doctors and nurses and anesthesiologists swarming around me, marking me up, and asking me questions. But I didn't cry. This time, I was quiet. Numb. I wanted it all to be over. As I drifted off, my hand surgeon gave me a warm smile and reassuring nod.
Waking up on the second day of surgery was different. A nerve block hadn't been possible for this procedure, so I woke with a dull ache that overpowered the painkillers. That faint ache grew into deep pain as I become more lucid after the surgery, and it persisted throughout the night. No amount of painkillers could touch the pain. Whimpering, I cried myself to sleep out of pure exhaustion, only to awaken within an hour, my arms throbbing, as if someone held a tuning fork to my wrist, the vibrations rippling the fresh hardware inside. I counted down the minutes until I could take another painkiller. Time seemed to move in reverse.
I had hit rock bottom. I was defeated. Completely broken and rebroken. This was my reality. I could hardly do anything for myself. Helpless and hopeless, I faced complete and utter dependency. But in that moment, I knew I had a choice: give up or fight.
I could accept my fate and lie idly by, passing the time waiting for my body to heal—hoping that it would. This was the easier choice, the less painful one. The alternative was to question the impossible and challenge what the doctors thought was possible—challenge what even I thought was possible.
Every day was a humbling new experience, and I never knew what to expect. Some days were excruciating. I felt trapped by the slow progress, the constant pain, the loss of identity and motivation, and the doubts about my future. I had no idea where my life was heading, or if I would overcome these injuries that threatened to consume my joy and the very essence of who I was. Every day I asked myself these questions, and every day I knew I had to face them. I knew I had to try.