UTMB, Don't Break Our Hearts
Has UTMB lost its way? In this op-ed, our Chamonix correspondent reflects on his relationship to the iconic UTMB race, and what changes in direction mean for the trail community.
Heading out the door? Read this article on the new Outside+ app available now on iOS devices for members! Download the app.
Nine years ago, I found myself in Chamonix, France during the Ultra-Trail du Mont-Blanc. My friends and I were just hiking through, and the race caught my eye. I had already been trail running for some years, and was immediately captivated by the scene. Here was something I had never experienced in the US: A trail race that had all the hype and drama of the Super Bowl, amid a town overflowing with tens of thousands of trail runners. It was dreary in the valley that August week in 2012, and the race used a modified route due to mountain storms that blanketed heavy snow on higher sections of the course. Even so, the magic was palpable.
For trail runners in the Alps in the years since, UTMB has only grown more omnipresent. For the last decade or so, all paths lead to Chamonix. Often, it's the first question one trail runner asks another upon meeting. "Have you done UTMB?" Answer "No," and the inevitable follow will be, "When, then?"
Today, I live and run in Chamonix for both work and pleasure. Since 2012, I have raced and written about an alphabet soup of the UTMB race series– MCC, CCC, TDS, UTMB, running some of them twice. And I am absolutely in love. 
RELATED: Runners Reflect On Their Connection To Chamonix And UTMB
But some– a growing chorus it seems–  have been telling me that my love has been misplaced. 
Is it? I have been wondering. 
This past week, I explored these concerns with a number of trail runners, on and off the record. Here in Chamonix, I sat down for an hour with race co-founder Michel Poletti and shared some tough criticism.
So, wherein lies the truth? In no small part, where you stand depends upon where you sit. 
So, wherein lies the truth? In no small part, where you stand depends upon where you sit.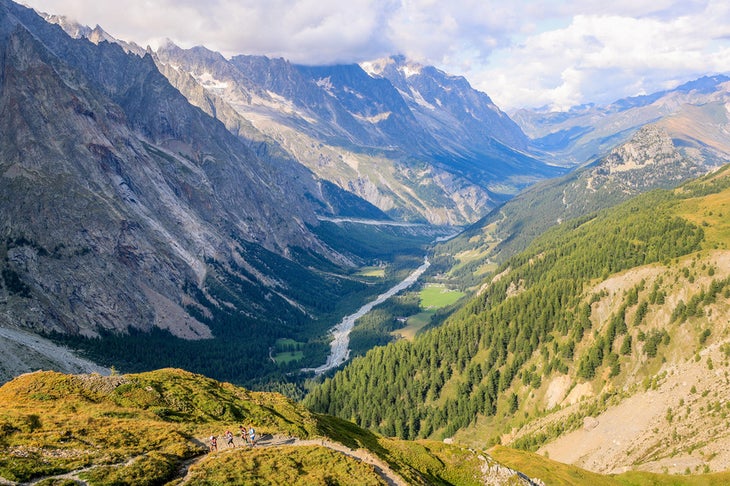 By UTMB
Since its early days, UTMB has come under scrutiny. At its inception nearly two decades ago, a business organizing a trail race was unusual. For many in the tight culture that is trail running, that made it suspect. With each successive business shift, new critics have voiced concerns. That they are doing so is an indication of their shared passion for the sport, and an implicit acknowledgment of UTMB's leading role in it. 
Take, for example, the "By UTMB" series of international trail races that launched in 2016. Paul Martin, 43, is an Investment Manager based in London who ran UTMB's 100-km CCC race in 2019, and loved it. "It was my dream race in every way," he says.
Then came UTMB's races in Oman and Spain. "The courses were epic and showcased the terrain," he says. "But organizationally, the two races left a really bad taste in my mouth." 
Martin never had his gear checked at Val d'Aran on the Spain side of the Pyrenees, a common step in European trail races that comes before bib distribution. After the May 22 race in China's Gansu Province, in which 21 ultrarunners perished, he found the juxtaposition jarring, calling it shocking. 
RELATED: Party Time: Inside UTMB
But Poletti provided some context, explaining that gear inspections had to be eliminated due to Covid-related restrictions on the bib pickup process. "It will be the same here in Chamonix this week," he says, referring to the upcoming races. 
The aid stations were another dubious point for Martin. "I didn't eat any of the food at the checkpoints," he says of Val d'Aran. "I didn't trust it. It was hot outside, the food was not protected, and there were flies." 
Despite his caution, Martin still got sick, struggling with nausea and diarrhea for six days after the race. "It's not what you need when you're recovering from a race," he says, grimacing. Food, it seems, was not the culprit. In a private online forum created for the more than 400 runners who claim to have gotten sick at Val d'Aran, water sources are raised as the likely source of infection. 
In a statement, UTMB pointed out the steps they took to safeguard runners, and once the issue came to light, researched the cause: 
RELATED: UTMB Partners With Ironman
"We started a research and test process with the help of participating runners and along with the health authorities, who ruled out any kind of food poisoning and did not open an official investigation either, believing that the total number of affectations fell within the usual parameters…All the issues related to the most common complaints were due to fluid intake…. All the water supplied was fit for human consumption from a sanitary point of view."
Was the cause elsewhere? It's possible. 
The statement continues, "Many runners admitted having drunk [from] ravines and natural sources in the mountains…many of the runners indicated that even before the start they were already experiencing discomfort, and some of [them] were not even able to start. The water of the Val d'Aran is considered hard water, containing many minerals, and is not suitable for all digestive systems."
"I want to apologize to this runner," Poletti says. "It was tremendously complicated for the Race Director to organize this first edition under Covid, with 4,000 runners." Poletti paused to reflect, "Maybe we started too big for this first edition." 
The organization is making changes for next year, with personnel checking health protocols at aid stations and more controls on the water supplied to the runners, including marking water supplies that should be avoided. 
For Martin, however, it's too late. "I would never compete in another 'By UTMB' event again. I've been burned twice. There is wonderful fanfare at the start and finish, but everything else was questionable." The one positive he takes away? "My place at UTMB next year."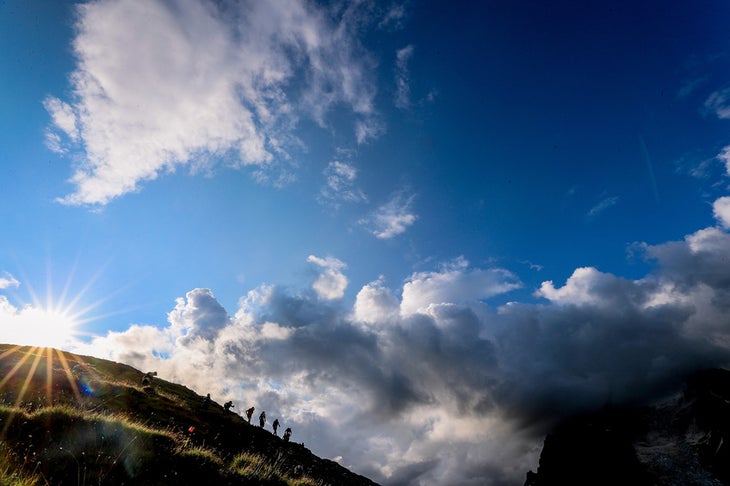 New Partners
The recent announcement of a partnership with Ironman adds fuel to the fire stoked by UTMB critics. The US-based organization has a history of high race prices and what some consider aggressive tactics. Participation is structured to keep triathletes in the Ironman ecosystem. Even longtime triathletes have expressed concern about Ironman's high profile partnership in the trail running world. Jim Anderson is a highly regarded New England entrepreneur with a track record of success. Today, he coaches triathletes through his company, Endurance Drive. "Trail runners have reasons for concern," says Anderson. "As private equity pours into popular trail running events, there will be an underlying current of return on investment in every race director's decision." 
Anderson worries whether trail running can hold onto its much-loved culture as big business arrives. "There will be challenges moving forward mixing the traditional trail runners with the newcomers while in the background, private equity seeks to extract the most value from the crowd with dirt under their shoes."
Here, Poletti pushed back, firmly. "There is no reason to think UTMB will change under Ironman. We have values and we always work to keep them." To back up his belief, he points out that Ironman and UTMB have been in conversations since 2017. It took the intervening four years, according to Poletti, to find common ground. It was not, in other words, a rushed deal in a new era of business investing in trail running. "Triathlon is a beautiful sport," he says, "But it doesn't have the same values as trail running. The partnership will not bring triathlon values to trail running." 
And just what are those trail running values that UTMB espouses? Poletti points to ITRA, the International Trail Running Association, which he created, and whose values in turn had their origin within UTMB. The ITRA values listed in the charter, and spelled out in detail, are authenticity, humility, fair play, equality, respect, and teamwork. 
Elite athletes have their own fears about UTMB, notably regarding the new UTMB World Series of races, through which runners will have to pass to gain access to the Chamonix races. David Laney, a US ultrarunner from Bellingham, Washington, has raced UTMB three times, finishing as high as third in 2015– the top finish for an American men's runner ever.  "For UTMB, you have extreme demand and limited supply," he says, "How do we go about allocating those places? With Ironman, UTMB has decided to go about this in a way that's focussed on profit."
Laney is concerned specifically about UTMB's new World Series, which will move runners through a new international race system to the pinnacle events in Chamonix– and he knows something about taking part in races for  motives other than the race itself– notably cash winnings or to qualify for more prestigious races. "Personally, when I do a race for reasons other than simply wanting to be there, it's usually disappointing." He pauses, searching for an analogy. "If you make a friend to benefit from that friendship, it's going to disappoint you. That's not a friendship– that's business."
If you make a friend to benefit from that friendship, it's going to disappoint you. That's not a friendship– that's business.
UTMB, says Laney, "has earned the position of being the world summit of trail running. They've said it themselves, and it's true. But there's a massive responsibility that comes with that. I hope they're not forgetting that." Laney references an oft-quoted line from the Spiderman character, Peter Parker. "With great power comes great responsibility," he says. "I don't think they've figured out the second part, yet."
Laney is not alone. But Poletti's response suggests a gap between UTMB's approach and their ability to communicate it. 
"I fully agree with everything David said," Poletti says. "Except his conclusion. We are perfectly aware that we are a leader in the trail running community. Our responsibility is huge. The risk if we make a mistake is that we will change the values of trail running and make it into a different sport than it is right now." It's clearly a topic that has been on Poletti's mind. "It's a huge challenge."
RELATED: Trail Runner's Guide To UTMB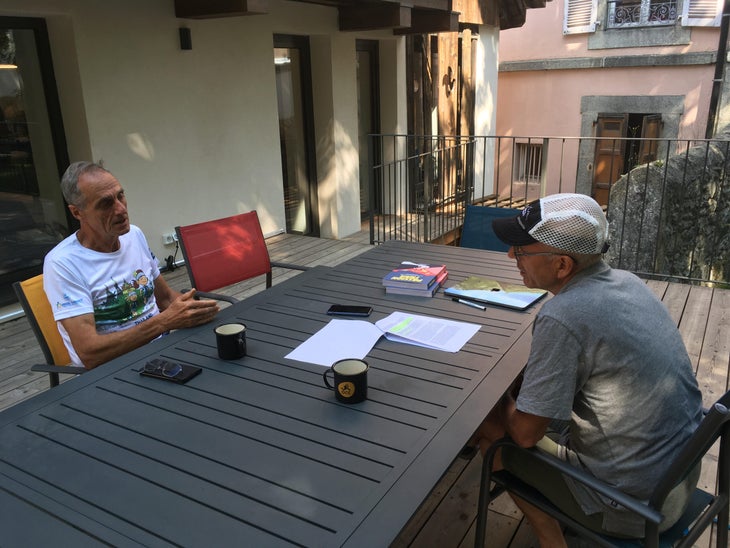 Gen du Pays
Locally, some of the Gens du Pays— the regional residents– seem to be growing fatigued. A longtime local Chamoniard tells me she is done volunteering. In her view, what started as a spirited community event has shifted to become a business and, she said, "Who volunteers for a business?" 
On this point, Poletti is philosophical. Perhaps the type of volunteer is shifting? "As a runner or volunteer, you certainly always have a choice whether to be part of an event." Poletti points to the Paris Marathon, a profit-driven event with 1,500 volunteers. "It's a big international event with great ambiance. You volunteer because you like the event."
For those trail runners looking elsewhere as UTMB evolves, there is no shortage of other races, Poletti is quick to point out. The Alps are a mecca for trail racing, with events ranging from small village affairs to the marquee events of UTMB, with every shade in between. And for runners looking for something akin to the UTMB distance and challenge, but with fewer crowds, the list is growing. There's five-time UTMB winner Lizzy Hawker's Ultra Tour Monte Rosa, Trail Verbier St-Bernard, co-led by one of the Alps' most adored trail runners, Matthieu Girard. There's the oldest race in the Alps, Trail des Dents-du-Midi, this year celebrating its 50th anniversary. And there's L'Échappée Belle, in France's wild and rugged Belledonne massif. Three-time UTMB winner Francois D'Haene, who last month set a course record at Colorado's Hardrock Hundred Mile Endurance Run, holds the course record there, too. What's notable is that his time of 23:55 is nearly five hours longer than his fastest UTMB win. And the course is 22 km shorter. L'Échappée Belle is one tough race.
But, if you want big-time drama, if you want to go to the Superbowl of trail running, Chamonix is the place and UTMB is the race. Crowds of thousands line the start and finish for a kilometer, cheering wildly. The very best runners from around the globe are always there. There's an energy and drama that is unique in the trail running world. Whatever blemishes one may attribute to the race, it is still very much worth being there, whether you are a racer or an onlooker. 
Standing in the crowd of 2,200 starters the first time I ran UTMB, I witnessed teary-eyed runners. They had spent years building both muscle and skill, then ticking off qualifying races to be there. I remember locking eyes with the runner next to me. We both involuntarily nodded "Yes!" to each other. What was unspoken: We did it! We are here. That vibe lives on in every UTMB race, and it will be the same this Friday, when runners return to the start line for UTMB after two years away. 
And no matter what decisions UTMB will make in the years ahead, the very concept– running through three countries on one of the world's oldest footpaths with Mont Blanc always at your side– is, it must be said, genius. There will always be magic at UTMB.
Will UTMB lose its way? To the volunteers who have bid adieu, and many others who are not in Chamonix this coming week, it already has. Balancing growth and values is perilous, as Poletti himself admits. "To keep your values in a big company in trail running, it's very hard," he says. "You are always on the edge, trying not to fall on the right or the left."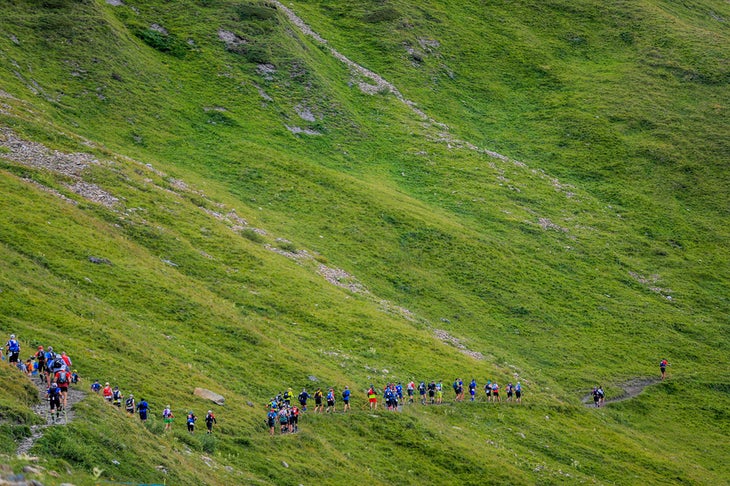 Poletti, for his part, may disagree with much of the criticism, but he is sympathetic to its intent. "Trail running is a way of living. At UTMB, we tried from the very beginning to explain and promote our values, and act in that direction. But after years of criticism, people continue to discover what they feel is a wonderful event." 
In many ways, UTMB may simply be a convenient prism for trail runners to evaluate the terrain of their rapidly changing world. In the end, much of what we see is a reflection of each of our own fears, hopes and secret wishes for a world about which we each care very deeply.
When a loved one disappoints, partners have a conversation, look deep in their hearts, seek a middle ground and grant forgiveness.  Unlike falling in love with a romantic partner, however, love for UTMB isn't unconditional. 
And so, the trail running world watches intently. Poletti, for his part, seems confident he can walk that razor's edge between business growth and values. For those who remain skeptical, he has a simple suggestion. "Wait three or four years. Then decide if I am right or wrong." 
Poletti switches to French which somehow serves to lighten the tone of our back-and-forth. "Nous prenons un rendez-vous dans trois ans." We'll schedule an interview in three years. 
It's on the calendar, and I hope for trail running's sake Poletti is right. My heart is counting on it. 
Doug Mayer lives in Chamonix, France where he oversees the trail running tour company, Run the Alps.