UTMB Course Preview: The Good, The Bad, and The Ugly
Racing UTMB, following it in person or on online, or crewing a friend? Here's the play-by-play of the course… and how to run it!
Heading out the door? Read this article on the new Outside+ app available now on iOS devices for members! Download the app.
We asked our contributing editor, Doug Mayer, to unpack the legendary Ultra-Trail du Mont-Blanc course for us. Mayer, who lives just a few minutes from the start and finish of UTMB in Chamonix, France, has run the race twice. He's also the founder of the trail running tour company, Run the Alps– which means that much of his summer is spent trail running on the UTMB route, the Tour du Mont-Blanc. (If we were smaller people, we'd hate you, Doug.) Whether you're toeing the line in Chamonix or following the live coverage, we hope you enjoy this course preview. — Editor
Running the course of the Ultra-Trail du Mont-Blanc, whether during the race or some other time at a gentler space, is an unforgettable experience. Aside from having the Mont Blanc massif with its 170 square kilometers of glaciers always on your left, the course offers constantly changing mountain scenery, the cultural variety of three countries, and no shortage of vert. Along the way, runners pass through 18 villages, past historic mountain huts, and no shortage of cows, sheep and goats, curiously eyeing the colorful humans inexplicably rushing past. 
Here's a blow-by-blow of key stages during the race– from my own perspective and also that of UTMB racers Rory Bosio, David Laney, and Katie Schide. Grab a gel, a hydration flask, and enjoy the tour!
RELATED: Trail Runner's Guide to UTMB 2021
KM 0.0 – 2.0: Take in the Drama– But Avoid the Crush!
There may be no more dramatic moment in trail running than the start of UTMB: 2,200 runners leave the iconic start in front of the Mayor's office at Place du Triangle de l'Amitié. Metal barriers keep thousands of fans at bay– just barely. If you're racing, seed yourself well, because once you start, you're either going with the flow or getting stampeded underfoot. Whatever happens, take time to really absorb the scene. You'll remember it for the rest of your life!
Pro Tip: "It's so easy to get caught up in the atmosphere of UTMB," says two-time winner Rory Bosio, of Tahoe, California. "It's electric. You're feeding off the energy of the crowd and your adrenaline's pumping. People go out way too fast."
KM 2.0 – 8.0: The Shake Out
While the route is not particularly dramatic for the next six km to the village of Les Houches, the gently rolling, wooded gravel road plays an important role, allowing runners to settle into the course, finding their place in the exodus. It's time to leave Chamonix behind, clear your head, and settle in for the long hours ahead.
Pro Tip:  David Laney has raced UTMB three times, finishing 3rd, 4th, and 14th. "The start is mellow," he says, referring to the run to Les Houches. "And that first climb out of Les Houches is super easy. You're going to convince yourself that you won't pay for it if you run hard, because it's flat pavement or soft trail, with just little rollers. But," says Laney, "You will pay." So… chill!
KM 8.0 – 31.0:  Let's try a hill (And Beware the Polenado)
With roughly 33,000 feet of climbing, the vert has to start soon with UTMB– and it comes at kilometer 8, right after the official start of the Tour du Mont-Blanc hiking trail, in the Chamonix valley village of Les Houches. After a ski area climb of 2,509 feet, you'll soon fly down to the lively welcome at the St. Gervais aid station. Don't take either the climb or the descent too fast. This is a long game! Rolling forests and pastures take you to the historic Notre Dame de la Gorge cathedral past the aid station in the village of Les Contamines. Now the fun begins!
Pro Tips: Katie Schide, an American from Gardiner, Maine who lives and races in France, advises everyone to, "Be aware of the people around you, especially if their poling technique isn't well contained. Be ready for the pole-nado at the start of this first climb, when runners are still relatively close together, and trail running poles and pointy carbon sticks are suddenly flying everywhere!"
For this section, top runners are staying relaxed– and you should, too. Says Bosio, "That first half is about making it to Les Contamines and feeling very steady. There are a couple of climbs, but in this section I really try just to relax and not push the pace too much. You have so much left to go. At Les Contamines, I want to feel relaxed and strong with a lot left in my legs."
RELATED: UTMB Partners With Ironman
KM 35 – 50: Notre Dame – Les Chapieux (Into the mountains we go)
Most runners will arrive here after nightfall, and with a raging bonfire, the scene is spectacular. Take it in, because your first big mountain climb starts right here and now, up and over Col du Bonhomme. 
If weather is a factor, this remote section is going to be one of your big challenges. Most runners will group with a small peleton here, so once again, find your home in the conga line and settle in. The dramatic serpentine-like flow of headlamps wending their way uphill is a favorite of UTMB photographers. Look up from the calves in front of you and enjoy it. 
Be careful on technical crossing of the col, and keep a wary eye on the rocks during the fast descent. They are sharp, and falls here have been known to take victims. Aid awaits after the long descent, in the tiny hamlet of Les Chapieux. 
Pro-Tip: UTMB has a lot of big climbs, and you may have a tough time on another of the big ones. How to get through those moments? Says Bosio, "UTMB is big climb, big descent, big climb, big descent. And you do that nine or 10 times. When I would hit a really hard point, I would just look at it as one climb at a time and think, "Okay, slow and steady to the top. Then I have a downhill and I can relax."
KM 50 – 74: Les Chapieux – Col Checrouit (Into a wild, long night)
Remote and wild, you are now grinding out some critical kilometers… Over Col de la Seigne and into Italy, past sleepy herds of cows, this section is a key test of your ability to tick off kilometers during the night. Much of the trail is fast here, and you'll run one of the very few flat sections of the course, past Lac Combal. Wonderful, cruisy single-track is next and the dramatic Italian side of Mont Blanc is in full view to your left. But odds are, you won't see it, unless there's a bright moon. An easy, speedy coast brings you to one of the best aid stations of the race, Refugio Maison Vieille. A bowl of pasta, anyone?
KM 78: Courmayeur, Italy (The Death Star with all of its comforts)
The Courmayeur aid station, in the Dolonne sports complex across the Dora Baltea river, has much going for it– it's spacious, with showers, cots, and every treat imaginable. Many have been lulled by its siren song, so watch out. During my races, I thought of Courmayeur as the Death Star. It will lure you in, and for some, the race ends here. My advice is simple: Get in and get out as fast as you can while still taking care of yourself. The gravitational pull here is intense!
Pro Tip: On the descent into Courmayeur, Laney points out that you'll be excited coming into town. "But let people fly by you. I think probably 15 or 20 people usually pass me on this descent," he says. "You're going to feel horrible when that happens, but don't let yourself get caught up in the game. You'll pay for it later. Besides," says Laney, "You'll find out eventually that all those people dropped."
KM 78 – 95:  Courmayeur – Arnouva (Let's roll, baby!)
Good news! Chamonix is directly opposite you, just on the other side of the Monte Bianco Skyway Gondola you can spot across Val Ferret. Bad news! You're not really quite halfway yet. 
Take your time on the steep climb up to Refugio Bertone and get ready for some of the sweetest trail the UTMB has to offer– flowy single track in and out of woods, past the legendary Refugios Bertone and Bonatti, then weaving down to the aid station at Arnouva. This section is one of the favorites of UTMB racers– fast, big views, and scenic Val Ferret below. Just don't look too far ahead because you're about to meet the biggest col of them all!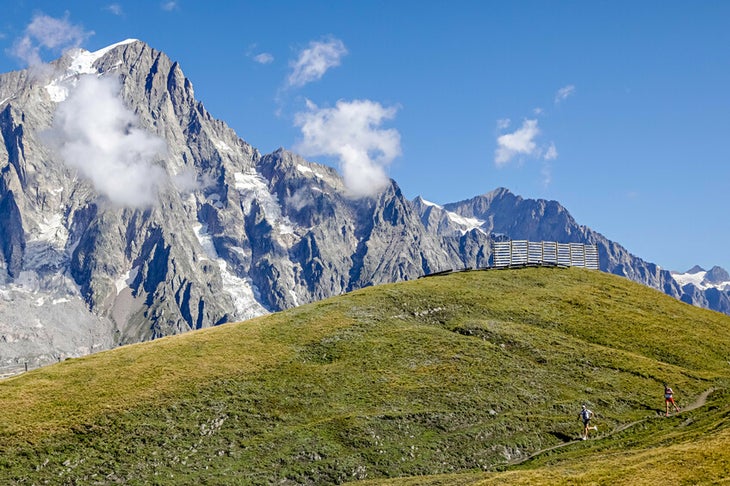 KM 95 – 109: Arnouva – La Fouly (Up and over into La Suisse)
You're on your way to the third country of your race, Switzerland. The only problem? The high point of the race, 8,323-foot high Grand Col Ferret stands in the way. On the upside, as Euro trails go, it's a gentle climb, switchbacking up to the height of land and the Italy-Swiss border. 
Glance back to enjoy the view towards Col de la Seigne that now seems so long ago, and take in the long distance you have traveled through Italy. Then, at the col, step into Switzerland and use the energy you saved to fly down… down… down… 3,080 feet down to the Swiss end-of-the-valley village of La Fouly and an aid station. If you played your hand well, you're still in good shape. Others (see: Jim Walmsley, Zach Miller) have been less lucky. From here on, if you're still moving forward, a few congratulations are in order. The pack starts to thin here. With luck, you won't be among the "abandonées."
Pro Tip: For David Laney, things get serious at Col Grand Ferret. "If you take significant risks or make a mistake before here– go out a little too hard or you take a descent a little too fast– the consequences are huge. You can make mistakes from here on, and you're not going to be paying for it for 20 hours. Once you get into Switzerland, that's when you can really start to take the brakes off."
KM 109 – 123: La Fouly- Champex (What, just one little hill?)
How are those quads doing, after the long hammering down from the col? If you're having a good day, you'll love this next section, running alongside the Dranse de Ferret river, through valley hamlets, lush Swiss pastures, and tackling the small* climb into Champex-Lac, a pivotal aid station during UTMB. You'll have everything you need, including a cot. Need some rest? Grab it now. Why? You know the routine at this point: there is plenty of big vert ahead.
*1,070 feet. When it comes to UTMB, that's a molehill.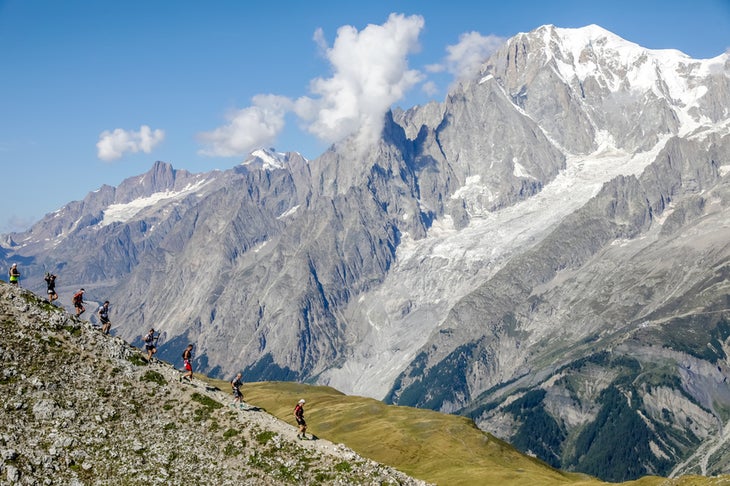 KM 124 – 140: Champex – Trient (Just get this climb behind you)
I'll admit it. This is my least favorite section of an otherwise splendiferous hundred miles. There's much to remember about the Tour du Mont-Blanc, but for me, this section doesn't do it. My advice? Head down, poles out, get the forest roads and climb to Bovine done, and keep your eyes on the tricky, eroded descent to UTMB party central, the secreted-away village of Trient, a key overnight stop for hikers on the tour. In Trient, they know how to party. Listen to the music as you lose altitude. 
Pro Tip: A lot of UTMB racers hit a wall here. If that happens to you, here's wise guidance from Bosio, "You will hit low points. But be patient. Don't give up. Address what's going on, back off your pace. With a course as long as UTMB, there's time to make it up. So, don't panic." And if that still doesn't do the trick? "Look at the race as more of an adventure. Tell yourself, 'I'm out for a long, long run with my friends, and I just have to endure it.' Take the pressure off. And remind yourself how lucky you are to be doing this race. It's just an amazing experience! Yea, it's hard, but it's also rewarding. So, ride out those lows."
KM 140 – 149: Trient – Vallorcine (Up to the cows of Catogne)
Guess what? More vert, and it's steep. From the hole that is Trient, here's the best advice I've ever gotten about trail racing in the Alps: "Whatever you do, don't look up." This is your next-to-last climb, and the good news is that it'll be over in an hour or so– and more high pasture awaits, plus a few curious cows to distract you from the inevitable aches and pains you're now certainly experiencing. The only bad news here? The ski area access road on the final descent to Vallorcine. It's gravelly and unfriendly. Or maybe you're just losing your agility and fatigue is taking its toll? Sometimes, it's hard to know. 
Pro Tip: For David Laney, this is where he starts to run harder still. If something does go wrong, with each step, you have less to lose. So if you still have energy, turn it up a notch. But if you're fading, kick back and make sure you see Chamonix! "The first two years I ran UTMB, descending into Vallorcine, I was going as hard as I could," he says. "If you told me the race finished in one kilometer, I literally couldn't have gone faster."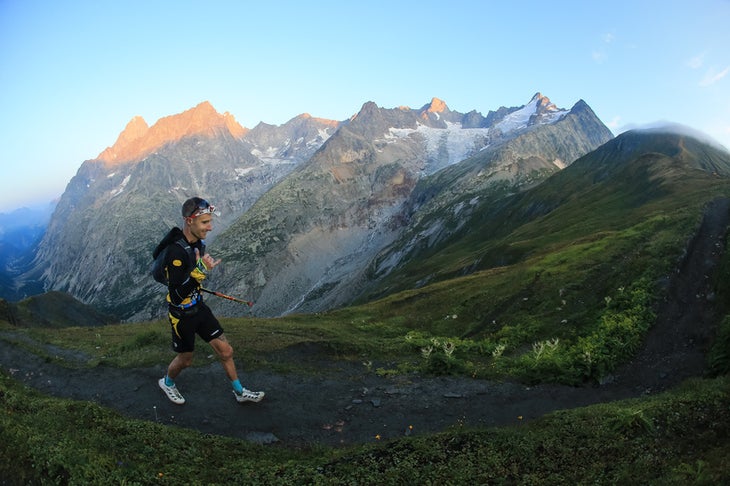 KM 149 – 160: Vallorcine – La Flégère (One. More. Climb.)
It's time to let yourself know– you got this. From Vallorcine on, only a full-on meltdown or race-ending injury will keep you from the adoring crowds of Chamonix. The wide path to Col Montets is deceptively steep. Don't be discouraged if you have to walk it. One big climb looms to sweet alpine running and Tête aux Vents ("Head of the Winds"), and then it's largely hero running, coasting downhill to Flégère and– yes!– that is the Chamonix valley far below. 
KM 160 – 169: La Flégère – Chamonix Outskirts (Some time to yourself to reflect)
From the Flégère aid station to the finish, this is your personal moment to reflect. Watch for roots as you descend, but take time to remember just how far you've come. The woodsy switchbacks offer glimpses of Chamonix below. These are your last minutes to yourself. Get ready for the reentry to the full-on insanity of Chamonix during UTMB. Gather your thoughts, think of all the work you did to get here. Enjoy it. Be grateful. Think of the 2,300 volunteers who helped make your day happen, and the thousands of fans who cheered you on through one and now maybe two nights. 
Here it comes– you're about to finish the world's most famous trail race. Once you pass the colorful outpost of Chalet Floria, a popular mountain cafe, you're coasting into town.
Pro Tips: Now you're in the pain cave. If your finish time and place is important, you've still got to keep pushing hard. But how to handle it? Take a tip from Laney, who has finished as high as third– along with Tim Tollefson, the highest finish for an American men's racer, ever. "Once pain becomes energy, it goes nuclear. Every molecule of pain becomes a molecule of energy. It just becomes a feedback loop, pain turns into energy and energy turns into pain. Once you get that spiral going it's like an addiction." "I've been chasing that feeling," says Laney, "My whole life."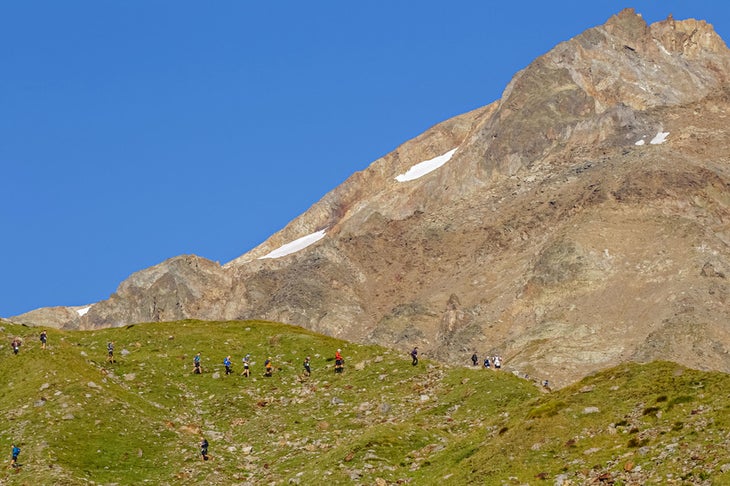 Got that? I didn't think so. Neither did I. Most of us just feel the pain! 
KM 170 – 171: Welcome back. You're not the same person who left Chamonix
However you enjoy this moment, do your best to file away the memories… the middle of the night crossing into Italy, the sunset over snowy Swiss summits, the smiles and grimaces shared with runners from other nations, the little moments alone on the trail. With luck, you're not battling to avoid being the lanterne rouge— the last runner in under the 46 ½ hour cutoff. As you enter the city limits, you'll have to use temporary steel overpasses– ingracious final reminders of just how shot your quads are, but they are there to keep the zombie that is you from being broadsided by a Citroën, so thank the race and local officials for looking out for you.  
Then, suddenly, you're there. Past SuperU, down Rue Joseph Vallot, past the dozens of tables at L'Atelier Cafe with Johann waving, around the corner and the statue of Horace-Benedict de Chaussure and Jacques Balmat, over the Arve River, and you hear your name being announced. Down the 100 meters, the world's most famous trail running start and finish, which you now share with the likes of Kilian Jornet, Lizzy Hawker, Rory Bosio, Francois D'Haene, Krissy Moehl, and tens of thousands of trail runners from around the world, united in a love of personal challenge and time spent moving quickly along rugged mountain trails. Congrats. You're a UTMB finisher. 
UTMB Tips from a few of the US' Top Ultrarunners
Rory Bosio: 
"UTMB is like Aesops Fables. It's the tortoise and the hare. The tortoise wins, right? Go slow and steady and run your own race. You can get caught up in thinking, 'Oh my gosh, those people are so far ahead of me!' But there's still so much to go. The people who can maintain a nice, even steady pace are the ones who are able to finish strong." 
Katie Schide: 
"Show up ready for a long hike! We call this sport 'ultrarunning' when in fact most of us spend more time hiking in a race than actually running. In a race like UTMB it's really important to know when to walk and when to run. You can avoid a lot of wasted energy just accepting from the start that hiking is part of the game. Whatever you do, take it all in! Running UTMB is a special opportunity for so many reasons. Don't be afraid to be that overly excited American. It's ok to be the one having the most fun." 
David Laney: 
"Training for UTMB in 2015, we met an old, tanned and grizzled Italian on the trails above Courmayeur. He looked like he was 95 years old. He asked us, 'You guys are UTMB runners?' We said, 'Yea!' He told us, 'You hit the noz (gas) at Col Grand Ferret. You do not hit the noz at Courmayeur.' Then he vanished down the trail. He was the phantom of Courmayeur. Whoever he was, he was absolutely right.
"In general, though, my advice is this: Don't ever feel rushed at any point. You're going to be out there for at least 24 hours. You know what pace 24 hours is? Four miles an hour. If you do that, you'll be in the top 10!" Then Laney shares the flip side: "But, you cannot stop. You just need to keep moving. And it's going to start really sucking."
And who does Laney look up to when it comes to running UTMB? None other than Rory Bosio.  "I always go back to her 2013 effort. Everyone should look at those splits. It was the most perfect ultra ever run." That day in Chamonix, Bosio set a women's course record of 22:37:26 that stands eight years later. She finished the race in 7th overall.