Two Women Tackle The Adirondack 46 High Peaks
Heading out the door? Read this article on the new Outside+ app available now on iOS devices for members! Download the app.
Two headlamp beams cut through the stagnant air of an otherwise unremarkable Monday morning. An unofficial race was underway in the rugged mountains of upstate New York. Two women were pushing for the Fastest Known Time for the Adirondack 46 High Peaks, mountains above 4,000 feet in the Adirondack Park. (Later surveys found four to be under the mark, though they remain included.) Alyssa Godesky and Sarah Keyes were mere hours into a 160-mile expedition with over 60,000 feet of elevation gain to find out how fast they could climb all 46. Each athlete had picked a different route, based on her knowledge of the trails and personal strengths. 
Ryan Atkins, who holds the current record, served as a guest commentator on fastestknowntime.com and provided updates. Last July, he set a high bar with a lightning-fast time of 3 days 5 hours 52 minutes. "ADK trails are steep, wet and relentlessly technical. I've never been anywhere with consistently harder trails," he said.
Godesky is a professional triathlete who'd heard about the 46 FKT at an Ironman in Lake Placid. Intrigued by the concept of climbing mountains as fast as one can, she began to explore train running. In 2018, she set the women's FKT for Vermont's 273-mile Long Trail in five days, two hours and 37 minutes, which gave her confidence to pursue the 46. 
Unlike the Long Trail, the 46 involves bushwhacking and requires off-trail navigational skills. For two years, Godesky scouted the mountains, contemplated different routes and stood atop 38 of the 46 summits, honing her navigational skillset and off-trail travel. 
Keyes grew up in the Adirondack Park,  at six million acres is the largest state park in the nation. In high school, she tried cross country but got bored and stopped running as soon as she was out of the coach's sight. Nearly a decade ago, Keyes used running as a means of distancing herself from an unhealthy relationship.  In 2015, she placed third overall in the short U.S. Skyrunning Skyrace Series. 
When Godesky and Keyes learned of one another's intentions, they chose the same start day. 
"It added a special competitive component that can sometimes be lacking in FKTS. And that part was particularly welcome in a year without much 'official' racing," said Godesky.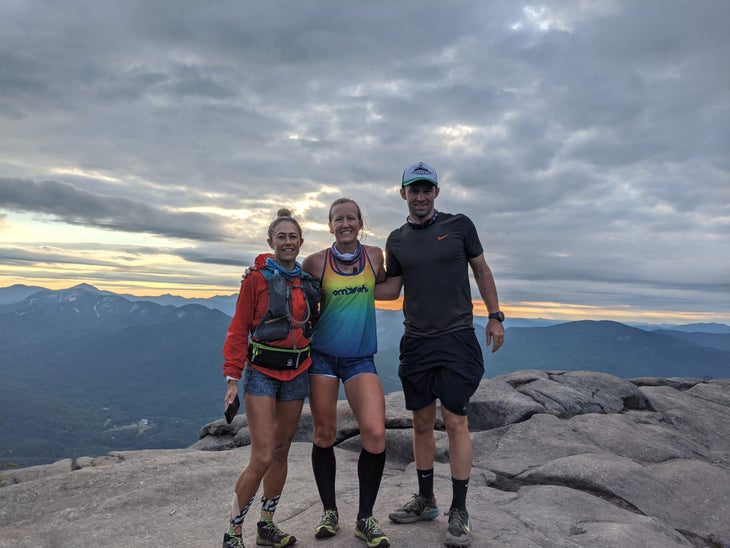 Not The First, But The Fastest
 The race component was a first for the 46 FKT, but press was also spinning it as a women's first until social media brought to light a little-known 6 day 22 hour 4 minute completion of the 46 by Nancy LaBaff, 59, and Claudia Warren, 61. When asked how she felt about Godesky and Keyes, LaBaff was excited, "I love seeing women challenging themselves. It's important for other women to get out there and try because it inspires others. We need women empowering women."
At the beginning of day two, things began to unravel for both the women. Rain and dark made navigation challenging and Keyes, a registered nurse, took instant note of a pain that began in her right foot and slowed her down significantly on otherwise fast terrain. 
When the two women finally encountered one another on the trail, Godesky was unaware of Keyes's condition. "She looked fresh and she looked good," said Godesky. "I didn't let my guard down." By the end of day three, the race was close with Godesky at 37 peaks and Keyes at 32, but Keyes was literally crawling in places and questioned if it was safe for her to continue. 
"No one ever talked about quitting," Keyes said of her team. They kept her feed, fueled and encouraged her to keep walking. A full day behind her projections, Keyes said "it was a fine line between crying and laughing." She also knew Godesky was closing in on the finish. 
The Final Push
It's hard for the mind to do math when running on little sleep, but at the dawn of the fourth day, Godesky knew. On her last summit, Giant, she looked over the miles of terrain she'd covered and the clouds parted just enough for a golden sunset. The wave of mountains seemed endless and it was hard for Godesky to believe she'd stood atop every High Peak since Monday.
 Night was falling and she still had the final descent before the time officially stopped at the trailhead. The last half mile was steep and technical. Godesky heard a whistle, and new that she had reached the trailhead. She emerged from the woods to embrace her family and crew. She clocked in at 3 days 16 hours 16 minutes, the fastest women's time and second fastest overall time.  She'd covered a staggering 159 miles and 67,412 feet of elevation gain. "[The Adirondacks] are simply unmatched in their ruggedness and beauty," Godesky said. "Hopefully I've put hiking a few High Peaks on some people's radar who weren't thinking about it before. That would make everything more than worth it."
Keyes finished the following day on Whiteface, the fifth highest mountain in the state and otherwise known for ski racing in two Winter Olympic Games. Friends joined and for a moment she was able to forget the intense pain radiating through her feet. She sat for several minutes on the summit, surrounded by a gray fog. Despite her injuries, she'd completed the 46 in 4 days 22 hours 15 minutes. "It took several days for me to see the accomplishment in this and I'm still enjoying that feeling. It also hasn't taken long for the ultra amnesia to set in, I don't think I'm finished with this yet."  
Bethany Garretson is an Environmental Studies instructor at Paul Smith's College in upstate New York. She's a passionate mountain climber, social advocate and writer.