TRAIL STOKE: The Joy (and Purpose) of a Post-Run Beer
Heading out the door? Read this article on the new Outside+ app available now on iOS devices for members! Download the app.
It's Wednesday evening just a few moments before 6 p.m. as I lace up my HOKA Challenger ATR 5s and loosen up for a 4.5-mile trail run from an undisclosed trailhead in Boulder.
I've been doing this run once a week with my buddy Steve and occasionally few other friends for the past two months or so. It's a moderate, out-and-back (and lately hot) route with a few challenging hills in the middle, but given the crazy state of the world over the past several months—insert tension about COVID-19, racial inequality, political unrest and/or unemployment and a damaged economy here—it's become less about the details of the run and much more about getting it done.
And, if I am being honest, on Wednesday afternoons, it's really much more about the post-run beer that one of us brings in a cooler than the actual run itself.
There's something special about sipping a post-run beer after a trail run, especially if it's right there waiting for you at the trailhead. That's probably not always an option, so frequently I try to plan at least one run a week near a pub or outdoor café just for the sake of having that post-run beer. And, yes, there are a lot of running shops that offer beer after fun runs and a few that have tap rooms on the premises.
But, no, I'm not condoning alcoholism or drinking and driving, so please save any reactionary comments for the moment.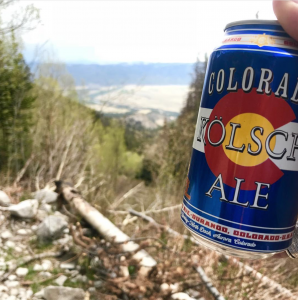 A post-run beer can quench your thirst and begin to rehydrate you, lubricate your senses and, like the act of running, help maintain sanity, balance and perspective. And believe me when I say that the run is still paramount to the experience. If it wasn't, we'd skip the run and just head to a pub to have a beer.
Instead, the cold beer offers a chance to relax, let off steam, appreciate the sweat and effort from the run and, by delving into conversations about life, work, relationships, politics and, yes, even trail running, it weaves together many elements in the fabric of each of our lives. I am not trying to overemphasize alcohol as an enhancement to running, but it can and does play a key role that is considerably more energizing than bellying up to a bar and pounding a pint. How do I know? Finishing a run and chatting while sipping from our water bottles or replenishing with an electrolyte drink after the run just isn't the same thing.
The cold beer offers a chance to relax, let off steam, appreciate the sweat and effort from the run and, by delving into conversations about life, work, relationships, politics and, yes, even trail running, it weaves together many elements in the fabric of each of our lives.
And, speaking of electrolytes, I can't say that I'm a fan of the brewers that try to tout their beers as low-calorie recovery drinks with extra sodium, potassium, caffeine or other natural elements that just aren't naturally in beer. Mostly, that makes a beer taste like something other than a good beer. When I go for a trail run, my furnace burns hot and I am happy to tolerate the additional calories in every swig. But when I want a beer, I want a beer. When I want herbal ingredients or electrolytes, I'll find them elsewhere.
For the teetotaler runners out there, much respect and no judgment. Please don't get the idea that I need a post-run beer to heighten my running experiences. Truth be told, I also crave a fountain Coke and a hearty meal, too. Anyway, I'm a fervent runner, but I'm not necessarily a fervent beer drinker. However, the two seem to mix quite synergistically, which is why I often enjoy a cold Kolsch or Pilsner after hammering up and down a 14er or just about any multi-hour run in the mountains.
I'm not the first to write about beer and trail running so I have to give credit where credit is due. The most eloquent authorities on beer and trail running are Andy Jones-Wilkins and Peter Maksimow. Not only are they skilled runners who appreciate the purposeful benefits of a trail run, but they also understand the many nuances of sipping a hoppy (or, in my case, malty) beverage with fellow runners after that run.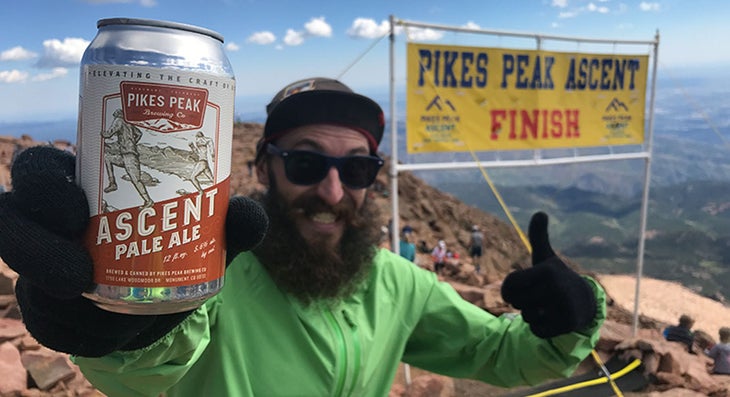 I've had many conversations—and enjoyed many beers—with Maksimow, who, in addition to staging unfathomable "beer mile" events on top of Pikes Peak and on the Manitou Incline, truly enjoys both the craft of beer making and the community of trail running.
"Beer can be an analogy for life. It can be thought of as the good times and brief moments of respite among the struggles," Maksimow says. "For runners, it is a way to decompress and relax after pushing your body and mind to their respective limits."
And, I concur with Maksimow when he suggests moderation is important.
"If you neglect to practice moderation (especially after running), it may end badly," he says. "But having a post-run beer unites and allows for the free flow of stories, ideas and even embellishments of details, even if only in good fun."
That's the key. It's all in good fun. I'm not suggesting you fire down a six pack of Bud Light after your next run—and if you do drink beer, I hope it's something better than that watery swill—but I do believe there is a positive mix in sipping as your leg muscles start to cool down and sweat drips on your dusty ankles.
Here's to toasting one of your next trail runs with your favorite beer. Cheers!
Brian Metzler was the founding editor of Trail Runner and now serves as a contributing editor.