Trail Running: A Love Story
Heading out the door? Read this article on the new Outside+ app available now on iOS devices for members! Download the app.
It was the morning of the annual Tufts 10K in 2013, and Corey Conner walked into a cafe looking for a pre-race snack. This was Conner's first race as a professional after signing with the Hansons-Brooks Distance Project, and she was nervous. She scanned the room, looking for a familiar face, when another runner caught her eye.
It was Addie Bracy, also in town for the 10k. Conner felt an immediate connection with Bracy's bright smile and casual warmth. Conner was immediately overtaken by a strong feeling of connection and thought, "I need to get to know this person. " But, she was shy. So, she let the moment slip by without saying a word.
Months later, Conner was stunned to see the same, beautiful runner had also made Team USA to compete at the  Bupa Great Edinburgh International Cross Country Championships, and that they'd be competing side by side as teammates. She felt a mix of joy, excitement— and guilt.
"We hit it off immediately," remembers Bracy. "We both connected, and were interested in the other person. Maybe we felt awkward, and guilty about those feelings."
Neither athlete was out yet, and both were sorting through questions of identity and sexuality.  In the world of competitive distance running (neither had found the trail scene yet), there weren't any openly gay female athletes to serve as role models.  Both professional runners early in their careers, they were traveling the world to race, jockeying for spots on top pro teams and competing for hard-to-get contracts with brands.
"I spent the whole trip trying to woo her," says Conner, "but also knowing that this didn't feel possible."
Both athletes were concerned about what coming out would mean losing sponsorships, team spots or, worse, family support. So, they kept their mutual affection hidden, even from each other, afraid of what would happen if they came out.
Secrecy Is a Burden
"It's a burden that weighs on you," says Bracy, now a sports psychology consultant with Strive Mental Performance. "I'm from the South, where people aren't always as open about these things. It's a heavy burden that you're carrying around when you're not being authentic to who you are."
Bracy and Conner parted ways without sharing their secret feelings for each other, and went back to their professional running careers. That burden of secrecy and inauthenticity weighed heavily on both athletes. It disrupted relationships with friends, family and teammates.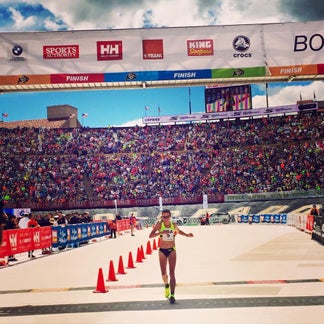 "My relationship with running crashed and burned," says Conner. "I left the sport altogether. I felt like I wasn't being authentic, and that made me perform worse."
Bracy experienced a similar decline in performance. "It started to weigh so heavily on me emotionally, and my coach didn't know what was wrong, and I didn't know how to share it. As a sports psychology consultant, I know that when you've exhausted your emotional resources, you're depleted before you even get to the start line."
Out and Proud
In August of 2016, Bracy penned a blog post titled "An Expose," where she publicly came out as LGBTQ+, and mentioned that this was partly because of a brave and beautiful teammate she had met years ago on Team USA.
"Everyone experiences coming out differently. For me, I saw it as such a joyful thing," says Bracy. "By not telling others about what you're going through, you're not giving them the opportunity to support you. All the feedback I got was, 'Let me carry some of that weight for you.'"
Conner was living in Boston and saw Bracy's post. Her heart leapt into her throat as she realized Bracy was talking about her. 
"The girl I've been interested in is also gay," Conner thought.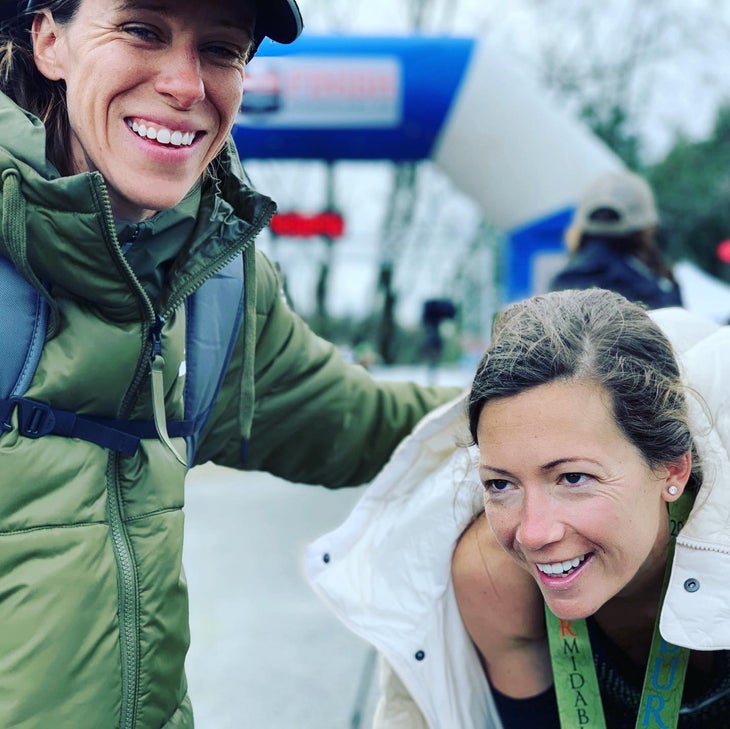 Bracy's writing inspired and empowered Conner to come out, too. She booked a ticket to Colorado, where Bracy was living and training at the time. The friends reconnected, joyful in the absence of heavy emotional burdens.  Not long after, the two were officially a couple. Bracy and Conner started training together, adventuring out onto the trails around Colorado's Front Range. Conner's frayed relationship with running started to repair in the thin alpine air and evergreen forests.
"Trail running helped me fall back in love with running," says Conner. "It was a welcoming community that I didn't know existed. I felt at ease for being there, and being authentic."
Share The Love
The two athletes experienced so much joy and connection after coming out. Trail running, amplified that authentic joy and connection, and the couple decided to share that. So, they started OutRun, which uses running as a platform to inspire and connect LGBTQ+ runners all over the country.
"We wanted a way for other gay runners to connect," says Conner. "We wanted to give back to the community that had been so loving and supportive to us."
The couple wanted to share the joy they had found through living authentically with other runners who might be going through similar struggles and that were looking for role models, or just friends. Last summer, Bracy and Conner toured the country in a van hosting OutRun group runs all over the country. The events aimed at LGBTQ+ runners and allies who are looking to build a support network in the sport that they love.
While group runs are on the backburner due to the COVID-19 pandemic, Bracy and Conner have continued to work to build their community and work with race directors and races who are looking to make their events more inclusive. They've also started an ambassador program, where LGBTQ+ runners are encouraged to start their own chapter of OutRun locally, with the team's help and guidance.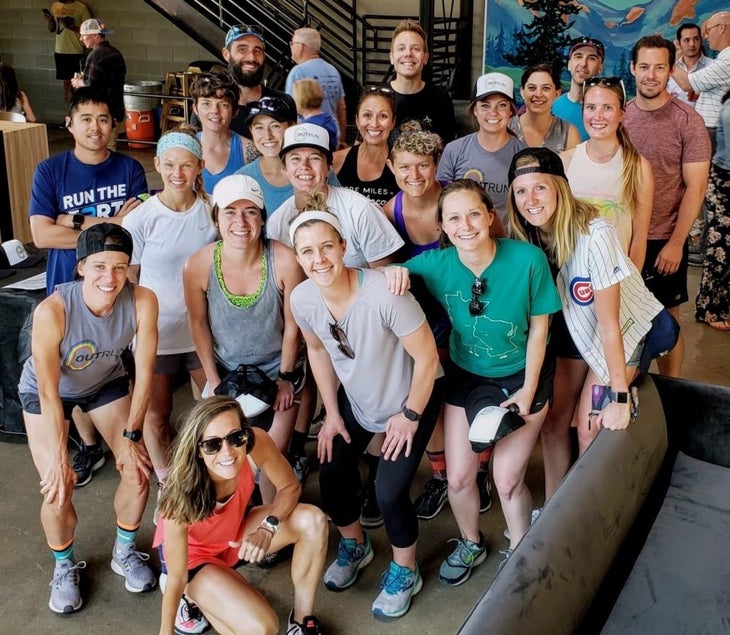 "We want people to know they are loved and accepted," says Bracy. "I didn't think that I could be gay and be a great runner. I had this perception that those things were exclusive. Blurring those lines has been really powerful."
Conner and Bracy have fielded emails from athletes navigation their own coming out, as well as from runners looking to be better allies.
There are currently OutRun teams in Colorado, Long Island, Indianapolis, London, Mexico and California, and they're hoping to add more to the roster. Each team is responsible for planning their own group runs and events, but are all tasked with creating a more inclusive and loving community for all.
"If OutRun had existed when I was growing up, I would have come out 20 years earlier," says Conner. "I wouldn't have left the sport. If there was community, visibility and role models."
So, Conner and Bracy set out to be the role models they didn't see, and build the community they didn't have.
Zoë Rom is Assistant Editor at Trail Runner and produces its DNF podcast. She enjoys long runs in the mountains and making pizza at altitude.